Florida Department of Environmental Protection celebrates 30 years of cooperative water reuse
Water Conserv II is the largest water reuse project of its kind.
Dec 14th, 2016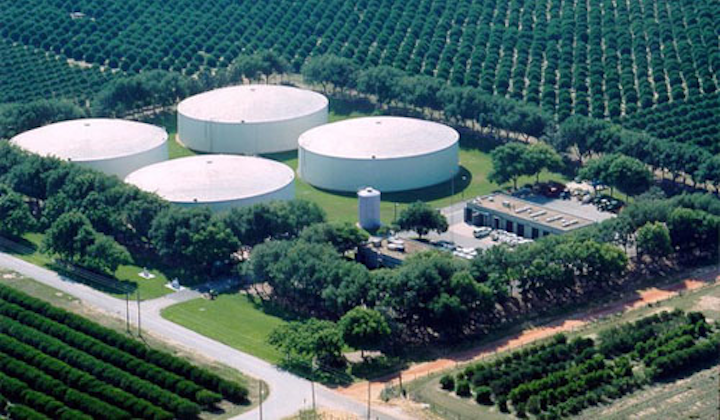 WINTER GARDEN, FL, DECEMBER 14, 2016 -- The Florida Department of Environmental Protection joins the city of Orlando, Orange County and area representatives in celebrating the 30th anniversary of the Water Conserv II project, the largest cooperative water reuse project of its kind in the world.
Since 1986, Water Conserv II has helped recycle more than 200 billion gallons of reclaimed water, an amount that would fill 10 million residential swimming pools. DEP provided a $100 million grant toward the total project cost of $180 million for this state-of-the-art project.
This long-term partnership was formed when the city of Orlando and Orange County faced a need to expand wastewater treatment service and a state requirement to eliminate discharge to surface waters. This partnership led to the development of an innovative water reclamation program that combined agricultural irrigation with aquifer recharge.
"Providing grants for water reuse projects that will benefit our environment and communities remains a priority for DEP," said DEP Secretary Jon Steverson. "We are proud to celebrate this partnership, and look forward to continuing to work with local governments, the agricultural community and other partners to protect and preserve our precious water resources."
The project's reclaimed water meets DEP's public access reuse standards and is permitted for use on all public access sites including residences and golf courses, food crops, foliage and landscape nurseries, tree farms and pasture land, and can be used for local fire protection.
"I am so proud to have been involved in this project from the very beginning," said Phil Cross, Water Conserv II project manager. "Water Conserv II started out as just an idea of partnership between the city of Orlando and Orange County. With the help of DEP, the idea became a reality, and 30 years later the project continues to be a great example of water conservation practices in the state."
Water Conserv II and its staff have received more than 30 awards including the David W. York Water Reuse Award from the Florida Water Environment Association for the development and operation of an exemplary water reuse program, the Environmental Protection Agency's Region IV Municipal Water Use Efficiency Award for the most innovative and effective reclamation and reuse program in the over 15 million gallon per day category, and the Orange County Environmental Protection Department's Environmental Excellence Award.
"This project is one of the best examples of reclaimed water reuse in the country with a diverse mix of uses of the reclaimed water," said DEP Central District's Christianne Ferraro. "It's also one of the best examples of a good reuse partnership between local governments in Florida."
For the past 20 years, Florida has been recognized as a national leader in water reuse, with domestic wastewater facilities increasing their reuse capacity by approximately 465 percent since 1986. Currently, approximately 720 million gallons per day of reclaimed water is reused statewide for beneficial purposes such as landscape irrigation and aquifer recharge. Reusing this reclaimed water is estimated to save more than 130 billion gallons of potable-quality water annually.
For more information about Florida's water reuse program, visit http://www.dep.state.fl.us/water/reuse/.