Synagro awarded contract to operate City of Windsor, Ontario's biosolids dryer
The City of Windsor, Ontario, Canada has selected Synagro to operate and maintain its biosolids drying and pelletization facility for up to the next 20 years.
Jun 28th, 2019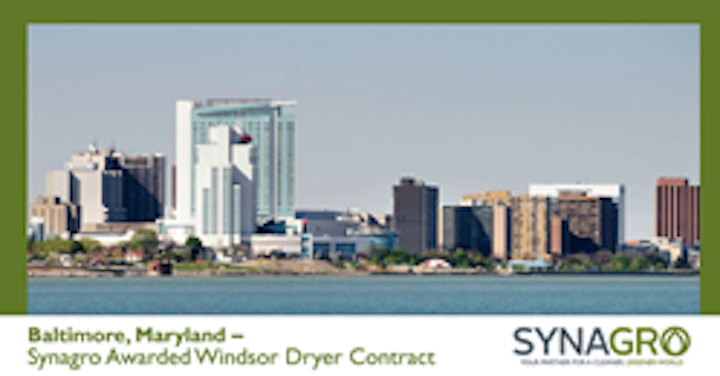 Synagro Technologies, Inc
BALTIMORE, JUNE 28, 2019 -- Synagro Technologies, Inc.,the preeminent provider of biosolids and residuals solutions services in North America, today announced that it has been contracted to operate and maintain Windsor Biosolids Pelletization Facility (WBPF) owned by the City of Windsor, Ontario, Canada, effective June 1, 2019.
The 200-wet-tons-per-day biosolids management facility was originally placed into service in 1999. Synagro will be responsible for transportation of dewatered biosolids from Windsor's two wastewater treatment plants and for reliably processing those biosolids into a Class A fertilizer to be used throughout Southwest Ontario. WBPF will provide Windsor with a long-term, reliable, sustainable solution to its biosolids management needs.
"Synagro is excited to welcome Windsor as another Canadian partner into our portfolio of businesses in Ontario. The WBPF has a highly engaged, dedicated staff which will benefit from the additional drying facility experience and resources Synagro will bring to the project," said Pam Racey, vice president of project development, Synagro.
Visit synagro.com to learn more.