Bubble Free Aeration: Will the Energy Claims Float or Burst?
Irish company OxyMem has made bold claims that its technology uses 75% less energy than bubble aeration. In April it secured investment from Dow and now has installations in Europe, Asia and Latin America. How do the claims stack up and what does it mean for conventional aeration processes?
Jun 1st, 2016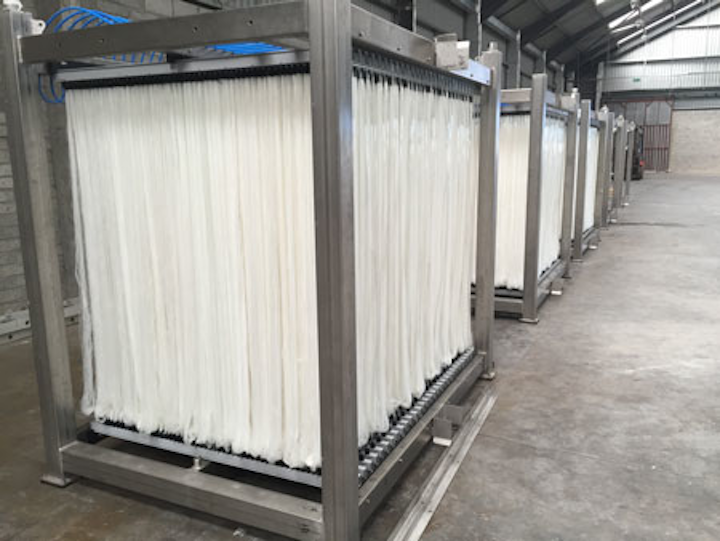 Irish company OxyMem has made bold claims that its technology uses 75% less energy than bubble aeration. In April it secured investment from Dow and now has installations in Europe, Asia and Latin America. How do the claims stack up and what does it mean for conventional aeration processes?
By Claire Smith
The current global fascination with energy-neutral wastewater treatment is one of the factors behind an increased interest in bubble free aeration. There's a particular buzz around Irish company OxyMem, a company that manufactures a Membrane Aerated Biofilm Reactor (MABR) for delivering air and oxygen to wastewater.
OxyMem has won a clutch of innovation awards and in April announced it had attracted major investment from the US chemical company Dow, which will allow it to scale up operations.
Technical director Eoin Syron says the recognition is palpable. "When you introduce yourself to a person at a conference now they have already heard of OxyMem," he tells WWi. "First we started getting awards in Ireland and now we are being recognised internationally. The involvement of Dow, is a great endorsement of what we are doing."
The company won a place in the Global Cleantech 100, was named a leading disruptive technology by BlueTech Research as well as winning the Ireland 2015 Impact Award from the Irish Ministry of Skills, Research and Innovation.
The Athlone-based makers of the OxyMem MABR technology say the investment from Dow will enable the company to take its product to a global market.
Energy saving
Syron says: "What has changed is that people are looking at water treatment and wastewater treatment in a new way. People are talking seriously about energy neutral wastewater treatment. To do that you need to produce as much energy on site as possible but also reduce the amount of energy used by processes such as aeration."
The company claims the MABR can reduce the energy required for wastewater treatment by 75%, making it an appealing prospect for operators looking to reduce energy costs. It doesn't end there. The OxyMem MABR can also reduce sludge production by 50% and cuts down on maintenance and inspection costs by 50%.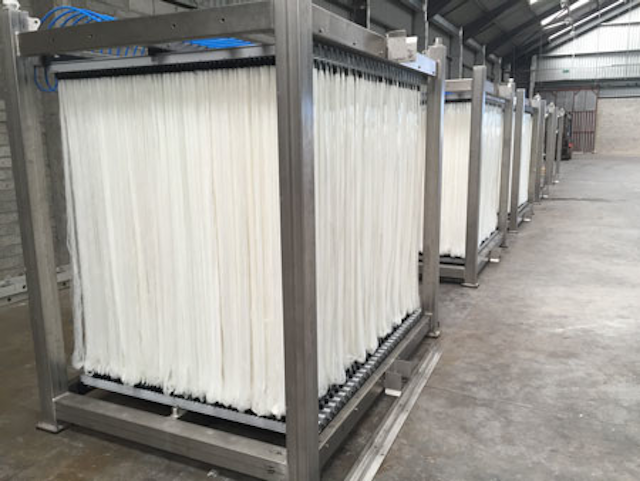 Each eight metred square cage is packed with 900,000 hollow tubes made of permeable polydimethysiloxane
It can also deliver up to 60% of oxygen directly to the wastewater - compared with a maximum of 35% for the most efficient bubble systems. It can also be used with pure oxygen - allowing it to deliver 90% of available oxygen, according to the firm.
Snehal Desai, global business director for Dow Water and Process Solutions, says the shifting economics of wastewater treatment made the OxyMem system an attractive proposition for investment.
"Global water demand trends are making wastewater infrastructure a major challenge for populations and industries across the globe," he says. "OxyMem's MABR technology shows excellent promise in lowering operational costs for the wastewater treatment process due to reduced energy demand. This also makes the technology a strong sustainability value proposition."
Early days
Although bubbles have been used to aerate wastewater since Arden and Lockett introduced the activated sludge method of wastewater treatment in 1913, bubbles are an inefficient and energy hungry method of delivering oxygen. Around 2% of all energy use is consumed by wastewater treatment, with most plants relying on huge industrial blowers to deliver air to wastewater.
High energy prices in the 1970s stimulated research into bubble technology - leading to the emergence of fine bubble technology along with other, more efficient ways of distributing air.
Work on membrane technology began in the 1980s, with research projects at Cranfield, Minnesota and Tokyo but were hampered by the difficulty of controlling the biofilm, which grows on the membrane.
OxyMem has its roots in the School of Chemical and Bioprocess Engineering at University College Dublin. Professor Eoin Casey began work on membrane technology in the 1990s, with a particular emphasis on increasing the understanding of biofilm and finding a way to control it.
Dr Eoin Syron, who joined the research project as a PhD student says: "There was a lot of research into Membrane Aerated Biofilm Reactors in the 1990s. The trouble with MABR systems was they were unable to maintain long term performance because the biofilm which grew on the membranes would grow too dense, leading the rate of reaction to decrease."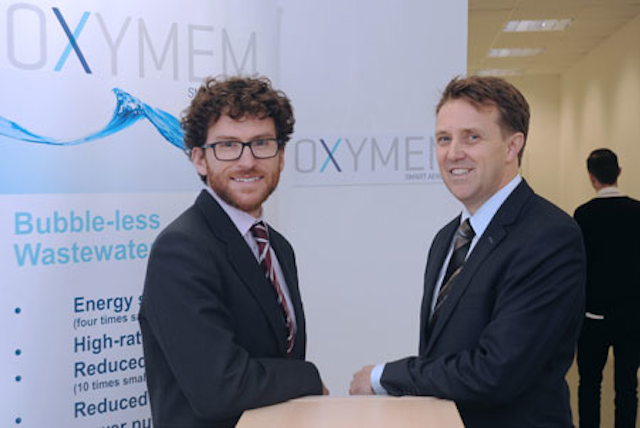 Dr Eoin Syron, co-founder and Wayne Byrne, CEO of OxyMem.
The breakthrough came when Professor Casey developed a way of measuring the thickness of the biofilm while the membrane was in operation. The discovery was patented in 2012 and, with backing from the Government of Ireland, OxyMem became a commercial company in 2013.
The managing director and commercial visionary of the company is Wayne Byrne. Dr Eoin Syron, who is now the technical director of the spin out company, has been instrumental in moving the research out of the lab and into the marketplace
Syron says: "My focus was on whether we could get the technology to work on a bigger scale. The idea was to understand how the biofilm was growing and learn how to control it - as well as looking at the economics, such as the cost of membrane technology.
He says: "The primary goal of wastewater treatment is to produce clean water and to do that you need aerobic systems. But bubbles are not an efficient way of delivering oxygen.
"For more than 100 years people have been trying to increase the oxygen transfer efficiency from bubbles which is 30 - 35% maximum. OxyMem can deliver up to 90% oxygen transfer efficiency by using pure oxygen or 50-60% efficiency using air."
How it's done
Instead of using bubbles to deliver air to wastewater the OxyMem MABR system uses thousands of hollow tubes, which are loaded into the wastewater tank inside a cage.
In cases where the treatment needs to be accelerated an oxygen rich gas can be fed directly into the tank. Each eight metred square cage is packed with 900,000 hollow tubes made of permeable polydimethysiloxane, which delivers the air, or the oxygen rich gas, directly to the bacteria. On the surface of the polydimethylsiloxane biofilm develops. The OxyMem system monitors the thickness of the biofilm, scouring it off when it becomes too thick and begins to impair the treatment process.
Trial results
Trials carried out with Severn Trent in the UK helped establish the commercial potential of the OxyMem MABR system. A demonstration unit at Minworth showed the OxyMem system was able to treat effluent at an energy cost of 0.2 kw per cubic metre - compared to 0.5 - 0.6 KW for conventional activated sludge.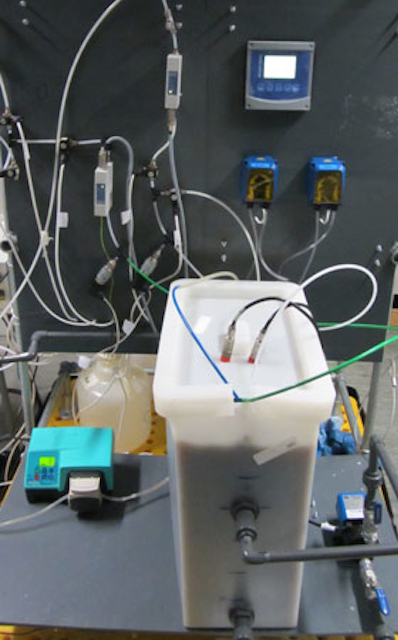 Field test: Trials carried out at utility Severn Trent, UK treated effluent at an energy cost of 0.2 kw per cubic metre
Furthermore the OxyMem MABR was able to treat wastewater in a shorter time - reaching the same level of treatment after 12 hours that typically took 20 hours in a conventionally aerated tank. The treated effluent was left with Biochemical Oxygen Demand (BOD) of less than 10 mg per litre and ammonia levels of less than 1 mg per litre.
The trials also showed a lower production of sludge with the OxyMem system, which produced 0.2 kilos of total suspended solids per kilogramme of COD compared to the standard rate of 0.6 kilos of sludge yield. Because the levels of biofilm within the tank are constantly monitored and can be remotely checked from a computer or mobile phone there is less need for routine inspection checks - cutting down the cost of maintenance.
Commercial progress
Since 2014 OxyMem has sold nine MABR units, to countries including Sweden, Japan, Ireland, Spain and Brazil. One of its most recent sales was to service a 30 cubic metre wastewater tank for a privately operated municipal plant in Barcelona. The OxyMem system is also suitable for retrofitting, meaning an OxyMem MABR cage can be added to a wastewater tank which is struggling to cope with heavy loads.
Syron adds: "There is no problem with retrofitting to an existing tank and this can make economic sense. If a utility has a treatment system which is overloaded, it could build another tank. However, fitting the OxyMem system into an existing tank can effectively increase the capacity of a tank by 50%."
For utilities the energy, maintenance and operating cost reductions of OxyMem make a strong case for investment - particularly under the new Totex accounting system, which allows utilities to calculate the whole life cost of a project.
As well as targeting municipal wastewater plants the company is also selling to industrial users, particularly those with hard to treat wastewater such as pharmaceutical companies, semi conductor manufacturers. This year the company has a new partnership with a food and beverage manufacturer which will be using the OxyMem MABR in conjunction with pure oxygen, rather then air, to process high strength wastewater.
Syron says: "By using oxygen it is possible to increase the rate of reaction fourfold, to handle four times as much pollution load and to use a much smaller system - reducing the footprint.
"For industrial users the fact you can use pure oxygen or air with a higher level of oxygen means you can match the capacity of your treatment plant with the load. If the strength of the effluent is variable the oxygen levels can be raised or lowered according to what is needed."
Moving forward
The team behind the OxyMem MABR hope for it to be used in developing countries: in non-networked wastewater treatment plants powered by wind turbines or solar cells.
The technical director believes the time is ripe for the water industry to move away from bubbles and embrace membrane technology. "People are becoming more open to alternatives to traditional aeration. The water industry is notoriously slow moving but when you explain what this technology can do it gets exciting."
---
Claire Smith is a freelance contributor for WWI magazine.
More Water & WasteWater International Current Issue Articles
More Water & WasteWater International Archives Issue Articles