Chewing The [I]Fat in Munich - Wastewater Energy Development
Going from strength to strength, this year's IFAT event is expected to attract more than 135,000 visitors. A key theme of the exhibition will be looking at wastewater and solid waste as an energy source. WWi takes a look at what visitors can expect to find in Munich.
Mar 1st, 2016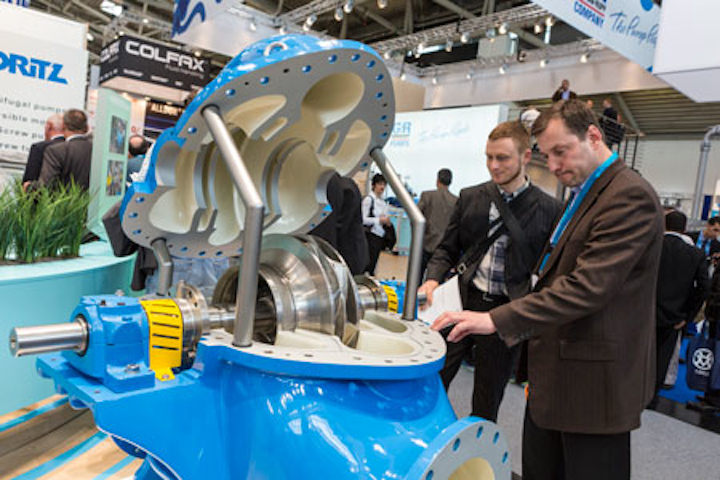 If you rewind 50 years back to 1966, it was the first year for a show called the International Trade Fair for Sewage Technology. At the time 147 exhibitors and 7,650 visitors from 40 countries participated in the 18,000 square-meter display. Since then, the event has grown from strength to strength, most recently being known as IFAT and continues to be one of the water industry's top events for environmental technology.
This year, more than 135,000 visitors are expected to visit the 230,000 square meter event - half of which is dedicated to water and wastewater companies and the remaining half to recycling and municipal technologies.
Taking place at the Messe München exhibition center, a key focus of this year's event will be looking at wastewater as an energy source. The three waste "products" of wastewater, sewage gas and sludge all contain valuable heat that can be recovered. As a result, a trend of the exhibition will be waste-to-heat processes and technologies for us in water, wastewater and sludge treatment.
Silvia Fritscher, exhibition director of IFAT, said: "Our exhibitors cover the entire technology spectrum from wastewater treatment to heat recovery and energy from wastewater. At their booths they also give best practice examples of new concepts for turning sewage plants into power stations."
Germany is an apt host for event focusing on such issues. In 2014, 1,340 gigawatt-hours of electricity was generated from this "by product" of sewage sludge digestion in German sewage plants alone. This amount of energy could cover the electricity needs of a city the Frankfurt. Yet there is more potential: there are over 10,000 wastewater treatment plants in Germany but last in 2014 only 1,252 of them were making use of sewage gas.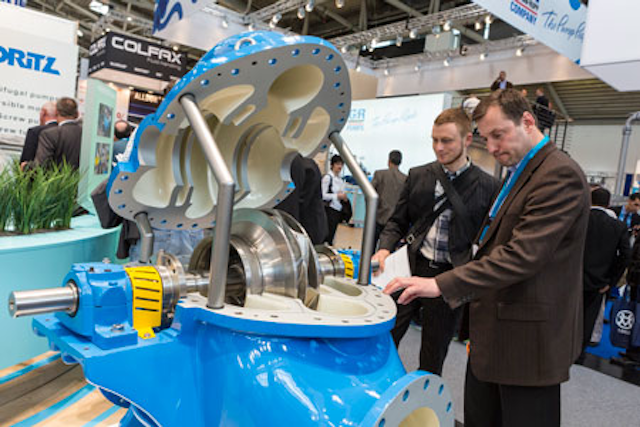 Along with the temperature of wastewater, there is a significant amount of energy. Depending on the application and time of measurement, domestic, commercial and industrial wastewater is between 10 degrees (Celsius) and 60 degrees (Celsius).
This energy treasure trove can be tapped into by passing this wastewater via special heat exchangers. Huber SE of Berching, Germany, calculates that, for example, the capital of Bavaria - Munich - could in theory meet over 60% of its energy needs by exploiting the heat in its own wastewater.
A practical and very useful way of tapping into this potential is to set up a small-scale recovery cycle. For example, in 2014 the sterile supplies department at the Rechts der Isar Hospital in Munich became the first such department in Germany to be fitted with a wastewater heat recovery system. Each year 64,000 pieces of equipment are cleaned and sterilized here; this represents most of the material needed in operations at the hospital.
These processes generate a lot of hot wastewater, most of the heat from which is now recovered and re-used to prewarm the water for the next cleaning and sterilization processes. The amount of heat energy thus saved is around 200 megawatt-hours per year.
Of course recovery of heat from wastewater also works in an industrial environment, as illustrated by a process installed by Pharmaserv, an operator of industrial parks, in January 2015 at the Behringwerke in Marburg.
Here wastewater is taken from a neutralisation basin and directed into a new-style heat-exchanger system. The physical process inside the heat pump raises the temperature to around 60 degrees (Celsius) - energy that is then available, for example, for heating the building. Now, after the test phase has finished, it is clear that over six megawatt-hours of heat per year can be made available in this way. Final implementation of the project is scheduled for 2016/2017.
IFAT will take place between May 30 and June 3, 2016 at the Messe München exhibition center. For more information, visit: www.ifat.de
More Water & WasteWater International Current Issue Articles
More Water & WasteWater International Archives Issue Articles