Building trust through humor
For water utilities, whose services and infrastructure are primarily out of sight and out of mind, finding a way to connect with customers on a personal level can make all the difference.
Mar 1st, 2019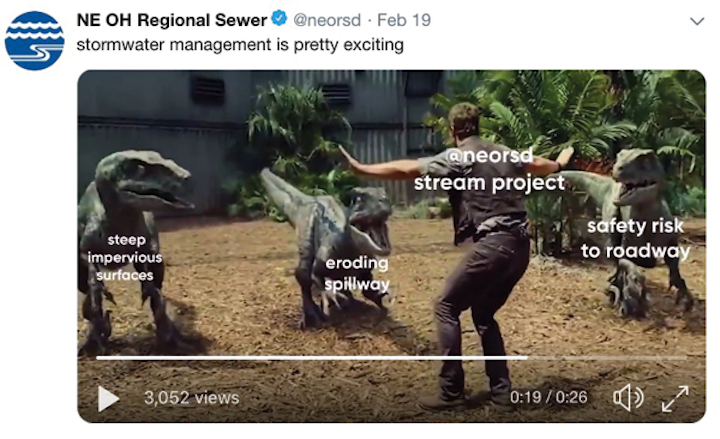 Today's social media landscape can be confusing to navigate. Facebook, Twitter, Instagram, Reddit, Tumblr, Snapchat, and whichever new ones have sprung into existence in the last five minutes — the litany of platforms can be overwhelming. However, despite the mind-numbing prospect of deciphering the ins and outs of hashtags and mentions, social media offers a very powerful — and personal — way to engage with audiences. For water and wastewater utilities, whose services and infrastructure are primarily out of sight and out of mind, finding a way to connect with customers on a personal level can make all the difference.
John Gonzalez knows this firsthand. As the communications manager for the Northeast Ohio Regional Sewer District (NEORSD), he and his talented team have perfected the art of customer outreach — and social media plays an important role.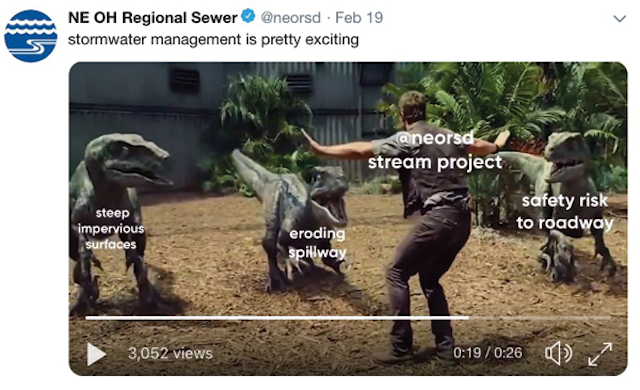 Entertainment is one way NEORSD connects with its audience.
"Customers have so many bits of information coming towards them at any moment," he said, "we need to have something that's effective." It's about creativity, it's about timeliness, and "it's about trying to step into the worlds that are often so busy for everybody around us."
The underlying philosophy at NEORSD is centered around the three E's: educate, entertain, and engage. "Any one of those aspects — or some combination of them — really helps us to be more effective when it comes to our outreach," he said.
Entertainment, he said, goes a long way toward effectiveness. Plus, it's a lot of fun. "It helps us be relevant for people who are so distracted in many ways," he said. "If we can step into the conversations that are relevant to them then we obtain relevance in their lives."
Gonzalez credits the supportive leadership at NEORSD for allowing his team the flexibility to be playful with their campaigns. "There is a lot of creative freedom for us to make jokes or step into an entertainment conversation or the sports world and make relevant commentary about what we're doing," he said, and it comes from "a level of trust that our leadership has in our team."
For water or wastewater utilities looking to up their social media game, Gonzalez offered three guidelines to keep in mind. "First of all, have a strategy," he advised. "Try to understand what your expectations are, what your opportunities are as it relates to social. Don't bite off more than you can chew, but try to find ways you can make headway within a specific platform."
Next is structure: How will you implement and execute your strategy? Here "you really start to find out what your resources are and understand what that commitment level might be." Ask yourself what you're willing to expend (in time, resources, etc.) in order to make gains in customer outreach.
And finally, focus on substance and tapping into what makes your customers tick. "How do you make your conversation substantive to your followers? Creativity has value, humor has value, but the emotional connection you can make with people on social media — it's tremendous how powerful that can be."
Through that emotional connection, he said, customers "come to trust us, and that helps us, no matter what we're talking about. That trust goes a long way." WW
Editor's Note: You can follow John and his team on Twitter at @neorsd. To watch the full interview with John Gonzalez on Episode 5 of The Drop, visit waterworld.com and click on WaterWorldTV.