Connecting with Customers
How utilities are engaging the public and building trust
Jul 1st, 2016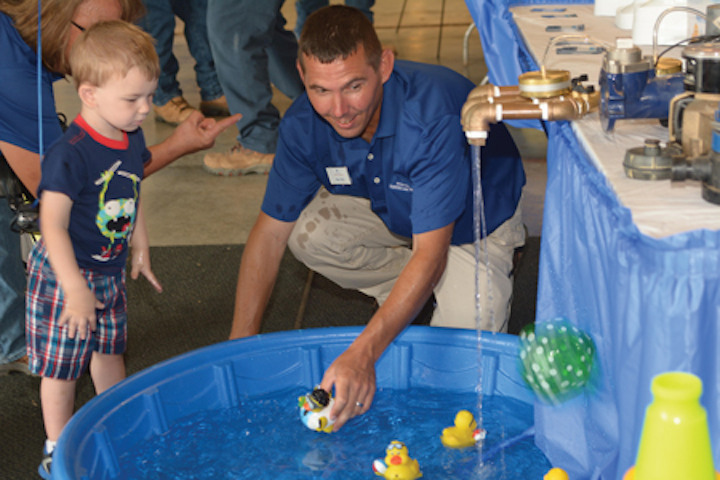 On a hot summer night in Lexington, Kentucky, hundreds of people line up for a chance to tour one of the city's most fascinating attractions. It isn't the latest amusement park; it's Kentucky American Water's annual Water Fest, and the line is full of people waiting their turn to tour the Central Kentucky Water Supply Solution Water Treatment Plant, a 20 million-gallon-per-day treatment plant at the heart of the utility's coverage area.
Water Fest is a one-day community event where the utility opens its doors to those it serves as part of a program to educate the public about their water service. It's a sign of the times: water utilities are seeking new ways to engage their customer base through education, and it's working.
"We have had a great response to Water Fest, and what is wonderful is that we have seen the same families year after year, bringing new people with them to the event each time," said Susan Lancho, external affairs manager for Kentucky American Water.
Lancho said customers even call at different times throughout the year to make sure that they haven't missed the annual event.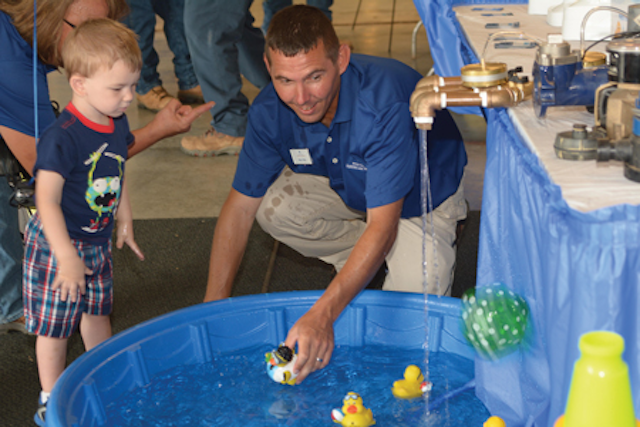 Activities at Kentucky American's Water Fest include a station where kids can participate in a rubber ducky race.
"The first year that we [hosted Water Fest], we weren't sure if we would have a huge response or not, but we hosted several hundred people that first year, and we have now grown to host 700 people each year," Lancho said. "For us, it's great because there are a lot of other things that families could be doing on a nice summer evening, but the fact that they take the time to stop by our place and learn about the water and their water system is great."
In addition to plant tours, the utility has designed educational exhibits for children and adults, so that they can become better acquainted with the equipment used in water treatment and distribution.
"We want people to understand what we do every day and we don't want to be that 'silent service,'" Lancho said. "We want people to be engaged and to understand what it takes [to have clean water]. We want them to understand what their water bill goes to pay for because, in the event that we want to invest in our infrastructure, if we do need to increase rates, we want people to understand why and we hope that people will be supportive of us."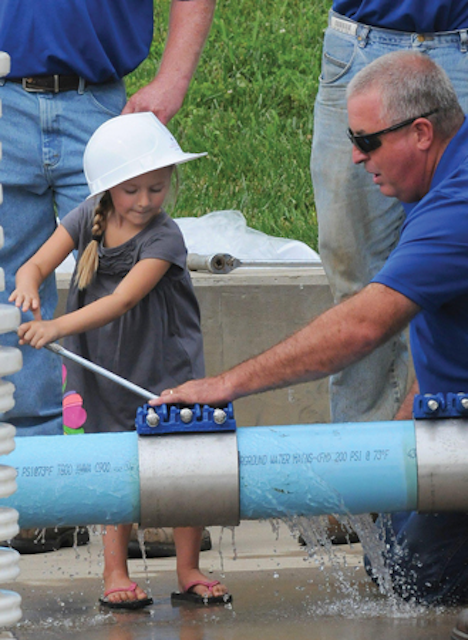 Water Fest attractions include a pipe tapping demonstration, and stations where attendees can practice fixing a main break and repairing a fire hydrant.
Kentucky American Water is a subsidiary of American Water, one of the National Association of Water Companies' (NAWC) largest member companies. Other American Water subsidiaries in West Virginia and Iowa host Water Fest events every year, complete with facility tours, pipe tapping demonstrations, educational exhibits, food, and - of course - water. The event is an excellent opportunity to showcase the company's commitment to the community and the investment it makes in infrastructure and equipment to provide high quality, clean water in a way that hasn't been done in the past.
"Water is important to public health and our economy," said Michael Deane, NAWC national director, "and increasingly, what we are looking at is trying to communicate that on an ongoing, regular basis, just getting people to understand the value that water and water systems bring to their lives in terms of health, well-being, the economy, and that [message] is evolving."
Deane said that in the past, customers were happy just to turn on the tap to find their water running, but in recent times, information about water has become something that customers are asking for.
"[Previously], as long as things were going well, you didn't need to know [anything else about your water utility], and unfortunately, now you do need to know what it takes because of the increasing costs and issues. Whether it be water quality issues like we have seen recently, or water supply issues like we see in California and other drought-stricken areas, there is always something," he said. "As an industry, we have kind of evolved into communicating this every day, all the time, and in many ways."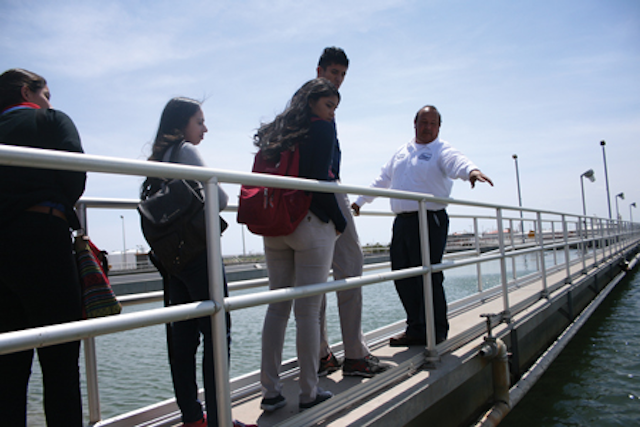 El Paso (Texas) Water Utilities welcomes high school students to tour its facility during Drinking Water Week as a way to educate them about how their water utility works.
NAWC assists its members through materials and messages, but the real work has to be done locally, Deane said. It's an opinion that is echoed by the American Water Works Association's (AWWA) Director of Communications Greg Kail.
"We find that the more people understand about their water quality and about their water systems, the more likely they are to be confident in it," Kail said. "People connect with their water locally, and what AWWA does is provide a suite of materials that helps utilities do that. Things like ads, proclamations, press releases, handouts … it's really all about encouraging people to be informed about their water, about how it's treated, about how it's delivered to homes, and about all of those important steps along the way that keep it safe and reliable."
With the Flint crisis still unfolding, Kail said, opportunities to increase customer trust and reliability in their water utility are increasingly important.
"I think that trust is earned and lost locally," he said. "Certainly everyone is reading about the lead situation in Flint and frequently the media across the country is localizing that story, so those utilities that have established relationships with their customers and their local media are in a much better position to provide the proper perspective on lead and communicate the right messages that are going to produce the appropriate level of concern in their communities."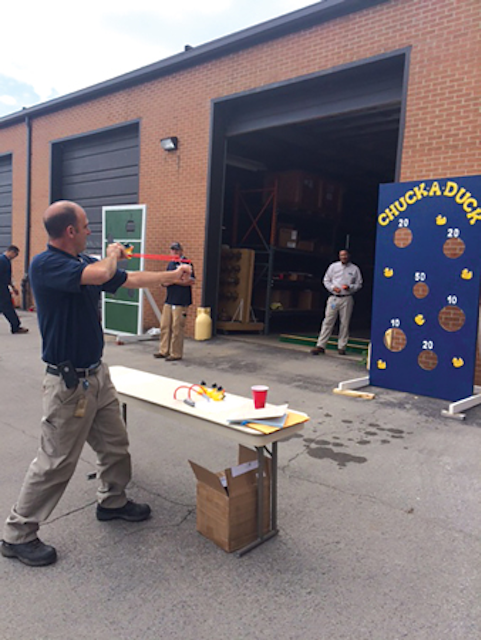 Metro Water Services in Nashville, Tenn., hosts a cookout and carnival as part of their Drinking Water Week activities.
Kail said that if there is one good thing that can come out of the situation in Flint it's that people are more aware of lead in water as a potential route of exposure and it is an opportunity for utilizes to have that conversation with customers.
"Hopefully, through all the coverage, [people understand] that lead is a home plumbing problem and that they should get to understand whether or not their homes are at risk," he said. Utilities can take steps to minimize that exposure by making sure they treat the water to become less corrosive, Kail pointed out - and they should communicate those efforts when they do. "But any way you look at it, the customer has a role in acting on their own behalf, and I think that really puts a premium on good, continued communication between the utilities and the customer."
An ideal time for utilities to engage their customer base is during Drinking Water Week. The annual commemoration takes place in May and includes participation from water associations and utilities across the country. Amber Wilson, AWWA communications specialist, said the association provides its members with logos, web banners, advertisements, PSAs, press releases and social media messages - all packaged and ready to use. Though materials for Drinking Water Week are dispersed to all member agencies, many utilities have taken the annual celebration and made it their own, developing innovative ways to mark the occasion and engage water customers through as many channels as possible.
"Some of my favorite uses of the materials we provide are the children's coloring contests," Kail said, "but there are a number of really interesting ways that our upwards of 200 utility members use these materials and participate in Drinking Water Week." There are a lot of community festivals that take place, as well. "Sometimes there are partnerships between utilities and their local media to focus on particular areas of the water delivery process on different days, so those kinds of things [are great to see]."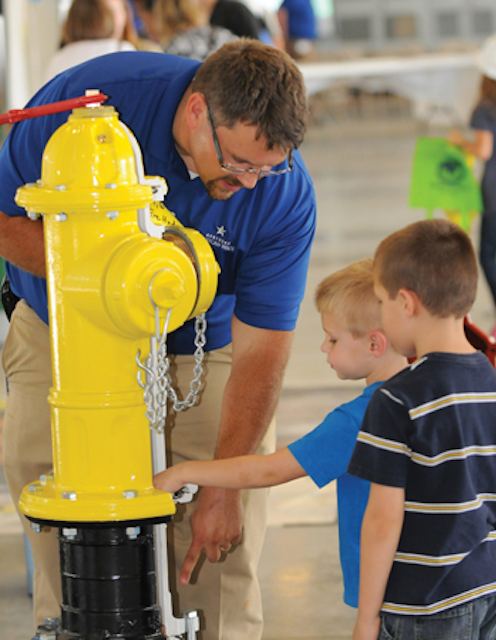 Water Fest puts utility workers in front of the customers they serve.
Metro Water Services in Nashville, Tenn., an AWWA member utility, held a cookout and carnival as part of its Drinking Water Week activities this year. Contests at the carnival included football and Frisbee-throwing, a hole-in-one course, ring toss, balloon darts, ping-pong toss, and a cakewalk. In addition, the utility gave away two rain barrels to randomly selected customers who signed up for one of their electronic payment methods during the event.
In El Paso, Texas, 18 seniors from Harmony Science Academy spent a weekday morning touring Jonathan Rogers Water Treatment Plant in El Paso's Lower Valley as part of El Paso Water Utilities' celebration of Drinking Water Week. The students took a behind-the-scenes look at the water treatment plant, and spoke with utility employees about their jobs.
"It was my pleasure sharing my passion for water treatment with the students from Harmony Science Academy for this Drinking Water Week event," said EPWU Water Supply Manager Ruben Rodriguez in a statement. "These young men and women were intelligent and engaged, and I enjoyed spending time with some of our future leaders."
Lately, Wilson said, social media has played a huge role in publicizing Drinking Water Week, and in communicating with customers on a daily basis.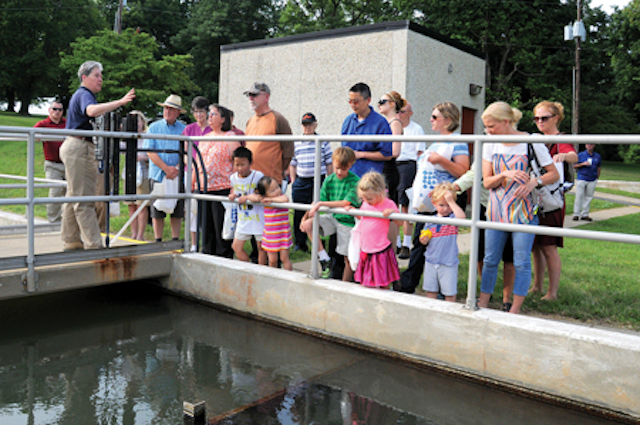 Families tour Kentucky American Water's treatment plant during Water Fest, an annual event to showcase the work of the water utility.
"We create a hashtag every year to coincide with Drinking Water Week, and we really see it blow up on social media, so we know that [utilities] are finding it an easy way to engage their audiences," she said. "We can see that people are re-tweeting our messages on Twitter and liking us on Facebook, we can see when people mention us, and we can then see their conversations about us." Wilson credited social media with giving the association visibility into the effectiveness of the tools they're providing to members.
Back in Kentucky, Lancho and the rest of Kentucky American Water team spend more time trying to communicate with their customers than ever before. The utility can be seen at community events and environmental fairs. At the local "Reforest the Bluegrass" event, an annual Arbor Day celebration, utility workers hand out information about water, water quality, how to read a water bill and how to understand water use and conservation. Social media is playing a larger role in the utility's communication efforts, but in-person experiences will still be one of the greatest ways to connect with the customer, Lancho said.
"What we find most helpful for our community is when people can actually see things in action and talk to our employees face-to-face," she said. "Most people don't think about water until they don't have it," Lancho said. "The more people understand about their water, the more comfortable they are going to become [with their utility]. That is the ultimate goal."
---
About the Author: Alanna Maya is the assistant editor for WaterWorld and Industrial WaterWorld magazines. Reach her at alannam@pennwell.com.