Efficiency of MBR Technology Offers Opportunities to Transform Communities
The efficiency of MBR technology is offering opportunities to transform communities.
Jul 1st, 2016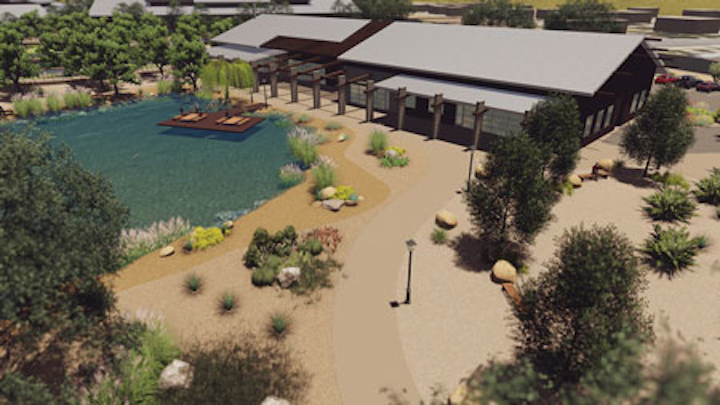 By Doug Headrick
California's struggle with drought is well-known. And while the state has traditionally fought over rights to existing water sources, the push now is on collaborating to find new ones. Governor Jerry Brown recently proclaimed the need to transition to permanent, long-term improvements in the Golden State's water use. His edict came with an urgent call-to-action to water districts to look for innovative methods of creating new sources of water to serve their populations.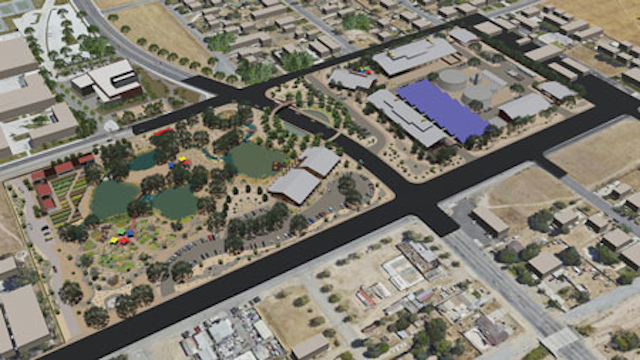 An aerial rendering of the Sterling Natural Resource Center.
The San Bernardino Valley Municipal Water District in inland Southern California is cooperating with neighboring East Valley Water District on a project called Sterling Natural Resource Center (SNRC) that will use membrane bioreactors (MBR) as a means to turn wastewater into a new water source for the region. The efficient, compact and self-contained nature of the MBR process also allows for other on-site amenities to serve the community in many other ways.
MBR technology will enable the SNRC to treat local wastewater so that it meets or exceeds the requirements for groundwater replenishment. Capable of treating up to 10 million gallons a day, it will be recharging the local Bunker Hill Basin, which has the capacity for storing hundreds of millions of gallons of water for future use.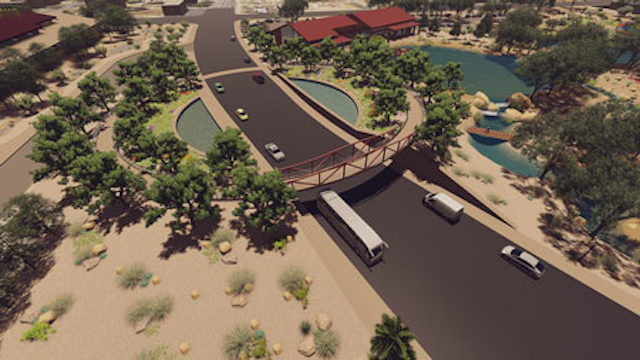 Artist renderings of the Sterling Natural Resource Center.
Membrane bioreactor technology cleans wastewater better than traditional wastewater treatment processes - producing wastewater up to 10 times cleaner than typical secondary-treated wastewater. It can filter solids, heavy metals, toxins, pathogens and other microscopic particles and organisms. An aeration filtration system will enhance the biological breakdown of the effluent, which will be treated with ultraviolet light to disinfect the water before it is recharged into the basin where nature will purify it even more as it makes its way through the aquifer only to be pumped out several years later.
Compact Operations Leave Room for Amenities
Because the process eliminates the need for expansive ponds, clarifiers and settling tanks, MBR facilities need less land for their operations. This enables them to "double-up" as local community centers, parks and demonstration gardens, educational outlets, nature preserves or a combination of any and/or all of the above.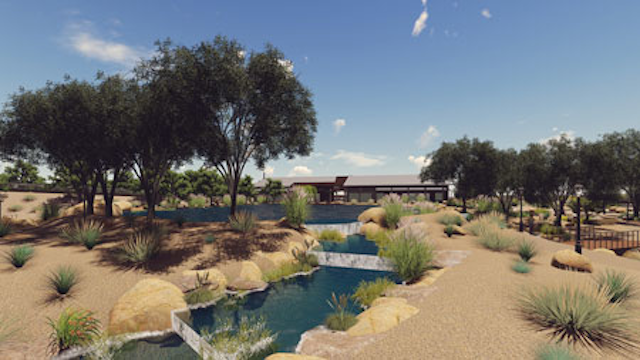 Artist renderings of the Sterling Natural Resource Center.
The SNRC plans to use a part of its 14-acre site for an administrative building with an interpretive center and meeting space for public and private events. Demonstration landscapes, a picnic area and community gardens will create a sense of beauty and connection to nature. A pedestrian bridge and other architectural aspects of the project will give a nod to the community's history and culture.
Located across the street from Indian Springs High School, the SNRC will also provide educational opportunities to local students, introducing them to STEM-related skills associated with water science and wastewater treatment technology. This experience will help to train them with employable skills they can translate into jobs after graduation. The facility exposes students to a new world of science where they can study water quality, learn about the engineering behind the project and understand the chemistry and biology involved in the purification process. Some students may find themselves inspired to pursue water sciences, engineering, biochemistry and other related studies in college.
Artist renderings of the Sterling Natural Resource Center.
Thanks to the efficiency of MBR systems, the Sterling Natural Resource Center will be able to be so much more to the community than just a wastewater treatment plant. It will help to replenish the groundwater basin; create a place for events, gatherings and convening with nature; and it will provide educational opportunities to students - another important investment in the future.
---
About the Author: Doug Headrick is general manager and chief engineer of the San Bernardino Valley Municipal Water District, a certified professional engineer, and a longtime water resources professional.