Products & Services: Safety & Security
Collection of safety & security products and services.
Jul 1st, 2016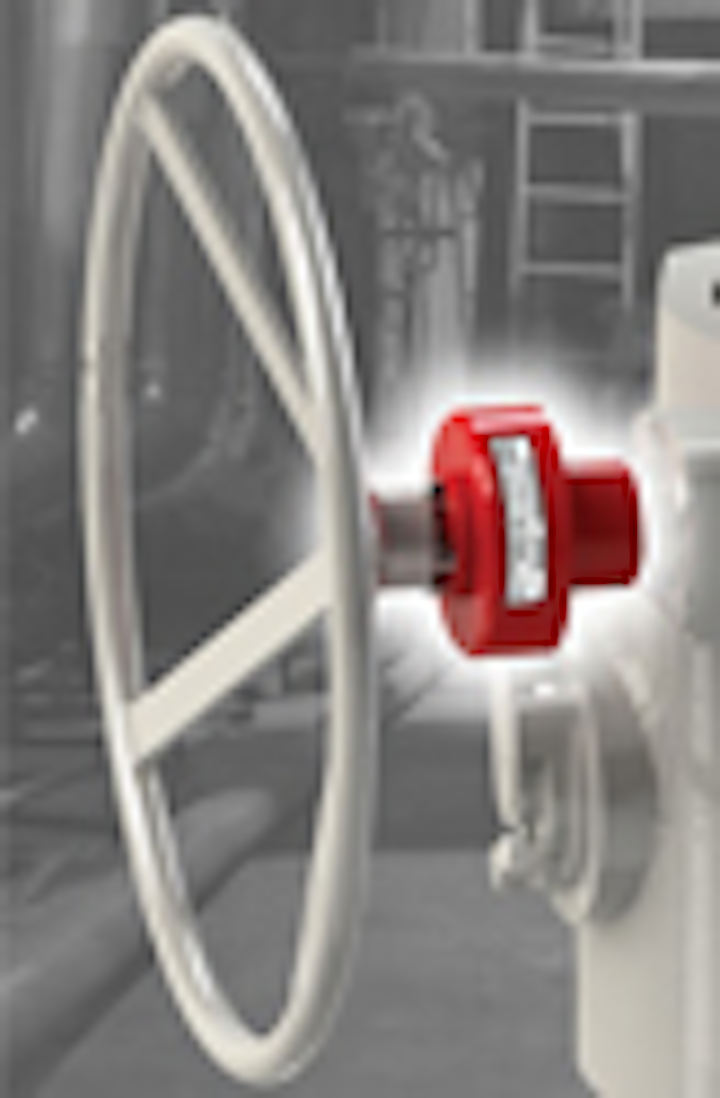 Overtorque protection
Aunspach Controls' Models D86 & D80 prevent water and wastewater valve damage caused by excessive operating torque. Operator safety is enhanced, valve damage and possible system downtime are avoided. Model D80 protects handwheel-actuated valves and is mounted between the handwheel and actuator. Model D86 protects AWWA nut-actuated valves and is mounted on the valve operating nut. Both models transmit operating torque but stop damaging torque. No maintenance is required. The mechanisms are permanently lubricated and hermetically sealed to exceed IP68 water ingress standard. Units are shipped pre-calibrated and ready to mount.
Aunspach Controls
Hydrant lock
The Intimidator® Hydrant Lock from McGard is designed to control illegal use, vandalism and water theft from hydrants. No modification to the existing hydrant is needed and the hydrant lock fits virtually all hydrant styles. The hydrant lock is made of alloy steel and ductile iron and attaches easily to the hydrant in minutes, using common hand tools. No time consuming, costly drilling and tapping is necessary. The hydrant is then operated utilizing a special wrench, available only from McGard.
McGard
Explosion-proof pressure switch
The Ashcroft® B-Series NEMA 7/9 explosion-proof pressure switch is now available with a 316 stainless steel enclosure for demanding operating environments, including salt water spray. These switches are IP66 rated and are approved for use in most NEC Class I and II hazardous locations. Each pressure switch can be fitted with a variety of diaphragm materials (including Monel for NACE applications) or with an external diaphragm seal to resist caustic or corrosive media.
Ashcroft
Electronic security system
Avigilon is one example of the cutting-edge video product manufacturers that Digi Security Systems partners with to bring customers the best possible video surveillance solutions. Digi has extensive experience with all Avigilon hardware and software in wide-ranging applications and has deployed more individual Avigilon sites than any other partner. Digi offers customers the most up to date Avigilon products, such as the brand-new H4 Edge Solution Camera line, which combines high-definition imaging, self-learning video analytics, network video recorder functionality, on-board Solid State Drive (SSD) storage, and embedded Avigilon Control Center video management software to create an all-in-one intelligent surveillance solution.
Digi Security Systems
Portable lighting system
The HAL-18LED-BP LED portable lighting system from Larson Electronics provides operators with instant illumination in areas where an AC power supply is not accessible. The unit is constructed of polycarbonate and the LED lamp head is vibration and impact resistant. This explosion-proof lighting system provides up to 1,500 lumens of high quality light in a compact, yet portable package. The 18-watt LED light comes in a 90-degree beam spread and operates on a 12-volt rechargeable nickel-metal hydride battery, which operates for five hours on high mode and 10 hours on low mode.
Larson Electronics
Safe ladder access
LadderUP® Safety Posts from Bilco provide easy, safe ladder access through roof hatches; floor, vault and sidewalk doors; and manholes. The telescoping post permanently mounts to the top two rungs of any fixed ladder, providing a positive hand-hold and enabling the user to enter or exit an opening in an upright and balanced position. Adjustable mounting hardware accommodates virtually any ladder rung size or spacing. Additional features include: telescoping design, spring balanced for ease of operation; automatically locks in the fully raised position to provide the user with a firm and steady hand-hold for safer egress; handy release lever allows the post to be easily lowered to its retracted position.
Bilco