Automation: Redefining the Modern Water Utility
Globally, water utilities have been facing a profusion of challenges, including rising water demands and energy costs, shrinking resources, and aging infrastructure.

Apr 1st, 2016
By Brad Williams
Globally, water utilities have been facing a profusion of challenges, including rising water demands and energy costs, shrinking resources, and aging infrastructure. Water loss and leakage are still evident across water distribution networks even as large parts of the world are coping with severe drought. In the midst of these challenges, water utilities are faced with the need to optimize their operational and work efficiency and infrastructure reliability, accelerate their response to emergency events and reduce water losses, all the while reducing maintenance costs and capital requirements and improving their service to customers.
Automation plays an important role in each of these tasks. When paired with increased data and analytical capabilities, automation is redefining the ways in which a modern water utility operates. Let's look at these areas in more detail.
Optimizing Asset Performance
For many years, water utilities have relied on traditional asset maintenance, which is generally cyclical and highly reliant on truck rolls. This traditional approach leads to higher costs and higher risk as work isn't always correctly prioritized, warranties may be compromised, security issues aren't quickly addressed and device failures occur that could have been prevented with more timely maintenance.
While automation is already commonly used in plant process-control systems, it is also now being incorporated in field operations, particularly with the growth of lower-cost and more functional field sensors and controls combined with a broad range of low-cost telecommunications alternatives to send and receive information from these devices. Advanced asset risk analytics leverage the data from these new automation sensors and controls to enable real-time asset performance management and service quality, as well as correlation of advanced metering to provide immediate prescriptive maintenance work requests. This real-time automation of sensor data can mitigate a problem before it becomes a more major issue and costly repair, improve replace-or-repair decisions, and extend equipment life as a result.
Further, through automation, continual work improvement and real-time asset monitoring, water utilities can better manage and transform their operations, tracking all actionable events and increasing asset utilization and uptime while eliminating the inefficiency and expense of reactive asset management.
Increasing Workforce Efficiency
The use of automation to optimize asset management and performance has a direct and immediate effect on workforce efficiency. While new smart devices in the field require the adoption of new field maintenance processes (for work such as device configuration and firmware updates, similar to IT desktop support), applying automation to that maintenance lifecycle makes it easier to ensure a right work/right time approach to maintenance, reducing the need to put more people in the field to take on the new device maintenance work.
In addition, operational device management can serve as an automated lifecycle management and maintenance shop, analyzing data in real time to quickly identify and proactively adjust, update and repair security, performance and compatibility issues as needed.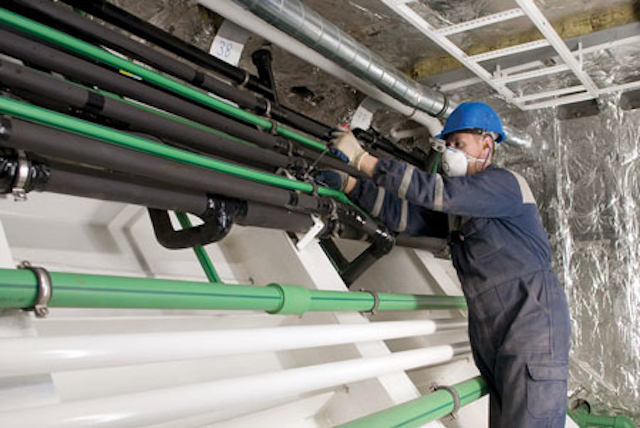 Applying automation to the maintenance lifecycle makes it easier to ensure a right work/right time approach to maintenance, reducing the need to put more people in the field.
Use of automation in these areas effectively reduces field crew safety issues, and significantly reduces the time and cost of repairs. By reducing the number of truck rolls necessary, automated smart device maintenance and management also minimizes environmental impact by reducing truck emissions and repair equipment failures. And when truck rolls are necessary, especially in the case of planned or unplanned shutdowns, operators can automatically generate a repair plan with the required steps noted, right down to step-by-step instructions for opening, closing and tagging devices.
Automation can assist with knowledge transfer issues, as well. As highly experienced, veteran employees continue to age out of the workforce, it is more important than ever to capture that knowledge and expertise before it is lost to the company. By automating the capture of details such as labor estimates, equipment used, safety information, maintenance history, job process and other notes, job templates become a formal storehouse of knowledge for any task that needs to be carried out. Automated planning, job templates and work order schedules can increase proactive work and workforce efficiency, and maximize the value of work and assets while reducing expenses.
Maximizing Financial Performance
Water utilities dedicate substantial revenue and personnel to assets, all of which must be installed, tracked, maintained, repaired and replaced proactively in order to maintain operational efficiency. By automating objective data analysis as a core business process, they can gain greater actionable insight than was previously available from subjective or observed assessment and intuition. Using algorithm-based and predictive analytics, utilities can capture information from numerous, seemingly unrelated data sets, consolidate it, and run it through multiple analytical models that will identify correction anomalies or causal linkages that would not have been evident through subjective or observed assessment. This, in turn, can fuel actionable work lists that correct or prevent cost, reliability or safety issues.
In turn, the automation of these business process tasks aids in maximizing the utility's financial performance and ensuring business integrity: by being able to track costs by asset, project, work order, components, process and other cost summaries, the utility can better optimize budgets, evaluate expenses versus capital expenditures, and maintain and ensure regulatory compliance.
Improving Customer Satisfaction
A more efficient, proactive approach to asset performance management and asset reliability in turn ensures two important factors to customers: water quality and affordability. Being able to put the customer first by proactively notifying them of planned shutdowns and keeping them informed when unplanned shutdowns need to occur to repair or replace an asset have been shown to improve customer satisfaction and increase customer engagement and dialogue.
---
About the Author: Brad Williams is vice president of industry strategy for Oracle Utilities.
More WaterWorld Current Issue Articles
More WaterWorld Archives Issue Articles