Maintenance by the Numbers
How asset management programs are saving utilities millions of dollars in avoidable maintenance and pipeline failures.
Jul 1st, 2017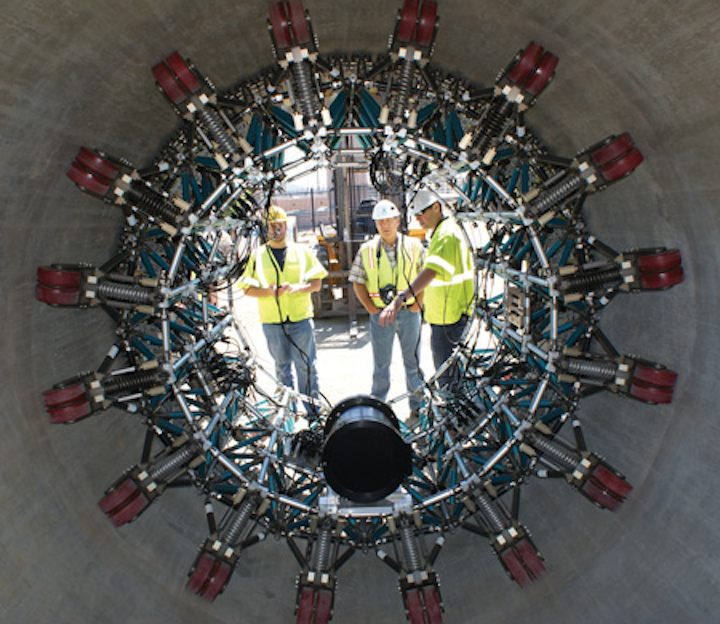 By Sarah Fister Gale
Every year in the United States there are an estimated 240,000 water main breaks. These infrastructure failures waste more than two trillion gallons of treated drinking water, and millions of dollars are spent on emergency response projects. Utilities across the country know the risk exists, but they have limited resources to address aging systems and lack of clarity about where the next failure will occur.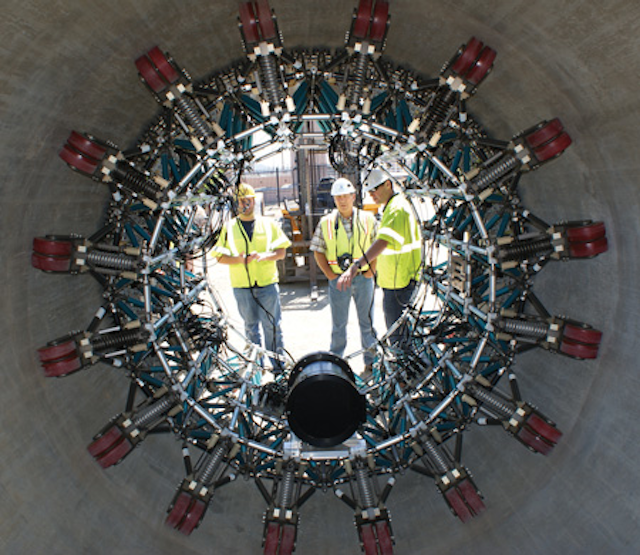 SDCWA uses magnetic flux leakage technology to scan pipes for corrosion. Photo courtesy of SDCWA.
With hundreds of miles of pipes, pumps and other infrastructure to care for, choosing which project to support can be difficult. Most utilities rely on age as the primary decision-maker for upgrades, but that can lead to perfectly good pipes or pumps being replaced while younger but more damaged infrastructure remains installed until it fails. It is an inefficient, expensive and risky way to manage assets, said Nathan Faber, operations and maintenance manager for the San Diego County Water Authority (SDCWA).
Fortunately, there is a better way. A formal asset management program that captures and analyzes real-world data about the condition of assets and the surrounding community can help utilities make smarter and more cost-effective decisions about how to manage their water infrastructure. "Taking a condition-based approach to management means you are always putting your labor and resources where they need to be," Faber said.
Finding Leaks with Google Earth
SDCWA implemented a formal asset management program in 1991 after a pipeline failure spurred the board of directors to rethink its reactive approach to maintenance. "There were some visionaries on the board who saw the potential benefits of asset management," he said. They realized that if they could pinpoint where problems were beginning to occur, they could be more precise about how they spent
---
---
their money. The program started small, tracking a few critical assets, but it has evolved over the years. Today the utility uses hundreds of sensors and data analytics tools to track the condition of 70,000 assets, including 310 miles of large-diameter pipe. They also use tools like magnetic flux leakage technology to scan pipes for corrosion, and acoustic fiber optics to listen for changes that indicate leaks.
San Diego County Water Authority uses 3D visualization of data to help track and manage assets. Photo courtesy of SDCWA.
All of the data is captured and analyzed in a geographic information system (GIS), which the SDCWA team built in-house using open source software and Google Earth to visualize at-risk assets, Faber added. When an issue is identified, his team uses the data to define the risk, likelihood of failure, cost of replacement and consequences if they wait to come up with a score. They use the scores to prioritize maintenance projects and determine how frequently vulnerable assets need to be monitored. "It's a lot of science and a little bit of art," he said.
They use the scoring metrics and mapping technology in their annual reports to board members to showcase the projects they want to address in the context of the community. For example, if a pipe has a moderate likelihood for a break but it's in a densely populated residential area, it might warrant more attention than a similar pipe in a more remote location. "It's a lot easier to make decisions when you can see where the problem is," he said.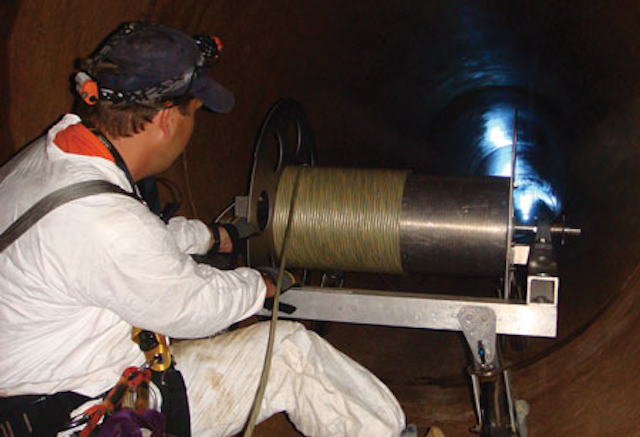 Installation of acoustic fiber optic monitoring cable for real-time pipe monitoring. Photo courtesy of SDCWA.
This all may sound like a high-tech - and high-cost - solution that is out of reach for most utility budgets, but the return on investment is undeniable, Faber pointed out. He estimated that over the past 10 years, the asset management technology has cost the utility roughly $13 million - but it has saved more than $100 million. That includes deferring replacement of 29 miles of pipe because real-time monitoring found it was still in good shape. "A lot of agencies think this technology is too expensive," he said, "but in our case, we are saving a lot more than we spent."
Data-Driven Solutions
Gathering data about asset performance is critical to delivering a more efficient and cost-effective management program for any industry, said Rudy Engert, business development manager for Schneider Electric in Atlanta. "Fortunately, the water industry is already really good at data collection." He noted that most utilities already have supervisory control and data acquisition (SCADA) systems in place for gathering and analyzing real-time data about plant operations. They just need to extend that data management culture to managing assets.
---
| | |
| --- | --- |
| | In a recent video interview with WaterWorld, American Water's Dave Hughes shares his perspectives on how water utilities can leverage advanced metering capabilities to work smarter not harder. |
---
John Fryer, senior director of industry solutions for Stratus Technologies in Boston, agreed. "Utilities are already collecting data for regulations and consumer safety," he said. "Asset management is the natural next step." In an era where utilities are facing serious capital needs and ratepayer scrutiny, being able to make better investment choices with limited resources makes good sense. "A relatively small investment in software can have a big impact," he noted.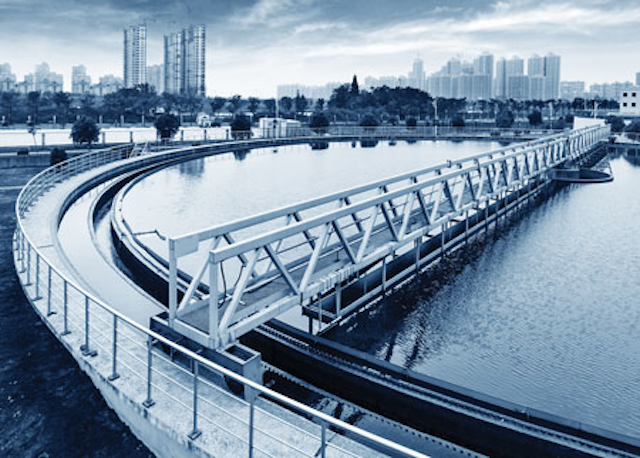 Asset management is a natural next step, given that utilities are already collecting data for regulations and consumer safety. Photo courtesy of Stratus Technologies.
While SDCWA built its own platform from scratch, there are many off-the-shelf systems that can be used to monitor critical points in the distribution network and access data via a centralized SCADA system or other platforms. These tools can be customized to monitor stats like the number of hours an asset has operated, pressure levels, and energy usage, and to send alerts when maintenance issues arise or benchmarks occur. "It's an opportunity to better understand how your assets are operating and to standardize what you are going to do to prevent failure," Engert added.
A Grassroots Approach
Taking a data-driven approach to asset management requires more than just an investment in technology. It requires a culture change for a lot of organizations. According to Fryer, most utilities don't even think about using data to benchmark asset performance - even when they have access to it. "That data can show you the condition of all of your assets, so you can assess their life potential and take steps to make the system stronger," he said.
And while most utilities don't have millions of dollars to spend on day one, even small low-tech applications of data can have a positive impact on asset management, said John Rogers, director of project development and right of way acquisition for the Department of Public Works in the Town of Framingham, Mass.
Rogers is in the process of proving this theory by creating an asset management program for the township in response to shrinking annual capital budgets. The township requires $40 million a year for infrastructure improvements, but last year it only received $30 million, and he expects the same for the coming year. He believes a data-driven asset management program will help his people prioritize which projects must go forward and which can be deferred. "We need a more consistent way of choosing projects that are backed up by criteria and metrics so we make better use of our resources," he said.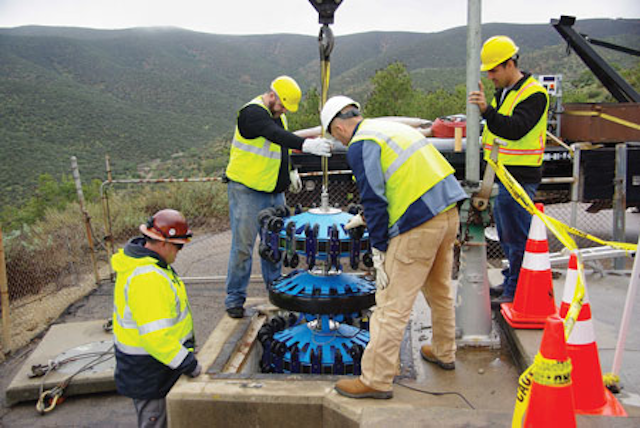 SDCWA performing a remote field technology assessment. Photo courtesy of SDCWA.
Rogers isn't planning to invest millions of dollars in a new software system. Instead, he is going to rely on his staff of 50 field technicians to capture the data they already have access to. The techs often see five pipes and other pieces of infrastructure every day, and in many cases that's the only time those assets are exposed, Rogers explained. "Right now, none of that information is captured."
He plans to start tracking their daily assignments in spreadsheets and asking them to record what they see on their smartphones, including summary descriptions of the asset's condition, photos of the asset, and their thoughts on whether it requires follow-up monitoring or maintenance. Over time, the data will start to show trends that will inform decision-making about maintenance projects. "It will give us rare insights into the condition of our entire system," he said.
Capturing and analyzing all of this data may feel overwhelming, but it doesn't have to be. "If you don't have anything in place, start small," Faber advised. He suggests tracking a few critical assets to build momentum for the program and demonstrate early successes. "When management and the board see the benefits of knowing exactly where the problems are, they will be more willing to invest in it."
---
About the Author: Sarah Fister Gale is a Chicago-based correspondent for WaterWorld. Over the last 15 years, she has researched and written dozens of articles on water management trends, wastewater treatment systems and the impact of water scarcity on businesses and municipalities around the world.