In a Tight Spot
Water Main Replacement Requires Ingenuity, Cooperation
Jan 1st, 2017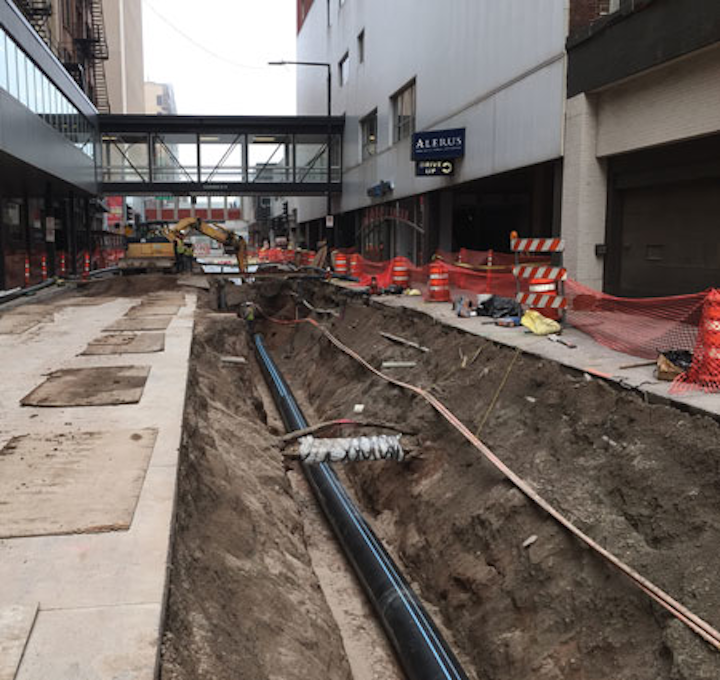 A new potable water pipeline that had to be installed under a narrow, one-way downtown street in Duluth, Minn., challenged the logistics and coordination abilities of the city's utility department. The site was surrounded by buildings, restricting the use of large equipment and a well-mapped-out plan had to be created and followed. In total, more than 900 feet of 20-inch ductile iron pipe size (DIPS) diameter pipe was installed under Michigan Street in a project that spanned five months and was completed in October 2016.
"The project basically came about because the corridor through our downtown area is very, very full of other utilities, and one of those lines is the local power company's duct bank, which they needed to replace," explained Howard Smith, P.E., project coordinator for the engineering division of the Duluth Public Works and Utilities Department.
"What the power company couldn't do was take the old line out of service or relocate and remove it, then put the new one in its place, so they had to put the new one right next to it. The only problem was that our water main was in that spot," said Smith. The existing water main was from 1888 and was 16-inch cast iron with leaded joints. "It actually had a pretty reliable history of service for us. One reason for this was the sand backfill that was brought to the site - it was nice and clean."
Smith and the project team developed a plan that would replace the old water line. The new pipe would be 20-inch diameter DIPS, high-density polyethylene (HDPE) PE 4710 SDR 11 that would have sections heat-fused to produce a leak-free, 950-foot run.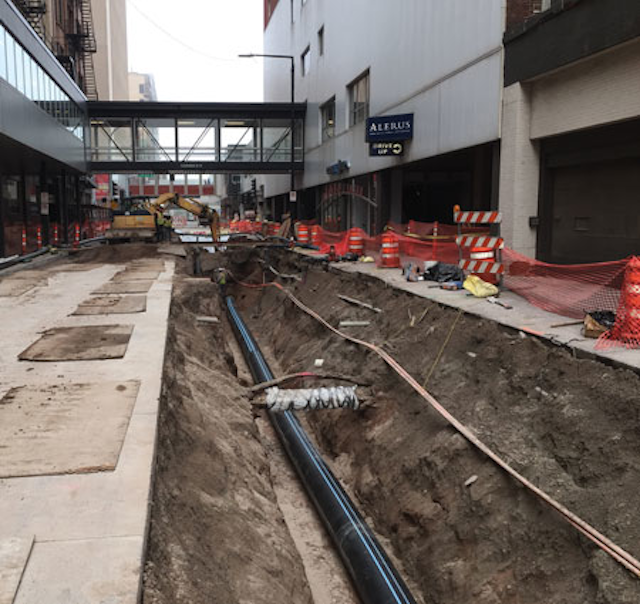 Sections of HDPE pipe were fused together to create a 950-foot run in downtown Duluth.
"The first project I worked on with the city using HDPE was in 2003 for another water main for a whole neighborhood," Smith recalled. "I think HDPE pipe has been in use here since the mid-1990s. Basically all we have in our spec right now for water main material is HDPE and we'll be using it a lot in the future.
"We've had a very good track record with butt-fused HDPE pipe for not having leaks. And we figured that using it in this area would give us a pipe that we would never have to go back down to and work on," he stated.
According to Eric Shaffer, P.E., the city's chief engineer for utilities, "We use HDPE extensively here in Duluth. It is good down to minus 40 degrees Fahrenheit without damage to the pipe." He and his team even tested a piece. "We fused on a saddle, tapped it, pressurized the pipe with water to about 100 psi and threw it in a freezer." Several months later, they took it out, let it thaw and, according to Shafer, it was still holding pressure with no damage.
According to the Plastics Pipe Institute Inc. (PPI), the major trade association representing all segments of the plastics pipe industry, PE 4710 is the highest performance classification of HDPE piping material for water applications. "[It's] tough, durable and flexible, meeting AWWA C906 and ASTM F714 standards," stated Camille George Rubeiz, P.E., F. ASCE, director of engineering for PPI's municipal and industrial division. It can be used with increased flow capacities and provides increased resistance to surge pressure, fatigue and slow crack growth, she added.
The crew replaced the pipe half a block at a time, assembling at grade on one side of the street before lowering it into the trench on the other.
"There are high operating pressures here in town and that's what contributed to our standard of SDR 11 pretty much across the board for all sizes," Smith explained. "We actually have about 130 pounds of operating pressure available on those mains." Smith noted that Duluth is a city on a hill. "I like to think of it as a mid-west San Francisco," he said. "We have a lot of streets that run parallel to the hillside, and our avenues run up anywhere from a 10 to 26 percent grade in some areas, so the elevation changes really fast." The area where the pipe was being replaced is at the bottom of the zone, which is why the pressure is so high, he explained.
The project called for Michigan Street to be dug up for the utility line replacement and to add the new water line. Pipe bursting frequently used in tight areas was not an option due to the large number of bell clamps that keep the lead packing material in the joints in the old cast iron pipe. It would require many man-hours to remove each steel clamp, spaced roughly every 12 feet.
On each side of the street are high-rise buildings, parking ramps and other areas that could not have access shut off. For the two-block replacement, the project was broken into four phases, replacing roughly a half a block at a time. "This would allow access into each block and keep all the businesses around there functioning," he explained. The first segment was 100 feet, the second was about 290, the third was about 320, and the fourth was about 240 feet.
The crew from George Bougalis & Sons Co. (Hibbing, Minn.) cut the whole segment, removed the 16-inch cast iron pipe and connected buildings to a temporary water system. Pipe for each segment was assembled at grade on the other side of the street, disinfected and, in some cases, pressure tested above grade also. Three pieces of equipment were used to lower the pipe into the trench, thread it under the other utilities and reconnect the services with tapping tees.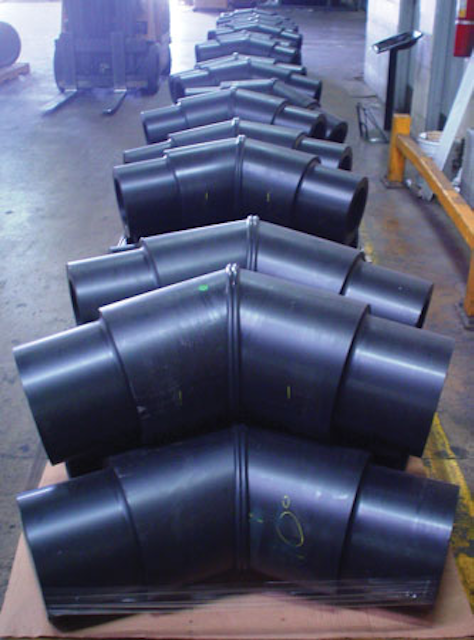 These large-diameter elbows along with other fittings were custom fabricated from HDPE for the Duluth project.
Heat-fusing the 40-foot-long pipe segments was done by Bougalis. "Duluth has a certified fuser program," Smith explained, "which Bougalis went through at the beginning of the project." Two fusers did all the pipe section butt-fusing and electrofusing the side saddles and tapping tees.
There are 22 taps and side saddles along the 950 feet of pipe. "We did an hour-long, 150 psi test on all of those side saddle fusions," he noted. "Testing for the main butt-fused pipeline underwent an eight hour, 150 psi test in accordance with our standard protocol."
The new line is seven to eight feet below grade to allow for the frost line and other utilities. "Now everybody else can run their utilities above us," Smith said. The pipe also enabled the crew to thread it under the existing utilities. According to Smith, Michigan Street has a sanitary sewer line deeper, and then stormwater above that, then all the power, communications and steam lines from the community steam heat system. "Those are always a challenge," he said, "because of the extreme heat they generate. We needed to have protective barriers and insulate the pipe lines from each other. The separation between the lines, which was only about three feet where we crossed them with the HDPE water line, was calculated by the local steam company."
For Smith and his team, the next project will be Superior Street, the other main street in downtown Duluth, where the same circa 1888 cast iron water main will be replaced with HDPE pipe. "Michigan Street was a prototype project to see if it was possible to do this large diameter pipe in a very developed, congested area," he said. "We're proceeding with planning [the Superior Street] project, which will probably start in 2018."
The Plastics Pipe Institute Inc. (PPI) is the major trade association representing all segments of the plastic pipe industry and is the premier technical, engineering and industry knowledge resource publishing data for use in development and design of plastic pipe systems. For additional information, visit plasticpipe.org.