Smart Security: Is Your Surveillance System Geospatially Aware?
A geospatial surveillance system provides a high level of situational awareness by allowing for a map-based representation of a system's sensor location, sensor status and dynamic views of current security events.
Jul 23rd, 2014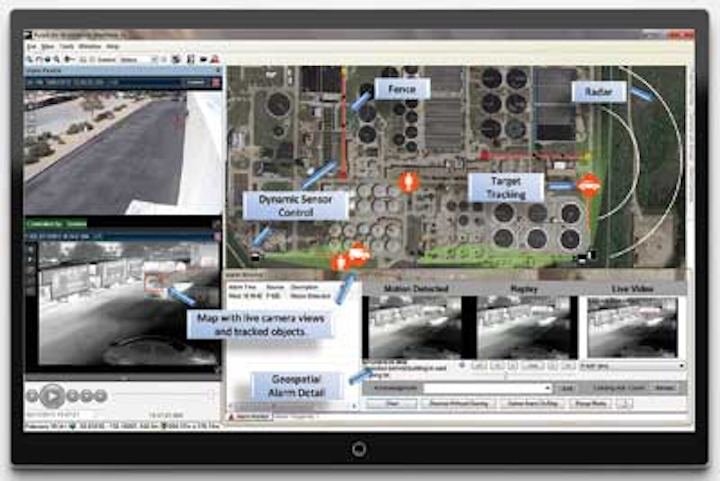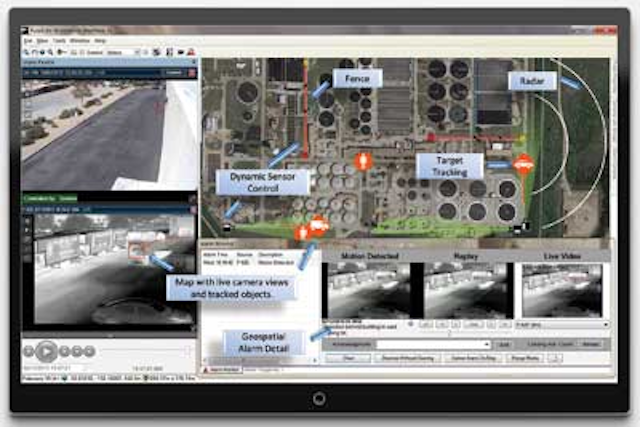 A geospatial user interface can convey a vast amount of information including physical location details, sensor locations, sensor coverage information, sensor type, target location, target track, target identification, target speed, and detailed alarm information.
By Eric Olson
Almost every digital platform today, from Facebook to Google to Pinterest, is resorting to geospatial technology. Sometimes referenced under other names - GIS, geo-intelligence, GEOINT, map-based, geo-referencing, geo-analysis, etc. - the concept of "geospatial" is defined as relating to data that is associated with a particular location. In security terms, that means identifying what happened and where it occurred, and it's important to understand how this can help make water facilities more secure.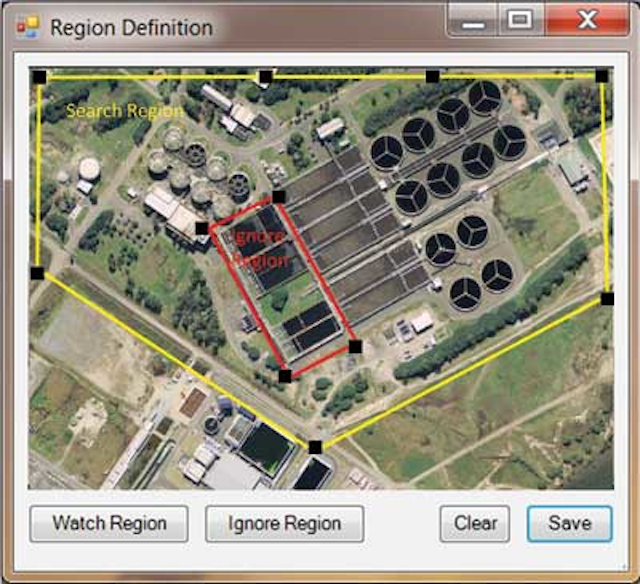 A geospatial surveillance system can allow for map-based activity searches.
Map-Based Presentation of Data
What is a geospatial surveillance system, and what value does it provide in protecting a water facility? A geospatial surveillance system is a technology that relies heavily on location data for primary display, or a map-based graphical user interface (GUI), and for analysis and integration of sensor signals. One of the major advantages is that it provides a high level of situational awareness by allowing for a map-based representation of a system's sensor location, sensor status and dynamic views of current security events. Further, a user can view the GUI and quickly gain an understanding of the current state of events.
This compares to the more traditional systems, where a user, or multiple users, may have to analyze many monitors to understand the status of various sensors. This advantage is similar to using a map when driving to a new location versus using a textual description of the same route. Although both contain value and provide the information to direct the traveler to his or her destination, the map provides a frame of reference and instant visual cues and quickly communicates a large amount of detailed information. This improvement in ease-of-use becomes increasingly important as water security budgets are subjected to growing pressure and there is increased demand to make security operations more efficient.
A geospatial system also provides for user interaction through this same interface. This means sensors can be queried and controlled via a map-based display. Sensors such as spotlights, fixed and PTZ cameras, and acoustic devices used to interrogate or react to an event, can be controlled from the GUI using animated intrusion tracks as a means to direct the sensors to the exact location. This type of user control is very intuitive, resulting in an easier learning curve and less risk of an operational misstep during an event.
Geospatial Sensors
The fundamental components that comprise a geospatial system are the sensors themselves. True geospatial sensors include radars, GPS and smartphones. These sensors provide a large amount of data, including time-based location, direction, speed, and even acceleration. Equally important are sensors that can be geospatially-enabled. These include fence-intrusion systems, which can provide linear location along the fence line, and cameras that can be converted into "visual-radars" through a pixel-to-terrain mapping process called geo-referencing. PTZ cameras, laser illuminators, spotlights, range finders, acoustic devices, and even fixed-position sensors (fire, proximity, door, etc.) can also be enabled to be geospatial, allowing them to be monitored and controlled using latitude and longitude information.
Another essential piece that comprises a geospatial system is the software that allows sensors to be controlled and collaborate via a common operating picture, mainly a physical coordinate system. This means they can effectively communicate with each other using a common geospatial command set, ultimately allowing the system to easily automate many tasks that previously required operator control, including steering cameras to other sensor detections, fusing data and tracks from multiple sensors, and automatically tracking targets and other assets.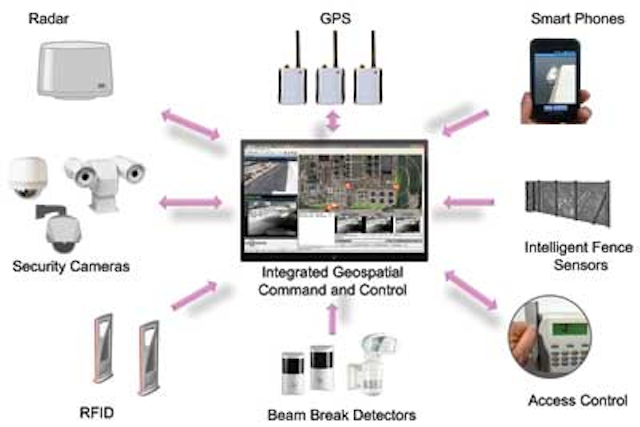 Figure 1. Geospatial surveillance systems can combine a variety of sensors and allow them to collaborate using a common physical coordinate system.
Forensic Enhancement
A geospatial system also provides enhanced forensic value. The ability to assign locations to events carries over into alarm searches and forensic efforts. Each alarm contains location information so that events may be investigated and reviewed based on a particular region, versus trying to identify specific sensors that were involved. This can be extremely helpful when studying trends or investigating specific incidents. Further, geospatial surveillance systems also have the ability to perform a full map-based scenario replay, essentially repeating everything the operator observed on the screen, including alarms, sensor positions and map locations. At any point, the reviewer can receive the detailed data associated with the event or sensor.
A New Spin on GIS
The use of geospatial data at water facilities is not a new idea. GIS systems have been widely used for many years to monitor distribution, collection and drainage networks, and ultimately provide spatial reference data and real-time, historical measurement information. Geospatial surveillance systems operate in a similar manner, utilizing detection and tracking sensors to provide status and control of security operations. However, since they can also be used to monitor operational or safety sensors with fixed locations, this creates an operational synergy between a geospatial surveillance system and a GIS operations system. Accordingly, many water facilities are beginning to take advantage of this opportunity and merge these two system types into a single map-based operations and security command and control.
Inevitably, events can occur anywhere, and today's sensors and applications understand the value of this data, track it and share it with other sensors. It is important to understand the value that geospatial sensors can provide and determine how best to incorporate that capability into security design and operations. In many cases, a facility's current system may already include many of these sensors, and it is only a matter of enabling their geospatial capabilities to allow them to provide value within the existing surveillance system.
About the Author: Eric Olson is Vice President of Marketing at Phoenix, Ariz.-based video analytics developer PureTech Systems. He can be contacted at eric.olson@puretechsystems.com or via Twitter @puretechsystems.