Public Engagement: Implementing Effective and Innovative Outreach Programs is Key to Connecting with Customers
Customers play a vital role in how water and wastewater utilities function and can serve as the lifeblood of their operations. As such, a well-rounded relationship between utilities and their customers is one of the most important elements to achieving overall operational success and customer satisfaction.
Jul 23rd, 2014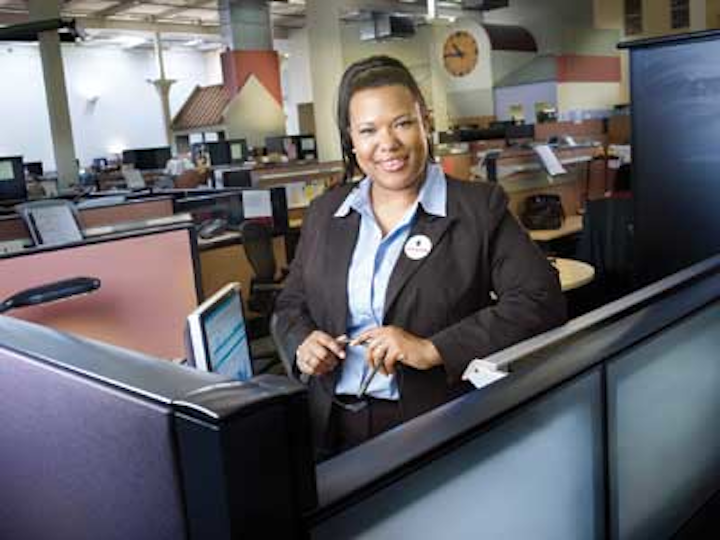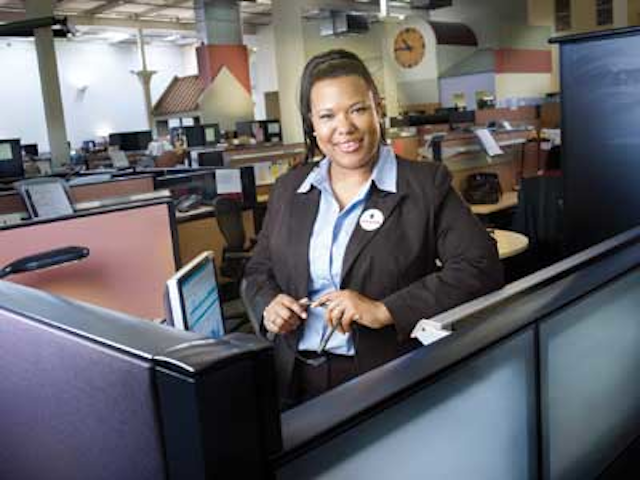 An American Water customer call center representative. Customers deserve to be engaged in new and innovative ways by their local water utilities.
By Art Haddaway
For water and wastewater utilities, customers play a vital role in how they function and can serve as the lifeblood of many of their operations. From contributing ideas to supporting conservation initiatives, ratepayers can have a significant effect on several decision-making processes.
With the rise of new web- and cloud-based communication strategies and technologies in recent years, customers are more informed and engaged than ever before. Social media platforms, online surveys and newsletters, and mobile smartphone apps enable the public to customize when and how they interact with their providers, potentially holding a higher influence as a result.
"We live in an age now where people can tailor what information they receive," said Maureen Duffy, vice president of corporate communications and external affairs for American Water. And they don't compile it all from one source, she pointed out. "They're going to all different sources to get the information of interest to them." The key, she said, is to tailor how you connect with your customers, understanding what kind of information they want from you, and the context in which they want it.
Every day, water and wastewater utilities face a number of demands such as aging infrastructure, drought and water scarcity, environmental considerations, and federal and state water quality standards and regulations. However, many of them can't meet and overcome these challenges without the full support of their customers.
Accordingly, a well-rounded relationship between utilities and their customers is undoubtedly one of the most important elements to achieving overall operational success and customer satisfaction. This camaraderie can yield substantial benefits for both parties and pave the way for a variety of opportunities to learn, grow and solve problems together.
But what does a "well-rounded" relationship truly look like and how is it achieved? Many industry leaders might argue, for example, that it's accomplished by establishing an engaging online and social media presence, while others could contend that it's realized through various local education incentives. It's all of these and much more.
Establishing a good customer relationship can involve a multitude of channels and is often based on a utility's demographic, subject matter, seasonal period, and particular needs at the time. "It's running the gamut of all different ways to reach out to [customers] to get them information," said Duffy. "It changes based on what you're communicating: if it's an emergency, you can send a text; if it's how to save water in the summertime, you can send an email, so it runs across the board."
Customers deserve to be engaged in new and innovative ways by their local water utilities. A viable solution is enacting an effective customer outreach program that gives facilities the opportunity to not only effectively respond to existing or impending water-related crises but to also inform and educate their customers about the value of water. Good communication can enable and inspire customers to become more involved in the local water process - essentially rousing much-needed public feedback.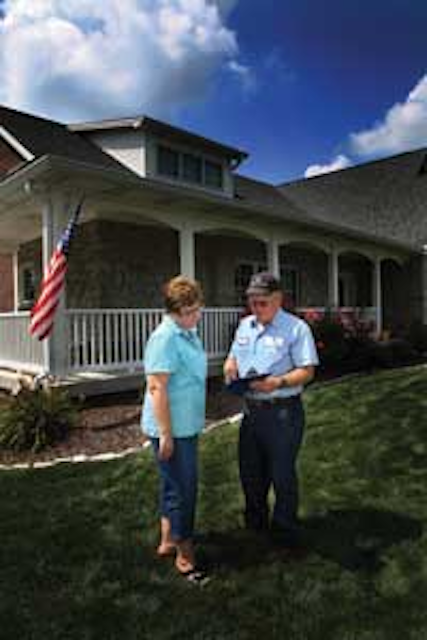 An American Water field service representative speaking with a customer. A well-rounded relationship between utilities and their customers is one of the most important elements to achieving overall operational success and customer satisfaction.
One such area is social media. Social media is a recent development that many water and wastewater utilities can't afford to be without. According to a recent article published by the Pacific Institute, 80 percent of businesses, 66 percent of government agencies and 89 percent of non-governmental organizations today are involved in some form of social media with their fans and followers - and the water industry is no exception.
Whether it's Facebook, Twitter, LinkedIn, or Google+ to name a few, social media has become a primary method of communicating and receiving information - it's portable, relatable, user-friendly, and tailored to users' personalities and preferences. As such, industry leaders should consider embracing these platforms as a means to more effectively network with their stakeholders on a regular basis.
"This has proved to be an invaluable tool for us, particularly during emergencies," said Duffy. She said during Hurricane Sandy, for example, many of American Water's customers lost power and relied on these social platforms as a result. The company has also utilized Facebook to help promote charitable projects such as the Community Heroes Grant Contest, a program that raises funds for firefighters in the New Jersey region, as a means to rally customer support and help teach the public the value of water-related community services.
Similarly, the Portland Water Bureau has avidly used social media to better convey information to their customers, regularly utilizing Facebook as a tool to communicate main breaks, traffic advisories on where work is happening, and updates on construction projects, noted Tim Hall, public information and involvement manager for the Bureau. The utility also uses Twitter as well as a water blog - one of the first in the nation - as an outlet to publish additional details about various services and programs.
"What's important to us is information," Hall said, "and these tools, whether it's Facebook, Twitter or the blog, allow us to get that information out to our customers so that they have a clear understanding of the cost of a project and some of the challenges that the city of Portland is facing with its open reservoirs and aging infrastructure." The Bureau's customers also use these platforms as an avenue to connect with the utility directly, and "this two-way communication is valuable to the services we provide," he said.
Through social media, utilities can engage their customers in a variety of unique ways they otherwise could not through other traditional methods of communication. For example, utilities can directly publish recent news and information, post interactive polls or surveys, link to other important related resources, broadcast fresh media such as photos and videos, and share other timely and relevant updates - all with ease of use, wide and immediate reach and cost-effective advantages.
For Portland Water Bureau, social media proved to be a valuable tool when a 100-year-old pipe ruptured downtown. By promptly disseminating the incident on its blog and social media platforms, the utility was able to let people know the cause of the problem and where the work was taking place. Hall affirmed that this generated an overall recognition among the public that Portland was facing the challenges of aging infrastructure, in turn generating a greater understanding and appreciation that water is a highly valuable resource.
This approach - not only social media but customer outreach in general - can, according to an article by the National Association of Clean Water Agencies, help mend any gaps between customers and their providers and educate ratepayers about charges and financial-related issues. It can also incite public participation and involvement in community water-related projects and encourage more customer feedback and discussion of trending topics.
With the Philadelphia Water Department, for example, engaging customers from the start of an idea or project can have profound advantages regarding its outcome. "When we begin a project in the community, we bring [customers] on board from the beginning," said Joanne Dahme, public affairs manager for the Department. "Sometimes just an opportunity for the public to have input into that project can help perhaps influence the design of the project. Or if it's a stormwater infrastructure project, they can maybe talk about the vegetation they'd like to see."
"So when we go into communities, people don't just see us as taking up the streets and putting new pipes in the ground," she said, "they see us putting tree infiltration trenches along sidewalks, installing rain gardens or rain planters on their sidewalks or at public parks or facilities. So it takes a lot more education and outreach in ensuring that these communities are engaged in what we're doing."
As a result, effectively communicating through a reliable social media portal as well as other forms of online interaction can help water and wastewater utilities better build brand awareness, improve public relations, preserve and increase customer loyalty, convey the value of water, and provide more operational transparency. Overall, utilizing these platforms helps facilities better inform, educate, and engage their customers.