Portable Pursuits: Water District Leverages Mobile Technology to Automate Workflows
Elsinore Valley Municipal Water District of California implemented a unified GIS-enabled mobile solution to better process customer service workflows, CMMS work orders and other field workflows, as well as replace its hardcopy facility atlas data with a robust electronic mobile atlas.
Apr 7th, 2014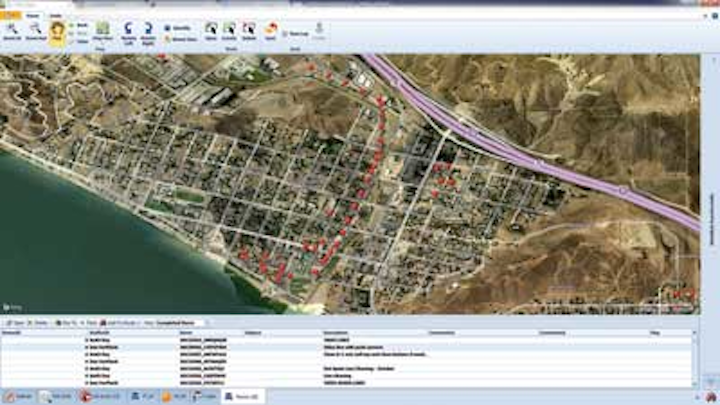 By James Ollerton
Elsinore Valley Municipal Water District (EVMWD), located in Southwestern Riverside County in the state of California, has provided water service for 55 years and covers a 96-square-mile area along the Interstate 15 corridor. The District employs 160 staff and has approximately 40,000 water, wastewater and agricultural services satisfying a population of approximately 133,000 - all with an anticipated water demand to double within 10 years.
Since the mid-2000s, EVMWD had been in need of making business information available to field staff/mobile users. At that time, mobile technology was emerging, and 3G networks were the standard for data access. Staff tried several methods of mobilizing its GIS and Enterprise Asset Management System using third-party tools such as Citrix. However, challenges with spotty 3G coverage combined with poor performance led staff to put mobility on hold.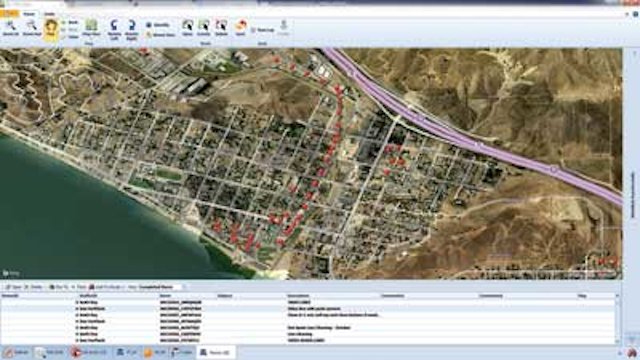 Field service crews have full access to the District's robust GIS database and can leverage online services for aerial photography while they are working out in the field.
Mobility technology took large strides after the introduction of the Apple iPhone in 2007, and IT staff saw the potential of making business content such as GIS and work-order management available to field staff and mobile users. As such, staff reevaluated its mobile strategy in 2009 with the implementation of a new customer information system (CIS), and EVMWD went live with Advanced CIS Infinity. The robust system was designed to handle a number of customer service workflows including the issuing and processing of service orders. CIS Service orders apply to issues with the customer's meter, meter turn-ons and -offs and repairs.
Over the next year, the District identified areas in which they would like to improve the CIS workflow process, particularly how the service orders would be completed in the field and subsequently processed back in the office. Customer service staff process between 3,000 and 4,000 service orders per month. The procedure at the time would generate a service order in the CIS system, print it out and provide it to the field personnel covering a designated area of the District. The personnel would then fill out information on the paper forms that would later need to be reentered into the CIS system manually by a staff member. This created a situation of duplicate data entry. Likewise, another challenge was that there was no simple method to relay new service order and update information to the field except by phone or physically retrieving it from the office. With a service area of 96 square miles, this became a logistics nightmare.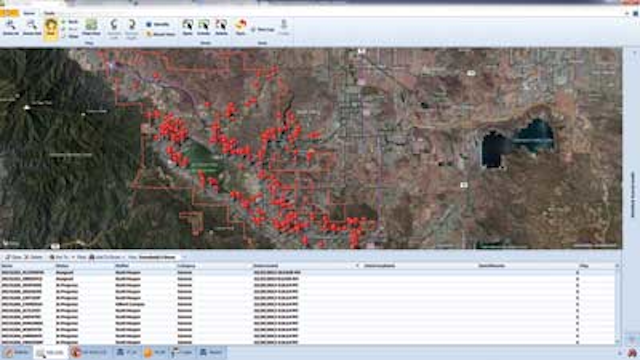 The exchange of information between CIS Infinity and Field Mapplet is in real-time. CSR requests appear on the mobile units after synchronizing the unit.
The goal now was to find a commercial off-the-shelf (COTS) mobile workflow solution that would integrate with the CIS system and solve the aforementioned issues. EVMWD also took interest in discovering a solution that could satisfy additional criteria. For one, the District had a well-developed ESRI-based GIS system and immediately realized the benefits of a solution that would take advantage of its GIS data. Also in need of a GIS-based mobile component was the Maximo Enterprise Asset Management system already in place. The District wanted a single mobile solution that could address other field crew activity that did not necessarily relate to the CIS or CMMS systems. In addition, a required critical feature was turn-by-turn directions and route optimization as they apply to work orders. Basically, the District was looking to support one mobile solution, in turn reducing the internal administrative challenges of supporting multiple platforms. Finally, cost was a key factor from both a licensing and services standpoint.
Ultimately, EVMWD selected Spatial Wave's Field Mapplet solution. The District has a long history of involvement with ESRI's water and wastewater group and was well aware of Spatial Wave's involvement as well. After Spatial Wave recommended a solution and integration approach to EVMWD, it was decided that this was the right strategy for the District. A key factor was that the Field Mapplet solution was GIS-based and would utilize the District's mature ESRI GIS database. Another feature was the ability to also utilize the product's open architecture and the opportunities for automating additional District workflows.
"We were looking to save time by not having to complete the service orders in the office and have them done only out in the field," said Tammy Ramirez, meter services superintendent. "We needed a mechanism to move information out to the field and then back into the CIS system in a more streamlined manner."
Carol Mallard, billing specialist, added, "It has helped in areas where I didn't even realize there could be improvement. For example, the console is a good managing tool where I can gauge work visually with the GIS map and reallocate work as needed." In addition, field services representatives have full access to the District's robust GIS database and construction drawings and can leverage online services (e.g., Google's street view or Bing's Bird's Eye View) for aerial photography while they are working out in the field.
Ultimately, the GIS solution enabled the field crews from both CIS and operations departments to obtain and perform their work in the field using Field Mapplet. The following highlights some of the key capabilities of integration with CIS:
The exchange of information between CIS Infinity and Field Mapplet is in real-time. CSR requests appear on the mobile units after synchronizing the unit.
The process of creating service orders in CIS Infinity passes the information to Field Mapplet automatically.
Service orders can now be delegated easily by area of responsibility.
Mobile printer configuration allows for the immediate printing of labels and door hangers in the field.
Route optimizing saves time and resources.
Meter changes are processed on the mobile unit, and new meter information is automatically updated in CIS.
In addition, EVMWD is utilizing all the other extensions of Field Mapplet including valve exercising, advanced fire-flow testing, Underground Service Alerts, and redlines.
In August 2013, the District went live with a full integration with Maximo Enterprise Asset Management. Prior to the mobile solution, Maximo work orders were printed out and provided to superintendents, where they would assign the work. When the work was completed, staff would hand-write on the paper work order, and clerical staff would input that information back into Maximo. Field staff members now have the ability to process all Maximo-related work orders within Field Mapplet and receive them on their mobile units. They also have the ability to create follow-up work orders for other trades in the organization. In addition to this paperless process, operations field staff has access to the robust GIS database, routing functionality and record drawings.
With all this spatial metadata now being collected and more to come, the District has begun to develop reports and GIS-viewing services that display the data in a manner that engages the staff more and helps them better understand what is occurring at the District. "We've saved lots of money doing more with less and have ended up using a lot of the Spatial Wave's canned GIS modules," said Darryn Flexman, applications specialist III. "We are heavily using the redline tool in FM. It makes the process of updating our GIS data much more streamlined."
Field Mapplet has enabled EVMWD to implement a unified GIS-enabled mobile solution to process customer service workflows, CMMS work orders and other field workflows such as Underground Service Alert ticket processing, which is not managed by these systems. In addition, Field Mapplet has replaced the District's hardcopy facility atlas data with a robust electronic mobile atlas, while allowing for redlining of the data. The combination of ESRI's technology and Spatial Wave's solution has resulted in optimizing District resource utilization while continuously improving the quality of the GIS. And ultimately, it is helping EVMWD achieve its mission to "provide reliable, cost-effective, high-quality water and wastewater services that are dedicated to the people we serve."
About the Author: James A. Ollerton is the director of information technology for Elsinore Valley Municipal Water District in California.