The Relationship between Water Resourcefulness and Economic Competiveness
Earlier this year, Itron released the results of its second annual "Resourcefulness Survey," a global survey of utility executives and informed consumers that aims to gauge their outlook on the industry and priorities moving forward. This article discusses the survey's findings, which combines results from a perception survey of 900 utility executives and 900 informed consumers across 16 countries.
Jul 2nd, 2015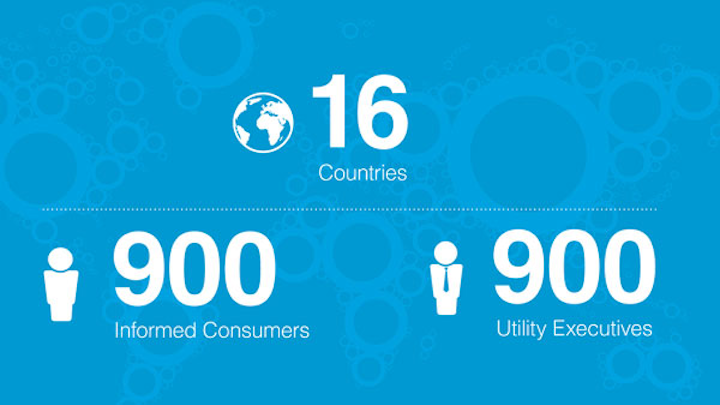 By Sharelynn Moore
Water is a vitally important resource and, as demonstrated by the severe, ongoing California drought, has detrimental impacts on every aspect of life when there is scarce availability. As global populations continue to grow, water resources will only continue to be strained and the way in which utilities and consumers manage, conserve and measure water will become increasingly important.
The ability of utilities to effectively manage the delivery and use of water -- defined as their resourcefulness -- will be key to water's future. Through technology, utilities have the opportunity to be more resourceful and reduce waste, modernize infrastructure and improve consumer service, which will benefit the economy overall. To further examine this premise, Itron created the second annual Itron Resourcefulness Index.
Exploring Resourcefulness
The 2015 Itron Resourcefulness Index combines results from a perception survey of 900 utility executives and 900 informed consumers across 16 countries as well as a Water Resourcefulness Index and an Energy Resourcefulness Index. The perception survey gauged respondents' outlook on the utility industry as a whole, while the Water and Energy Resourcefulness Indices reflect a broader assessment of the relationship between resourcefulness and economic competitiveness.
Overall, the second year of research largely found a trend of consistency. Both utility executives and consumers recognize the need to address challenges facing the sector with 83 percent of utility executives stating that the industry is in need of transformation and only 40 percent of water utility executives believing that the industry is running efficiently.
Modernize Infrastructure
Utility executives also recognized the need to modernize and invest in utility infrastructure to improve efficiency and minimize lost water due to leaks, waste, etc. Investment in technology and software tools, such as business analytics, is key. Major investments are being made in big data but full implementation still lags. A total of 85 percent of water utility executives see their company adopting big data processes while 48 percent of water utility executives say that they have the tools to manage big data but don't actually use them.
Educate Consumers
Notably, there is also a large disconnect in dialog between utilities and consumers. Only 14 percent of consumers reported being satisfied with the communication received from their water providers and ranked education about consumption and conservation with higher importance than last year's survey respondents. As utilities utilize technology and data analytics to gather more information about how water resources are used, the information can be turned into actionable insights to educate consumers on efficiency and conservation practices which will help to achieve greater resourcefulness.
Develop a Future-Proof Business Model
Utilities are facing a changing landscape. Results showed that 45 percent of consumers believe availability of suitable groundwater or surface water will be a threat to the utility industry in five years, while 39 percent believe it is a threat now. Moreover, one-third of utility executives reported keeping up with the needed rate of investment in infrastructure as an urgent concern for the industry now. Utilities should begin to lay the groundwork for these and other changes now, such as an aging workforce, to ensure their future viability.
Water Resourcefulness Index
The Water Resourcefulness Index set out to examine the relationship between resourcefulness and economic competitiveness. It was built using macroeconomic data from 21 different third-party sources, such as the World Bank's Ease of Doing Business, World Economic Forum, and others. The research data was combined with survey findings to create a national resourcefulness ranking.
The resulting index was organized into three pillars -- fundamentals, efficiency and innovation -- that influence overall resourcefulness:
Fundamentals reflect the ability of utilities to serve customers and the broader enabling environment.
Efficiency measures the extent to which water and energy are wasted by utilities and consumers.
Innovation captures the extent to which utilities are embracing new and emerging technologies.
The Water Resourcefulness Index found that the top five countries in water resourcefulness tended to have high levels of water meter penetration and low non-revenue water. The top five performing countries were Australia, Canada, Germany, Japan and the United Kingdom.
Australia was ranked strongly across all three pillars. The country was the strongest in efficiency as a result of having the largest meter market per capita and low proportion of non-revenue water. Australia also has a high level of government investment in environmental research and development (R&D), which contributed to a high ranking in innovation.
Of note, Australia and Canada are comparable in population and landmass but very different in terms of resource availability. Canada has an abundance of water, while Australia is considered to be water poor. Canada has one-fifth of the world's fresh water supply and Canadian water usage per capita is the second highest in the world with the resource being very inexpensive in comparison to other countries. Canada performed well across all three pillars, partly due to its ability to maximize its ample water supply by utilizing hydropower to generate approximately 60 percent of its electricity.
Japan has one of the lowest levels of water distribution losses in the world and regularly exceeds its own strict standards for quality of drinking water and treated wastewater. Japan excelled in its fundamentals score based on good scores in doing business, on water and wastewater coverage indicators, as well as on survey indicators.
Driven by waste and wastewater coverage rates, the U.K. performed well due to above average scores in fundamentals and efficiency pillars.
Germany performed well across all pillars but has room for improvement with regard to environmental R&D. Of note, 60 percent of respondents, the most of any country surveyed, agreed that Germany was the most resourceful country.
The Path Forward
Managing water resources is critically important to a country's economic prosperity. As the Itron Resourcefulness Index found, there is room for every country to increase their resourcefulness. Continued investment in technology, infrastructure and future-proofing the industry can help everyone achieve greater resourcefulness.
About the Author: Sharelynn Moore has more than 17 years of experience in the energy and technology sectors. In 2013, she was named vice president of Corporate Marketing and Public Affairs for Itron. In this role, Moore is responsible for all global marketing and public affairs activities, including development of strategic marketing objectives, oversight of internal and external communications and management of external affairs including community investment and government relations.