Selecting Mobile Technology for Workforce Automation:
Water and wastewater utilities worldwide are automating field processes for a variety of benefits...
Oct 1st, 2007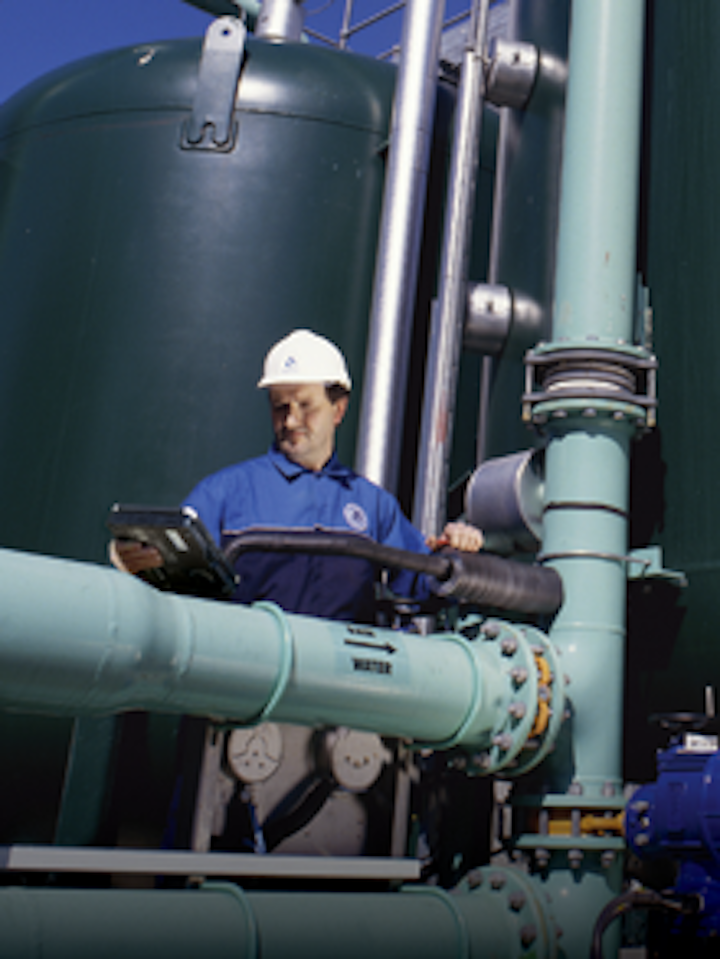 by Thell Gillis
Water and wastewater utilities worldwide are automating field processes for a variety of benefits from workforce optimization and team collaboration to real-time access to critical information for accurate decision making, all with the ultimate objective of increasing operational efficiencies and delivering improved customer service. According to a recent report by technology industry analyst firm IDC, the mobile workforce will grow more than 30%, to 850 million people, by 2009. Water organizations are wise to join the masses of mobile workers taking advantage of the benefits made possible by next-generation mobile and wireless computing solutions.
In a previous issue of WaterWorld, we discussed the benefits associated with deploying reliable, durable devices in the field, and outlined many of the features to consider when specifically selecting a mobile PC. However, success depends on giving considerable thought to the entire deployment process, end-to-end, from partner selection to solution implementation. This article will provide an overview of a complete automation project, addressing many of the critical steps in the process.
What's the Point?
First, take a step back and determine exactly what it is you're hoping to achieve. A great majority of water companies that consider adopting mobile computing solutions hold a common primary objective to improve operational efficiencies. There may be a plethora of applications your company is hoping to deploy in the long term; however, it's critical to first focus on the most obvious ways to immediately achieve improvements to your field operations. By focusing on the lower hanging fruit first, you will build momentum and organizational acceptance for what it is you are attempting to achieve.
Step 1: Software, Simplify
Frequently, water organizations deploy GIS and/or Workforce Automation software yielding a quick jump in productivity and an immediate return on investment. Remember to select a software solution that best suits the needs of your field technicians, without losing sight of your primary objective to make current operations more efficient. If you select a solution that specifically addresses a majority of day-to-day operations, there is tremendous opportunity for a rapid and dramatic increase in operational efficiencies. Enabling technicians to receive work orders wirelessly, map daily routes, and access critical information from the field are just a few ways water organizations are using mobile computing solutions to streamline operations, often increasing the number of customer visits per technician, automating administrative tasks, and lowering overall labor costs.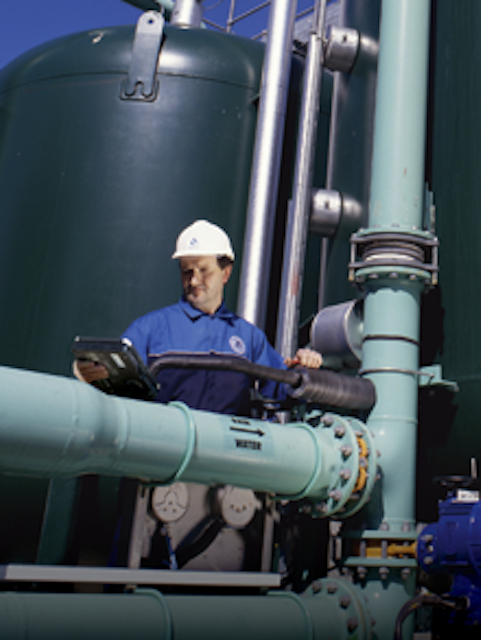 Click here to enlarge image
Keep in mind that software selection and purchases alone can take a significant amount of time to complete, depending on the number of processes the adoption will affect. This period is the right time to survey hardware vendors, meet with value-added resellers, and begin to evaluate rugged computing devices designed for use by mobile water technicians, remembering that there is no one-size-fits-all solution.
Step 2: Hardware, Tough it Out
There are various degrees of reliable rugged computing solutions available today, from business-rugged solutions for more mainstream users to fully-rugged PCs engineered for extreme use. It is important to provide your workforce the appropriate level of durability suitable for each job within a water organization, ensuring increased reliability, low failure rates and more uptime.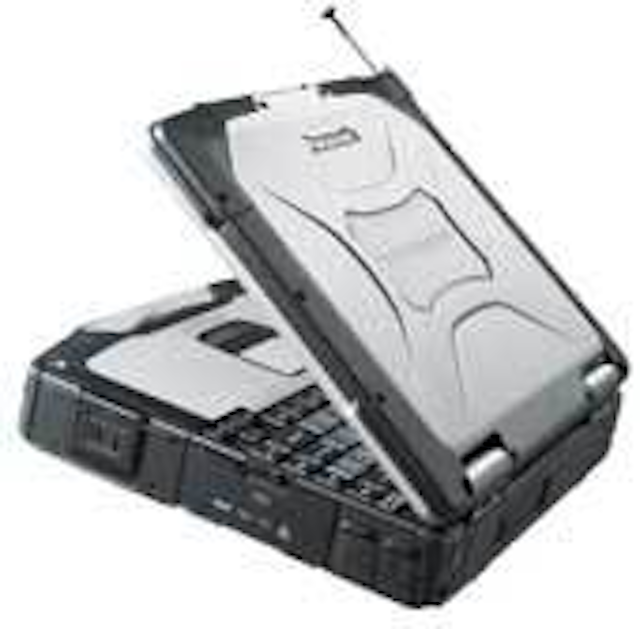 Click here to enlarge image
To best ensure you're selecting the mobile computing device most appropriate for the needs of your field team, request a demo unit from each vendor and put the systems directly in the hands of your end-users. This will get your end-users invested in the success of your implementation. By helping to identify feature preferences early-on (i.e. touchscreens or brighter displays), your workers will help optimize the processes under review, such as digital signature capture, online access to billing systems or meter readings and activations in the field. Gathering insight from end-users and taking a long-term view ensures that the hardware you select will not only meet your primary objective to increase operational efficiency, but will also enable the integration of additional "bonus" applications down the road during the device's lifecycle.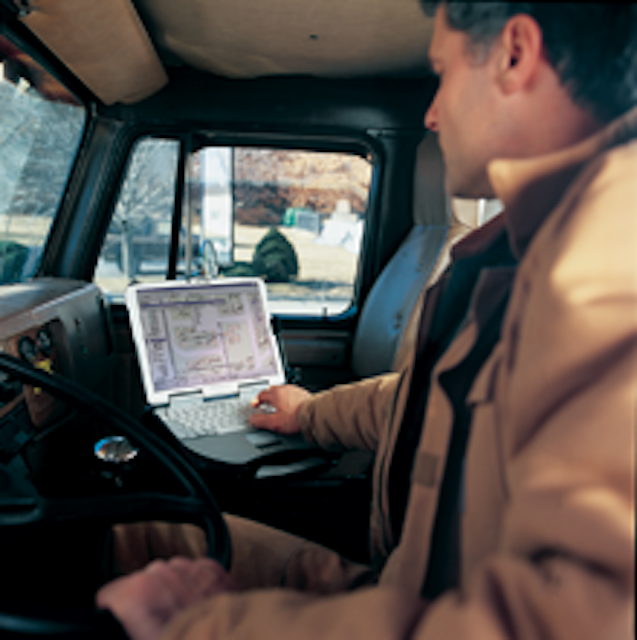 Click here to enlarge image
A hardware vendor specializing in mobile computing for enterprise field deployments will often ask questions about your field crew's operations, their environment, whether you plan to mount the solutions in service vehicles, if you'll need a widescreen for viewing manuals or schematics, etc. Providing the vendor with sufficient detail helps them to engage a VAR (value-added reseller) partner or systems integrator with the most expertise working with water organizations in similar situations.
Step 3: Walking the Wireless Tightrope
Just as with software and hardware selection, when weighing wireless options it is very important that a company thoroughly consider what they are trying to accomplish and the impact on the end-user. For example, in many cases a water company will want to implement an elaborate GIS system to coordinate thousands of vehicles in the field. But in other scenarios, a company may simply wish to equip a small group of field techs with email access.
Factors include the application, geography (location and size of coverage area), and number of users. There are many wireless options available today, from WiFi "hot spots," GPS and Bluetooth to new Wide Area Wireless or mobile broadband solutions available from most major cellular network carriers. It's wise to run field tests of wirelessly enabled devices from each carrier being considered in order to validate, or disprove their coverage claims before making a long term investment.
Whichever variety of wireless options your one-of-a-kind deployment requires, it is critical that the wireless technology be integrated and engineered into your hardware solution rather than simply added on. Integrated antennae generally provide a superior signal, are less prone to failure from drops and shocks, and require less battery power than "add on" PC cards. Keep in mind that some hardware vendors offer programs to help you manage relationships with multiple carriers.
Step 4: Reseller, the Know-it-All
At this point, you've selected the software, hardware, and wireless communication technologies best suited for your automation project. You're almost ready to procure and deploy your mobile computing solution. A VAR can help you identify, select, and purchase most of the other products and services required for a successful implementation. For example, if you plan to mount the wireless devices in service vehicles, VARs will be prepared to arrange any additional hardware and tools you will need. They can also provide you with a broad range of professional services such as end-user training and technical support.
Step 5: Implementation, the Foundation for Success
Like any operational change, comprehensive end-user training and ongoing support are vital to a smooth transition and successful deployment. Training is becoming even more critical during first-time deployments, when the culture shift and process changes are most dramatic. This is especially apparent when introducing new technology to an aging workforce, which may be unwilling to change long-time practices. Whether you plan to provide service and support internally, through a VAR, or through your hardware vendor, make sure the infrastructure is in place and your organization is wholly prepared before moving ahead with implementation.
In summary, when adopting mobile technology, carefully evaluate competitive software, hardware, and wireless providers and run through the paces with your end-users. Always keep the primary objective in mind and seek the most obvious and immediate ways to improve your field team's operational efficiencies. Early successes will help you build momentum for the next phase. With all of this in place, you can reap the rewards that mobile and wireless technologies are designed to deliver.
About the Author:
Thell Gillis is senior manager, market development, workforce automation team, responsible for the utilities, energy and communications industries for Panasonic Computer Solutions Company, manufacturer of reliable Panasonic Toughbook mobile computers. Gillis has more than 27 years experience helping companies optimize field operations. He can be reached at thell_gillis@us.panasonic.com. Also visit http://www.panasonic.com/toughbook.