CASE STUDY: Louisville Water Systems overhauls aging systems with Oracle
Oracle Utilities solutions enable utility to cut billing process by more than 80 percent.
Apr 29th, 2016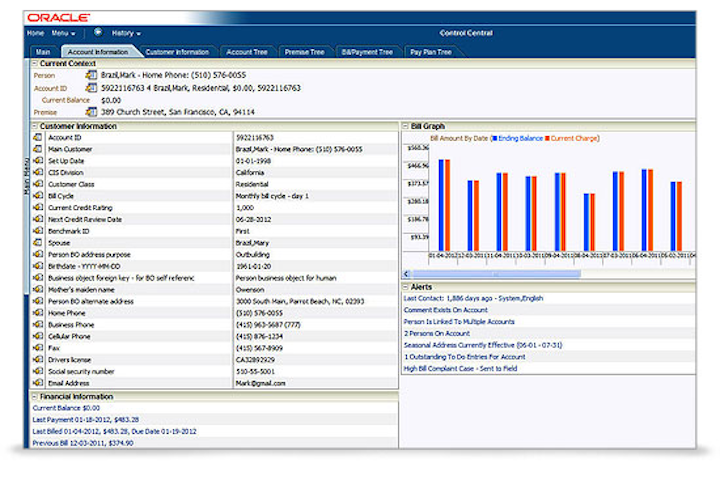 Control central provides access to all customer information in one central location. SOURCE: Oracle Utilities
PHOENIX, AZ, April 28, 2016 -- Today's customers live in a universe tailored to their unique needs and wants. They require instant, digital gratification and organizations -- regardless of industry -- are challenged to shift strategies to accommodate these requests. Louisville Water Company (Louisville Water), which provides drinking water to more than 850,000 people in Louisville, Ky., recognized this need and turned to Oracle to help meet its growing customer expectations.
Like many utilities, Louisville Water relied on aging systems to manage its customer care and fieldwork activities with limited to no customer self-service capabilities. The utility, known throughout the industry for its high-quality water and engineering innovation, saw an opportunity to increase its customer satisfaction and drive its competitive advantage. Louisville Water worked with Oracle Utilities Professional Services to transform its business leveraging Oracle Utilities Customer Care and Billing, Oracle Utilities Mobile Workforce Management, and Oracle Utilities Customer Self Service.
"This implementation was the largest technology project in Louisville Water's 155-year-history," said Dave Vogel, vice president of customer service at Louisville Water. "Some of the immediate benefits with Oracle Utilities Customer Care and Billing include significantly cutting down our cancel/rebill process time and the ability to view all customer information within one screen with easily accessible drop down and search menus. These simple benefits mean we can better serve our customers."
Oracle Utilities Mobile Workforce Management, another component of the implementation, helps Louisville Water to streamline field work processes. For example, the solution identifies the best field service representative available for the field activity and the most cost-effective field resources to complete the action. The solution's daily work auto-assignment feature enables Louisville Water to use minimal manual intervention and provides alerts if overtime is needed based on work that is scheduled and being assigned for the day.
"Doing a large overhaul of aging systems can be a big undertaking, but with planned, measurable steps it is achievable and can have a significant impact on customers," said Rodger Smith, senior vice president and general manager, Oracle Utilities. "Businesses across industries are beginning to turn to advanced technology offerings to enhance and improve customer service. Louisville Water's overall implementation laid the foundation to continue enhancing the customer experience with self-service options and a redesigned bill."
Additional Information
To learn more about Oracle Utilities, follow @OracleUtilities on Twitter and join the Oracle Utilities community on Facebook.
About Oracle
Oracle offers a comprehensive and fully integrated stack of cloud applications and platform services. For more information about Oracle, visit oracle.com.