First water customer portal for Spanish speakers, HOME.es, launches
Customer portal improves utility-customer relations.
Jul 20th, 2017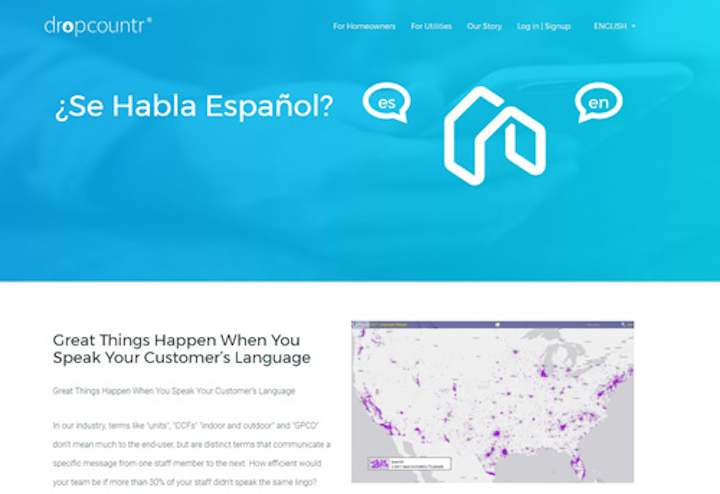 SAN FRANCISCO, JULY 20, 2017 -- Dropcountr (www.dropcountr.com), the water data analytics and customer engagement company, introduced HOME.es, the first Spanish-friendly customer portal for water utilities. HOME.es is the first dedicated customer portal built natively for iOS and Android that connects English-speaking utilities and staff with their Spanish-speaking communities.
In addition to detailed information about household water usage, Dropcountr also provides a channel for communication between utilities and their customers: alerts, rebates, billing information, FAQs. Starting this month, families that primarily speak Spanish will have access to their personal data and communication in their language of preference.
"Austin, like many Texas communities, has a large Spanish speaking population," said Mark Jordan of Austin Water. "Having this option helps us better reach our diverse customer base and provide the same benefits and services to everyone."
HOME.es represents an emerging trend where water utilities invest significant amounts of time and money in customer relations and "pro-active" customer management – portals, digital support, apps, and communication. This is a strategy long adopted by brands and service providers, but largely new to the water industry.
RELATED: Satisfied Customers: The Key to Water Infrastructure Investment
"Dropcountr helps manage over one million residential customer accounts spread across 26 unique cities," said Dropcountr founder and CEO Robb Barnitt. "We assist dozens of staff members with customer support inquiries and send thousands of water usage reports, leak alerts, and utility messages to our end users every week. In cities we serve like Denver, Austin, and Los Angeles, you must provide Spanish as a language of choice, and this move helps us achieve our goal of making water usage more accessible and coherent to the end customer."
About Dropcountr
Dropcountr delivers simple but powerful water analytics and customer engagement software that is compatible with all meters, regardless of manufacturer or read interval. Learn more at www.dropcountr.com/spanish.