City of Katy, Texas, crowned Tnemec 2018 Tank of the Year
Pair of legged water tanks selected by a panel of judges, water tank enthusiasts.
Oct 30th, 2018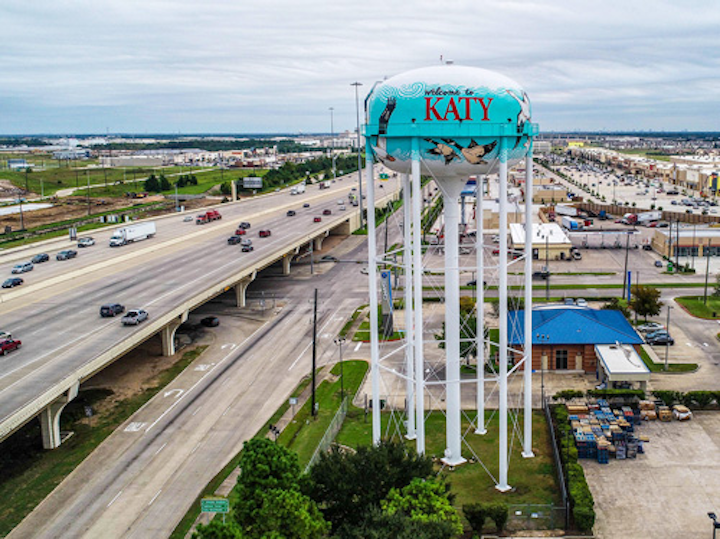 The two legged-tanks in Katy, Texas, were chosen as the 2018 Tanks of the Year. Photos courtesy Tnemec Company, Inc.
KANSAS CITY, MO, OCT 30, 2018 -- A pair of municipal water tanks in Katy, Texas, are this year's winner of the Tank of the Year competition sponsored by Tnemec Company, Inc., a leading provider of high-performance coatings. The legged water tanks were selected by a panel of water tank enthusiasts based on criteria such as artistic value, significance of the tank to the community, and challenges encountered during the project.
"Rolf and Peter Goetzinger of Spokane, Wash., used a HydroFlon fluoropolymer coating system to paint their murals that extend above and below the handrails that encircle the tanks," explained Doug Hansen, Director – Water Tank Market for Tnemec. "The murals represent a connection to the Katy Prairie Conservancy area where geese go to winter."
Other water tanks among the top 12 finalists for 2018 are Moorhead, Minn.; West Columbia, S.C.; Laurens, S.C.; Winston-Salem, N.C.; Fair Oaks, Ind.; Lawrence, Ind.; Dewitt, Mich.; Arvada, Colo.; and Fairborn, Ohio. In Hamilton, Ontario, Canada, a sphere-shaped methane storage tank resembling a globe was also selected as a finalist.
A one-million-gallon water tank from Cayce, S.C., received the largest number of online votes this year to make it the winner of the People's Choice category. The water tank features the city of Cayce logo positioned above a blue wave pattern symbolizing the city's location on the Congaree River.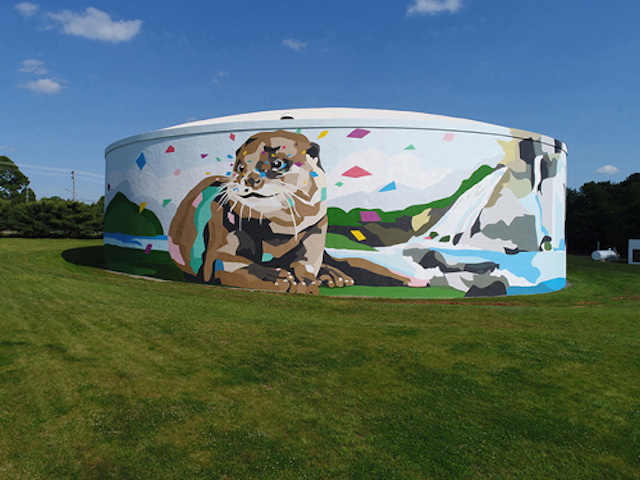 A runner-up from Winston-Salem, N.C.
"This is the 13th anniversary of the competition, which recognizes the most impressive coatings projects in the water tank industry," Hansen added. "Nearly 270 water tanks were nominated, and more than 30,000 online votes were cast this year from across the U.S. and Canada. This year's finalists represent several different types of water tanks including legged designs, composite constructions, ground storage tanks, pedestal styles in various shapes and sizes, as well as tanks used to store methane captured from sewage treatment."
The Tank of the Year will be featured as the month of January in Tnemec's 2019 water tank calendar. All finalists and nominations will be included in the following months of the calendar.
ABOUT TNEMEC
Established in 1921, Tnemec Company, Inc., manufactures more than 120 architectural and industrial coating products at facilities in Kansas City, Baltimore, Dallas, and Shanghai, China. Headquartered in Kansas City, Mo., Tnemec also operates distribution facilities in Atlanta, Dallas, Indianapolis, New Orleans, Seattle and Compton, Calif. In addition to the company's American network of technical representatives, Tnemec has technical representatives in Canada, the Dominican Republic, Puerto Rico, Trinidad and China. For more information about Tnemec, or any of its products, call +1-816-483-3400; write to 6800 Corporate Drive, Kansas City, Mo., 64120-1372; or visit www.tnemec.com.