Affordability Through Advanced Asset Management
Jul 1st, 2019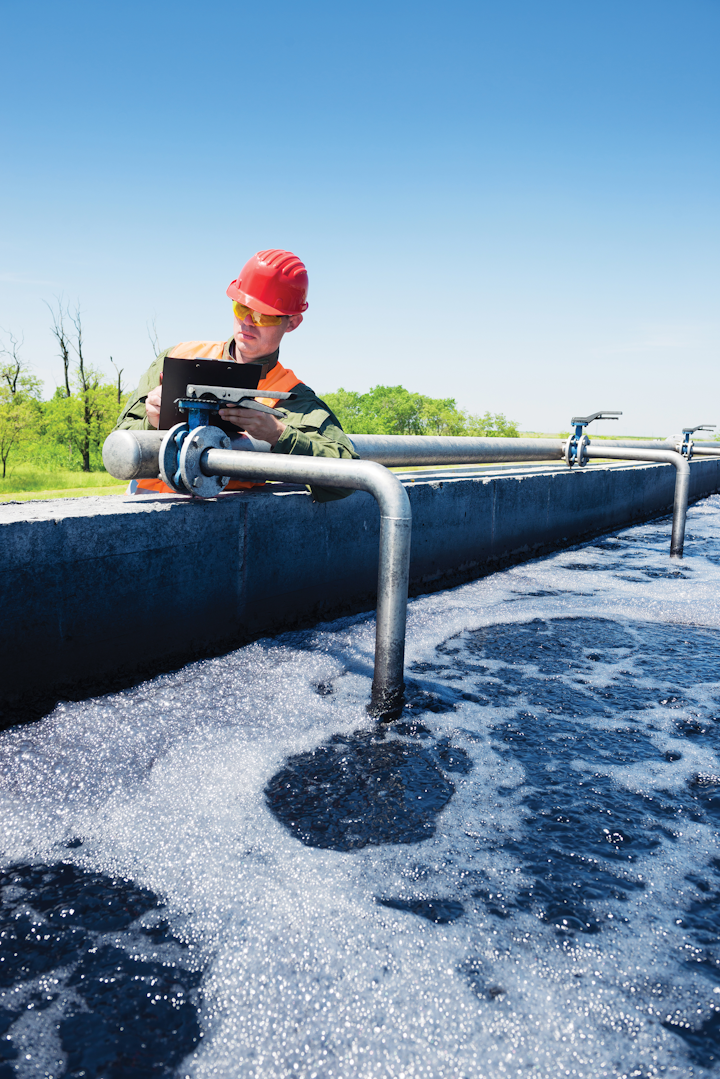 Humanizing the power of smart technologies
The challenge of affordability weighs heavy on the minds of those tasked with providing water and wastewater services to their communities. It's expensive to treat, distribute and collect water, and yet, as a basic human right, it must be done. The key is finding the balance between the cost of delivering safe, clean water and a price that's fair and equitable.
Smart technologies hold tremendous promise for delivering data that can provide insight into water utility operations, insight that can lead to cost savings, which in turn can be passed along to the customer in the form of affordable rates.
A recent study conducted by design and consultancy firm Arcadis and market researcher Bluefield Research revealed a surprising statistic: only 21 percent of utilities feel they are currently able to fully cover the cost of service. "And we're expecting to see that number drop to as low as 15-16 percent in the future," said Eric Bindler, digital water research director for Bluefield Research.
The report, "Demystifying Intelligent Water," aims to identify the potential impact of applying technology tools within the context of affordability and resiliency. "Our industry has been very tech-focused when we think about 'smart water,'" said Jim Cooper, intelligent water lead for Arcadis. The new report, however, "talks about how we bring in the human aspect of smart technology."
"If you look historically at just U.S. water consumption over the past several decades,"Bindler noted, "we're actually starting to see for the first time that as population has continued to increase by about 8 percent in the past 10 years, public water supply volume has actually dropped by 12 percent." This presents some very significant challenges, he said, from the perspective of the traditional rate-based business model for the water industry and "that's really putting some serious pressures on utilities as well as their ability to provide affordable service for their rate payers."
Affordability through cost savings
Intelligent water solutions offer a strategy for realizing cost savings that can ultimately help utilities be more affordable, but "there's a cost to implement smart technology," advised Cooper. "You need to be aware of that." However, for the utilities that have implemented it, Cooper said the cost savings are remarkable. "One utility was looking at addressing its consent decree compliance on the wastewater side and it was looking at about $1 per gallon to meet its needs [with traditional methods]." By adopting intelligent water strategies, however, the utility was able to develop a plan that cost only a penny per gallon. "So 100x savings is something you can't ignore for any utility," said Cooper.
In the traditional model, Cooper noted, we have increasing rates every year, we have increasing capital O&M spend. "Intelligent water is the 'how' to shift from that to something where you have rates that are affordable and more sustainable," he said. "We talk about things like advanced asset management, where there is a pretty significant potential for cost savings."
"To put that into context," said Bindler, "the research we've done has shown that advanced asset management, particularly advanced asset management solutions enabled by artificial intelligence and by advanced analytics, can expect to see U.S. utilities saving as much as $17.6 billion in CAPEX over a 10-year period." With those kinds of savings, Bindler suggested there's a significant opportunity to mitigate rate increases and provide more affordable service to utility customers.
Digital technologies: From push to pull
Ralph Exton, chief commercial officer for Suez Water Technologies and Solutions, agrees that digital technologies will have a major impact in the water industry — and adoption is on the rise. "I think for quite a while, a number of companies that were on the leading edge of digitization in water were 'pushing' [the technology]. But now, I think we're sort of turning a corner and it's more of a 'pull.' We're starting to feel them come to us and to other technology providers and companies that have digital solutions, and say, 'Hey, we need that.'"
Plant operations is one area, in particular, where Exton sees a significant benefit to smart technologies. "That's where most of this started," he noted, "and it was usually focused around [analyzing] how a particular application performed." That included analysis, for example, of a particular unit operation of water purification and "optimizing it by measuring various pieces and parts of it, looking at trend lines, and trying to predict what's going to happen, and things like that," he added.
That is evolving, he said, and it's happening as we speak "in terms of going from that unit operation to a full operation, looking at the plant from the very beginning headworks all the way to the end."
This will be particularly important with regard to water quality as alternative supply strategies — such as water reuse — become more common, Exton said. "There is a lot more skepticism around water reuse in terms of [water quality], whether that be from a potable or indirect potable standpoint, or an industrial application." But with digital technologies, sensors, controllers, and being able to measure down to the very lowest levels and then tying it all together with asset performance management, artificial intelligence, and advanced algorithms, "you get that comfort level that you otherwise would not have had," he said.
Adoption curves ahead
Although adoption of digital technologies is picking up, they aren't being embraced everywhere, Exton noted. That can, in part, be attributed to the rapid pace of technology development. "Technology is evolving so quickly in this space," he said, "whether it be software or edge-type hardware, whether it be sensors, devices, controllers…You have this adoption curve scenario where some people are like, 'This is great, I want it now because I see the benefit.' But you also have the other side of the coin, the people who are saying, 'Wow, because technology is moving so quickly, I'm a little reluctant to jump in right now. I'm going to hold off until it gets just a little bit better.'"
For utilities ready to take the intelligent water plunge, Cooper offers some basic strategies for getting started. "It begins with self-awareness for the utility," he said. "What are you doing? Where are you adopting technology? Where are you not? What are the reasons?" This doesn't only extend to asset management; it comprises everything from assets to people to human resources. "The full aspect of the utility and managing it can be impacted by intelligent water," said Cooper.
Collective intelligence
When it comes to artificial intelligence, machine learning, and the Internet of Things, Cooper acknowledged that people are concerned: Is AI going to take over and replace jobs? "What we're seeing is when you fully embrace AI and really bring in the people aspect of it…[it's] something to support the workforce rather than something that reduces [it]."
In the research that Arcadis and Bluefield conducted, they use the term "collective intelligence." According to Cooper, it's a step above AI "where it's really that integration with people and the technology. And once you do that, it becomes much more palatable for utilities to adopt those types of things. And the value of an individual worker is much greater than if they didn't have that technology."
Bindler offered a sobering reminder: Research has shown that as much as 30 percent of the U.S. utility workforce is potentially set to retire in the next decade. "We're really needing to find ways to address that gap and help make the existing workforce be as efficient and as effective as possible, to empower them with as many tools as we can to make sure that they're enabling water utilities to make intelligent decisions on a day-to-day basis and on a longer term basis as well." WW
Editor's Note: The report, "Demystifying Intelligent Water: Creating a Human-Centric Future with Artificial Intelligence and Predictive Analytics," can be found online at Arcadis.com.
About the Author: Angela Godwin is chief editor of Endeavor Business Media's Water Group of publications. She can be reached at agodwin@endeavorb2b.com.