Deep Tunnel Deep Clean: Managing Water Infrastructure 300 Feet Underground
Buried 300 feet underground and stretching 28.5 miles, Milwaukee's Deep Tunnel stormwater storage system is one of only a handful of its kind in the world. As with traditional systems, floating debris accumulates and, eventually, must be cleaned out -- but there's nothing traditional about cleaning out this titanic tunnel.
Feb 1st, 2013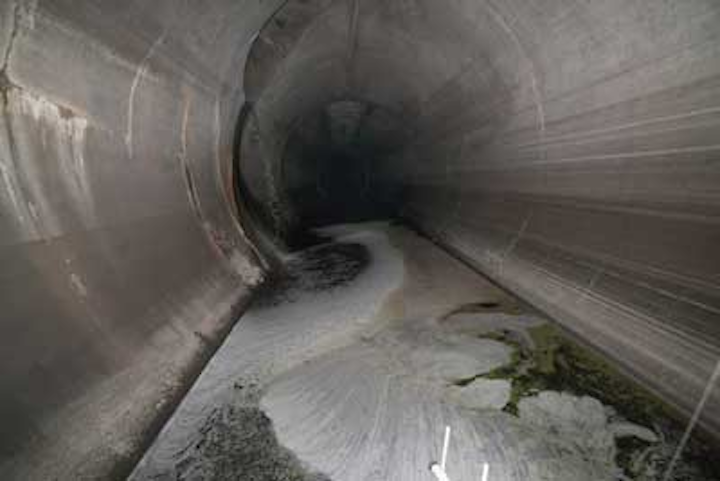 By Scott Royer
Although Milwaukee does not experience storms of hurricane intensity, it certainly has its share of intense rain events. With the majority of the city's precipitation falling between April and August, wastewater infrastructure could not accommodate sudden, and sometimes heavy, periods of rain. In order to protect Lake Michigan water quality, Milwaukee Metropolitan Sewerage District (MMSD) determined that it would construct one of the largest underground asset systems — a rare inline storage system designed to store overflow stormwater.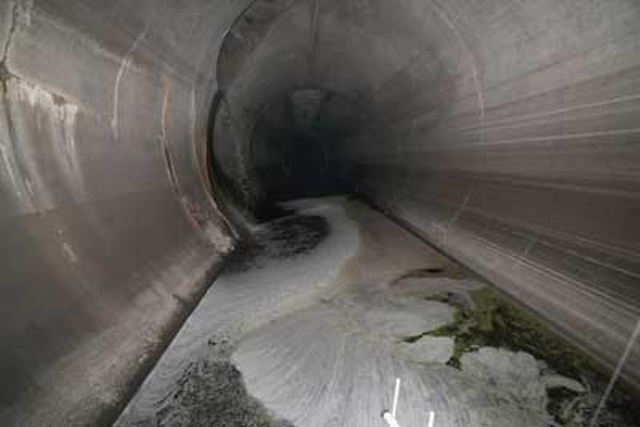 Standing on the pontoon boat, looking down the Deep Tunnel at the waters inside. Workers traveled down this "river" to clear the tunnel of floating debris that is not accessible from above ground. Now scheduled for once every ten years, this operation helps keep the metro area's wastewater system running effectively. Photo by Chris Duzynski, courtesy of Veolia Water North America.
How the Tunnel Works
Ranging from 17 feet to 32 feet in diameter, the Deep Tunnel — as it is known in Milwaukee — is 28.5 miles long, sits 300 feet below ground, and can store more than 500 million gallons of overflow stormwater and sewage during heavy or prolonged rains. When the weather calms, MMSD then pumps wastewater combined with stormwater stored in the tunnel through its treatment facility for processing. To date, the Deep Tunnel has prevented 94 billion gallons of untreated stormwater and wastewater from entering Lake Michigan.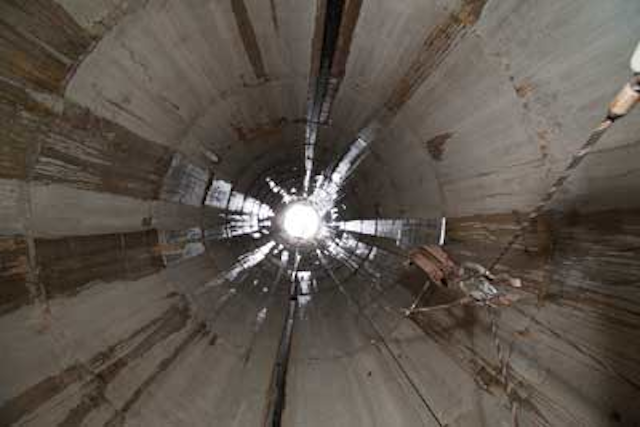 Looking 300 feet upward from the bottom of the Deep Tunnel. Photo by Chris Duzynski, courtesy of Veolia Water North America.
The Deep Tunnel: Massive Infrastructure
The design of the tunnel, known as an Inline Storage System (ISS), took two years. The construction was divided into three phases that were executed over nine years.
The first phase of the project consisted of boring out a 19.4 mile-long tunnel beneath the City of Milwaukee. This phase required removing more than 250,000 truckloads of waste rock, and hiring 1,000 workers and 600 engineers. This "giant pipe" was constructed to hold up to 405 million gallons of overflow and by 1993, it was in full operation.
In later years, MMSD expanded the storage system by adding and connecting two additional smaller tunnels. A 7.1 mile-long "northwest side" extension was added to the Deep Tunnel in 2006, and a 2 mile-long "27th St." extension was completed in April 2010. With these additions the Milwaukee Deep Tunnel system can collectively hold up to 521 million gallons of combined stormwater and wastewater.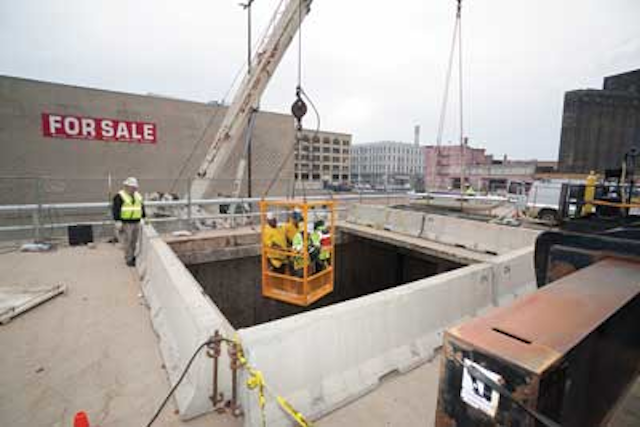 Workers are lowered by crane down into the Deep Tunnel as part of Milwaukee Metropolitan Sewerage District's (MMSD) Deep Tunnel Maintenance Project. Photo by Chris Duzynski, courtesy of Veolia Water North America.
MMSD partnered with Veolia Water North America in March 2008 to operate and maintain the Deep Tunnel, as well as two wastewater treatment facilities, the conveyance system, and the Milorganite production facility.
Cleaning a 'Giant Pipe'
The numbers speak for themselves. Before the Deep Tunnel went into operation, there were 50 to 60 combined sewer overflows annually. Since 1994, the average has declined to 2.5 overflows per year. But like every piece of equipment in a wastewater system, the Deep Tunnel needs to be maintained at regular intervals in order to ensure it operates properly.
As part of Veolia Water's contract with MMSD, once every 10 years, the Deep Tunnel must be cleaned of floatable debris that eludes capture by periodic efforts from above ground.
Because of the unique safety and logistical challenges of this subterranean asset management effort, specially trained crews from Veolia prepared months in advance for this effort, bringing in confined space and water treatment experts to ensure the crews were prepared for the conditions they'd experience working underground. Working 300 feet below the surface, Veolia crews were routinely hundreds of feet from an access shaft, working in what would otherwise be complete darkness. They had to be prepared to evacuate at a moment's notice in the event of rapidly developing storms.
Having determined that a system that relied on flotation to move material through the tunnel would be the most effective, Veolia set to work designing and building a boat and conveyor system that could be lowered into the tunnel via a crane through the access shaft. In addition, specially built baskets were constructed that could handle the extreme weight loads of water-soaked material being lifted up from the tunnel.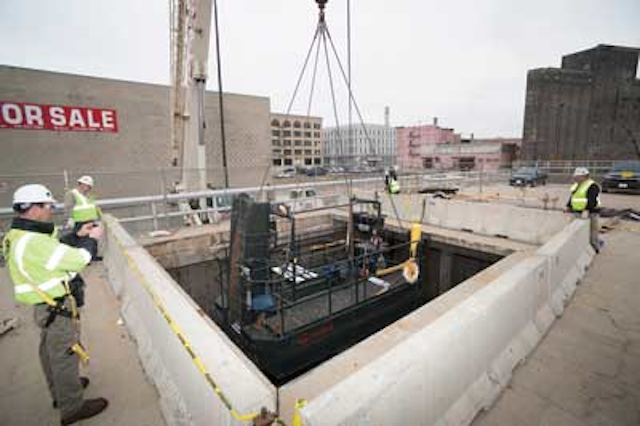 The pontoon boat is lifted by crane and lowered into the Deep Tunnel. The boat will be motored one mile to the end of the Deep Tunnel where its conveyor will be placed onto specially designed baskets that are hoisted to the surface when filled with debris. Photo by Chris Duzynski, courtesy of Veolia Water North America.
In November 2012, Veolia crews descended into the tunnel to remove two decades worth of trash, including plastic bottles, tennis balls, wood and other floating debris.
Each day during the cleanout, three boats were lowered into the tunnel. The first was a flat-bottomed jon boat to herd the floatable debris downstream one mile away to the tunnel's end. The second was the custom Veolia-designed-and-built, 16-foot metal pontoon boat with V-shaped booms that directed debris onto a 10-foot conveyor attached to the boat. A crew worker stood on the pontoon with a rake to pull debris on the conveyor, and then the conveyor offloaded the debris into baskets that were hoisted above ground. The third boat, a tri-hull loaded with oxygen tanks and first aid supplies, served as the safety boat. Crews were underground for about 12 hours each day to remove the debris.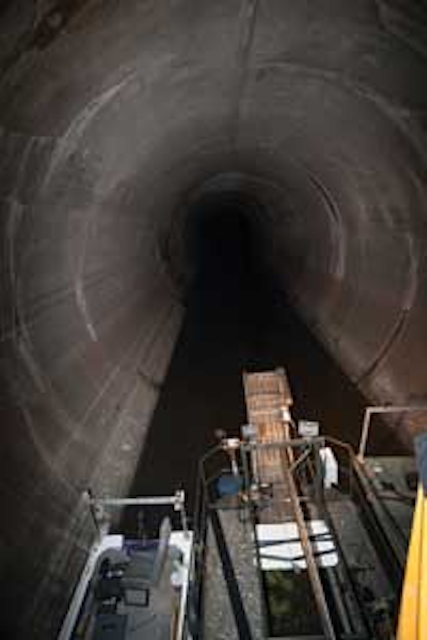 A look straight down the access shaft from the dock platform. From this point, workers traveled by boats one mile down the Deep Tunnel. In the event of wet weather, workers and equipment could be cleared from the tunnel within 120 minutes. Photo by Chris Duzynski, courtesy of Veolia Water North America.
The tunnel cleanout resulted in the removal of 86 cubic yards of trash. In addition to bottles and wood, crews pulled out strange items, including a bowling ball, from the tunnel.
The 2012 inspection and cleaning of the Deep Tunnel were deemed successful operations by Veolia Water and MMSD. Performing this critical underground infrastructure maintenance is important to properly maintaining the Deep Tunnel, a valuable piece of metro Milwaukee's infrastructure.
About the Author: Scott Royer has more than 30 years of experience in the water industry, providing management and technical support for communities throughout North America. As General Manager for Veolia Water Milwaukee, he oversees the ten-year contract with Milwaukee Metropolitan Sewerage District for operations and maintenance of the District's two facilities (630 mgd), as well as for MMSD's Wastewater Conveyance and Deep Tunnel System.
---
What is Milorganite?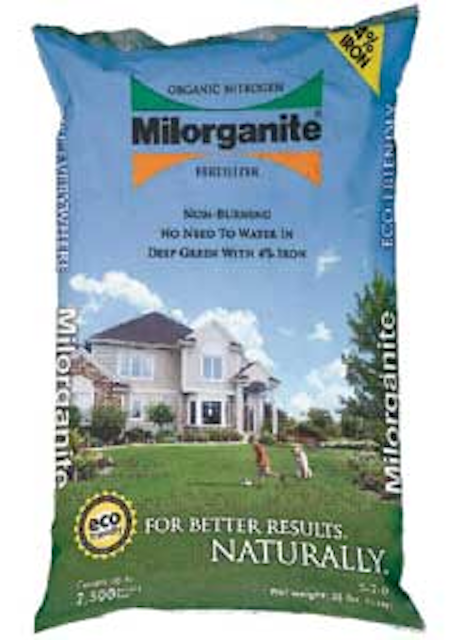 Milorganite is a fertilizer manufactured by the Milwaukee Metropolitan Sewerage District. It's made from heat-dried microbes that have digested the organic material in wastewater from the metropolitan Milwaukee area, including local industries such as MillerCoors.
How It's Made
Wastewater comes into the Jones Island wastewater treatment plant, an 87-year-old facility on the shores of Lake Michigan. Solid materials are removed and microbes are added to the leftover water during the activation process. Oxygen is added to create an ideal environment for the microbes to digest the nutrients in the wastewater.
When all the nutrients have been consumed, the microbes die. Agents are then added to bind the microbes together and the process of settling and coagulation takes place.
After settling, the clumped microbes are removed and dewatered. The semi-solid, wet-cardboard-like substance is then dried in twelve rotary driers at temperatures ranging from 900°F to 1200°F, killing off any surviving pathogens.
The end product undergoes exhaustive testing to ensure compliance with standards for protecting human health and the environment. It's then packaged for homeowners, landscapers and golf course superintendents throughout North America.
To learn more about Milorganite, visit www.Milorganite.com