Without AI, You're Going to Need a Bigger Boat
AI enables water management engineers to rely less on intuition and more on relevant data to ensure operations are optimized, and it allows plant managers to spend more time executing the elimination of LoF and CoF versus battling with tedious and cumbersome data spreadsheets.
Mar 1st, 2019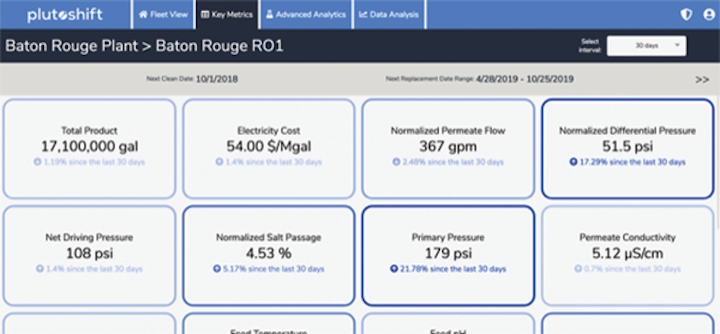 By Prateek Joshi
The effective and safe management of water in both municipal and industrial applications is not just socially responsible, it's the law. Advancements in sensor and networking capabilities, collectively part of the Industrial Internet of Things (IIoT), now allow organizations to gather operational data on the health and performance of assets responsible for the handling and treatment of water.
This insight can be a huge help. Collecting data from thousands of miles of pipes and a vast array of devices, including pumps, leads to a critical need: extracting actionable intelligence from a tremendous volume of information.
Artificial Intelligence (AI) can rapidly analyze these enormous data sets and identify issues really well, leading to actionable insights. Already, use cases are emerging that show the great promise these technologies offer for treating and handling water and wastewater in municipal and industrial environments.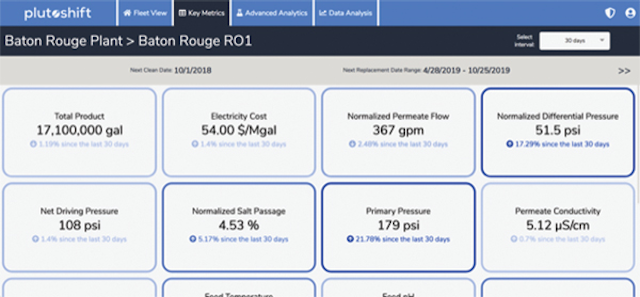 AI can assist in tracking key performance metrics for reverse osmosis (RO) systems.
AI and ML Explained
There exists a lot of hype and misperception about what AI actually is and what it can do, ranging from intelligent machines entirely replacing people to wild predictions about technology that takes on a life of its own and takes over the world. Neither of these is accurate.
AI is best viewed as the overarching term that encompasses a wide range of intelligent analytical capabilities, and Machine Learning (ML) is a vehicle to get there. Other subsets of AI include natural language processing, computer vision, speech recognition, and more.
Within water process management, analytics technology can interpret vast amounts of operational data. It's gathered from numerous sensors throughout a treatment or manufacturing plant, resulting in a fine-grained view of asset performance. One of the biggest benefits AI provides is the speed and consistency with which it can analyze and convert that data into actionable insights.
It's this ability that enables water management engineers to rely less on intuition and more on relevant data to ensure operations are optimized. Naturally, working from factual data is more likely to produce better results and gain the confidence of top decision makers.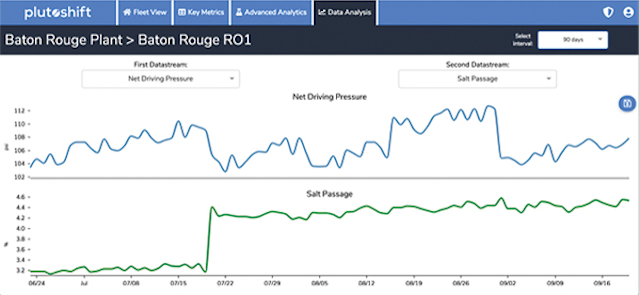 Comparing two data streams over the last 90 days for an RO system is easy with an inclusive system.
Industrial Water Management
Social and regulatory expectations place enormous pressure on water usage, including wastewater treatment and discharge. For instance, within industries like manufacturing, chemicals, or oil and gas, water plays a key role in delivering a completed product to consumers. Most often, it is used as a coolant or a solvent. However, in segments like food processing and beverage production, it's also a basic component of the actual product.
Just like other precious resources, water necessitates a lot of care. Not only does it need to be delivered to the plant, it also has to be discharged without causing undue harm to the environment. Efficient use of water is motivated by ecological as well as financial considerations that can greatly impact an organization.
According to Bluefield Research, the U.S. spent $10.2 billion on water management in 2017. This includes acquisition, treatment, reuse, and discharge. Industrial use of water is estimated to be around 322 billion gallons per day. Despite a 60 percent increase in industrial production since the late 1980s, water usage has actually decreased by 30 percent over this time.
The reason for this accomplishment is two-fold: the commitment of industry leaders to better preserve this natural resource, and the advancement and application of impactful technologies. These technologies enable greater transparency, understanding, and management of operational assets.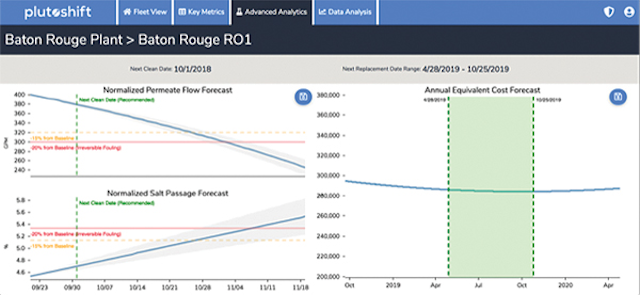 Forecasting key business drivers for lifecycle analysis of an RO system can save plant operators time and money in the long run.
AI and Water Make for Cleaner Beverage Manufacturing
Water is a key ingredient for large beverage manufacturers, who also use it for other purposes such as sanitation. Breweries and other bottling plants must remain inspection-ready and Food Safety Modernization Act-compliant at all times. When the Food and Drug Administration (FDA) inspectors pay a visit, they insist on seeing meticulous record keeping, all indicating that processes such as clean-in-place (CIP) and water treatment systems are performing properly.
AI enables plant managers to analyze and demonstrate on the front end that these systems are operating and handling water to FDA standards. In addition, they show that they're doing so economically on the back end and to the standards of the finance department.
Spikes in temperature, pressure, or energy consumption by assets such as pumps and membranes can be indications of a likelihood of failure (LoF). By detecting that a water membrane is using 20 percent more energy than usual to accomplish its function, a plant manager can determine that it's trending toward a malfunction. They can then be proactive in maintenance and reduce costly consequence of failure (CoF), which would mean unplanned downtime.
If a pump responsible for moving wastewater is suddenly experiencing a LoF of higher pressure than normal, AI can predict a rupture that might result in the discharge of untreated water into the water table. Action could quickly be taken to prevent a CoF that could possibly end up poisoning people while putting an organization in legal, regulatory, and reputational peril.
Being able to rapidly collect SCADA data and analyze it is where AI delivers. It allows plant managers to spend more time executing the elimination of LoF and CoF versus battling with tedious and cumbersome data spreadsheets.
Waste Not, Want Not
Another direct benefit that AI and IIoT can bring to water infrastructure is the reduction of waste. According to the American Society of Civil Engineers (ASCE), water infrastructure in the U.S. gets a D grade when it comes to delivering fresh water and a D+ for removing wastewater.1
The ASCE report estimates that 14 to 18 percent of freshwater is lost via leaks in aging pipes — enough to support 15 million households. By using smart sensors to capture data across the infrastructure and then running it through AI algorithms to identify weak points, proactive maintenance of the water delivery network could save the U.S. an estimated $20 billion in capital and operating expenses over a 10-year period.
Staying Ahead of the Storm
AI and IoT are also proving to be critical tools in the management of wastewater, which is of major concern for both industry and municipal organizations like treatment facilities. As an example, a municipal wastewater plant in Tennessee, where changes in climate caused increased annual rainfall across the region, faced serious overflow challenges.
The rate of influent flow impacts several aspects of managing and treating wastewater. For the team at the plant, it became paramount to be able to predict future flow rate in combination with the impact of rain. To accomplish this, the plant deployed AI to process the massive operational data sets and predict future overflows, enabling them to adjust flow rates in anticipation of approaching rain.
By becoming proactive, they literally got ahead of the storm. Operators were able to remove much of the guess work in planning for rainfall and more effectively schedule pump runtimes and speeds, handle diversion flow to storage, and ensure staffing needs were met. The increased insight into assets and predictive capabilities have enabled the plant to maintain stability in the treatment process, avoid overflow violations, and better plan overall operations and resources.
Gaining More from Your Assets
Monitoring and managing assets when it comes to responsible handling of water is not a new concept. But the maturation of AI and ML, along with sensor and networking technology, is enabling plant and facilities operators to abandon the age-old practice of doing so solely based on intuition or spreadsheets.
Technology is delivering new progress, driven by advanced analytics and greater transparency into all facets of operations. The benefits are numerous, ranging from increased operational efficiency to better ROI on investments. But the greatest benefit is the much more efficient, effective, and socially responsible way of handling water. WW
About the Author: Prateek Joshi is the founder and CEO of Plutoshift (www.plutoshift.com), which provides a performance monitoring software solution for industrial water processes in verticals such as food, beverage, water treatment, and chemicals. He is an Artificial Intelligence researcher, the author of nine published books, and a TEDx speaker. Joshi has been featured on Forbes 30 Under 30, CNBC, TechCrunch, and more.
References
1. "Failure to Act: The Economic Impact of Current Investment Trends in Water and Wastewater Treatment Infrastructure," American Society of Civil Engineers, 2011.
Circle No. 245 on Reader Service Card