Grand Junction Realizes the Promise of Technology
The City of Grand Junction, CO, has always been on the edge of technology. So says Terry Brown, geographic information system and computer aided design manager ...
Mar 1st, 2004
The City of Grand Junction, CO, has always been on the edge of technology. So says Terry Brown, geographic information system and computer aided design manager for the rapidly growing city. About the time Ronald Reagan was settling into the presidency in 1981, Grand Junction purchased its first computer and programmed it to do cross sections — an amazing feat considering Computer Aided Design (CAD) was still yet to be integrated into the common engineering applications of today.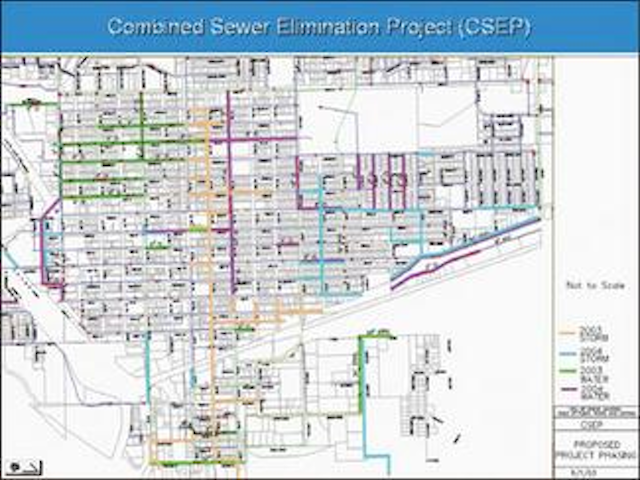 A typical GIS screen showing storm water sewers in Grand Junction.
Click here to enlarge image
By 1986, the city had installed its first information technology (IT) network and purchased its first AutoCAD® application. Five years later, the IT team began building a state-of-the-art Geographic Information System (GIS). The goal of Grand Junction's GIS effort was to create information-rich, thematic maps linked to databases throughout the city. The original GIS united its AutoCAD graphics engine with its Oracle mainframe, which was eventually replaced by the more sophisticated Autodesk Map™.
Brown has witnessed first hand Grand Junction's technological progression, having joined the city's staff in 1976. Since 1991, Brown has been at the helm of Grand Junction's GIS innovation.
The city had four key demands of a GIS tool when it first began considering GIS packages: the system must be easy to use, facilitate access to information, automate routine processes and be scalable.
"With the advent of Autodesk MapGuide we had the functionality we had been waiting for," Brown said.
GIS software developed by Autodesk has unique and simple features which allows users to obtain information in the right amount of detail according to the individual user needs. For example, users can simply right-click on specific objects to review more detailed information about an item of interest.
This feature extends Grand Junction's GIS application from being a department-only tool to a citywide resource. If users pull up a map and right-click on a fire hydrant, they can view flow rate information. Because the flow rate data is integrated directly from the fire department, the most current information is automatically available.
Users can review data linked to other municipal assets such as water valves and pipes. With this type of information, city managers in Grand Junction can critically evaluate problems and deploy the appropriate resources.
The fire department data on water flow is just one example of how data generated by various city departments is integrated in to the GIS. This data can be used to evaluate current city assets and plan new ways to ensure those assets are deployed cost effectively.
For example, using the water and sewer line data, Grand Junction engineers analyzed and proposed the Storm Drain Elimination Project (SDEP). Currently the storm drain lines are connected to sanitary sewer lines forcing the sewer plant to treat storm water with the identical treatment reserved for sewerage. This is clearly unnecessary and in times of heavy rainfall places tremendous stress on the sewer plant.
The SDEP plans to reroute storm water that currently feeds into the sewer plant and instead run it directly into the existing natural water systems. Engineers will use the GIS to create drawings to determine where workers can disconnect storm lines from sanitary sewer lines and build interceptors that would take the storm water to the river.
Because water and sewer line assets were already mapped and classified, engineers could quickly see the location and specifications for each line. This enabled the city to approve a three-year, $10 million construction project to separate its storm water and sanitary sewer lines.
Although the initial costs of the SDEP were daunting, its completion will extend the life expectancy of the sewer plant, increase its capacity for treating water and deliver tremendous cost savings to the city in the long run.
Managing Progress
With Autodesk, Grand Junction's city planners can manage progress in accordance with the best interest of its citizens. All the information needed for a preliminary design can be extracted from the system's family of fully integrated products. Using the raster capabilities of Autodesk Map and Autodesk Civil Series, aerial photography can be collected and utilized. With Autodesk Civil Series, engineers can bring in parcel lines, utilities and any other data required. With all of the information at its disposal, the GIS Department often prepares drawings that demonstrate a project among four or five different scenarios.
Once the options are narrowed, engineers can easily incorporate the public's feedback to add new ideas and capture design elements from earlier drawings. Ultimately the engineers create a set of drawings for final presentation and if required, engineers will prepare photo-realistic renderings of the final project using Autodesk VIZ.
Looking Forward
One of the most recent Grand Junction GIS initiatives involves integrating other software programs with the Autodesk GIS platform. For example, Grand Junction aims to integrate its Kanotech CivicCenter Properties application, a parcel-based assessment module, into the GIS.
Currently the Kanotech module is only designed for use by internal GIS-staff and is unavailable to outside departments or to the public. In its final form, the module will be capable of producing multi-page reports containing the complete legal history, sales information and development history of a specific parcel. Although the Kanotech module is normally linked to a Microsoft Access Database, Grand Junction is working closely with Kanotech to integrate the product with Grand Junction's Oracle Database.
The city has also recently procured Autodesk Envision, which Brown believes will contribute to progress for a paperless environment. Grand Junction's field-based employees, such as utility locators use Envision to view large map files loaded onto laptops. Grand Junction is considering Autodesk Envision's Onsite application, which will allow field teams to update data from their laptop computers through mobile phone connections.
This case study was prepared by DLT Solutions of Herndon, Va., Autodesk's master government sales and marketing partner. For a free demo CD, call 888-447-2223 or visit www.autodeskgovernment.com GSA schedule # GS-35F-4543G.