Asset Management Key to Meeting Water Industry Challenges
Technology can play a critical role in helping water agencies manage their assets proactively and systematically.
Sep 1st, 2009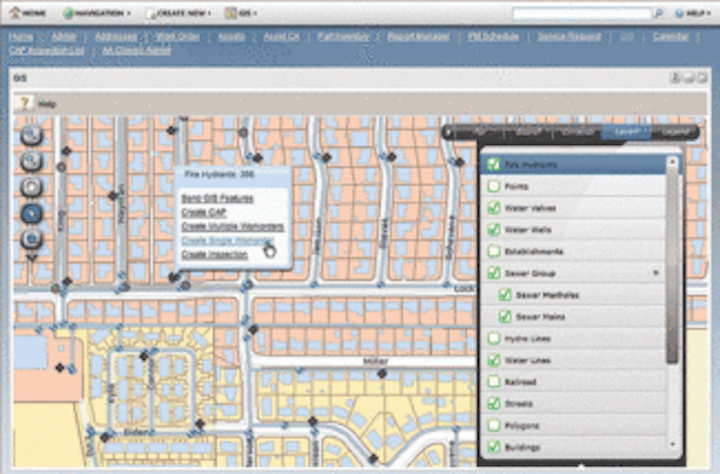 Technology can play a critical role in helping water agencies manage their assets proactively and systematically. Ensuring that maintenance data is easily accessible to back-office and field teams – and across inter/intra departmental systems – can go a long way toward reducing repair costs and keeping water supplies clean and safe.
However, many technology solutions today are complex back-office applications that are simply accessible from the field – but haven't been developed specifically for use in the field. This situation can reduce staff productivity and stress tight budgets through increased training costs.
A further issue affecting municipal water departments is budget-related staff reductions and the impending retirement of many long-term workers. Many of these employees will take a great amount of knowledge with them, leaving a significant information gap for the new workforce. Software can help water agencies capitalize on cumulative knowledge and avoid past mistakes by managing existing information and making it accessible for future workers.
At WEFTEC '09, Accela will exhibit its suite of software products designed to help agencies address these challenges.
Accela is a provider of web-based software applications that make government services available 24/7, with more than 500 deployments across the U.S. and overseas, and nearly 30 years of experience supporting the asset management needs of a variety of state and local agencies.
For the water industry, Accela provides systems:
To track and maintain all water infrastructure assets and water-related permits;
That give field-based workers the ability to access, update and create data using "store-and-forward" technology (which eliminates the need for the user to have a constant connection to the back office server);
Provide a link between water customers and the government, allowing citizens to see planned activities and the ability to make requests of the agency.
All of Accela's systems are integrated with advanced mapping capability.
Accela GIS Version 7.0, showcasing "map bubbles" containing detailed asset management data and tasks.
Click here to enlarge image
The specific solutions that the company will demonstrate at WEFTEC '09 include Accela Asset Management, a preview of Accela GIS Version 7.0, and the first public preview of the forthcoming Accela Mobile Office.
Accela Asset Management is an automated, Web-based, integrated asset and work management system that has been developed to provide water-distribution, wastewater-collection, and storm water management agencies with functionality for a range of tasks such as: tracking of work order history and costs; inventory and spare parts management; preventative maintenance schedules; inspections and investigations; and current and historical condition ratings.
Municipal water staff can track these same facets to assist with regulatory reporting and perform more intelligent maintenance analysis, whether on site or via CCTV. This ability leads to better scheduling of preventative maintenance. It also allows repair work and preventative maintenance to be combined into one work order or schedule in conjunction with labor and equipment availability.
Asset management software of this kind permits agencies to leverage any pre-defined asset inventories they may already have in place, without the need to build new categorizations from scratch. This means that current and future workers can find and access the same data how and when they need it.
The software also allows staff to monitor key performance indicators and real-time statistics for their water assets, providing more rapid and knowledgeable decision making and the ability to track each request for service through completion. For example, a water-related service request can be associated to one or many work orders, allowing for the full life cycle and cost of that request to be captured.
Accela GIS is designed to provide staff with direct access to geographic representations (via either agency- or Internet-based maps) of all infrastructure, land-use, zoning, work order, service request and inspection information. This augments efficiency by allowing staff to better understand their own location and those of nearby assets. Built-in routing capability allows maintenance crews to plot the shortest time or distance between their stops – saving fuel and improving response time. Accela GIS Version 7.0 is targeted for availability in early 2010 and will let users access all of their asset management data from within the Accela GIS map viewer.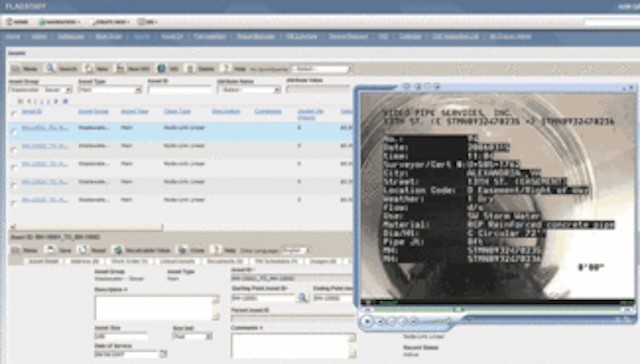 Accela Asset Management screen incorporating asset inventory data with historical CCTV inspection video from inside a storm water pipe, providing more accurate detail for maintenance scheduling.
Click here to enlarge image
Accela Mobile Office is planned for delivery in early 2010. This system is intended to provide field workers with access to the same data and user experience as back-office staff, including access to maps, current work assignments, and historical data (eliminating the need for field staff to return to the office for data entry).
The new offering will feature big buttons and touch screen capability designed for ease of use in the field. Data collection functionality will allow organizations with little existing data to build their asset information bank over time, and for agencies with a complete asset inventory to keep it current. The solution will also enable field supervisors to record costs, and to create, assign, complete, reschedule, or cancel work orders from the field, and receive last-minute updates on their mobile device.
At a high level, the staffing, budget, workload and maintenance challenges facing municipal water agencies today are daunting. But their mission to provide consistent, clean water to the public has never been more critical. Asset management solutions that automate many processes and provide more intelligent data to office and field workers are a vital component to help these agencies meet their mandates in the decades ahead. WW