Water Tank Asset Preservation Goes Beyond Maintenance
There has been much talk about water storage tank maintenance programs and the various approaches that have been offered across the country; however, the term "maintenance" does not give this endeavor justice.
May 1st, 2007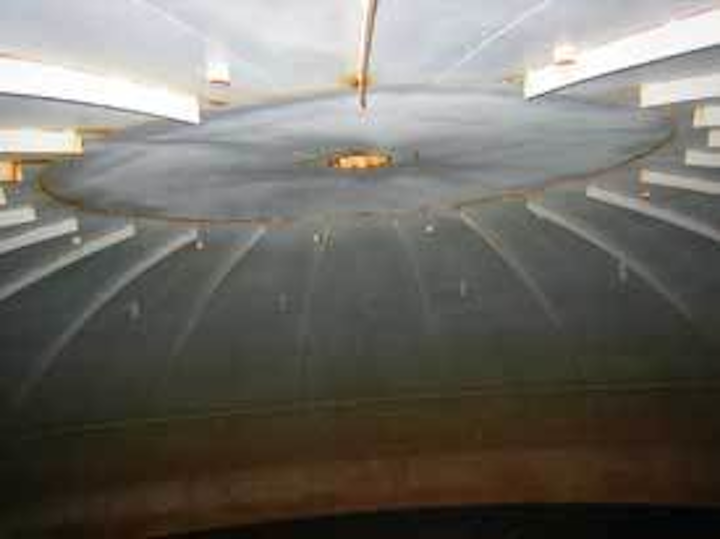 by Troy Fraebel
There has been much talk about water storage tank maintenance programs and the various approaches that have been offered across the country; however, the term "maintenance" does not give this endeavor justice. Maintenance implies keeping something in operable condition, but with the price of many new water storage tanks exceeding $1 million, owners and operators should strive for more than simple maintenance and look to preserve these vital and critical infrastructure assets.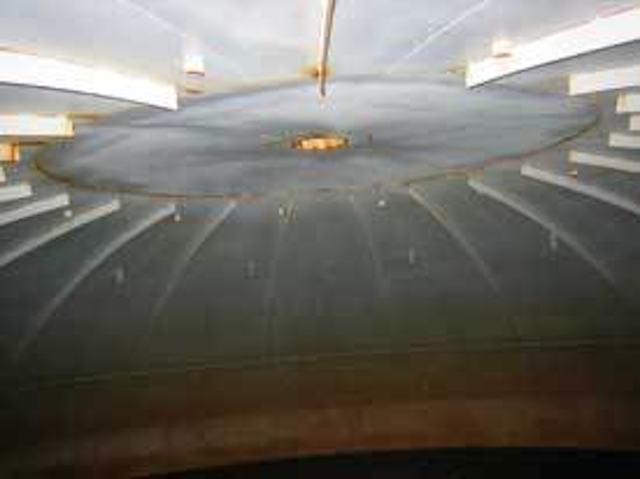 Skip welds, unsealed lap joints, and edges are areas of early corrosion.
Click here to enlarge image
The Steel Tank Institute/Steel Plate Fabricators Association's Century Club includes dozens of classic steel tanks that have been in service for well over 100 years.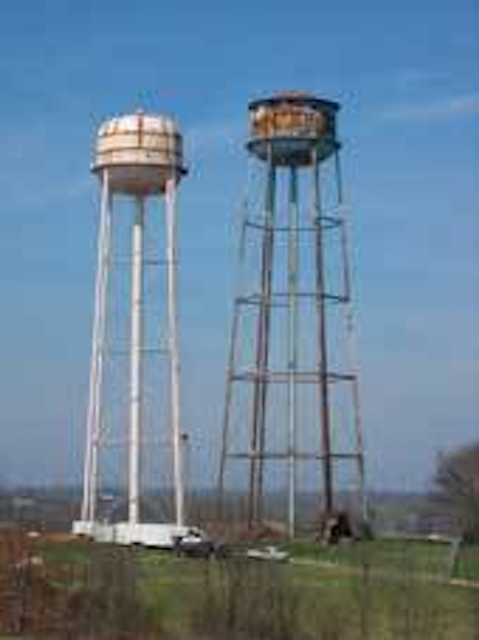 An asset preservation program would have kept the old tank in service beyond 70 years.
Click here to enlarge image
Water storage tank asset preservation begins at the design stage. Forward thinking tank engineers design structures that better resist corrosion and are easy to preserve, but it takes a tank manufacturer to fully understand the design of the structure and the ongoing needs that will ensure optimal life. Owners and engineers should work closely with tank manufacturers to consider the elimination of stitch welds, unsealed overlapping plates, and other crevices and tight areas that are difficult to paint. The water container interior should be kept as smooth as feasible by eliminating edges and other structural members where possible.
When necessary, edges and other irregularities should be ground and an additional stripe coat of paint applied. Adequate openings, in both size and number, should be designed to facilitate future work and ventilation in the tank. Zinc-rich galvanic primers should be specified for tank exteriors to prevent small abrasions from becoming large eyesores with metal loss.
Although it is true that these design improvements will initially be more costly, when properly analyzed the added costs will be more than recouped over the life cycle of the water storage tank. Properly preserved welded steel water storage tanks should be expected to provide useful service for well over 100 years. Life cycle cost comparisons based on a 40-year loan time frame fail to recognize the value of a strategically preserved tank. Thirty or even 60-year depreciation schedules do not reflect how long a well designed and preserved water storage tank will last.
However, to reach the maximum service life a tank must be strategically preserved.
The first step in a strategic preservation program is to work with the tank manufacturer to schedule and budget for periodic inspection. The typical one-year anniversary inspection ensures the quality of initial construction; however, it should be considered as the beginning of a strategic preservation program to provide maximum tank life, not the end of a project.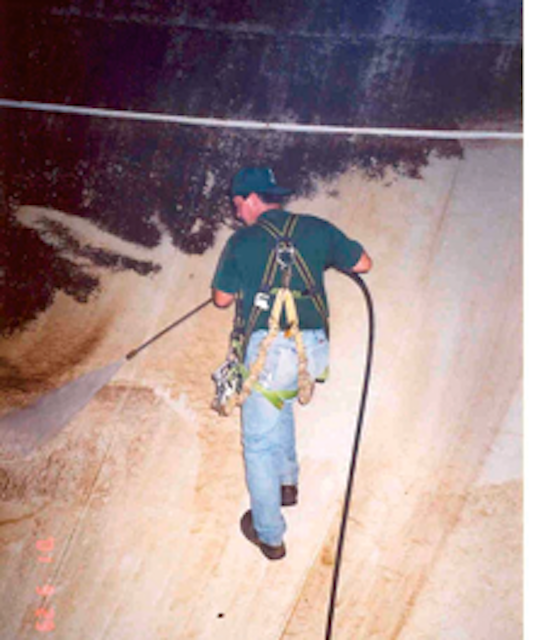 Scheduled cleaning and inspection is a must.
Click here to enlarge image
To be properly inspected, the interior of water storage tanks must be periodically cleaned of accumulated sedimentation and debris. If a tank cannot be drained for cleaning and inspection, properly equipped divers or robots can be used to accomplish this task.
Per American Water Works Association's Manual of Water Supply Practices M42, "tanks should be washed out and inspected at least once every 3 years." Owners without the in-house expertise to clean and inspect their tanks should contact the tank manufacturer to establish and implement a periodic inspection program. Full-service tank manufacturers now offer extended warranties on new tanks provided that the tank is regularly cleaned and inspected.
Armed with the data from the periodic inspections, a qualified water tank professional can plan and budget for future work needed to preserve the asset. In order to achieve the most cost effective life cycle, the professional plans repainting and other tasks when they are needed, with a focus towards preservation (e.g., stop corrosion before metal loss requires replacement). Strategic spot touch-up painting and overcoating will greatly reduce the frequency and hence the cost of total paint removal and repainting. In addition to designing for long term preservation and providing periodic clean-out and inspection services, full-service tank fabricators can manage and execute a total asset preservation program.
Water storage tank assets can benefit from the latest technologies including modern paint systems and mixing systems. Safety improvements and upgrades are also critical to the long-term usefulness of a water storage tank.
When considering water storage tanks, one needs to elevate the planning beyond simple maintenance and start treating the structures as valuable assets. The design and funding of an asset preservation program with scheduled periodic clean-outs and inspections, and strategic preservation activities will help achieve the most cost effective tank life cycle.
About the Author:
Troy Fraebel is responsible for the development, marketing, sale, and delivery of Caldwell's tank asset preservation programs. He has 20 years of experience in the protective coatings industry with most of that concentrated in the water storage tank market. He is a NACE Certified Coating Inspector - Level 3 (No. 12114), an SSPC (Society for Protective Coatings) Protective Coating Specialist (No. 166-71-0289) and instructor for SSPC's "Fundamentals of Protective Coatings for Industrial Structures (C-1)" and "Specifying and Managing Protective Coatings Projects (C-2)."