Water Services Department Puts Technology to Work
For decades, companies in the private sector have utilized enterprise application technology to reduce costs, increase productivity, manage assets, and improve customer service levels.
Sep 1st, 2008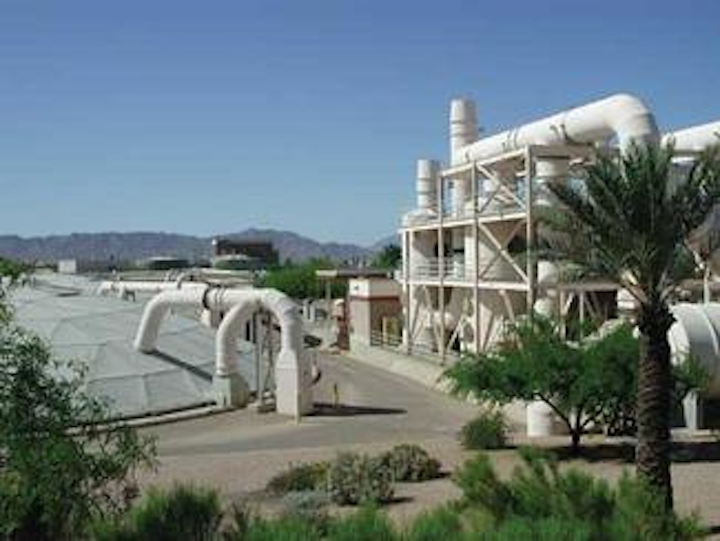 by Bob Benstead
For decades, companies in the private sector have utilized enterprise application technology to reduce costs, increase productivity, manage assets, and improve customer service levels. Traditionally, deployment of those same technologies for government agencies has not made economic or practical sense because the needs of the private sector differ greatly from public sector entities. Software developed for a global widget manufacturer cannot functionally meet the needs of a water utility. But now, technology specifically designed with the needs of water service providers in mind is bringing utilities the same benefits reaped in the private sector.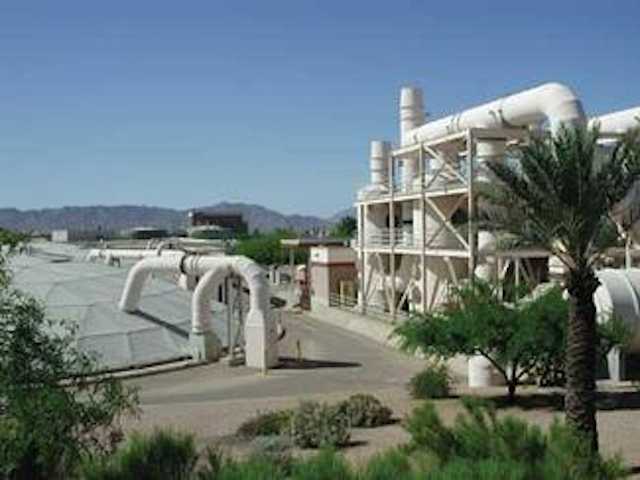 Phoenix Water Services Department's facility.
Click here to enlarge image
The water industry has very specific challenges, hurdles that change from region to region. For example, flooding causes different issues than drought and year-round arid climates present an entirely separate set of challenges. While it is difficult to predict how Mother Nature will react, technology built specifically for water utility companies can be employed to ensure each asset is operational, the workforce is productive, costs are kept low, and customers are satisfied.
Phoenix Water Services Department
The City of Phoenix Water Services Department provides services to 1.5 million residents over a 550-square mile area. More than 90 percent of the water the department delivers comes from surface sources, the remainder from groundwater.
The Wastewater Collection Division is recognized for being a proactive operation with regard to maintaining the city's sewer infrastructure. Although the majority of work performed by this operation is preventative in nature, the commitment to excellence demonstrated by the members of the staff has resulted in few service disruptions to the customer base. This group is comprised of 170 employees, the majority of which are certified as system operators through the Arizona Department of Environmental Quality. They provide service to a coverage area that includes more than 4,600 miles of piping infrastructure and over 90,000 manholes and cleanouts. The Wastewater Collection Division was recently recognized for being a "top tier" operation and leader in the industry nationwide.
Wastewater from the Phoenix area is collected and treated at two facilities to recycle, or reclaim, for agricultural irrigation, industry, or to water golf courses or other large turf areas. Phoenix Water Services maintains state-of-the-art recycling facilities to ensure the reclaimed water meets or exceeds all applicable environmental protection standards.
Phoenix Water Services realized the need to share data and decided to upgrade its existing software to help improve business functions. The department turned to Infor Public Sector and implemented Infor Hansen 8, making use of the system's wastewater, work order, and customer relations management capabilities.
Phoenix Water Services records and tracks inspection results, work histories, job costing information, as well as other functions. Through the integration of the system with the city's existing GIS, asset data is passed bi-directionally between the software suite and the GIS database, providing the department real-time visibility and precise location data on the status of its asset infrastructure.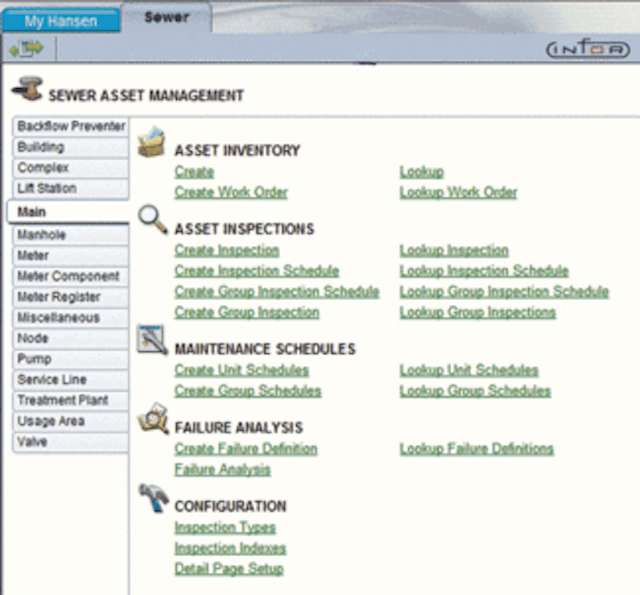 A screenshot of the software system used by Phoenix Water Services.
Click here to enlarge image
The system's wastewater management solution combines data on asset age, location, condition, and service requirements to performance-tune Phoenix Water Services' collection system. Accounting for gravity and force-fed sanitary sewer systems, the solution manages the department's sewer networks, identifying areas affected by breaks and stoppages.
"As a fee-based entity, the City of Phoenix Water Services Department collects no tax revenue, so we constantly strive to find ways to meet our citizens' demand for the highest quality service while keeping their fees among the lowest in the Southwest," said Drew Taraian, project manager, City of Phoenix Water Services Department. "Infor Public Sector demonstrated how we could use its software suite to both improve our customer service and generate operational efficiencies."
As a public utility, the department is often called upon by regulatory agencies, news media, city management, and the public to produce reports on maintenance of the wastewater collection system. Providing the data necessary to generate accurate reports was a tedious, time-consuming activity that required many labor hours.
"When a request for a report would come in, it would take several people to comb through multiple spreadsheets and systems to provide the requested data," said David Key, applications support, City of Phoenix Water Services. "This process was lengthy, but [now] the data is in a central repository and reports can be easily generated in a much shorter timeframe."
Following implementation of the asset management system, Phoenix Water Services realized a noticeable improvement in work order management. The system's capabilities allow the department to schedule routine and preventative maintenance to ensure the appropriate technicians are deployed according to task and time constraints.
The system's customer relations management feature enables Phoenix Water Services to rapidly respond to citizen inquiries and complaints. When a citizen calls in a complaint or issue to the department's call center, the request is recorded into the software and automatically checked against other calls for duplicity. The software enables the department to schedule inspections, display associated assets, directly add work orders, track costs and any actions performed to resolve the issue. This functionality allows the department to provide the citizens of Phoenix with consistent, timely responses.
"The department has benefitted from the implementation of the system," Taraian said. "We are able to service and maintain our structural assets to ensure that they will be operating at acceptable levels well into the future."
About the Author:
Bob Benstead is vice president of strategic planning with Infor Public Sector. With 25 years experience developing and marketing software to governmental entities, Benstead leads Infor Public Sector's strategic client management, partner management and oversight of market/product direction.