Successful Implementation of Maintenance Management Systems
The city of Sacramento Department of Utilities (DOU) manages over 2,500 miles of water, wastewater, and drainage infrastructure throughout the city's operational area ...
Apr 1st, 2008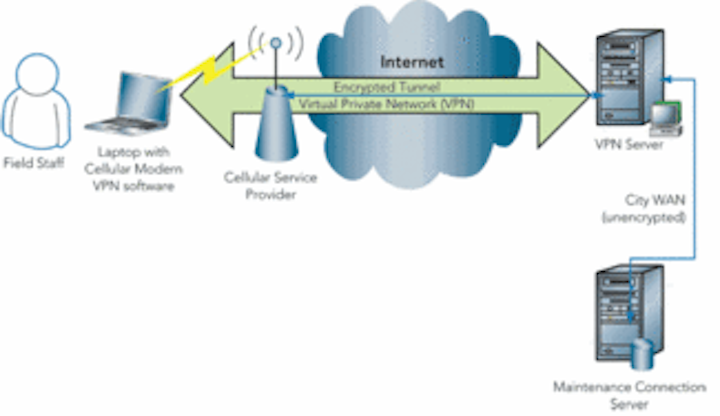 by Allan Scott, Kent Thompson, Mike Yee, and Mike Malone
The city of Sacramento Department of Utilities (DOU) manages over 2,500 miles of water, wastewater, and drainage infrastructure throughout the city's operational area, including three large treatment plants, hundreds of smaller pump stations, and a combined sewer system that routes both sewer and drainage in a single pipeline during storm events. In order to better operate and maintain this large network of assets, the DOU has implemented two computerized maintenance management system (CMMS) solutions to streamline and integrate all Operations and Maintenance (O&M) activities.
A CMMS provides a set of computerized tools that help an organization schedule, track, and monitor O&M activities and resources. Providing these maintenance management tools helps the DOU increase levels of customer service, provide up-to-date data on maintenance histories and standard operating procedures, decrease time to locate service points and problem areas, allow for efficient resource planning, increase the frequency of planned maintenance, and provide a framework for the DOU's asset management program.
The city has implemented these systems and succeeded in making the solutions a part of daily O&M work practices. Because of the diversity in organization, business operation, and mission between the DOU Plant Services and Field Services divisions, it was decided that individual CMMS solutions would be selected to meet each division's needs.
Plant Services, which is responsible for maintaining all facilities related to water production and wastewater and drainage pumping, selected Maintenance Connection's maintenance management software because of its simple-to-use user interface, its ability to manage complex asset hierarchies, its robust reporting capabilities, and its ability to be deployed and accessed over the Intranet. Maintenance Connection has been integrated with the city's Intellution SCADA system so that run-time data collected from various assets can automatically trigger work orders in the CMMS if certain limits are reached. The system supports over 130 field workers and about 20 managers.
The Field Services division is responsible for O&M of the water distribution system and the wastewater and drainage collection systems. They selected Azteca's CityWorks CMMS as their solution because of its tight integration with their previously developed GIS asset database. Additionally, CityWorks has been integrated with the city's PeopleSoft Customer Information System (CIS) so that service requests are automatically created in the CMMS when complaint calls are received by customer service representatives. The application supports over 175 field workers and 30 managers.
Implementation Challenges
During the implementation of both systems, five critical issues were identified as key to project success: mobile workforce implementation; integration with the city call center; work handoffs; field worker technology learning curve; and gauging system usage. The Department found that these challenges needed to be resolved in order for the solutions to be accepted and used by the DOU field staff.
Mobile Workforce Implementation
The Department selected a wireless solution for laptops connected to the CMMS. This provides workers in the field real-time access to operational and repair information and avoids costly computer system enhancements and additional management requirements that would be needed with an alternative synchronization process.
The department chose to use laptops (as opposed to tablets or PDAs) with cellular modem cards that could access the city Intranet via a virtual private network (VPN). This was a relatively inexpensive approach that took advantage of technology already available within the city. The Maintenance Connection CMMS is a web-based solution, so providing access over the city intranet was easy to do (see Fig. 1).
Another decision point was whether to purchase ruggedized computers or regular office-grade laptops.
"A cost analysis was performed to evaluate the two options and we chose to select office-grade laptops," said Mike Yee, Plant Services Division Manager. "Office-grade laptops cost about one-third the price of the ruggedized units and will likely last two to three years, where ruggedized laptops would likely have to be replaced every three years due to technology turn-over."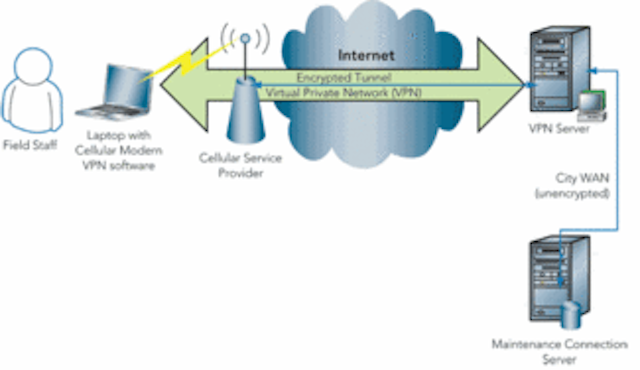 Click here to enlarge image
This decision would enable the DOU to replace destroyed units twice over the average lifetime of the laptop before exceeding the cost of the ruggedized laptops. Office-grade laptops also provide a less expensive upgrade path for taking advantage of newer technologies and are ergonomically easier to use in the field.
Integration with the Customer Service Call Center
A priority for the department was having a rapid response time to calls received by the Customer Service Call Center. "Integration between our CIS and our CMMS makes this happen quickly and accurately," said Mike Malone, Field Services Division Manager. To facilitate this level of service, the city connected the CityWorks CMMS with the call center's PeopleSoft CIS software. The integration software automatically generates service requests in the CMMS for every DOU service call logged into the call center. Because the CIS was maintained by a different department in the city, seamless integration required significant coordination between the two organizations.
Integrating enterprise systems presents both technical and architectural hurdles that need to be overcome for the integration to be successful. There are also additional challenges involving "soft issues" that naturally arise during multi-department software development. Some of these hurdles include different perceptions of project priority/schedule and difficulties in coordinating interdepartmental business practices.
To address these challenges, the DOU established a close working relationship with the city IT staff that maintains the CIS. This relationship was fostered by periodic meetings during critical delivery dates and joint testing/debugging sessions during system integration.
"It was crucial to obtain multi-group commitments and have significant communication regarding the key implementation milestones in order to make this a success," Malone said.
Work Handoffs
For some maintenance tasks, it is necessary for multiple trade groups to be involved in order for the task to be completed properly. For example, if a pump has failed, the Operations group will need to take it off line, an electrician will disconnect the pump, and a mechanic will repair it. This requires the coordination of multiple groups, each responsible for specific steps in the completion of the overall task.
The work practices in place at the DOU require that each group manage and sign off on its portion of the completed work, which was difficult to do in the CMMS because it allowed only one "owner" of the repair. To address this, a work handoff process was needed that would enable the supervisors of each trade group to assign and manage work within their trade while making sure that all the work was completed in the right order to successfully complete the task.
To manage work handoffs when addressing a repair, individual work orders are created for each trade so that group supervisors can monitor their group's work. Each work order is then associated with a specific project, which serves as a master record that encompasses all related repair work and enables the division to view all work orders associated with the job — regardless of the "owner" of the work. It also provides a simple means to view all materials and labor costs associated with the project, regardless of the work order.
The project is typically created by the group that has overall responsibility for resolving the issue (usually the operations group). Then, any number of work orders that describe particular actions to be taken can be defined under the project and sent to the groups responsible (see Fig. 2).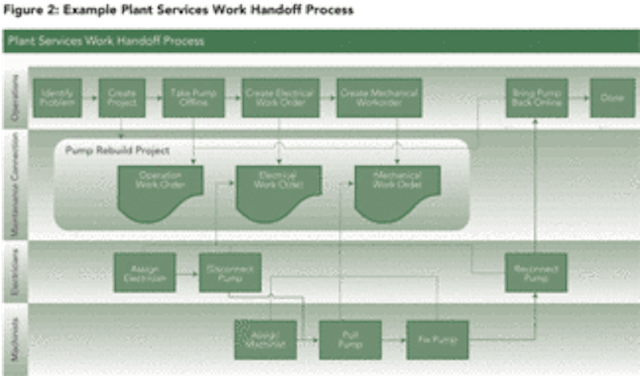 Click here to enlarge image
Other organizations that are managed by one supervisor or superintendent may not encounter this issue, but according to Yee, DOU "found it beneficial to investigate work handoffs in the early stages of the implementation process to ensure that they are addressed efficiently."
Technology Learning Curve for Field Workers
Getting field workers to be comfortable with and willing to use a computer can be challenging. While some field workers are already proficient with computers, many do not normally use a computer at work and some may not have access to one at home.
At the DOU there is a wide spectrum of computer proficiency, which presents some basic problems for system implementation that affect how information is entered into the system and how the organization is trained to use it. Several key strategies have been employed at the DOU to successfully train staff on the new system.
Provide a series of training sessions: Start with simple tasks and provide a means to achieve early success. Once mastered, move on to more advanced training sessions to reinforce the basics.
Provide a consistent linear process: Showing new users multiple ways to accomplish the same thing can overwhelm them, especially if they are not used to computers. Select a single approach and be consistent.
i>Show, Tell, Do, Review: This four-step approach consists of 1) the instructor demonstrates the process; 2) the trainees coach the instructor through the same process; 3) the trainees complete a written exercise on their own under instructor supervision; and 4) the instructor and trainees go over the exercise and discuss the results.
Provide simple instructions and cheat sheets: Laminated, customized cheat sheets can be created for common procedures so that they can be taken into the field without being destroyed.
Provide ongoing training and self-learning opportunities: Once formal training is over, field staff may find that additional periodic refresher training and one-on-one drop-in training helps to reinforce procedures.
No matter how training is approached, the key to success is to simplify the process as much as possible.
"The primary job of the field worker is to maintain and operate the city infrastructure, not to record information in a database," said Yee. "Procedures must be developed to minimize mouse clicks and key strokes, data entry screens must be designed to minimize the data to be filled in and to provide default values, and automatic maintenance scheduling must be established, where applicable, to keep the focus on the field work."
By simplifying the process, the new CMMS is more readily accepted by the field workers and easier to manage by supervisors and superintendents.
Gauging System Usage
When the two systems at the DOU were put into production, it was difficult to tell how much they were being used. Every work group was different; some had many preventative maintenance tasks while others responded to corrective problems. Some would work on the same task for several days while others completed several task in one day.
"With several hundred people using both systems, it was important to be able to monitor system usage to determine how well it was being used by the field workers once they were trained," Yee said.
The DOU found that the most effective way to monitor system usage was through customized reports (see Fig. 3). These reports were created within each CMMS and were generated weekly and distributed to the managers and supervisors so that they could see how each group was doing. Useful reports can determine:
the number of preventative and corrective work orders that are created and closed each month by each work group.
the number of hours logged on work orders per week by each person. (Plant Services estimated that the average field worker should log about 120 hrs/month if they are primarily working on maintenance tasks.)
the last login date of each person using the system.
the number of new work orders assigned to each field worker in the past 30 days.
Management review of these indicators provides rapid identification of areas where additional training or attention is needed, and provides an indication of system usage.
Conclusion
Although the five challenges described here were not the only ones encountered during the startup of these systems, they were critical to the success and acceptance of the new systems by field staff and supervisors at the DOU. The most effective solutions combined both technical and organizational elements that made them more easily accepted by the city workers. This problem-solving approach has the city well positioned for sustaining these new systems and realizing their benefits well into the future.
About the Authors:
Allan Scott is a senior consultant and regional IT director in the Business Consulting Practice at Brown and Caldwell. He has 18 years of experience in applying information technology solutions for environmental and engineering consulting.
Kent Thompson is a system architect in the Business Consulting Practice at Brown and Caldwell and has been involved in professional software development since 1996.
Mike Yee is the DOU Plant Services Division Manager at the city of Sacramento.
Mike Malone is the manager of the Field Service Division at the DOU.