New Products
Trimble has introduced a Geographic Information System
Sep 1st, 2009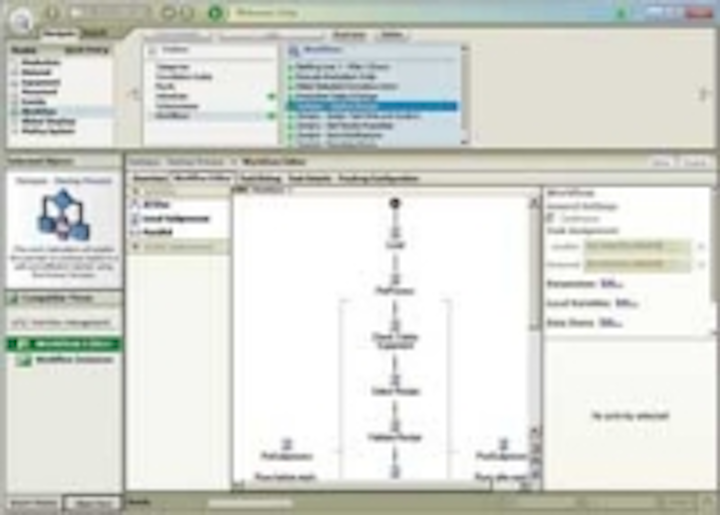 Asset maintenance inspection
Trimble has introduced a Geographic Information System (GIS)-based office and handheld asset maintenance inspection solution for utilities. The solution is comprised of two new products: the Trimble UtilityCenter Field Inspector software for handhelds and the Trimble UtilityCenter Maintenance-2 module. In combination with Trimble Mapping and GIS rugged handheld computers with integrated Global Positioning System (GPS) technology, the software offers electric, gas, water, and wastewater utilities of all sizes a scalable and easy-to-deploy field solution for improving asset maintenance inspection operations.
Trimble
Sunnyvale, CA
www.trimble.com
Operations software
Wonderware Information Server 3.1 software has been released with enhanced Web-based, enterprise-level reporting capabilities and support for Microsoft SharePoint 2007 and Windows Vista. It offers an easy-to-use solution for Web-based reporting and analysis of real-time operations information for the manufacturing and infrastructure industries. The new version features enhanced dashboard support with the ability to add custom filters that provide real-time visibility into detailed equipment operations. It also offers a simplified installation procedure for the embedded Microsoft SharePoint 2007 technology, as well as tighter integration with Wonderware ActiveFactory for creating and publishing query reports.
Wonderware, a business unit of Invensys
Lake Forest, CA
http://us.wonderware.com
Workflow process management
GE Fanuc Intelligent Platforms, a unit of GE Enterprise Solutions, has announced the availability of Proficy®
Workflow for the Water/Wastewater industry, enabling an environment of information-rich, circumstance-based workflows that operators follow to understand what's happening around them and how to react in a sequenced and procedural manner that is repeatable every single day. With this system, plant managers have the opportunity to improve quality, reduce operational costs and secure operations for a true sustainable advantage. In addition, they can decrease the variation in operator performance, making operations more predictable. The solution guides operators with step-by-step instructions for each task during the day and automatically walks them through corrective action to prevent or fix problems.
GE Fanuc Intelligent Platforms
Charlottesville, VA
www.gefanuc.com/workflow
Urban drainage modeling, design
MWH Soft has announced the availability of the V8 Generation of its InfoSWMM for ArcGIS. The full-featured urban drainage network analysis and design program addresses all operations of a typical sewer system — from analysis and design to management functions such as water quality assessment, pollution prediction, sediment transport, urban flooding, real-time control and record keeping. This latest version features an intuitive, time-saving user interface; impressive graphics; greatly accelerated creation of better, more accurate models; and more advanced design analysis capabilities. The software is also fully compatible with the latest release of EPA SWMM5 (5.0.016).
MWH Soft
Broomfield, CO
www.mwhsoft.com
Licensed radio for rugged terrains
FreeWave Technologies has announced the availability of the LRS455, its newest licensed radio offering the lowest power consumption, transmission range and receiver sensitivity available in the market. Due to superior RF propagation characteristics (430-470 MHz at 2 watts), the LRS455 is ideal for rugged and heavily treed terrain applications in oil and gas, water/wastewater, electric and municipality markets. It offers a faster data rate and more noise immunity than similar products and is perfectly suited for long-distance SCADA applications located within rough terrain or heavy tree coverage.
FreeWave Technologies
Boulder, CO
www.freewave.com
Outage alerts
Twenty First Century Communications has announced the addition of Outage Text Messaging to its High Volume Call Answering (HVCA) service. With the new feature, utility customers can request updates on the restoration process via text messages to their mobile phones. Benefits include increased customer satisfaction and convenience; text messages often get through even when cell networks are down or saturated; no Short Code is required by the utility; and little or no development or IT resources are required of the utility.
Twenty First Century Communications
Columbus, OH
www.tfcci.com
Enterprise management
Systems & Software has released enQuesta 4 ERP, which offers utilities the ability to manage their business with a complete suite of core finance, plant accounting and human resource modules. These include general ledger, budgeting, purchasing and asset inventory, receivables and payables, payroll, and compatible unit-based work order management and job costing solution.
Systems & Software Inc.
Williston, VT
www.ssivt.com
Software for water system operations
The Hach Water Information Management Solution™ (Hach WIMS™) is powerful, scalable water-industry-
focused software that creates regulatory reports and helps manage water system operations. Its streamlined reporting, user-defined alerts, charting, graphing, modeling and mapping tools provide accurate information for informed decisions. Hach WIMS is configurable to meet the needs of organizations of any size and is now able to link to GE Fanuc Intelligent Platforms' Water Solutions Pack 2008. The solution presents critical information about water system operations, including process, lab and field data, to plant personnel directly from the SCADA system.
Hach Company
Loveland, CO
www.hach.com/wims
Chart recorder with EtherNet/IP
Eurotherm has adopted EtherNet/IP as the communications protocol for its 6000 series Paperless Graphic
Recorders, allowing its recorders to seamlessly communicate with a huge installed base of EtherNet/IP-enabled PLCs and other I/O and control devices in many industrial applications. The implementation supports up to 200 I/O ports with simultaneous support for Modbus TCP. The new feature means ease of installation in connecting to programmable logic controllers, simple system configuration, better process oversight, and increased flexibility. The use of standard Ethernet networking equipment means no unique hardware or software is needed to connect to most major controllers and configuration is made simple with setup wizards and built-in diagnostic tools.
Eurotherm
Leesburg, VA
www.chessell.com
Water metering
Elster has introduced its SmartMeter™ AMR-enabled products to the North American market. Elster recently acquired the SmartMeter product portfolio from Severn Trent Services, a member of the Severn Trent Plc group of companies. The SmartMeter features a fluidic oscillator solid state design, containing no moving parts to deliver higher accuracy throughout the flow range, greater reliability and advanced intelligent metering features such as tariffs and event monitoring to residential metering applications.
Elster
Ocala, FL
www.elster.com
Enterprise-wide collaboration
Infor Public Sector announced Hansen8.2, a government-specific software solution that provides greater access to relevant information across the entire agency, simplifies activities to increase user productivity, and adds several new features that improve citizen interaction. It also provides more robust billing capabilities across departments, adding new functionalities and streamlining account set up and rules.
Infor Public Sector
Atlanta, GA
www.infor.com
Energy consumption, cost management
Pumping costs account for a high proportion of a water utility's operating budget, so it's important that energy
consumption is actively managed and minimized as much as possible. Bentley's WaterCAD and WaterGEMS tools help water utilities reduce their pumping costs and energy usage in numerous ways, including: identifying old pumps that no longer perform on their pump curves; detecting pumps that no longer match well with the distribution system; finding pump combinations that do not work well together; analyzing when to use variable speed vs. constant speed pumping; determining energy costs for different operating rules to find the best operational strategy; and determining how to take advantage of time-of-day energy pricing.
Bentley Systems, Incorporated
Exton, PA
www.bentley.com
Asset management
NEXGEN Asset Management is Web-based software that integrates an advanced CMMS with Asset
Management functionalities. The product is a comprehensive and sustainable single software solution designed specifically for the water and wastewater industry. Manage customers, assets, maintenance, and resources in a state of the art Dashboard. Sustain CIP in real-time using risk-based prioritization.
Nexgen Asset Management
Sacramento, CA
www.nexgenam.com
Operational intelligence software for mobile phones
Transpara Corporation's Visual KPI solution has been optimized for the Palm® Pre™ phone, providing users with on-demand operations, financial and infrastructure data via the new phone's Palm webOS™-based browser. Visual KPI uses Web technology to make key data available on any wireless device, generating graphics, scorecards and trends optimized for the specific device. It ensures decisionmakers stay in direct and immediate contact with on-demand, role-based information required for them to take action.
Transpara Corporation
Pleasanton, CA
www.transpara.com
Automated source water monitoring
YSI automated vertical profiling systems provide important water quality data before water reaches the plant. The profiler's real-time data can be used to manage draw from the water column, providing the ability to avoid high algae concentrations, turbidity, and low dissolved oxygen and optimize usage of treatment chemicals, filters, and aerators. The profiler can be buoy-based or mounted to a fixed platform near the intake. Water quality data can be integrated into a plant's SCADA system for real-time alerts.
YSI Integrated Systems & Services
Marion, MA
www.ysi.com/profilers
Handheld communicator
Emerson introduces the 475 Field Communicator, which extends beyond device configuration functionality to provide advanced device diagnostic and troubleshooting capabilities in the
field and on the bench so users can work more efficiently. Quick boot-up and fast operating time mean that jobs can be performed quickly and easily while longer battery life ensures days, not hours, of operation. The intrinsically safe 475 Field Communicator supports HART®, WirelessHART™, and FOUNDATION™ fieldbus devices. It enables diagnosis and troubleshooting right in the field to streamline daily maintenance activities.
Emerson Process Management
Austin, TX
www.emersonprocess.com
Mobile access authorization
Videx has announced CyberKey® Blue, a rechargeable key that uses Bluetooth® technology, providing a unique and flexible access solution for water districts with mobile employees, service
technicians, and vendors. Service technicians and vendors with a BlackBerry® phone can receive access permission updates to their key while out in the field. It's ideal for water plant facilities that need to protect their well sites, watershed areas, reservoirs, and pump houses. Management can maintain tight control of employee, contractor, and visitor access to sensitive areas and equipment.
Videx
Corvallis, OR
www.videx.com
DAServer toolkit
The Wonderware DAServer Toolkit 3.0gives customers and partners the capability to create, test and deliver custom interfaces to equipment with unparalleled ease of use. It enables users to develop customized connectivity solutions for Wonderware System Platform for instances where there is not a pre-existing protocol interface. The toolkit is typically used by system providers that need to connect to proprietary devices when integrating new solutions with System Platform. System Platform provides a single, scalable software platform for the SCADA, supervisory HMI, MES and EMI software solutions needs of industrial automation and information personnel.
Wonderware
Lake Forest, CA
http://global.wonderware.com