Clog Busters: System Helps Smooth Pumping of Fibrous Cleaning Products
New pumps helped end chronic clogging of lift stations at Jefferson Parish, LA, during a trial test of a new pumping system. The original pumps struggled to handle dusters, hygiene wipes and other non-woven consumer products flushed into the sewer system.
Apr 1st, 2013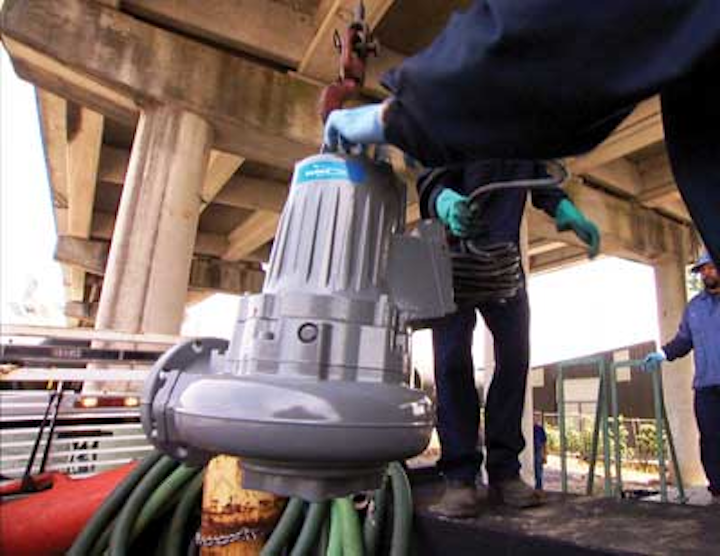 New pumps helped end chronic clogging of lift stations at Jefferson Parish, LA, during a trial test of a new pumping system. The original pumps struggled to handle dusters, hygiene wipes and other non-woven consumer products flushed into the sewer system.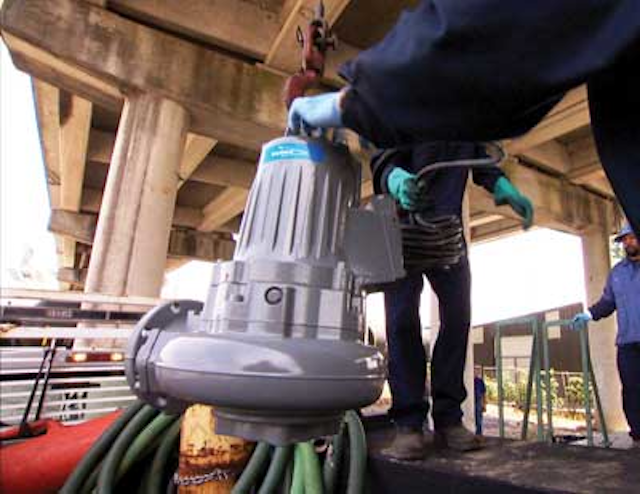 An Adaptive N-Pump is installed to help handle fibrous waste that had been clogging the existing pumps.
Jefferson Parish, LA, extends along a 15-mile-wide corridor west of and upriver from New Orleans. Bisected by the Mississippi River, the eastern part of the Parish is the most highly populated area and was originally marsh and swampland reclaimed after World War II for residential subdivisions and commercial development. This activity required the construction of canals and levees to drain and protect areas that stand at or below sea level. The primarily flat topography requires lift stations in numbers that rival many areas elsewhere across the nation with rolling topography.
As demonstrated by the recent Hurricane Isaac, the Parish is vulnerable to tropical storms and hurricanes from June through November in a region already known for high rainfall events throughout the year. To make matters worse, the structural and operational integrity of the sanitary sewer lines and pump stations are compromised by age and minimal budgets for maintaining the equipment in place. Even routine storms can spawn enough rainfall to induce surges of inflow and infiltration (I&I) that can overload stretches of the Parish's 1,500 miles of gravity sewer lines, 200 miles of force mains and 505 lift stations that range from single-horsepower installations to facilities with multiple 400-hp pumps.
"We're at the point where some of our lift stations are 30 to 40 years old and beyond expected functional life," said Linda Daly, PE, and Director of the Parish Department of Sewerage. "Frankly, many of the stations need major retrofits and deserve complete pump replacements."
"We have a $35-million capital program funded by a low-interest 20-year loan funded by the state's share of Clean Water Act money, but we need much more to fully address our sewer system's broader underlying problems," she added. "Beyond the lift station upgrades now underway, we need to address our very serious I&I problems but, like many municipal utility agencies, we simply don't have the money."
Cleaning Products Strangle Pumps
The majority of lift stations are predominantly duplex facilities with small horsepower pumps that serve one or two subdivisions, or other relatively small collection areas. Rain events - frequently two to four inches - and poor soil conditions can surcharge the collection lines and aggravate the already chronic clogging of lift stations when flows carry in non-woven consumer products, such as dusters, cleaning and hygiene wipes. The issue is becoming one of the biggest challenges for sewer utility operators since the introductory years of disposable diapers.
During dry periods, the synthetic fibrous waste settles out with other solids in the bottom of lift stations and collection lines until peak flows and I&I events churn up the waste. When it reaches pump intakes it can entangle traditional "solids-handling" impellers. As the ragging builds up, it imposes drag, compromising efficiency and eventually choking the intakes completely until the motors trip due to over-current. It's a scenario repeated far too often for the Parish's maintenance crews, who try to prevent it by daily station inspections and quick response to dispatches when the SCADA system operators detect a pump has gone off-line.
"A three- or four-inch rain event is not uncommon here," Daly said, "so the I&I can further aggravate the insidious ragging problem in the lift stations. Even if the wipes pass through the stations they can block the bar screens at the headworks of our wastewater treatment plant and cause further problems."
Jefferson Parish intends to address the problem with a public education program aimed at making customers aware that disposable wipes and other cleaning products are not "flushable." The utility will play off another strategy used in anti-smoking campaigns by also aiming the message at school children where the emphasis will be on the environmental pollution this new generation of cleaning products can cause to Lake Pontchartrain where many of their families spend recreation outings.
Pump Trial
As part of a planned four-station trial, Gulf States Engineering, a local Xylem Flygt representative, installed the recently introduced Experior™ pump system. The first station received only the system's Adaptive N Pump last April. The Bellview & Airline duplex lift station had been notorious for clogging as often as two or three times daily.
The N Pump units have eliminated call outs to the facility since their installation.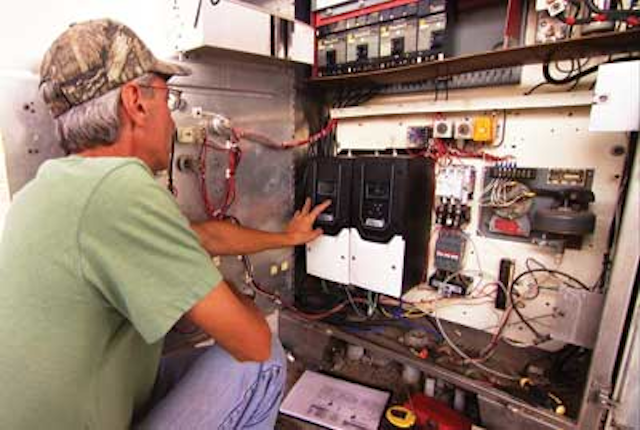 The SmartRun® control system helped improve energy efficiency of the newly installed pumping system.
Three other lift stations with clog-prone histories took the trial further the following month when fully-integrated pump systems were installed that included Xylem's SmartRun™ controls. The duplex facilities at Kawanee & Woodlawn, Deckbar & Railroad, and Irving & St. Mary all received 5 hp Experior systems. The Kawanee & Woodlawn facility showed an immediate gain in energy efficiency. Upon initial installation, Pump #2 operated at an energy consumption rate proportional to the initial startup frequency of 60 Hz.
The SmartRun controls automatically identified the targeted optimal speed and adjusted to 38 Hz after only two days of operation, according to George Peart, Director of Sales for Gulf States Engineering, who has worked closely with the utility throughout the trial. To date, the stations are experiencing approximately a 50 percent reduction in energy use.
"Our focus has been on finding reliable replacement pumps because we have so many lift stations with clogging problems," Daly said. "With over 500 pump stations compared to about 80 operated by the City of New Orleans, we felt the new Experior system had features that deserved a real-world test for possibly broader applications in our system."
"We've not had any call outs for pump failures at the four locations that received the Flygt systems," Daly said, "despite heavy rains and I&I."
Previously, the cost for a single work order - in addition to the routine cost of daily inspections at every facility - could reach more than $400. Moreover, an incident could tie up manpower at a station by requiring not only the two-man inspection team but also a mechanic and electrician at the location. Add that to the problem with public perception and it is easy to see why these incidents are such an important issue for Jefferson Parish.
More WaterWorld Issue Articles
WaterWorld Articles Archives