Products & Services: Pumping
Collection of Pumping products and services.
May 1st, 2013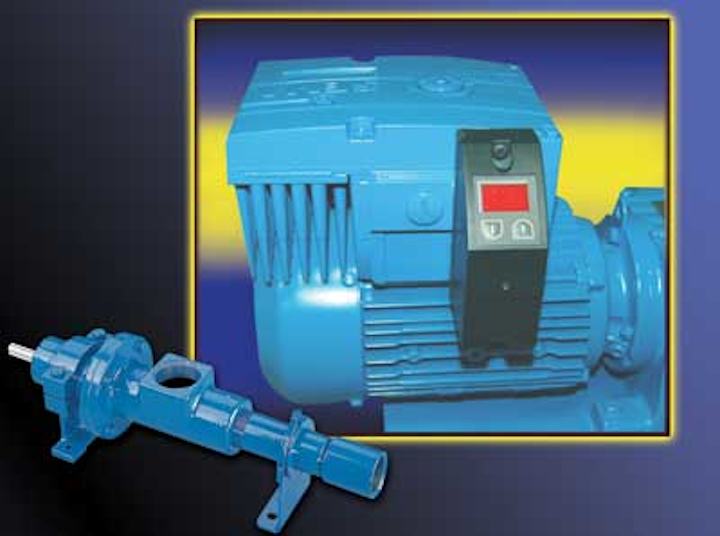 Variable frequency drive
Pentair has released the next generation of its Pentek Intellidrive™ variable frequency drives for submersible well pumps. The drive features advancements in usability and functionality over existing solutions in the marketplace. Its Water Pressure Control Center directs changes in pump motor speed by responding to fluctuations in demand. The system is available in three models: PID10 - up to 1 hp, PID20 - up to 2 hp and PID50 - up to 5 hp.
Pentair Ltd.
www.pentair.com
---
Metering pumps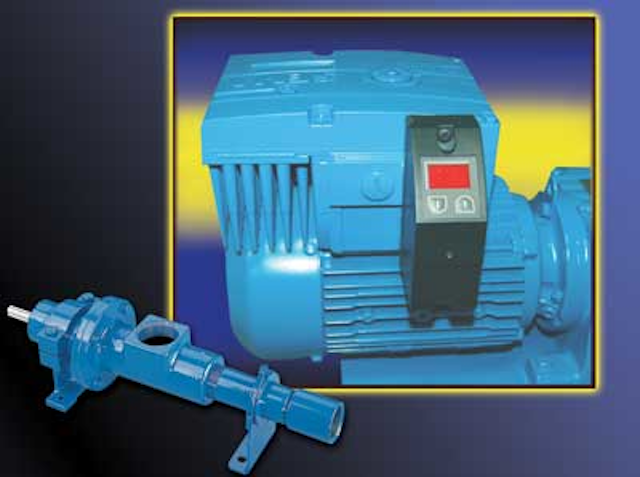 The Moyno® Metering Pump includes enhanced pumping elements and integral VFD/motor controls that expand the scope of metering applications and enhance performance when metering low-flow liquids in a wide range of processing applications including dosing, sampling and metering.
Moyno Inc.
www.moyno.com
---
Pumping systems
Gorman-Rupp manufactures high performance pumps and pumping systems for the municipal, construction, water, wastewater, sewage, industrial, petroleum, fire, agricultural, and OEM markets. Pump designs include vertical in-line, end-suction, horizontal split-case and vertical multi-stage pumps. Simplicity, precision balancing and accurate machining ensure long unit life, reduced maintenance costs and minimum power consumption.
Gorman-Rupp Co.
www.grpumps.com
---
Dewatering pumps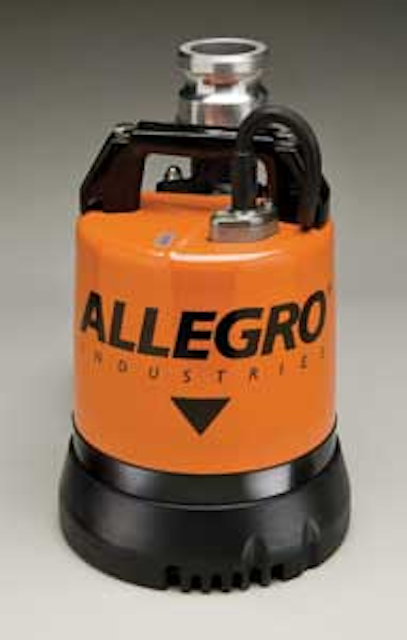 Allegro Industries offers four models of dewatering and sludge pumps that provide continuous operation at low water levels and extended dry runs without overheating the motor. These portable, submergible pumps are excellent for manholes, vaults, construction sites, and all dewatering needs. The DC Submersible Dewatering Pump is a totally-enclosed unit. Watertight o-ring seals keep the pump's internal parts dry. It delivers up to 43 gpm for rapid dewatering and instant prime. It can operate on any 12 volt truck or automobile battery, and the 30 amp draw allows for one hour of operation without starting the engine.
Allegro Industries
www.allegrosafety.com
---
Level controller
The new PSL 5.0 Pump Station Level Controller from Greyline Instruments features redundant level sensing. It includes a non-contacting ultrasonic sensor, and users can also connect a loop-powered pressure sensor for redundant sensing in applications with foam or grease. The controller will continuously recalibrate the pressure sensor and automatically switch back and forth from ultrasonic to the pressure sensor as required. It is designed for sewage lift stations, wet wells and storage tanks.
Greyline Instruments Inc.
www.greyline.com
---
Metering Pumps
The IX Series of direct-drive, digitally-controlled metering pumps from Iwaki America combine accuracy, reliability and flexibility into an energy-efficient design. An advanced liquid end and fixed stroke length design enable a high compression ratio throughout each stroke, resulting in fast priming with no gas-lock problems. Two models provide a maximum flow of 40 gph and a maximum pressure rating to 150 psi. A full turndown ratio of 750:1 enables only two models to handle many chemical metering requirements. Precise motor control coupled with an efficient check valve design creates accurate performance of +/-1% over the entire output range.
Iwaki America
www.iwakiamerica.com
---
Skid pump system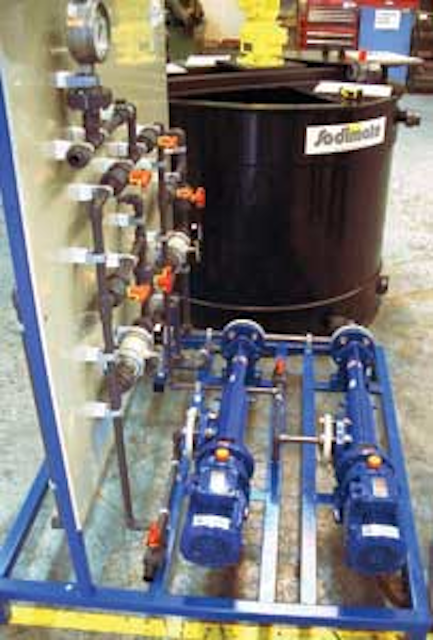 Sodimate's mounted slurry system integrates a slurry tank, skid pumps and controls, and is pre-wired and ready to use, allowing for quick installation and start-up. Typical slurry tank fabrication material includes high-density polyethylene (HDPE), stainless steel or fiberglass, and volume can range from 130 to 500 gallons. Completely dust-free, the skid pump system is specifically fabricated to be used with dry hydrated lime, powdered activated carbon (PAC) and polymers.
Sodimate Inc.
www.sodimate-inc.com
---
Non-clog pumps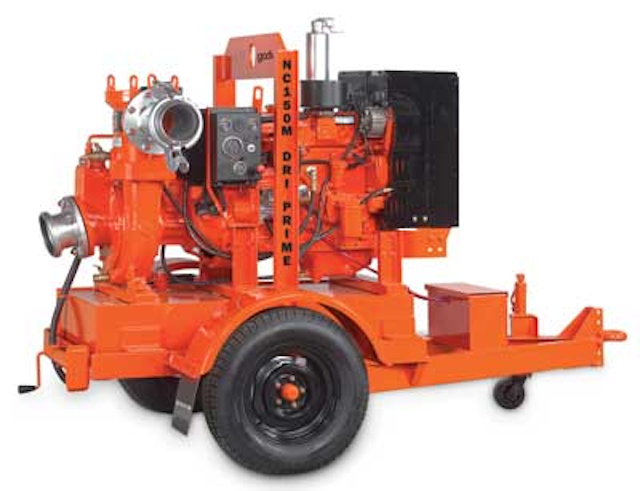 Godwin Dri-Prime NC Series pumps with Flygt N-technology are engineered to deliver non-clog performance and improved energy efficiency. The NC150 pump (the 6-inch pump in the line) is a powerful yet compact pump with flow capabilities up to 1,767 gpm and discharge heads up to 195 ft. It features the company's Dri-Prime automatic self-priming system that primes and re-primes from dry up to 28 ft. without operator assistance or foot valve control. The close-coupled centrifugal pump can be customized with a diesel engine or electric motor, highway trailer or skid-mounted, or quiet enclosure. It is also available as a Godwin DBS for pump station backup.
Godwin, a Xylem brand
www.godwinpumps.com
---
Solids Handling Pumps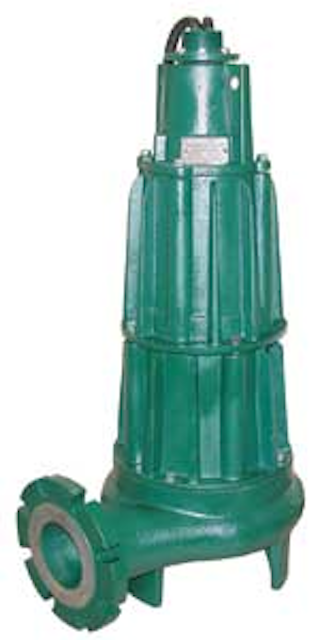 Zoeller Engineered Products offers a broad selection of submersible solids handling pumps in sizes from 1 to 100 hp. Their finned castings, oil-filled housings and non-overloading windings enable the motor to maintain a low operating temperature when facing the harshest of conditions. These pumps are available with a 2.5", 3.0" or 4.0" solids handling capacity and can use a semi-open, enclosed or vortex impeller. Discharge sizes range from 3" to 6". The pumps are available with standard or explosion proof motors, all having an inverter duty option.
Zoeller Engineered Products
www.zoellerengprod.com
---
Pump station manager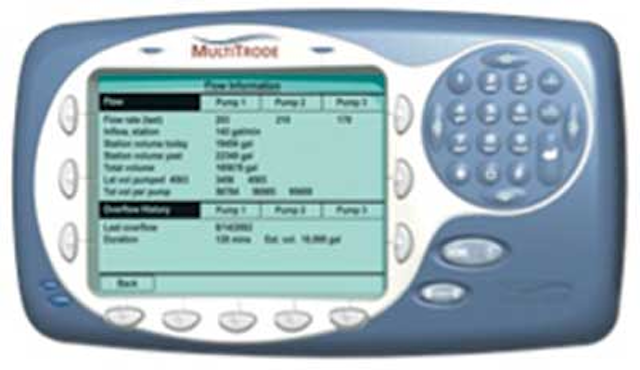 MultiTrode's MultiSmart is an intelligent Pump Station Manager that can help reduce energy consumption and operating costs. With out-of-the-box functionality designed for simplified deployment, the manager combines thousands of dollars in technology, components and engineering into one device. It features the best of PLCs, RTUs and pump controllers in a comprehensive, intuitive package. Pre-programmed logic developed from decades of real-world industry experience is designed to significantly reduce operating costs, decrease energy costs and consumption, and prevent failures, blockages and spills.
MultiTrode
www.multitrode.com
---
Thermoplastic pumps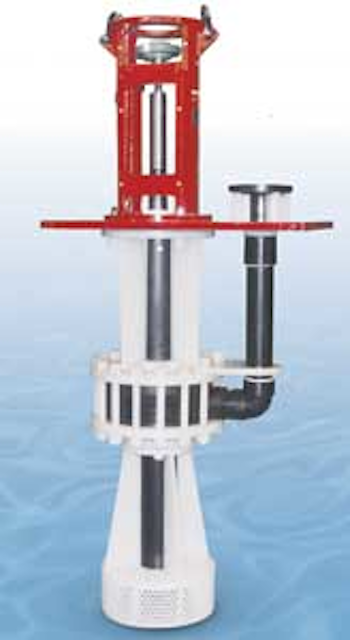 Vanton's Sump-Gard® model SGK-2700 thermoplastic centrifugal pump handles flows to 1200 gpm at heads to 200 ft., making it ideal for fume scrubbers and other applications in which caustic and acidic chemicals are transferred. All wetted components are molded of solid polypropylene, PVDF or CPVC to eliminate chemical attack associated with pumping of aggressive chemicals while minimizing abrasion. The alloy shaft, which is isolated from fluid contact by a thick-sectioned thermoplastic sleeve, transfers torque from a 125 hp motor and can employ a balanced 14" diameter impeller.
Vanton Pump & Equipment Corp.
www.vanton.com
---
Submersible propeller pumps
Xylem's Flygt Submersible Propeller Pumps move large volumes of water within low to medium head applications. They are smaller than non-submersible offerings as the motor and hydraulics are integrated into one compact unit, resulting in smaller pumping stations that are less complex and thus more cost effective to build. Operating submerged, they take up less space while noise and motor cooling problems are eliminated.
Xylem - Flygt Products
www.flygtus.com
---
Control panels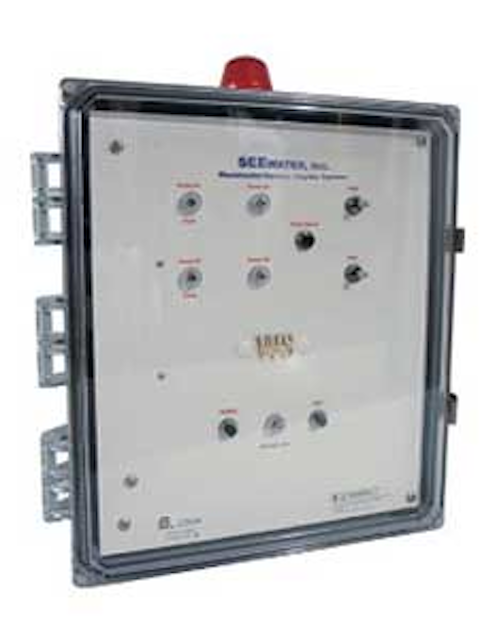 The WS Series™ control panels are advanced simplex and duplex systems controlled by SEEwater's "Smart Board" and designed for wastewater and sewage pump applications. The panels come standard with NEMA 4X enclosure, upgraded pump protection, pump fault indicators, and auxiliary contacts for accessing building management systems (SCADA). Custom options are available upon request. All panels manufactured by SEEwater are 100% factory tested and ARRA Certified.
SEEwater Inc.
www.seewaterinc.com
---
Pump control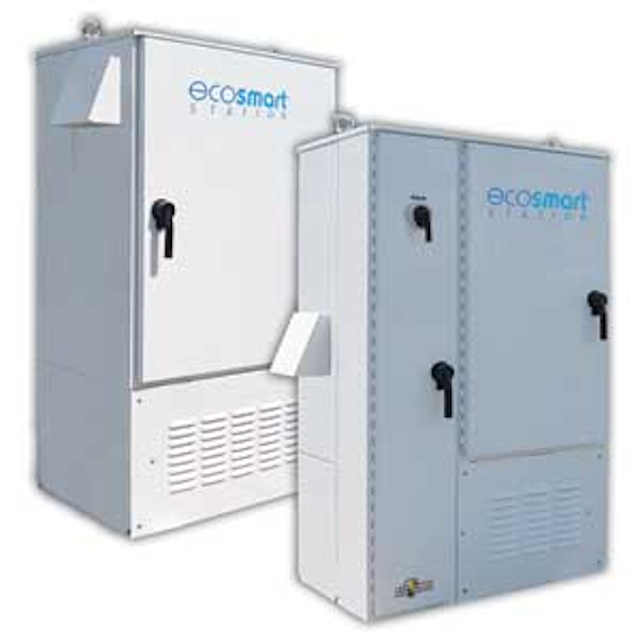 The Eco Smart Station® from SJE-Rhombus provides an energy-efficient solution for pump control in municipal lift station applications. The station integrates the Energy View® controller with the latest variable frequency drive technology into the multiple compartment Arc Armor® enclosure to save energy and reduce exposure to arc flash. The controller is powered by kW Logix® Software. The color touch screen HMI has the ability to provide level control, pump alternation, flow monitoring, data logging, alarm log, and historical trending. kW Logix™ Software provides up to a 30% energy savings over conventional control methods. The auto-tuning function will search for the Best Efficiency Frequency.
SJE-Rhombus
www.ecosmartpanel.com
---
Vortex pumps
KSB, a supplier of wastewater pumps, has released the versatile Amarex N pump to the U.S. market. The pumps are available in 8 models to fit a variety of applications, such as wastewater transport, fluids containing long fibers and solid substances, fluids containing gas/air, raw, activated or digested sludge, or drainage of rooms subjected to a flooding risk in industrial and commercial premises. The vortex pumps employ KSB's F-type impeller with discharge sizes ranging from 2" to 4". The pumps are suitable for stationary wet-well installations (guide cable or guide rails) or portable installations.
KSB USA
www.ksbusa.com
---
Peristaltic pump
Clark Solutions' new Boxer 6000 Series Peristaltic Pumps are designed to require less space than other peristaltic pumps, substantially reduce tubing wear and provide a more balanced motor load to ensure extended pump life. An additional feature is higher dispensing accuracy and reduced pump pulsation. The pumps are available with either 4 or 8 rollers per channel, as well as multiple channel designs. The pumps are offered in gear-box or stepper-motor driven versions, with an optional Stepper Motor Control board which installs either remotely or directly to the back of the stepper motor. The optional Controlled Stepper Drive allows for easy programming of up to 10 operating pump protocols.
Clark Solutions
www.clarksol.com
---
Compact pumps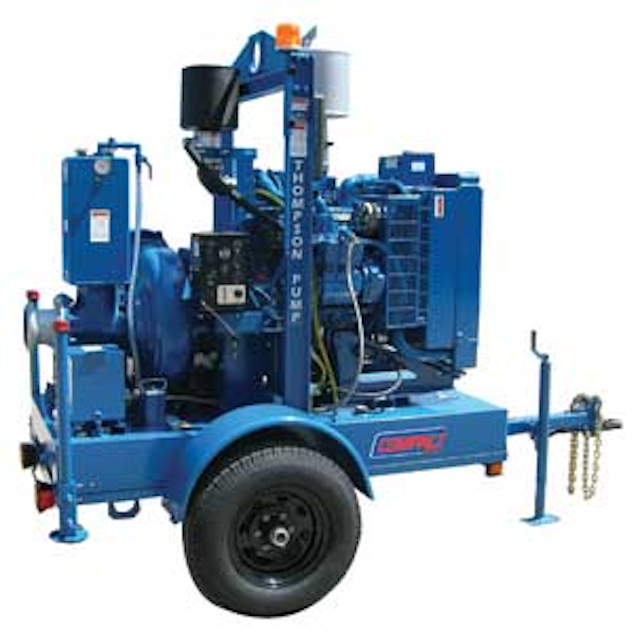 Thompson Pump now offers its Compact pump series with all the benefits of its JSC series with the new benefits of fewer parts, less maintenance, lighter weight, a smaller size, and a lower price. The pumps are 35% smaller and 20% lighter but offer the same performance as a standard size pump. They are available in the most common diesel-drive portable pump sizes of 4" and 6". Options include automatic start/stop and Silent Knight® sound attenuation.
Thompson Pump & Manufacturing
www.thompsonpump.com
---
Hose pump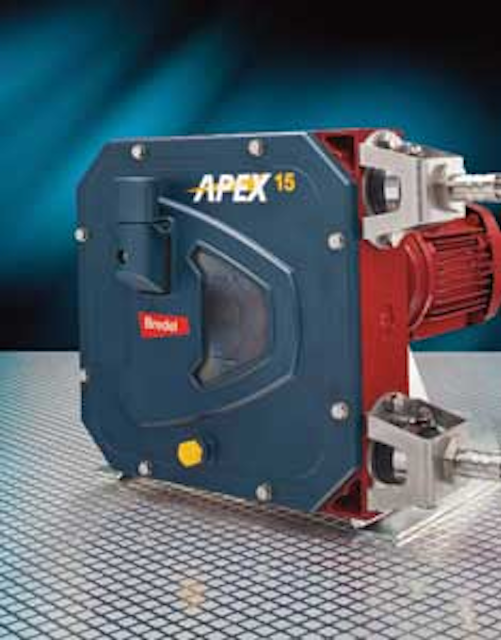 Bredel has introduced its new APEX range, an optimized pump designed to suit all dosing, metering and transfer duties between 0.7-317 gph. The hose pumps have no expensive wearing components such as seals, valves, membranes, stators, rotors, or glands to maintain. They are suited for handling difficult fluids - corrosive, viscous, shear-sensitive, gaseous, crystallizing, or even fluids with a combination of these properties. The pumps use a new generation of long-lasting hoses that also support repeatable accuracy when dosing additives, while continuous pump with speeds up to 100 rpm provide a wider capacity range compared to alternative hose pumps.
Bredel Hose Pumps
www.wmpg.com
---
Sump pump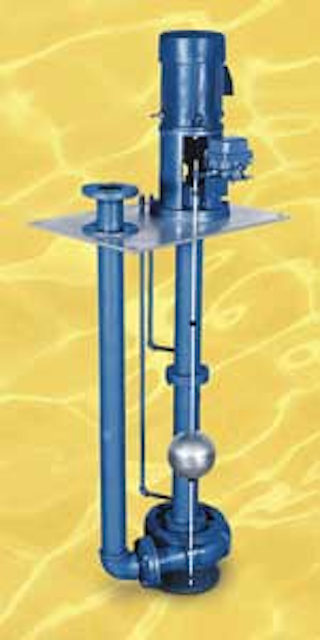 The Series 800 vertical, immersible sump pump from Vertiflo is designed for service in water, corrosive chemicals and hazardous liquids. Applications include sump drainage, flood control and process drainage to meet EPA and OSHA requirements. The pump handles heads to 230 feet, temperatures to 350° F, pit depths to 26 feet, and gpm up to 3,000. The Series 800 includes the following features: carbon graphite line shaft bearings, semi-open impeller with external adjustment, high-thrust angular contact ball bearing, 416 stainless steel shafts to 1-15/16 inches, and a standard NEMA C face motor.
Vertiflo Pump Co.
www.vertiflopump.com
More WaterWorld Issue Articles
WaterWorld Articles Archives