NEW PRODUCTS
Thermo Electron offers the SampleManager LIMS™ for use in the water and wastewater industry.
May 1st, 2006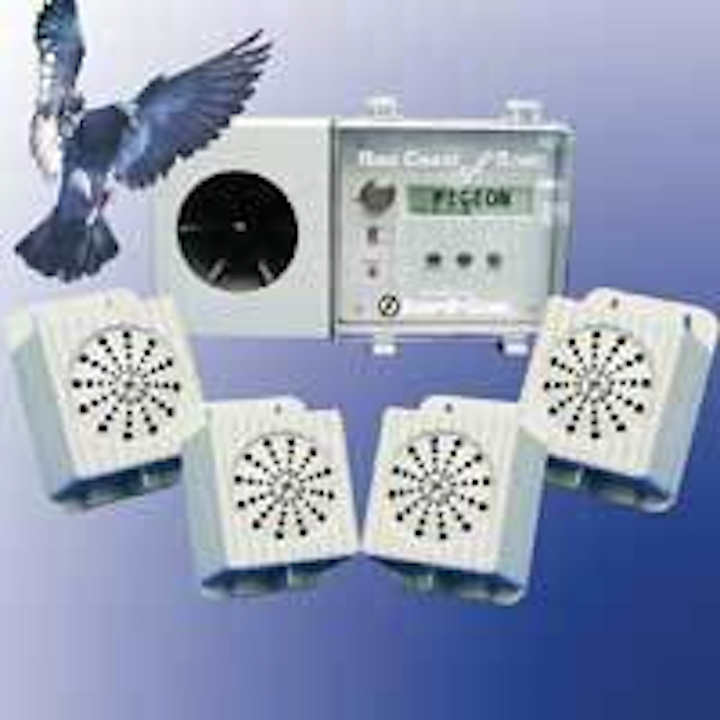 Sample management
Thermo Electron offers the SampleManager LIMS™ for use in the water and wastewater industry. The system automates the pre-testing regimen which includes scheduling of sample collection to comply with regulatory guidelines, determination of sample locations and planning of collection routes to avoid wasted time, and even which bottle types the test agent should take into the field to collect the samples.
Thermo Electron Corp.
Philadelphia, PA Tel: 866-463-6522 Web: www.thermo.com/lims
Bird repellant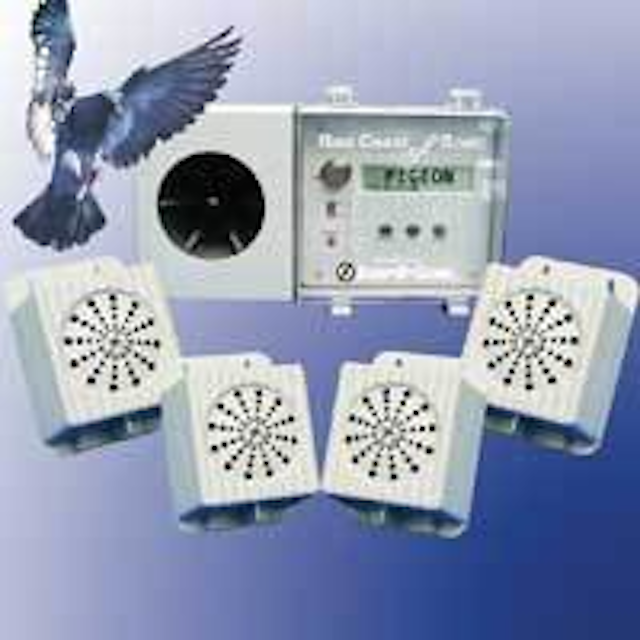 Click here to enlarge image
Bird-B-Gone has introduced its new Bird Chase Super Sonic, a system that features distress and predator bird sounds of over 22 types of birds. The device targets pigeons, crows, starlings, swallows, gulls, woodpeckers, sparrows, grackles, cormorants and many other birds. It can protect up to one full acre and is adaptable with "pro pack" attachments to cover up to six acres.
Bird-B-Gone Inc.
Mission Viejo, CA Tel: 800-392-6915 Web: www.birdbgone.com
Trash pump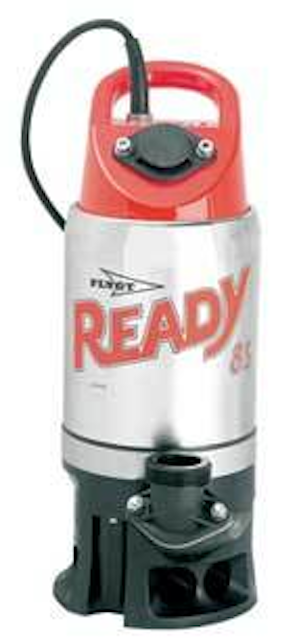 Click here to enlarge image
ITT Flygt has introduced a lightweight portable 1.1 hp trash pump ideal for pumping sand- and debris-laden water, with minimal wear and clogging. Designated as model Ready 8S, the pump can handle solids up to 1 ½" in size. Weighing only 33 lbs, the pump can be carried to any site.
ITT Flygt Corp.
Trumbull, CT
Tel: 203-380-4700
Web: www.flygtus.com
Cadmium-free nitrate test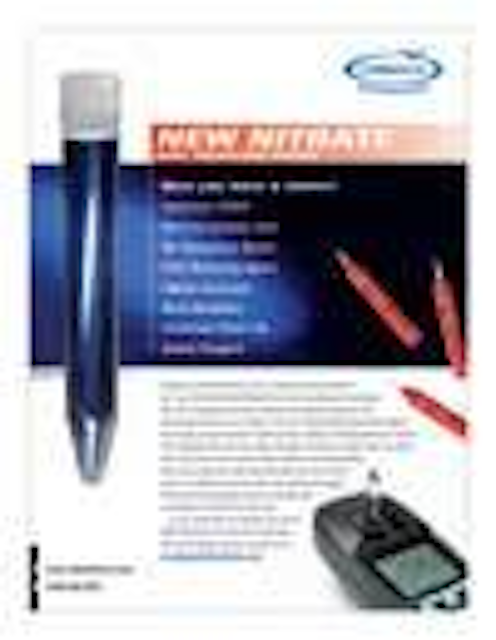 Click here to enlarge image
CHEMetrics now offers a low range, ampoule-based test for nitrates in water that does not use cadmium. The Zinc Reduction Method was developed to eliminate the use of cadmium and the treatments involved. Toxicity and safety are no longer a concern and hazardous waste is eliminated. The test has tighter precision and less scatter than many other tests of its kind on the market today and the kit contains everything needed to perform 30 tests in just two minutes.
CHEMetrics Inc.
Calverton, VA
Tel: 800-356-3072
Web: www.chemetrics.com
Biosolids energy recovery
Kruger has introduced a biosolids Energy Recovery System (ERS) which captures the energy value from dried biosolids. The Biocon® ERS will be used as a renewable energy source for the company's Biocon® Thermal Drying System. The energy recovery system offers wastewater treatment plants the opportunity to reduce energy costs by feeding the dried biosolids into a biosolids furnace equipped with a special heat recovery system.
Kruger Inc.
Cary, NC.
Tel: 919-677-8310
Web: www.krugerusa.com
Non-metallic enclosures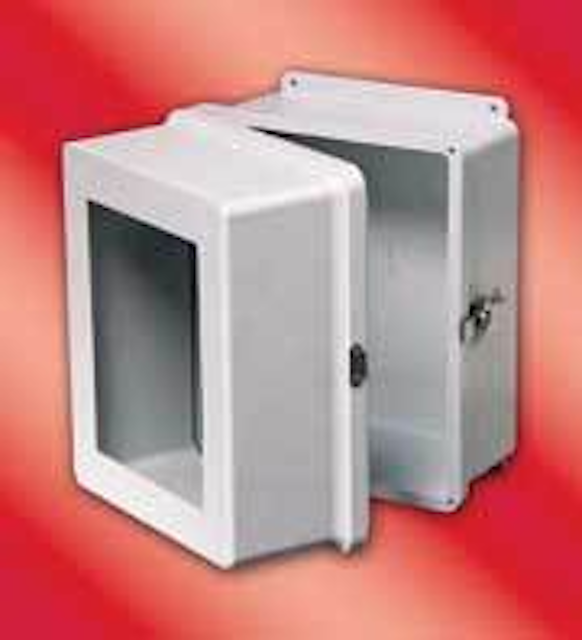 Click here to enlarge image
Stahlin Non-Metallic Enclosures has introduced the Fatboy, a new double deep J Series enclosure. The series features a unique "clam shell" appearance and is designed for many "extra space" application requirements without adding height or weight. The enclosure is suited for both indoor and outdoor environments.
Stahlin Non-Metallic Enclosures
Belding, MI
Tel: 616-794-0700 Web: www.stahlin.com
Vibration analyzer
Click here to enlarge image
Datastick has introduced the VSA-1212 Vibration Spectrum Analyzer, the first PDA-based vibration analyzer to provide open, non-proprietary desktop PC software built on a foundation of Microsoft® Excel®. The analyzer module attaches to select PDAs running Palm OS including the new Datastick Spectrum handheld software that collects and stores vibration measurements while displaying them in time waveforms and FFT spectra.
Datastick Systems Inc.
Campbell, CA Tel: 408-871-3300 Web: www.datastick.com
Level sensors
MTS has expanded the services offered to existing and potential new customers to assist them in specifying, installing and maintaining the company's level sensors in a wide variety of applications. For a fee, the company will offer a site survey and pre-sale specification; evaluation and recommendations for the upgrade path; on-site training as well as hands-on training at the factory; installation and commissioning; scheduled periodic maintenance; and factory-authorized repair service.
MTS Sensors Division
Cary, NC
Tel: 919-677-2332
Web: www.mtssensors.com
Dosing pump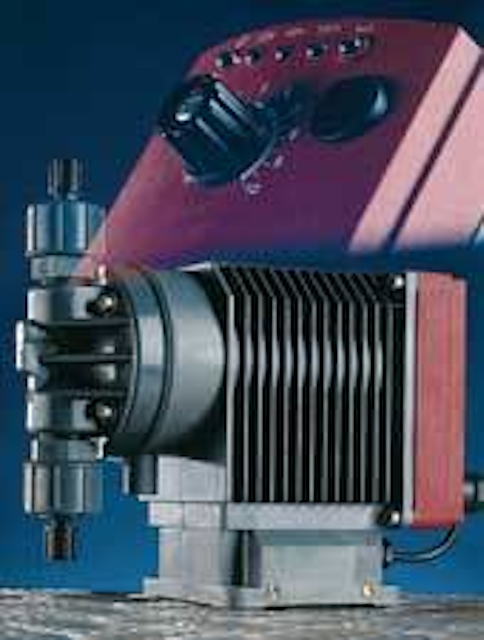 Click here to enlarge image
Lutz-Jesco's new line of Magdos LT solenoid-driven diaphragm dosing pump incorporate a state-of-the-art microprocessor which optimizes the pump's power consumption, based on the required back pressure. Along with reduced energy consumption, the pumps can reduce noise and heat levels, which can extend pump life.
Lutz-JESCO America Corp.
Rochester, NY
Tel: 585-426-0990
Web: www.jescoamerica.com
Pipeline inspection crawler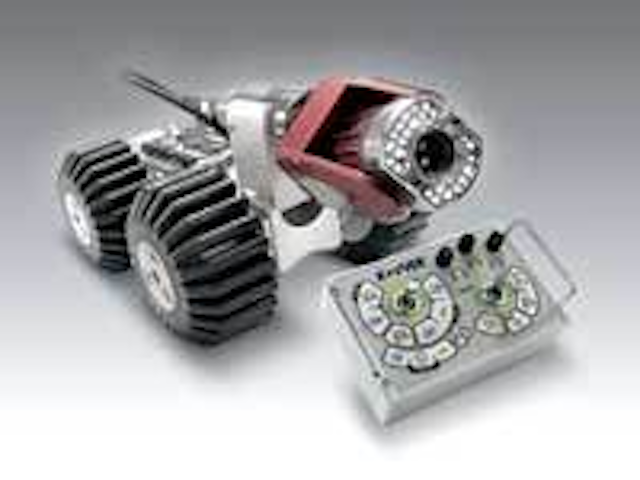 Click here to enlarge image
Envirosight has announced three enhancements to its ROVVER line of modular, steerable inspection crawlers: a new zooming pan/tilt camera head with optional laser measurement; a new handheld pendant for control of more crawler functions; and a new wide wheel set for improved traction in sediment. The enhancements are available immediately on new systems, and as retrofits for existing systems.
Envirosight LLC
Randolph, NJ
Tel: 866-936-8476
Web: www.envirosight.com
Level transducers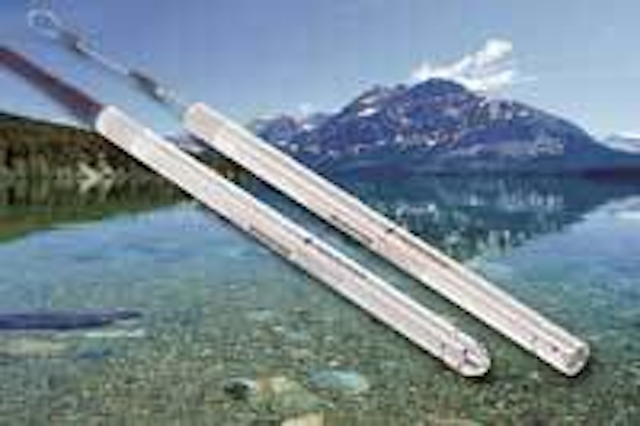 Click here to enlarge image
Pressure Systems, manufacturer of KPSI™ Level and Pressure Transducers, now offers its waterMonitor submersible datalogging level transducer in an absolute reference pressure format. The sealed reference design simplifies maintenance, since no vent tube or associated desiccant filter is required to guard against moisture incursion. In addition, a specialized configuration of this transducer, the baroMonitor, has been developed to collect corresponding barometric (atmospheric) pressure readings.
Pressure Systems
Hampton, VA
Tel: 800-678-7226
Web: www.pressuresystems.com/550.html
Check valves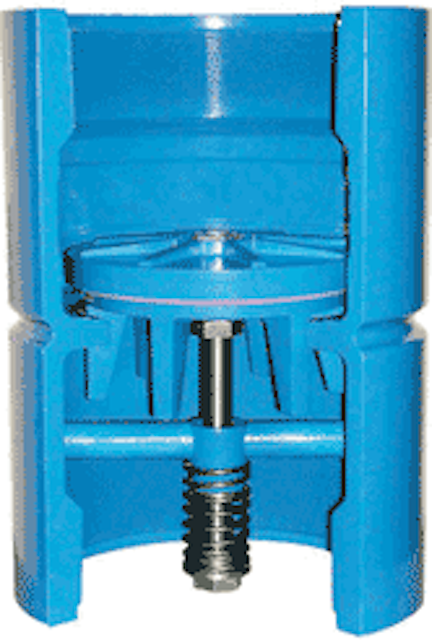 Click here to enlarge image
Danfoss Flomatic has introduced the latest addition to the growing "Heavyweight Champ" family of 80DIX check valves. The new heavy duty 12" Model 80DIX check valve (NPT female connection) is designed for larger submersible pumps for well water, irrigation, and booster systems. The valve features a double guided poppet, with a ductile iron body and has anti-poppet spin lugs with stainless steel fasteners.
Danfoss Flomatic Corp.
Glens Falls, NY
Tel: 800-833-2040
Web: www.flomatic.com
Packaged membrane systems
The Pall Aria™ AP-Series Water Treatment Systems are specifically designed to meet the drinking water treatment requirements of small communities. The pre-engineered systems use the company's Microza membrane modules in a hollow fiber configuration to reduce or remove turbidity, viruses, bacteria, cysts, oocysts, iron, manganese, arsenic and organics from surface and ground water sources.
Pall Corp.
East Hills, NY
Tel: 888-428-5597
Web: www.pall.com/water
Algaecide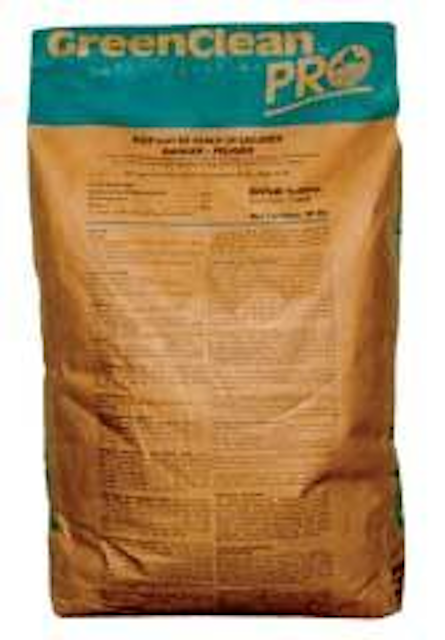 Click here to enlarge image
BioSafe Systems' GreenCleanPRO® Granular Algaecide is certified NSF/ANSI Standard 60. This non-copper alternative eliminates algae in lakes and ponds and is now allowable for use in drinking water. The algaecide also is registered for all aquatic food uses. It is available in 50 lb. foil lined bags.
BioSafe Systems LLC
Glastonbury, CT
Tel: 888-273-3088
Web: www.biosafesystems.com
Fire-rated door
Special-Lite has announced the availability of a new Fire-Rated AMP-Clad Door (model SL-22). A sales sheet introducing the door is available. The door is a complement to the company's AMP (Acrylic-Modified Polyester) Flush Doors for interior applications that require a 90-minute fire door.
Special-Lite Inc.
Decatur, MI
Tel: 800-821-6531
Web: www.special-lite.com
Training DVD
The American Water Works Association offers a new training CD: "Optimizing Filtration Operations." Properly functioning water treatment filters are important barriers to microbial pathogens. To keep them operating efficiently at all times, water treatment filter systems need to be optimized, which is the practice of operating filters to achieve a consistent, high level of particle removal regardless of changes in raw water quality.
American Water Works Association
Denver, CO
Tel: 800-926-7337
Web: www.awwa.org
Custom rubber products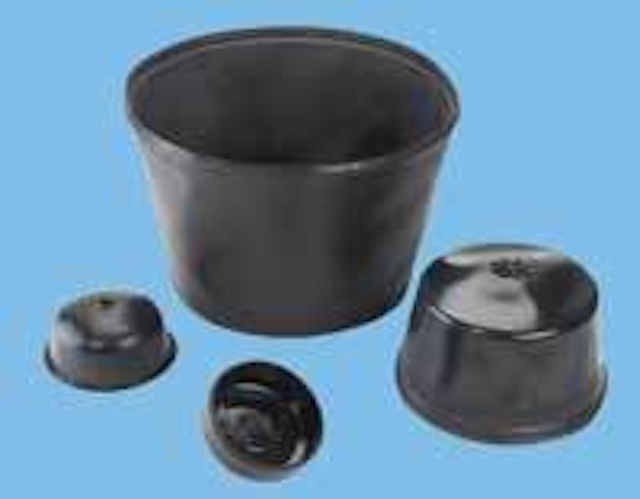 Click here to enlarge image
Jefferson Rubber Works, a manufacturer of custom engineered injection-molded rubber products, has expanded its for water treatment applications. The company's custom injection molding process allows it to produce custom molded rubber products with greater speed than conventional rubber molding equipment.
Jefferson Rubber Works Inc.
Worcester, MA
Tel: 508-791-3600
Web: www.jeffersonrubber.com
Machine shaft alignment
Emerson Process Management has added laser shaft alignment capability to the CSI 2130 Machinery Health™ Analyzer. The analyzer is designed to access the condition of rotating machinery. It can provide single- and dual-channel vibration analysis; cross channel analysis; transient analysis; structural analysis (collects data for ODS and Modal animation); motor monitoring; dynamic balancing; and now laser shaft alignment. The analyzer features a backlit, full color display. Color-coded reports present complex machinery data in a format that makes it easy to drive through to the required action.
Emerson Process Management
Austin, TX
Web: www.mhm.assetweb.com/technology/vibe.html
Uninterruptible power supply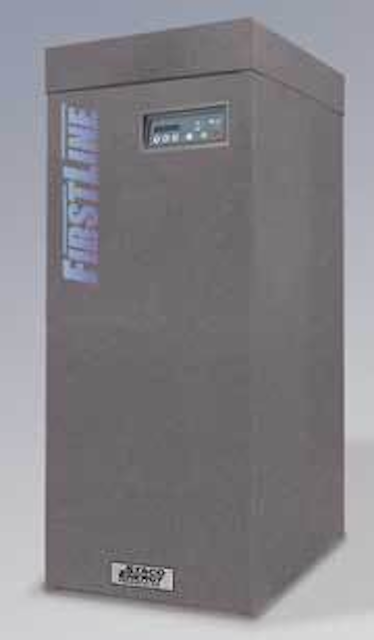 Click here to enlarge image
Staco Energy Products has introduced the FirstLine® three-phase Uninterruptible Power Supply (UPS) for 10, 15 and 20 kVA applications. This true on-line, double-conversion UPS provides computer grade power quality. Despite its small footprint and low weight, the UPS has a standard battery run-time of over eight minutes (with optional batteries for virtually unlimited run time). Transformerless power technology provides reliable blackout protection and power conditioning.
Staco Energy Products Co.
Dayton, OH
Tel: 866-266-1191
Web: www.stacoenergy.com