All in the Execution: How Water Authorities Can Slash Power Bills with Online Energy Auctions By Tony Barnhart
Online energy auctions are a new trend across industry. These auction events, working in the service of a well-developed energy strategy, typically drive down energy prices and can also create opportunities to invest economically in green power.
Dec 2nd, 2011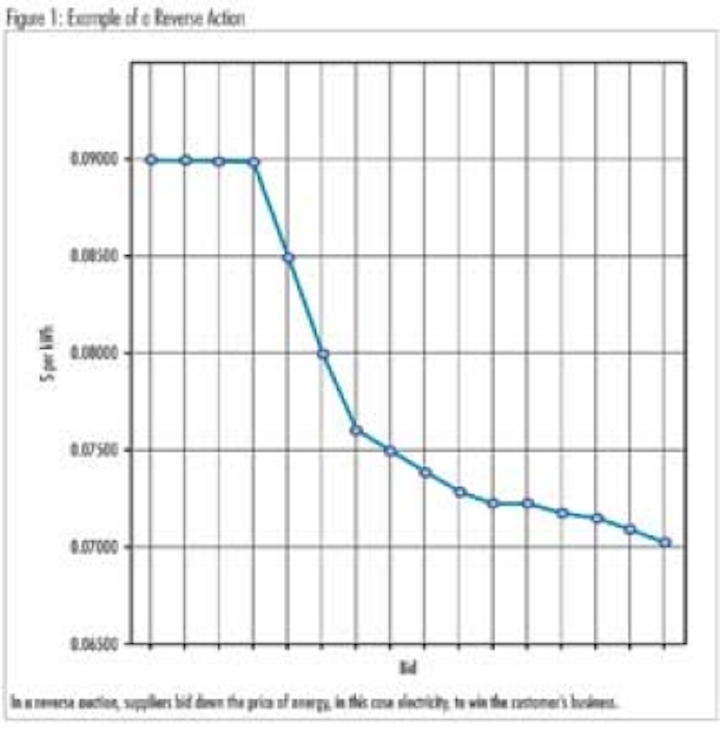 Online energy auctions are a new trend across industry. These auction events, working in the service of a well-developed energy strategy, typically drive down energy prices and can also create opportunities to invest economically in green power.
According to the EPA's Energy Star Program, U.S. wastewater and drinking water systems spend approximately $4 billion per year on energy. Other sources, including the New York Power Authority, have cited electricity costs that can constitute anywhere from 25 to 40 percent of a typical wastewater plant's budget.
Given the size of this spend, and the overall complexity and volatility of energy markets, one might assume most municipal water authorities have a rigorous process in place for buying energy and extracting the best value from the market for their organizations.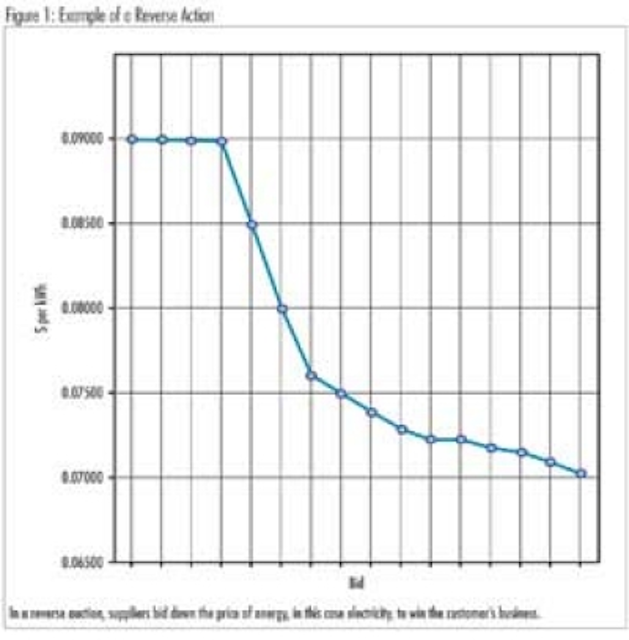 Yet for most water systems, buying energy is just one among many tasks handled by their procurement or finance teams. Typically, buyers don't have sufficient time to devote to the energy procurement process and ongoing market monitoring, so they may simply compare quotes from competitive suppliers or merely renew with the incumbent supplier, the path of least resistance.
This path can be an expensive one. Supplier strengths and weaknesses often change over time in these volatile markets. Therefore, unless buyers are conducting a competitive bidding event every time they go to market and are maintaining a constant watch for buying opportunities, there is a good chance their company is leaving significant money on the table.
One alternative is to participate in online energy auctions — part B2B e-commerce, part eBay — as a mechanism to effectively price the market and enhance competition for their business. These auction events, working in the service of a well-developed energy strategy, typically drive down energy prices and can also create opportunities to invest economically in green power.
Case Study
The Metropolitan Water Reclamation District of Greater Chicago reclaims wastewater and provides stormwater management for a residential population and industrial flow equivalent to nearly 10 million people across an area of 883 square miles that includes the City of Chicago and 130 suburban communities throughout Cook County. In the summer of 2011, the district turned to World Energy Solutions, an energy management services firm, to help improve upon its prior paper procurement process.
Through a series of competitive online auctions run on the World Energy Exchange®, the district was able to test multiple terms and products in a highly transparent and objective way, receiving over 120 bids from suppliers in a competitive format that drove down prices and netted the district and its constituents nearly $20 million in rate savings. In addition, World Energy successfully supported the district's unique procurement requirements, increased supplier participation by over 60% and enabled the district to award contracts within an hour of the event's completion.
"Keeping Lake Michigan, our drinking water supply and inland waterways clean and safe for the residential and business populations of Cook County is a 24/7 mission that requires millions of dollars in annual energy expense," said Darlene A. LoCascio, Director of Procurement and Materials Management at Metropolitan Water Reclamation District of Greater Chicago. "This approach to energy procurement helped us lower that cost."
Why Auctions?
Procuring energy through online auctions heightens competition, delivering a number of potential benefits to municipal water authority energy buyers. Here's how:
1. Apples-to-apples comparison: With an online event or auction, the customer fixes the parameters that suppliers must bid on. They can't bid a different product or parameter. Often with paper-based RFPs, a supplier will bid their own product or terms, making apples to apples comparison difficult.
2. Expanding the supplier pool: With an online event or auction, the difference between letting 2 or 20 suppliers bid on an RFP is nominal — there is no marginal cost to adding another supplier. Each paper RFP requires labor to evaluate. More often than not, a consultant will send the paper RFP to a few suppliers to get a good price. In an online procurement, all qualified suppliers are invited in an effort to secure an even better price.
3. Auction design: Auctions come in many flavors, including "forward" (where prices are bid up), "reverse" (where prices are bid down), "sealed bid" (where prices are not disclosed to the bidders) and "multiple to multiple" (where both price and terms are part of the bid). World Energy often uses an "Anglo-Dutch" reverse-auction approach, which is designed to get suppliers to give their best price. While the "Anglo" feature of the auction provides suppliers visibility into competitive bids, the Dutch feature causes suppliers to put a best and final offer in — the poker equivalent of going all in — as the seconds tick down at the end of the auction. Twenty percent of the time, the then-leading supplier outbids itself to win the business, transferring the margin from the supplier to the customer.
4. One event, many auctions: In an online procurement event, it is possible to run multiple auctions for the customer, testing different term lengths, pricing structures and energy mixes (for example, 95% traditional, 5% green). This segmentation provides the buyer live information on where prices are settling (compare this to a traditional paper-based procurement), enabling them to choose the price and parameters that best meet their objectives.
5. Auction sequence: Because auctions can be run in immediate succession, testing the various parameters above, suppliers can quickly react to a loss, sharpening their pencils to win the next round. The dynamic nature of an online procurement process helps suppliers get the real-time feedback they need to more aggressively pursue the customer's business, something missing from paper-based procurements. Again, this fuels competition and works to drive prices in the customer's favor.
6. Closing in real time: Because the underlying commodity in energy is volatile, the amount of time it takes between accepting a supplier's winning bid and signing the contract ultimately affects the rate. If the anticipated closing period is long, the supplier will typically add a risk premium to protect their position. By running an online, real-time event, where transactions can be contracted in as little as an hour, risk premiums can be lowered, which further benefits the buyer's final rate.
7. Audit trail: Automation clearly has its benefits. Along with driving competition, an online procurement process can capture, catalogue, and time stamp all bidding activity, providing customers a thorough audit trail of their energy procurement.
The 10-figure annual energy outlay of U.S. water and wastewater systems underscores the urgent need for more advanced procurement strategies, processes and technologies. Online auctions, as a mechanism to execute a well thought-out energy strategy, are actively filling that need, providing benefits that go straight to the bottom line while reducing the time, administrative headaches, and pressure of buying and managing energy responsibly.
About the Author: Tony Barnhart is a Vice President at energy management services firm World Energy Solutions, Inc. He can be reached at tbarnhart@worldenergy.com.
More WaterWorld Current Issue Articles
More WaterWorld Archives Issue Articles