Pump Control: Analyzing the Benefits of Intelligent, Fault-Tolerant Variable Speed Drives/Controls
Integrated drives can provide intelligent multiple pump control, protection and fault diagnosis functions, decentralized "intelligence," and integrated pump and motor protection. They also have the potential for substantial pump lifecycle cost savings in many pump applications, as well as significant maintenance, downtime and operating cost savings.
Sep 9th, 2014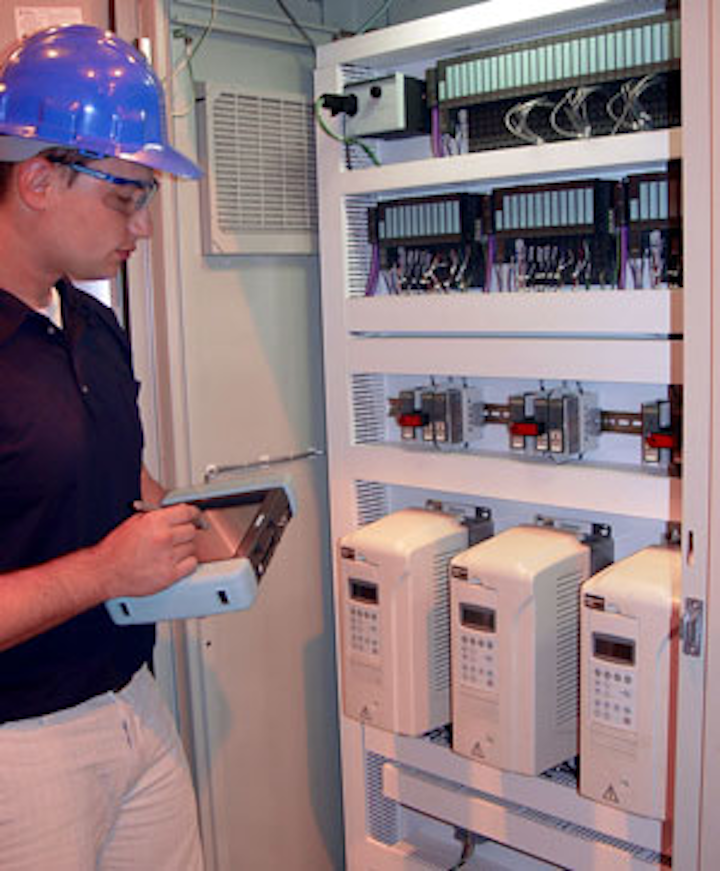 By Allan R. Budris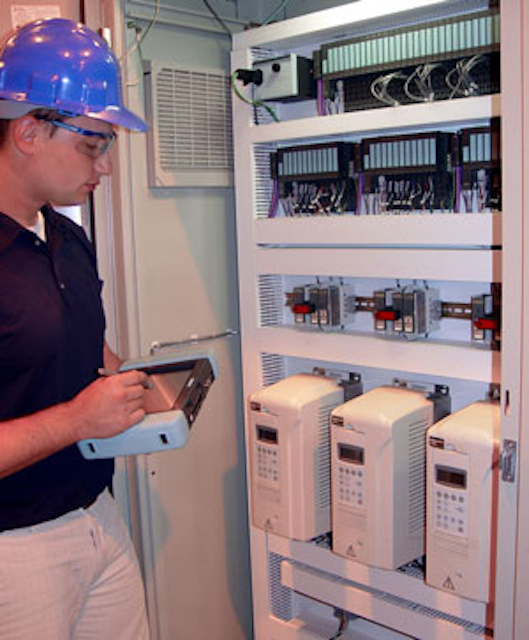 An integrated drive for pumps is a compact drive system that consists of a motor, an energy-adjusting element (frequency inverter) and a separate microcomputer for open- and closed-loop control. In addition to energy savings from variable speed performance (see "When Should Variable Speed Drives Be Used to Save Energy?" WW, March 2008), integrated drives can provide intelligent multiple pump control, protection and fault diagnosis functions, decentralized "intelligence," and integrated pump and motor protection.

Available pump protection functions include:
Soft starts
No flow or "shut-off" conditions
Dry-running protection: The motor is stopped if the power/speed ratio falls below a stored value (due to dry-running) to protect the pump and system. The system can be restarted manually or automatically, depending upon safety requirements.
Minimum flow warning and/or tripping as soon as the flow rate falls below a preset minimum value. When the demand rises again, the pump is switched back on automatically.
"Run-out" or overflow (also allows operators to visually see pump operation)
NPSH margin
Best Efficiency Point calculation
Minimum and maximum speed limits
An inertia-secure start function can be provided for shaking a blocked shaft loose by generating an alternating torque.
Automatic initiation of a cleaning sequence to dislodge any clogging material
Stage (on) and de-stage (off) during various load conditions for multiple pump installations (only operates pumps when required)
As discussed in my article "Reduce Pump Costs with Predictive Condition Monitoring, Fault Tolerant Intelligent Drives/Controls" (WW, April 2010), these drives have the potential for substantial pump lifecycle cost savings in many pump applications. To further explore their benefits for municipal installations, I approached one of the leading pump intelligent variable speed drive (VSD)/control manufactures, the ITT Monitoring and Control group of ITT PRO Services, to present a variety of water and wastewater field examples.
These intelligent drives can not only save pump energy costs but also maintenance, downtime and operating costs as well. Robert Lax, Global Product ITT PumpSmart Manager, provided the following case histories about three successful intelligent VFD municipal water and wastewater applications.
Northeastern Ohio
Water Booster Pumps
The Lake County Water Authority recently upgraded two constant-speed, 500-HP, main water booster vertical turbine pumps (which provide up to 20 million gallons per day of fresh water to 20,000 area users) with 460-volt, PumpSmart variable speed pump controllers. The objective was to reduce energy consumption and cut maintenance costs, especially due to water-hammer–caused water main breaks. Existing pressure transmitters in the main line were used to monitor actual pressure as a means to control the speed of each pump/motor to maintain a system pressure of 82 psig.
The main benefit from the installation of these intelligent VSDs has been accurate pressure control to the system while providing smooth starting and stopping of each pump. This resulted in a reduction in water hammer spikes, which can lead to main line breaks (typically under the streets). It was estimated that a 50-percent reduction in these breaks could be achieved by simply reducing the water hammer pressure spikes while also improving pressure control. A reduction of in-rush kW on startup along with lower operational energy consumption (at lower normal operating speeds) was also realized.
In fact, the operators could actually reduce the pressure set point for "off peak" demand, which further reduced energy consumption. This intelligent VFD control has the ability to allow for two pressure set points, controlled by a simple contact, for normal and off-peak demand. This advanced pump drive/control also provides superior diagnostics to those found in a standard VFD and gives this municipal pump station peace of mind that catastrophic pump failures can be predicted and avoided.
South Glens Falls, NY
Wastewater Submersible Pumps
The village of South Glens Falls purchased 15 PumpSmart Automated VFD Controls to upgrade their wastewater (and freshwater) systems throughout the municipality, along with 10 new ITT Goulds submersible non-clog sewage pumps. The objective was to have the systems work more efficiently with lower energy and maintenance cost, plus provide a self-cleaning option (by running the pump units in reverse to remove any obstructions without removing the pump unit).
Using this intelligent VFD control technology to regulate the pump speed allowed the village to standardize on one pump size, even though each lift station had different requirements. This also reduced the need to inventory spare parts for different size pumps. Plus, only one back-up pump was required to cover all of the stations. In addition, the existing multiple-float level controls, which were frequently hampered by clinging debris, were replaced with single electronic level transducers that accurately measure levels at each station. The smart VFD controller also provides fault monitoring read-outs and reports on hours used, average power draw and temperature, along with many other indications.
Before using these smart controllers, the municipality had to physically check each pump and manually monitor the line for problems. Now there is an instantaneous response to problems with the pumps and throughout the whole system, allowing it to be proactive rather than reactive.
South Glens Falls, NY
Freshwater VTP Pumps
The two existing South Glens Falls VTP freshwater pumps where upgraded with two new motors, each outfitted with PumpSmart technology that demonstrated many benefits (similar to those seen with the aforementioned wastewater submersible pumps), such as lower maintenance costs, effortless read-outs and less chance of a breakdown. Instead of operating at either full power or off, PumpSmart allows the pumps to efficiently "soft start" and slow down to a gradual stop, ultimately improving power efficiency and reducing wear and tear. The VFDs also allow the municipality to adjust for seasonal demands, automatically slowing the pumps in the winter months and increasing RPMs in the summer when more water is needed to keep lawns green and swimming pools full.
The system is programmed to employ one pump when only one is needed and incorporate the second automatically during times of increased demand. The electrical costs per month to run the sewage lift stations dropped roughly 30 percent thanks to the optimum speed benefit of the intelligent VFD controls. Estimated energy savings per quarter has been approximately $800 to $1,600 per freshwater and wastewater station.
Conclusion
The operations managers and district superintendents of the above two facilities were highly impressed with the improved reliability, reduced maintenance costs and accuracy afforded by these smart controllers/drives. This is in addition to the optimal visibility into the real-time operation of the pumps, increased operating efficiency, reduced energy costs, and reliable speed control provided for all of their newly-upgraded municipal pump installations.
About the Author: Allan R. Budris, P.E., is an independent consulting engineer who specializes in training, failure analysis, troubleshooting, reliability, efficiency audits, and litigation support on pumps and pumping systems. He can be contacted via email at budrisconsulting@comcast.net.