Smart Power for AMI Smart Meters
AMR/AMI technology is expanding rapidly, with nearly half of all water meters in North America now equipped with AMR/AMI devices.
Aug 1st, 2012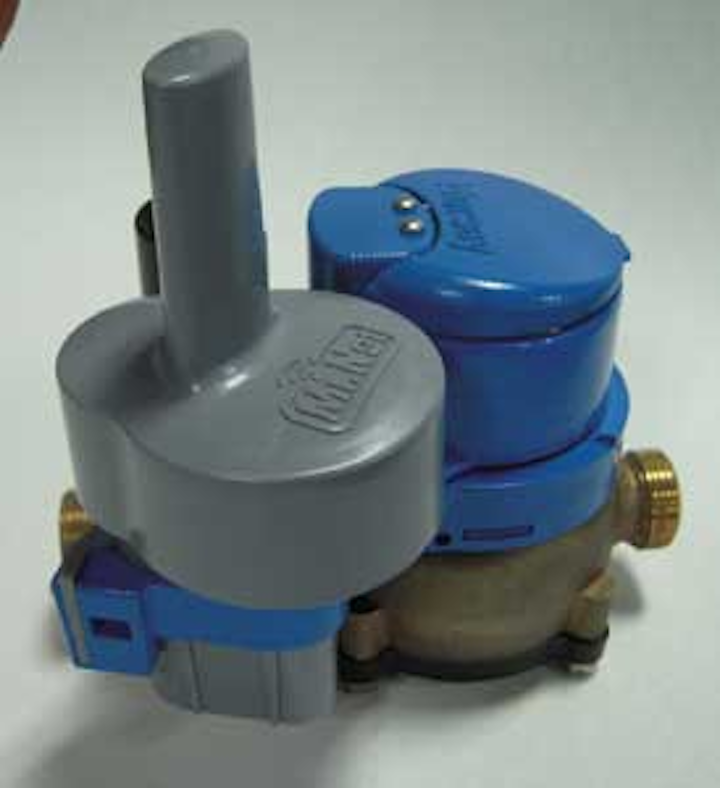 Hybrid lithium batteries power advanced 2-way communications in AMR/AMI devices without compromising operational life.
By Sol Jacobs, Tadiran Batteries
AMR/AMI technology is expanding rapidly, with nearly half of all water meters in North America now equipped with AMR/AMI devices.
The vast majority of battery-powered AMR/AMI water meters utilize lithium thionyl chloride (LiSOCL2) chemistry because it offers the highest specific energy (energy per unit weight) and energy density (energy per unit volume) of all existing battery chemistries. One reason for the high energy density is lithium's large electric potential, which exceeds that of other metals, and which produces the high voltages typical of lithium batteries (2.7-3.9 VDC). Lithium cells use a non-aqueous electrolyte, which enables certain lithium batteries to operate in extreme temperatures (-55°C to 125°C).
An AMI Smart meter
Bobbin-type LiSOCl2 batteries have played a pioneering role in smart grid technology. In 1984, Aclara (formerly Hexagram) started powering AMR meters with bobbin-type LiSOCl2 cells. While most of these original units are now being replaced, it is not for lack of power, as the earliest units are still operating on their original Tadiran battery after 28+ years in the field. The proven track record of bobbin-type LiSOCl2 chemistry enables leading AMR/AMI meter manufacturers to offer long-term warantees that raise the lifetime value of an investment in smart grid infrastructure.
Bobbin cells consist of an outer cylinder made of lithium metal and an inner electrode that is reminiscent of a bobbin of thread and can deliver approximately 30% more energy than equivalent spiral cells. Bobbin cells are best suited for AMR/AMI applications because they combine the highest energy density, the highest voltage, a wide temperature range, and an exceedingly low annual self-discharge.
PulsesPlus™ batteries power advanced two-way communications
AMR/AMI networks are becoming increasingly complex and feature-rich, including advanced "On Demand" 2-way RF communications that require high current pulses for data gathering and transmission. To address this growing need, Tadiran developed the PulsesPlus™ battery, which combines a standard bobbin-type LiSOCL2 battery with a patented Hybrid Layer Capacitor. The standard bobbin-type cell delivers long-term power, enabling the device to operate continuously with low or nil background current. The HLC delivers the periodic high current pulses required for data capture and transmission. The devices then returns to a low current "sleep" or "standby" state to conserve energy.
A unique feature of the PulsesPlus battery is that it allows systems to be programmed to provide a low battery status alert, including a 3.6V system that indicates when approximately 95% of the battery's capacity has been exhausted, and a 3.9V system that indicates when approximately 90% of available battery capacity has been used up.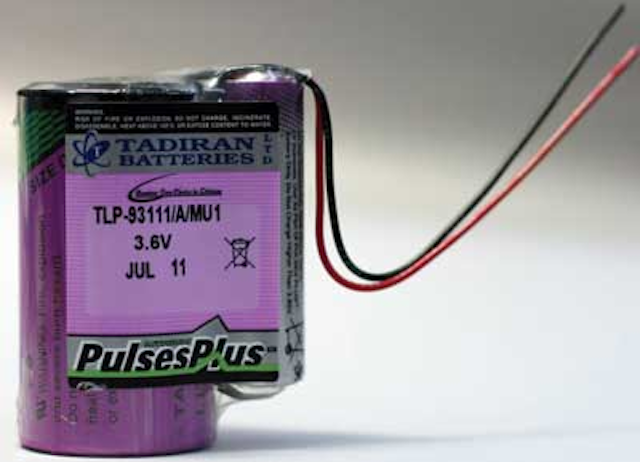 A PulsesPlus battery pack used in a typical metering installation.
The value of this low battery status alert can be enormous. For example, the Water and Sewer Commission of Springfield, MA installed a network of approximately 44,000 AMR meters, then, after just a few years of operation, determined it necessary to begin replacing 4,000 batteries annually at a projected cost of $9.2 million out of concern that their labor force would be overwhelmed by a system-wide battery failure. The commissioners decided to start replacing perfectly good batteries in order to avoid the potential "chaos" of a large scale battery failure. Use of PulsesPlus batteries would have enabled these AMR/AMI meters to be programmed to provide automatic low battery status alerts, thus eliminating the need for premature battery replacement.
Powering advanced 2-way communications, a case history
A recent example involving PulsesPlus batteries is Mueller Systems' Mi.Net™ Infrastructure Network, which offers a comprehensive solution that integrates the entire meter-reading-to-billing process, allowing utilities to link meters, distribution sites and control devices into a single, flexible and scalable data network.
The PulsesPlus™ family of batteries.
The Mi.Node™ water meter interface unit provides full, 2-way communications between the Mi.Net System's Mesh/Fixed AMI system and the smart meter. Data from the meter is temporarily stored within Mi.Node's internal memory, then transmitted "On Demand" or at specified intervals via an unlicensed radio frequency channel to a Mi.Gate™ collector, which relays the data to the Mi.Net System's host server.
Mi.Node interface units are often installed in underground pits, so multiple moisture barriers are utilized to provide a watertight solution. Robust construction, combined with Tadiran's proven long-life battery technology, enables Mueller Systems to confidently offer a 20-year warrantee. Mi.Node interface units can also be programmed to provide automatic low battery status alerts for scheduled battery replacements, which can extend the operational life of the Mi.Net System well beyond the 20-year warranty period, further enhancing the long-term payback of this investment.
The Mi.Net System enhances safety by allowing utility employees to collect meter readings from their office or by driving in close proximity to meters instead of having to enter basements or subterranean meter boxes. Also, in the event of a service disconnect or reconnect, "On Demand" 2-way communications allows customer service and accounting personnel to handle the entire process remotely, thus protecting them from encounters with hostile customers. "On Demand" 2-way communications also enables the Mi Net System to track hourly water consumption, identify potential tampering, and provide automatic notification, including email alerts, if excessive usage or potential leaks are detected. Use of this technology enhances utility customer knowledge and satisfaction, utility employee safety, productivity, and bottom line performance through increased operational efficiency.
Tadiran recently introduced an alternative to PulsesPlus batteries, Tadiran Rapid Response TRR© Series batteries, which do not require the use of an HLC but still deliver high capacity and high energy density without voltage or power delay.
When a standard LiSOCl2 battery is first subjected to load, voltage can drop temporarily, and then return to its nominal value. TRR Series batteries virtually eliminate this voltage drop as well as voltage drop under pulse (or transient minimum voltage level). The final result is zero delay during the voltage response. These unique attributes enable TRR Series batteries to utilize available capacity more efficiently, thus extending the operating life of the battery by up to 15% under certain conditions, especially in extremely hot or cold temperatures.
As smart metering evolves, ongoing advancements in lithium battery technology will continue to power future innovation.