Net-Zero Energy Opportunities in Water, Wastewater Utilities
Every day, water and wastewater utilities across America are exploring new and innovative ways to improve overall operations.
Dec 1st, 2015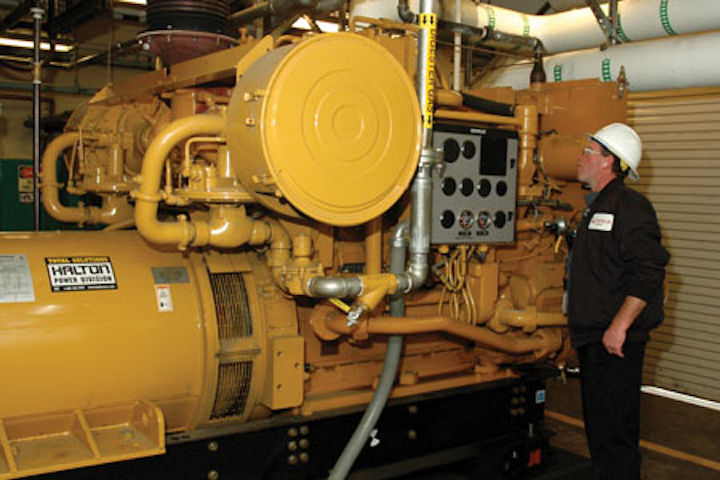 Every day, water and wastewater utilities across America are exploring new and innovative ways to improve overall operations. As many of these plants continue to push forward in their efforts to secure the esteemed status of "Utility of the Future," a key component in doing so is focusing on achieving - and ultimately maintaining - a reputable net-zero-energy (NZE) program.
There's no question that water and energy share a unique relationship that's collaborative and interdependent, with the concept of the water-energy nexus continuing to gain considerable momentum. As such, the water and wastewater industry is capitalizing on this kinship by implementing effective programs and strategies geared toward gaining a robust NZE standard.
According to the U.S. Department of Energy, an NZE facility "produces enough renewable energy to meet its own annual energy consumption requirements, thereby reducing the use of non-renewable energy in the building sector." Likewise, it is an "energy-efficient building where, on a source-energy basis, the actual annual delivered energy is less than or equal to the on-site renewable exported energy."
Throughout each day, utilities face a number of ongoing demands - from managing workflow to monitoring water quality - and an effective NZE platform is a viable solution to help them overcome common challenges. Whether it's cutting costs, reducing energy use or meeting ever-changing regulations, managing water and energy through this approach can essentially help plants optimize the full functionality of their infrastructure.
However, many questions about NZE have been raised among water professionals: Is it possible? What's the return on investment? What are best management practices (BMPs)? What are the pathways to success?
"The first thing that every utility should think about is energy efficiency," said Pete Thomson, performance contracting business line leader, Black & Veatch (B&V). "Every kilowatt that we can reduce in a utility's consumption is going to make it that much easier to get to net zero. If the utility is inefficient, working to achieve net zero without addressing efficiency is counterproductive. The key to success is finding a way to do it economically."

The digestion and green-energy complex at Frederick-Winchester.
Economically achieving NZE ultimately involves successfully balancing energy demand with energy supply - essentially reducing the demand while enhancing the production - according to a recent report by B&V and the Water Environment Research Foundation (WERF). "To develop a complete energy balance … utility operators, engineers and process designers must first identify energy needs [that] can be reduced and then use opportunities to generate or recover energy to supply the remaining treatment needs," it said.
This means implementing an all-encompassing, "total energy management" strategy that embodies all aspects of the plant's operations and infrastructure - from environment to utility management to system-level equipment and technologies. What's more is the entire framework of the facility is interwoven, with each component affecting and complementing the next in terms of conserving costs and energy.
"The critical part about achieving net-zero energy in a water facility is looking at the entire system - co-optimizing energy and water," said Jordan Macknick, energy and environmental analyst, National Renewable Energy Laboratory. "It's a combination of focusing on energy efficiency and also energy production. We view net-zero energy as essentially total energy management - at its core, it's really focused on [this]."
Thomson additionally noted that given the fact water and wastewater facilities today require substantial amounts of energy for ongoing processes such as extraction, treatment and discharge or distribution, they actually have the upper hand when it comes to NZE opportunities, in that there is always a vast supply of energy flowing through their systems each day - energy that they have the opportunity to take advantage of.
"[Net-zero energy] is absolutely possible - the resource is there and the opportunity is there in the facilities," he said. "One of the things that [the WERF study] determined was that there is about five times the amount of energy needed in the treatment process (for example) contained in the wastewater that comes in, so the energy is there, and it's a rich resource that's running through the plants, and that's a great opportunity for utilities to tap into."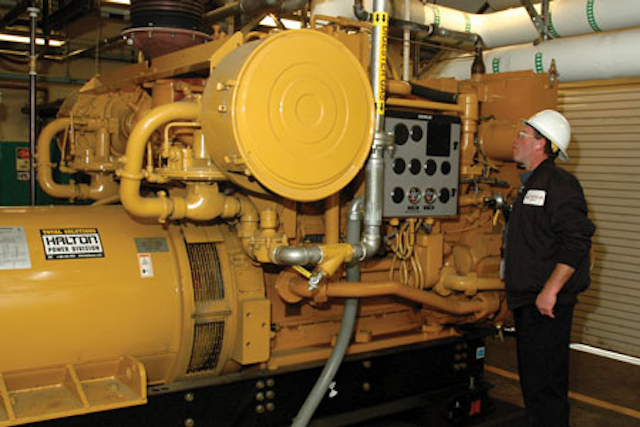 Gresham's co-generation engine leverages digester gas to produce heat and energy that can be used to power and heat the plant. Photo: Veolia Water North America
In recent years, the number of utilities incorporating solutions to become energy neutral has grown significantly across the nation. In fact, the WERF study indicated that there are several innovative processes being undertaken to balance the energy demand-production equation. This can involve traditional methods that utilize biosolids or co-generation, or more unconventional techniques that make use of anaerobic digestion or high-strength waste, to name a few.
According to the WERF study, changes in biological treatment processes from aerobic to anaerobic or anoxic microbes have the potential to significantly reduce the energy demand at a treatment works. "These emerging processes, while not the only ones, have the potential to make the greatest shift in the path to energy neutrality," it stated. "There are [also] several types of technologies and opportunities to recover energy … from influent to biosolids. Some of these opportunities are well established; others are innovative technologies that will require additional research and development."
One example can be seen in the city of Gresham, Ore., which, in April of this year, celebrated achieving NZE status at its wastewater treatment plant - the first in the Pacific Northwest - according to a recent press release. It noted that over the past decade, the city has installed two co-generators and one solar array and has been trucking in and storing fats, oils and grease, which pushed the plant into an NZE standing. Ultimately, organic matter from the plant's wastewater now fuels 92 percent of its power using a process that turns this sludge into biogas.
Another example involves the Federick-Winchester Service Authority in Winchester, Va., which has invested $45 million in upgrades to its facility for high-strength waste, taking the plant off the grid, according to Thomson. Combining the savings from energy generation with the revenue from tipping fees, the Authority is able to completely pay off the $45 million as well as forecast stabilized rates and tens of millions of dollars of positive cash flow over the next 20 years.
"There's enough energy flowing through our plants to heat 13 million homes, and that's a big impact on the entire county's energy portfolio and profile," said Thomson. "If we can seize the opportunity to access that energy, it's going to benefit the utilities, but those benefits will flow well beyond the gates of the utility and [to] the ratepayers throughout the entire country. So finding ways to do [NZE] and finding ways to make it more economic can have a major impact on the economy as a whole."
More WaterWorld Current Issue Articles
More WaterWorld Archives Issue Articles