New Multi-Stage Pumps Promise Lower Life Cycle Costs
ITT has enhanced its Goulds Pumps line of stainless steel, vertical, multi-stage pumps with the introduction of new e-SV™ models.
Oct 1st, 2010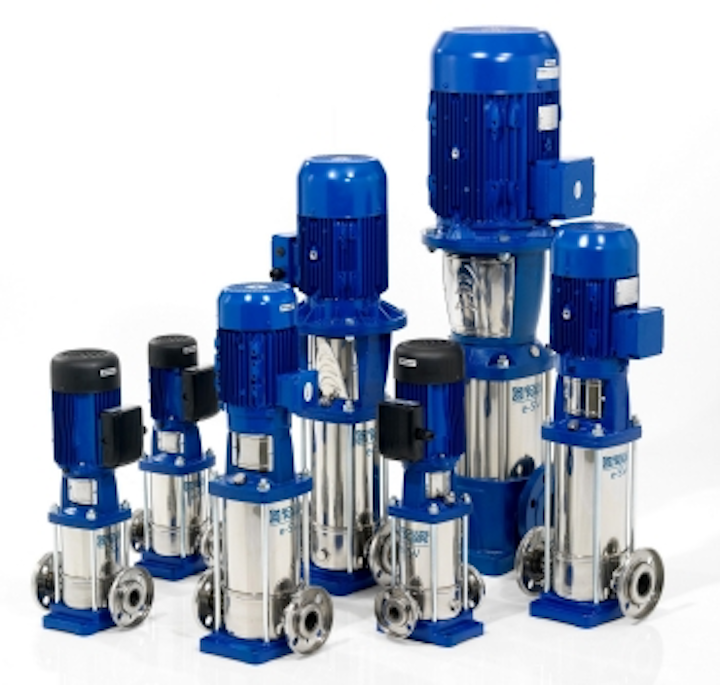 ITT has enhanced its Goulds Pumps line of stainless steel, vertical, multi-stage pumps with the introduction of new e-SV™ models. Featuring an improved hydraulic design and efficient motor that significantly lowers lifecycle costs and increases energy savings, the pumps are suited for a wide variety of applications.
By eliminating the need to remove the motor, maintenance time is significantly reduced. The mechanical seal is replaceable without the need for pump disassembly, and the "O" ring seat is designed to allow disassembly of the outer sleeve.
The pumps feature all-stainless steel construction and NSF certification. They are suited for a wide range of applications, including water treatment and supply, pressure boosting, light industry and irrigation.
"Environmental and economic conditions are driving the need and demand for more energy-saving, high-performance pumps," said Chris Jamieson, V.P., Global Marketing, ITT Residential & Commercial Water. "We designed the new e-SV line to be the most energy efficient pump in its class, as well as easy to install and economical to maintain, enabling lower operational and lifecycle costs."
The new pump's hydraulic design results in lower NPSHR, reducing piping and elevation expenses by over 20%. The design also minimizes impeller axial thrust, resulting in longer bearing life and allowing for use of standard motor configurations. The pump was developed with a targeted MTBF of 20,000 hours.
The pump's improved energy efficiency allows use of lower horsepower motors. When combined with ITT's HydroVar® controller, the e-SV pump offers an additional 10% savings potential from the previous generation pump.
On pumps 10 hp and above, ITT's patented i-Alert™ monitor continually measures vibration to support optimum performance. If pre-set limits of vibration are exceeded, the monitor alerts the end-user via blinking red LED. This allows the pump operator to make changes to the process or the pump before a catastrophic failure occurs.
A dry-run sensor is offered that will shut down the pumps if no water is detected in the area of the mechanical seal. The sensor can be mounted directly on the fill plug of e-SV series pump. For the larger series sizes (33 thru 125SV) a suitable adapter is supplied.
Development of the new e-SV line of pumps was the result of a collaboration of ITT Residential Commercial Water (RCW) teams around the globe working together to develop a more energy-efficient, standardized product line.
The quest began in 2008 when Voice of the Customer (VOC) surveys indicated that commercial and light industrial pump users worldwide were looking for vertical, multi-stage pumps that are more energy efficient, easier to service and maintain, offer significantly lower lifecycle costs, and have standardized replacement parts they could source at various locations around the world.
As a global product, the pumps will be available with technical documentation, drawings and specifications for use in every region of the world (50Hz and 60Hz, DIN and ANSI, multiple languages, country specific standards, etc.).
"The introduction of the e-SV line reinforces ITT's commitment to developing green, sustainable products," said Ken Napolitano, President, ITT Residential & Commercial Water. "We take our global water leadership position very seriously and are focused on helping our customers deliver the energy efficient, eco-friendly products and systems that people want and need."
For more information on the new Goulds Pumps e-SV pumps, visit www.goulds.com. WW
More WaterWorld Current Issue Articles
More WaterWorld Archives Issue Articles