Year Review: 2013 Water Sector Highlights
With 2014 now underway, WWi thought it would be a good idea to recap over the highlights and challenges of 2013.
Dec 1st, 2013
With 2014 now underway, WWi thought it would be a good idea to recap over the highlights and challenges of 2013. We asked several of the world's thought leaders in the water industry what they believe was the biggest highlight of 2013 for them and what can be expected over the year ahead.
---
Local challenges, global solutions
Chew Men Leong, Chief executive, PUB, Singapore
As a burgeoning population, urbanisation, economic growth and climate change continue to exert immense pressure on the global water sector, water utilities play a particularly important role in ensuring that the gap between water supply and demand do not widen.
While water challenges are local, solutions developed by water utilities can be global and there should be no barriers as far as sharing is concerned.
Through governance and leadership, financial sustainability, innovation and stakeholder engagement, we can overcome the world's water challenges.
Indeed, these were the key learning points distilled from the SIWW Water Utilities Leaders Forum held in September 2013 where 180 high-level water utility leaders from 46 countries came together to address challenges and map innovative solutions. PUB also celebrated its 50th anniversary in 2013. PUB and Hyflux also opened Singapore's second and largest desalination plant, the Tuaspring Desalination Plant, and desalinated water can now meet up to 25% of Singapore's current water demand.

In addition, to meet our needs for the collection, treatment, reclamation and disposal of used water more efficiently, PUB is embarking on Phase 2 of the Deep Tunnel Sewerage System (DTSS), our superhighway for used water.
---
Water from air - the future?
Piers Clark, Commercial director, Thames Water, UK
Imagine if you could harvest water from thin air. Imagine no longer. You can. Well, to be precise, a company in the Netherlands can. There have been many exciting technological advances across the global water sector in 2013, but my favourite has to be those achieved by Dutch Rainmaker due to its potential to revolutionise water supplies the world over.
The Dutch Rainmaker technology is gloriously simple. To an innocent bystander it looks nothing more than a small conventional wind turbine, but instead of electricity they produce high quality drinking water. They use no chemicals, generate all their power requirements from the wind, and it is relatively cheap, too.
There are two configurations of the technology: 'Air-Water (AW),' harvesting water from air, and 'Water-Water (WW),' producing drinking water from seawater. There are currently two installations, both AWs, in operation - one in Holland, another in Kuwait. Each AW turbine can produce 7.5 m3 of water a day, depending on how windy it is. This can be scaled up to 20 m3/day for short periods, with plans to up output to 50 m3/day in three years' time. The WW turbines could produce up to 100 m3/day.
This could be a simple, stand-alone technology that isn't dependent upon a (often leaky) water network, that isn't reliant upon a power source, that doesn't even require there to be a local river or groundwater source!.
---
Wise water management
Torgny Holmgren, Executive director, Stockholm International Water Institute (SIWI)
I would say that biggest and most positive trend in 2013 was the rapidly increasing interest in water as a productive resource.
Both OECD and the World Economic Forum, who are not primarily water advocates, highlighted water as a key issue for sustainable development and growth. This encouraging trend is also exemplified by the UN Open Working Group on Sustainable Development Goals who expressed broad support for a dedicated water goal encompassing water supply and sanitation, increased water productivity and improved resilience to water related disasters.
The awareness about the need for wise water management in order to sustain development and withstand catastrophic events seems is spreading beyond the water community. This makes me believe that we are on the route towards recognition of water as one of the key issues of the 21st century.
---
Combating water scarcity with resilience
Andre Dhawan, President, Xylem EMEA, Switzerland
Unfortunately, we are seeing many of the same challenges in water that we have seen before, around access and quality, and other issues. What's changing more each year is the level of dialogue we're seeing, with an increasingly diverse set of stakeholders looking for solutions. To mention just two: access & scarcity and resilience.
According to the World Health Organisation approximately 2.5 billion people around the world do not have access to adequate sanitation. One way to address water scarcity is through reusing recycled water.
We now have the ability to collect, move and treat wastewater and return it to the environment clean. Broader acceptance of water reuse stems from people valuing the water that is available to them. In terms of resilience, cities around the world are grappling with the rising impacts of climate change and extreme weather, and their implications for public health and economic growth.
To give just one example of what needs to be done, we must institute early warning systems that increase resilience by providing valuable lead time to prepare.
It is up to all of us to continue putting real focus on these and other complex water challenges during 2014 so that we can help ensure a clean water supply for everyone.
---
Millennium Development Goals: the Post 2015 process
David Lloyd Owen, Managing director, Envisager, UK
The UN's Water & Sanitation Millennium Development Goals (halving the number of people without access to improved water and sanitation by 2015) were laudable, but suffered from one tiny omission – 'improved' and 'safe' drinking water and sanitation is not the same thing.
That is why 200 million people who have household tap water supplies in 2012 depend on bottled water when it comes to what they actually drink.
Indeed, the excitement about reaching official targets too often meant that what people had to live with continued to be overlooked.
So, while the proportion with 'unimproved' water fell from 23% in 2000 to 12% 2012 (three years ahead of target), the proportion dependent on unsafe water only fell from 37% to 28% in that time and is well behind the 2015 target of 18%.
Sanitation is the same, forget the 2.6 billion figure: a total of 4.1 million people worldwide still rely on unsafe sanitation while more people in India have a mobile phone than any form of sanitation. So my 2013 highlight was the start of the 'Post 2015' process. This looks like adopting a target of attaining universal access to safe water and sanitation by 2030.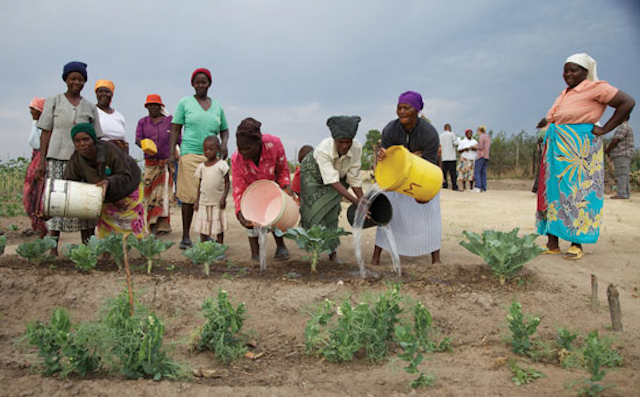 This time, it might really work. Instead of depending on government approved inspections and data collecting, smart phones will allow activists and communities from the bottom (pun intended) up.
It won't be cheap or easy, but at least this time the target is the one that really matters.
---
Water for energy
Heiner Markhoff, President & CEO, GE Water & Process Technologies, US
One of the highlights in 2013 has been the growing interest in water reuse and water recycling within the energy industry, particularly within the oil and gas sector.
We've understood for quite some time that energy and water are inextricably linked.
According to the Atlantic Council, which published a report last year titled "Fuelling America and the Energy Water Nexus," the energy sector is the fastest growing consumer of water in the US, and it's the same around the world. The report said energy and water are essential building blocks of the US economy, yet the relationship between them is often ignored. Companies involved in the production of energy are increasingly facing issues related to water scarcity, water quality, and new or expanded regulations.
As a result, we are seeing a continued and heightened focus on sustainable water practices by the energy industry. The good news is that advanced allows the reuse and recycling of water throughout the energy production process. That technology is increasingly being adopted as regulations evolve and the lifecycle costs of advanced water treatment technology improve.
As the demand for energy grows and conventional and unconventional fuels development expands, this will not be a limited trend.
This industry will continue to be a focus of water and wastewater technology providers for years to come.