Harvesting Green Gold: Algae Energy is More than a Facade
By 2020 commercial buildings in France will be required to generate more energy than they consume. One company believes photobioreactors that grow algae using wastewater nutrients and create power are the answer to this regulatory demand. Jeremy Josephs reports on results from a pilot project situated in the heart of Paris.
Mar 1st, 2013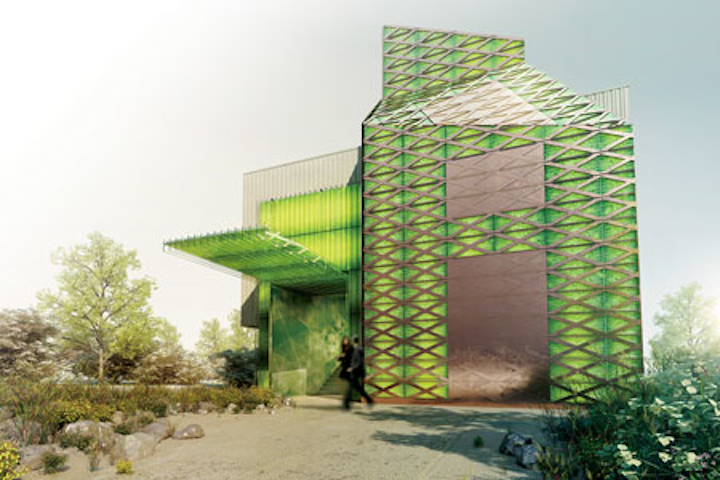 By 2020 commercial buildings in France will be required to generate more energy than they consume. One company believes photobioreactors that grow algae using wastewater nutrients and create power are the answer to this regulatory demand. Jeremy Josephs reports on results from a pilot project situated in the heart of Paris.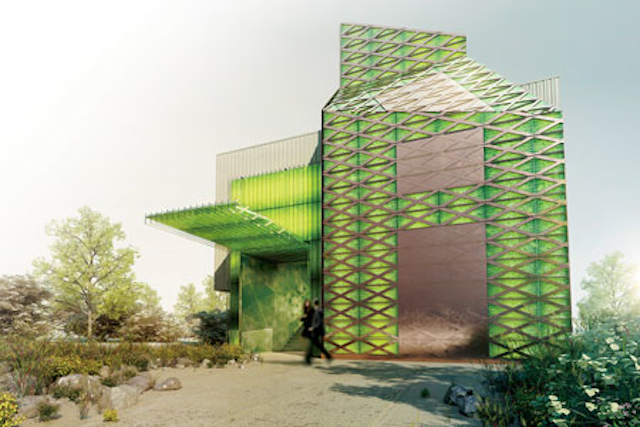 Grand designs: An artist's impression of future potential for the photobioreactors harnessing algae
The French CEO of Ennesys, a Paris-based cleantech start-up, is convinced that there is far more to algae than a rather unattractive combination of green slime. Au contraire, Pierre Tauzinat will tell you. Could it be the case, in fact, that the mechanical operation of harvesting technology focused on algae production might be one of the most dynamic and effective 21st century solutions not just in respect of building waste but for generating energy too?
The good folk of Yorkshire have told us since time immemorial that 'where there's brass, there's muck'. For those not familiar with the vernacular of the north of England, this generally translates into that there is a good deal of money to be made from business activities which some might deem to be dirty or unpleasant. And which, we must now assume, must extend to the green slimy stuff too.
The process - photobioreactors
Using a series of specially-designed pipes and algae harvesters, French and American engineers have managed to create a patented system capable of processing the wastewater generated by the occupants of a building, channelling it into polycarbonate tubes mounted on to the building's facade. These thin, flat panels known as photobioreactors are then able to then generate energy for the structure itself. Cultivated via a combination of light, CO2 and flushed wastewater the algae are constantly nourished by nutrients such as phosphorus and potassium. The entry-level unit is designed to process up to four litres of dilute algae water per minute, intermittently or continuously, without the use of chemicals, into an algae concentrate.
The hope is that this will in due course come to represent a revolutionary step forward in respect of producing cheap and clean energy in urban areas. Not to mention the environmental benefits of preventing millions of cubic meters of water from being flushed, quite literally, down the drain.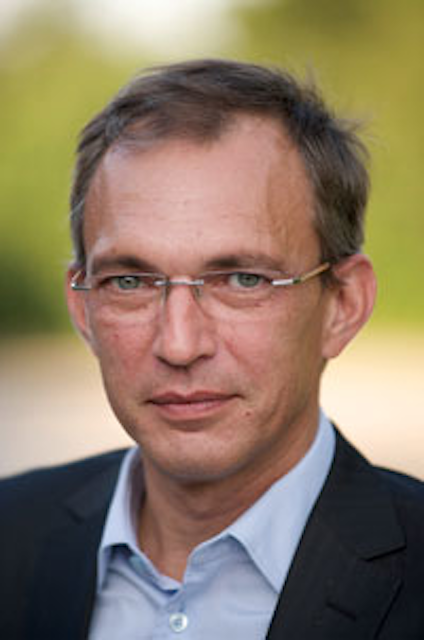 CEO Pierre Tauzinat says harvesting algae now makes financial sense as the days of cheap fuel are over
In a theoretical model of a ten thousand square metre building, a four thousand square metre Ennesys system will be able to generate a combined heat and power energy equivalent to 44kWh/m2/year. The Ennesys system also boasts another bonus: that the tubes act as insulation for the building – another method of reducing energy consumption and the process is repeated until the nitrates are depleted, according to the company. Once this occurs, the wastewater can then be used as greywater for toilet-flushing.
The driving force behind Ennesys is its man-with-a-mission CEO. Although Tauzinat has over two decades of experience in emerging markets, new technologies and their applications, he remains a relative newcomer to the world of water, energy and waste. This has not prevented him, however, from taking his start-up firmly by the horns and forming a highly effective tripartite relationship with the UK-based incubator PJC and the US algae oil services leader OriginOil. Their joint venture is focused firmly on urbanized markets, where the hope is that high population densities and rising energy prices will see to it that algae will in due course come to stand out from the ecological crowd.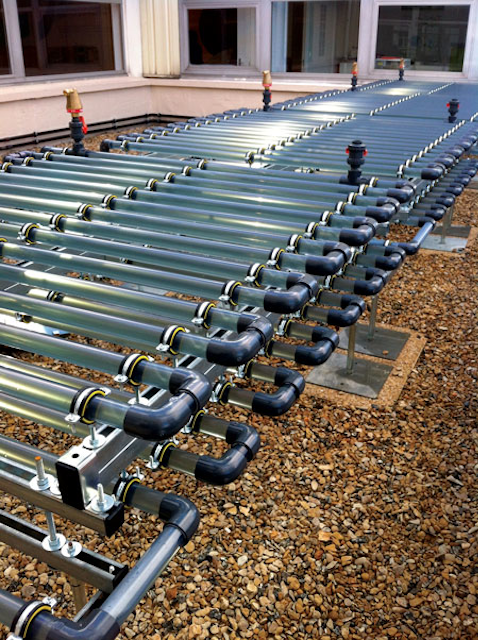 Pipe dream: The polycarbonate tubes – photobioreactors – use a combination of light, CO2 and flushed wastewater so that algae is nourished by nutrients such as phosphorus and potassium.
RT 2020 – regulatory driver
In an international business environment which almost every single economic commentator acknowledges as being tough and challenging, especially when it comes to raising funds and getting potential customers to actually sign on the dotted line, it's perhaps as well that Tauzinat has something of a trump card hidden up his sleeve. In fact it's the law of the land.
French legislators recently introduced a far reaching sustainable energy and thermal regulation policy, known as RT 2020. This requires commercial buildings to process their own wastewater and achieve a positive energy balance by generating more energy than they consume by 2020. Or else. "Yes, it really is the 'or else' which has been helpful to us," says the CEO. "It's the prospect of sanctions which has rather concentrated business minds. People are now listening to us more simply because they are obliged do. Of course I would like to see the penalties and fines for violation become even stronger – but at least we are going in the right direction. Because the truth is that without these sanctions firms would be tempted to simply kick the can down the road. In other words say what a fine idea it all is and then promptly forget about it."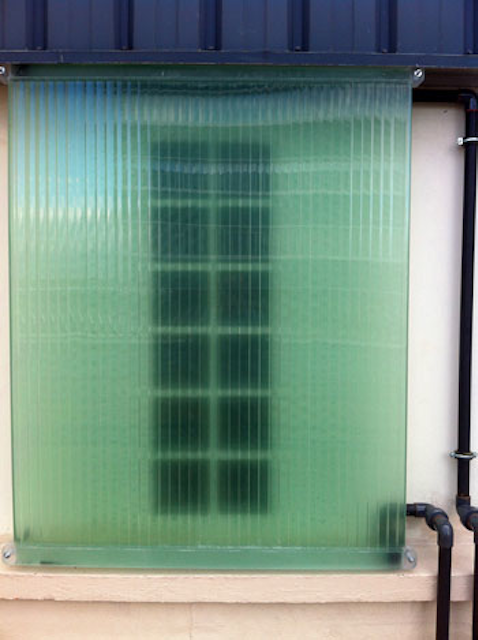 France's RT 2020 policy demands that by 2020 commercial buildings will need to process their own wastewater
OriginOil's CEO Riggs Eckelberry readily admits that the French legislation has given the joint venture added momentum. "France has a major thermal regulation that it's requiring builders to meet. To have more energy going out than coming in and to be obliged to clean the sewage water are both clearly major challenges. Algae is the perfect solution to both."
With France at the cutting edge of environmental legislation one could be forgiven for thinking that the cradle for this brave new world of power from algae and wastewater would be in major French cities such as Lyon, Marseilles, Strasbourg, Rennes and Nantes. Much to Tauzinat's chagrin, however, this is highly unlikely to be case. For although the company's 500 square metre pilot project is situated in the heart of Paris's prestigious La Défense business district, France's notoriously cumbersome bureaucracy and rigid planning framework might well see to it that growth will come from beyond the country's own borders.
"Here in France we are now obliged to work now with photobioreactors that are made out of glass rather than polycarbonate. The latter is classified as M1 whereas most buildings require M0. So we are in the process of adapting our technology to make it glass because our pilot happens to be polycarbonate. All of this adds up to additional expense and delays.
"We are working with government agencies but it's all painstakingly slow. You can't imagine the weight of paperwork and officialdom here. It makes life terribly difficult. So it's with some regret that I have to admit that our international clients are able to act far more speedily than our home based customers."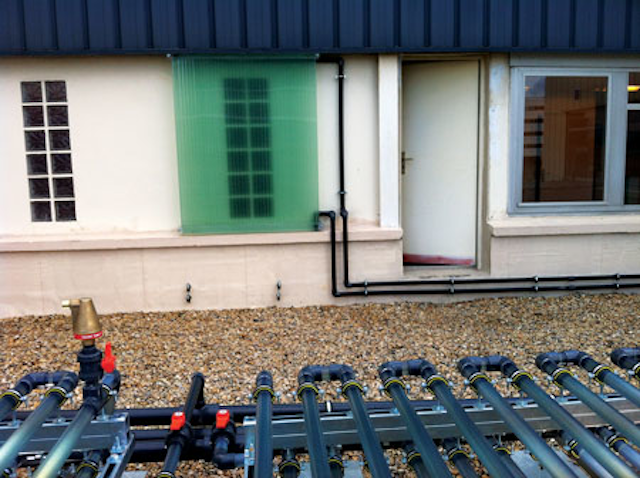 Going green: The entry-level unit is designed to process up to four litres of dilute algae water per minute, intermittently or continuously, without the use of chemicals, into an algae concentrate.
In any event, even assuming the technology will come to be successful in France, it rather begs the question as to how the prospect of large green coloured panels of algae attached to buildings is likely to go down with the folks back home. Call it a stereotype if you will, but the Frenchman is not known for being particularly easy to please. After all, if we cast our minds back to the end of the nineteenth century, a number of the Parisian intellectual and artistic elite were fiercely opposed to the construction of the Eiffel Tower, seeing it as a grimy blot upon an otherwise idyllic Parisian landscape.
Sustainable Cities
Not so with Paris's current bobo crowd (bourgeois bohême – or the politically left) who "love our technology" according to the Ennesys CEO. Fred Einbinder, however, an American lawyer who has lived and worked in Paris for 30 years, says that selling the idea to working and middle class Frenchmen and women is likely to be quite another story.
"France might well be the land of revolution – but my experience is that the French are actually quite conservative by nature. So I am not entirely sure if the prospect of panels full of algae attached to office blocks is going to prove to be a big hit. I think that what will be required will be a change in attitudes towards the environment. If this comes about at all it is likely, in my view, to be a process that will take place over decades rather than a couple of years. Eco-residences and eco-districts are undoubtedly the direction we could and should be travelling in. But who knows how fast this will all go?"
It is as well, therefore, that wastewater and algae consultants are distinctly more upbeat both about the technological feasibility and the concept itself. For example, Sophie Richard is a French engineer based in Montpellier who specializes in public water policy. "The concept of associating wastewater recycling and energy production is clearly most interesting and should undoubtedly be an innovation which should be encouraged at all levels. The pilot project now needs to be rolled out more widely and falls nicely within the context of creating sustainable cities which I believe is the pathway for the future. Technically and politically things seem to be moving forward apace – I only hope that it will prove to be socially acceptable too."
If the market is France in frustratingly slow to fully engage with Ennesys' algae-driven master plan, have more nimble foreign investors been queuing up to place orders? Well, not exactly. That said, since the grand opening of the Paris showcase facility, which took place just before Christmas of last year, there has been a huge level of interest. But interest, as everyone in the business will tell you, takes quite some considerable time to convert into a contract that has been signed and sealed.
Over two hundred people from the European construction industry attended and there was major media coverage from both Reuters and French national media outlets. Unsurprisingly Tauzinat's cell phone began to ring with increased regularity and web inquiries likewise came in thick and fast from all around the world.
"Do bear in mind that we only started the whole project two years ago," he admits. "It began in a lab, then there was the battle to get funding, then the struggle to get the pilot underway, which was hugely expensive. But I really believe in it. That's why I am putting everything into it including just about every penny I managed to save during the last twenty years.
"Everyone wants to see the proof of concept which is entirely right and proper. We now have a huge amount of contacts on the boil and enquiries coming in virtually non-stop. In fact although our technology is new the idea itself is not."
International interest
The CEO adds that it's the application, not process, which is new. "It's been around for a good while. The thing is the concept of harvesting algae made no sense so long as energy was relatively cheap and in the days when water was plentiful and priced competitively too. Those days have now gone though," he says.
"That is why we are getting such an incredible response from water stressed countries and in areas where energy is at a premium am currently fielding serious enquires in countries as diverse as Indonesia and Senegal. Of course the US remains an extremely favourable environment too because the people there are really thinking ahead, addressing energy and water issues head on. But at the end of the day you have to demonstrate savings. It's not just about planning and the environment. It's about the bottom line – which means talking about costs and hard economics. My argument is that we can also win those financial arguments too. But as you can imagine the whole process is long and complicated."
It was in William Shakespeare's Merchant of Venice that we first came to learn of the phrase 'all that glitters is not gold' – when the character Morocco went to open the golden casket. Could it be the case, however, that algae – which no one could ever accuse of being in danger of glittering – could be the new gold? Could it be the case that the new gold might happen to be green?
- Author's note: Jeremy Josephs is a freelance contributor to WWi magazine. For more information, please email: tomf@pennwell.com.