Briefs
Oracle releases smart metering report
Jan 1st, 2010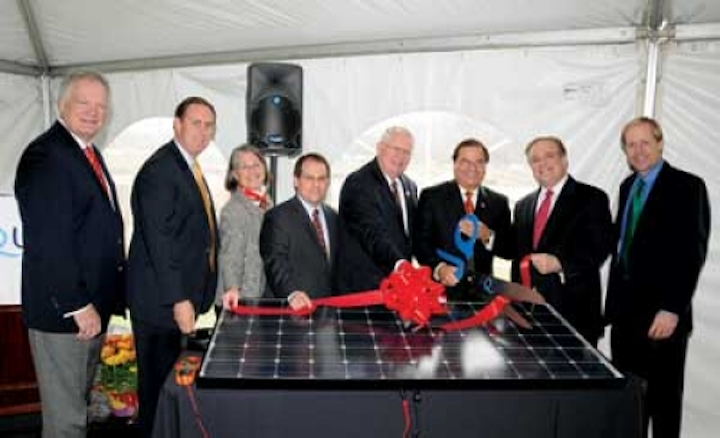 Oracle releases smart metering report
REDWOOD SHORES, CA — Oracle has released the results of its "Testing the Water: Smart Metering for Water Utilities" research report, which surveyed more than 1,200 water consumers and 300 water utility managers in the U.S. and Canada.
The research sought information on water utility managers' perception of, and future plans for, smart meter technology, including benefits and potential obstacles.
The report found that water utility managers are committed to promoting water conservation and believe smart meter technology adoption is critical. However, actual implementations are in a nascent stage: 68% of those surveyed believe it is critical that water utilities adopt smart meter technologies, but only one-third are currently considering or implementing smart meter technologies.
The full "Testing the Water" is available for download at: http://www.oracle.com/us/industries/utilities/index.htm
Neptune to provide meters, install AMR for Toronto project
MISSISSAUGA, ON, Canada — The City of Toronto, Canada, has selected Neptune Technology Group (Canada) as the prime contractor for the supply and installation of lead-free water meters and a Fixed Network Automatic Meter Reading (AMR) system covering the City's 465,000 water services.
The installation project, which is scheduled to be completed over six years, has three main components: Universal Metering of over 70,000 flat rate residential accounts; replacement, or upgrade of over 380,000 residential meters; and nearly 15,000 large meters for industrial, commercial, and institutional accounts.
Neptune will install lead-free meters equipped with either ProRead™ or E-Coder® absolute encoder registers. The new meters will provide improved accuracy and reliability to give the City a solid foundation for the Fixed Network AMR System.
Neptune will provide all project management and installation services required for the integration of the technology for this project. As part of the solution, Neptune will provide data repository capabilities that will enable internet access to seven years of meter reading information, improving customer service and supporting ongoing water conservation initiatives.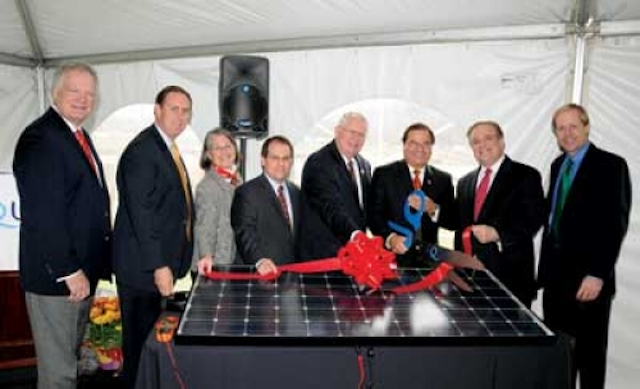 Conergy, Sanyo to provide solar solution for Aqua Pennsylvania
CHESTER COUNTY, PA — CONERGY and SANYO are collaborating on a 1.1 MW solar energy solution that will transform a 4.5-acre sedimentation basin into a highly-productive clean energy generation plant to create green jobs, alleviate congestion on the PJM grid and produce clean, renewable energy that is expected to save Aqua Pennsylvania $77,000 a year on its energy bill.
The project — known as Ingram's Mill Farm — is slated to produce 1,300,500 kWh of peak-time energy a year for the treatment and transportation of water for hundreds of thousands of homes and businesses throughout Southeastern Pennsylvania. When completed, Ingram's Mill Farm will be one of the largest solar farms on the East Coast.
Ingram's Mill Farm earned a Pennsylvania Energy Development Authority (PEDA) grant in the amount of $1 million, which is funded in part with federal stimulus dollars. The Ingram's Mill project was one of 25 projects which were collectively awarded $20.7 million to produce or save 2.2 billion kilowatt hours of electricity over their lifetimes. Together, these projects will create 430 permanent green jobs, 1,068 construction jobs and help to retain 4,110 manufacturing jobs by stabilizing energy costs with on-site renewable energy systems.
Severn Trent Water deploys new ERP system, provides mobility for field engineers
ALDRIDGE, England, UK — Severn Trent Water has signed a three year agreement with managed service provider Azzurri Communications for the provision, support and management of a mobility solution, utilizing iPassConnect™ Mobility Manager from iPass® Inc. for its 1,500 field-based engineers.
Severn Trent is in the process of deploying a new corporate Enterprise Resource Planning (ERP) system that will help to drive efficiency and improved productivity throughout the business. The solution, built on Azzurri's 'Azzurri Roam' service, provides the flexibility for Severn Trent to tailor a mobile solution to their specific needs, ensuring user acceptance is high from the outset.
The service provides Severn Trent's engineers with secure access to business-critical applications over iPass' network.
AMI system to conserve Toho Water Authority's resources, enhance customer service
CLEVELAND, OH — The Toho Water Authority (Kissimmee, FL) has chosen Aclara's STAR® Network advanced metering infrastructure (AMI) system for a phased deployment, beginning with a 5,100-meter pilot. Toho is the largest provider of water, wastewater and reclaimed water services in Osceola County, with 125,000 total water meters.
Toho will use the AMI data collected from the system to enhance customer service as well as conserve resources by reducing water losses from leaks, inoperable meters, and theft. In addition, Toho expects to enhance its tiered water-rate program using data it collects, allowing it to offer rates tailored to specific types of residential or commercial customers. It also will analyze the data and provide advice to customers on ways to conserve based on usage patterns.
Brabant Water integrates navigation with mobile solution
ROCKVILLE, MD — Brabant Water, which provides 2.4 million residents and businesses with drinking water in the province of North Brabant in the Netherlands, has rolled out Tensing Navigation to guide their field technicians from location to location. Tensing Navigation has been integrated with Tensing Mobile Workflow, already in use at Brabant Water. With the new navigation integration, field technicians will optimize their travel time, distance, and route, reducing both gas usage and CO2 emissions.
"We chose Tensing Navigation to further optimize our field operations. The integrated solution automatically retrieves the destination address from the work order and logs work time, eliminating double data entry and preventing mistakes," said René van den Berg, Information Technology, Brabant Water.
GE, FANUC complete joint venture dissolution
CHARLOTTESVILLE, VA — GE and FANUC LTD have completed their agreement to dissolve the GE Fanuc Automation Corporation Joint Venture. This agreement reverts the respective portions of the joint venture back to the parent company and allows each company to focus on its existing businesses and pursue growth in its respective core industry of expertise. The two companies will now operate independently as GE Intelligent Platforms and FANUC LTD.
The two companies will continue to work together in a commercial relationship related to GE's motion control and motor products with no interruption in supply of these components. In addition, GE intends to support its CNC customers in the Americas through its CNC services business.
Hersey Meters becomes part of Mueller Systems
CLEVELAND, NC — Mueller Water Products is integrating its Hersey Meters business with its Mueller Systems division, reflecting the breadth of innovative system solutions for advanced meter infrastructure the company now offers.
The combined entity will be known as Mueller Systems, while Hersey® will remain the company's brand for water meters. Hersey Meters has been part of Mueller Co., one of Mueller Water Products' three operating units, since 1988 and has been in existence since 1859.
"We are committed to providing our customers with the infrastructure technology needed to optimize their operations," said Greg Rogowski, president of Mueller Co. "Integrating Hersey Meters into Mueller Systems will facilitate seamless operation with Mi.Net™ Mueller Infrastructure Network, our Advanced Meter Infrastructure (AMI) solution."
American Water names senior VP
VOORHEES, NJ — American Water Works Company has named Kellye L. Walker its senior vice president, general counsel and secretary. Walker is replacing George Patrick, who is retiring after serving the company for more than a decade.
"We are pleased to be able to bring someone with Kellye's experience to American Water," said Don Correll, president and CEO of American Water. "Kellye's knowledge in regulatory and enterprise compliance, corporate governance and many other legal matters makes her an excellent fit for our company."
Walker most recently served as senior vice president and general counsel at Diageo North America.
More Water Utility Management Issue Articles