Co-Digestion Proves Beneficial
The use of anaerobic digestion may be particularly suited for the co-treatment of high moisture content organic wastes (commercial and industrial wastes) and municipal sewage sludge, concludes a recent study.
Mar 1st, 2002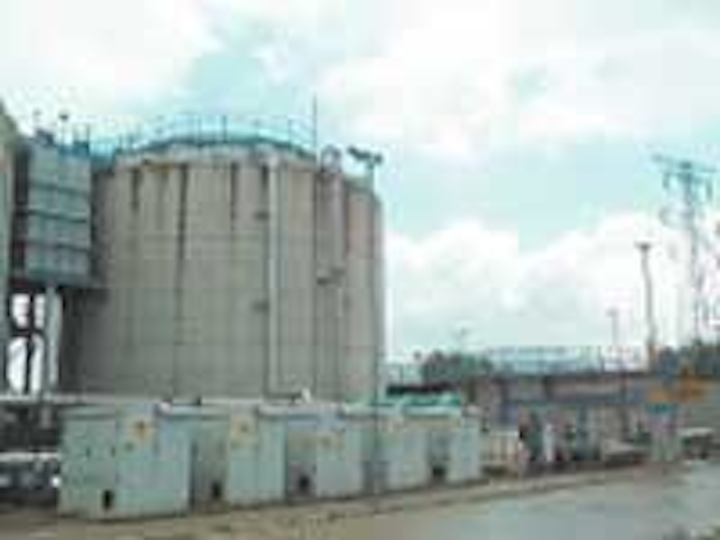 By Ben Purcell
The use of anaerobic digestion may be particularly suited for the co-treatment of high moisture content organic wastes (commercial and industrial wastes) and municipal sewage sludge, concludes a recent study.
WS Atkin has been investigating the potential process benefits of co-digesting supermarket wastes with sewage sludge in a six-month laboratory-scale project in the United Kingdom. The project was funded by landfill tax credits from Waste Recycling Group plc and managed by Waste Recycling Environmental (WREN).
WS Atkins believes the development of combined anaerobic digestion with sanitary sewage sludge for organic wastes from commercial and industrial sources represents an exciting business opportunity. The results from the experimental trials indicate the potential of co-digestion for increasing organic waste recycling and recovery of energy through biogas utilization.
The benefits the company expects to realize with a full-scale implementation of the co-digestion scheme include significant increases in biogas generation, improved potential for energy generation in combined heat and power plants, and improved de-waterability of the digested sludge prior to beneficial use for agriculture or for land reclamation.
Project Details
A total of eight reactors (four control reactors and four co-digestion reactors) were operated through the project. All eight digesters were contained in a water bath maintained at 35
The control cells were fed with primary sludge from Mitchell Laithes wastewater treatment works (WwTW) (Yorkshire Water). The co-digestion cells were fed with a combination of supermarket organic wastes and primary sludge.
Supermarket wastes (fruit, vegetable and bakery waste) were collected weekly from a local ASDA Supermarket. The homogenized supermarket waste was blended with primary sludge to produce the required organic loading rate.
Greater Organic Destruction
The co-digestion cells maintained considerably higher rates of organic matter destruction when compared to the control cells. Average dry solids (DS) destruction rates were 27.7% for the control reactors and 53.7% for the co-digestion cells. This substantial increase is related to higher organic loading rates (OLR) and a more degradable feedstock (fresh fruit, vegetables and bakery wastes). Volatile solids (VS) destruction rates for the control reactors averaged 37% and 63% for the co-digestion cells.
Increased Biogas Production
Gas composition for the co-digestion reactors was typically 60-65% methane (CH4) and 35% CO2. Fluctuations in methane concentrations were observed throughout the project and resulted from the varying nature of the co-feed sludge.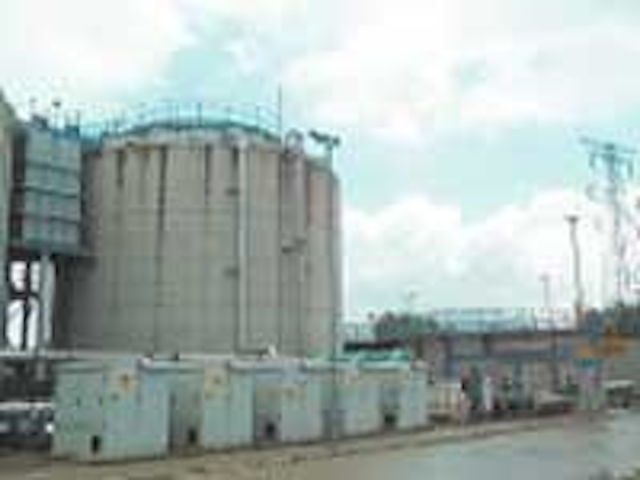 Methane (biogas) removed from the top of the digesters (shown in the background) directly fuels converted gas engines that drive a generator at Yorkshire Water, Leeds. The engine exhaust gas via a heat exchanger keeps the digeters at optimum temperatures (35-37°C).
Click here to enlarge image
The results also indicate that the specific biogas generation rates (m3 biogas/kgVS added) were 70% greater in the co-digestion cells than the control cells. The co-digestion cells also produced 50% more methane per kg of VS added than did the control cells, indicating the highly digestible nature of the supermarket produce wastes.
Full Scale Plans
A full-scale trial into the treatment of supermarket produce waste and sewage sludge has been designed with WREN, Yorkshire Water and ASDA. These trials will evaluate the process performance of co-digestion at full-scale and investigate new waste handling techniques for the reception, pulping and blending of supermarket produce waste with sewage sludge. As part of the work, new organic waste collection systems will be trialed at ASDA to minimize further the contaminant levels from plastics and paper.
At full-scale, it is anticipated that improvements in digester performance will be achieved through higher feeding frequency (to reduce the peaks in biogas generation) and greater operational control and buffering capacity. The aim of these proposed full-scale trials is to further evaluate the effectiveness of this system for providing a more sustainable waste treatment technology for recycling and energy recovery from high moisture content organic wastes.
Conclusions
The use of anaerobic digestion to treat this waste generates an energy rich biogas, which if used as a fuel for combined heat and power, could provide electricity generated from a renewable energy resource. Moreover, the process has the potential to sanitize and stabilize the organic wastes providing valuable nitrogen and organic matter for beneficial use.
About the Author: Ben Purcell, PhD, DIC, works for WS Atkins where he has led a variety of projects including strategy development for the waste management sector in Kosovo and other organic waste and sludge management projects. WS Atkins (Web: www.wsatkins.com) provides technologically based consultancy and support services from 175 offices around the world.