Mooove It On Over: Software Aids Dairies in Reducing Water, Energy Waste
Dairy manufacturing plants are among the heaviest users of municipal water in the United States.
Jul 1st, 2006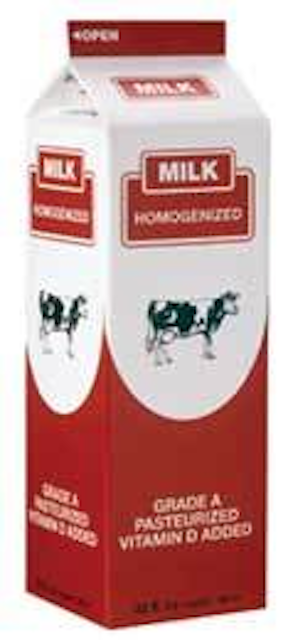 Click here to enlarge image
Dairy manufacturing plants are among the heaviest users of municipal water in the United States. Depending on products they make, dairy manufactures might use as much as two gallons of water - every day - for every single gallon of consumer product they produce.
The CIP (clean-in-place) systems that daily wash and sanitize every truck, tank, pipe and surface in the plant use - and waste - the greatest amount of that precious water. Adding to the cost of that water, much of it has to be heated, chemicals must be added and cities levy charges for use of municipal drain systems.
A typical CIP system will push water and chemicals through dairy plant equipment at 100-200 gallons per minute, exceeding the general understanding that water flowing across dairy food processing surfaces at 5-6 feet per second will create the required cleaning action. But for how long must this heavy flow continue to assure complete cleaning?
In process plants where its analysis software has been installed, Vigilistics Inc. documented expensive waste of water and chemicals in CIP. This isn't surprising because it's common that, over time, dairy manufacturers deal with even minor quality problems that may be CIP-related by increasing time in each step of the CIP wash-and-rinse programs. Yet, most of this water - and sometimes all of it - makes one pass through the equipment and then goes straight to drain. For each minute added to the wash in an attempt to correct quality, 100-200 gallons of hot water go down the drain. In cleaning a typical dairy plant, three or four steps of each CIP program run water to drain. Add two minutes to each of those steps, then do that 50 times - once for each CIP performed that day - and the loss becomes a major expense in wasted water and chemicals, higher municipal charges and energy costs to heat water to CIP temperatures. Sadly, this extra time and water seldom solves the original quality problem.
At one of Vigilistics' dairy manufacturing customers, it was able to guide the plant in reducing its water usage - by over 30,000 gallons a day. It took two weeks. The savings were established by critically documenting CIP operations using its Real-Time Operational Intelligence software to monitor every CIP event, correlated against perceived results and strict quality tests. Supervisors and plant managers used this information to tune CIP programs to create more effective cleaning, using the exact amount of water required. To ensure sustained benefits, the software continues to constantly monitor the situation.
Success in another major dairy process plant highlights another benefit of tuning CIP programs using the software. Not only did the plant save $20,000 a month in water and wastewater charges, but it recovered valuable production time. When equipment is being washed, it isn't productive. This plant also used the software to analyze performance of each CIP wash cycle and reduce step times to create optimum performance. It saved an average of 10 minutes on each piece of equipment being washed. Since each CIP circuit washed about 10 different pieces of equipment, about 1-½ hours of production time a day was recovered. That recovery equates to a 6.25% increase in equipment productivity with no increase in fixed costs. And corresponding energy cost savings were not insignificant.
Sending wastewater to drain is a required component of dairy manufacturing. Vigilistics has made it possible to manage and limit those costs going down the drain through documented savings in water, in chemicals, in energy expenses for heat, and in production time. That's all bad for the drain, but good for the bottom line.
About the Author: Craig Nelson is COO and founder of Vigilistics Inc., a Mission Viejo, CA, company serving dairy and food processing industries with configurable software for tracking, tracing and analysis of process manufacturing. This provides auditable records that reduce product loss, improve energy use and provide production data for ERP enterprise systems - aiding in Bio-Terrorism Act compliance. Contact: 949-900-8380 or www.vigilistics.com