The growing interest in generating renewable energy from anaerobic digestion
More companies in key industrial sectors are recognizing the significant potential economic benefits associated with resource recovery projects, specifically anaerobic digestion treatment processes that make beneficial use of waste streams.
Oct 25th, 2013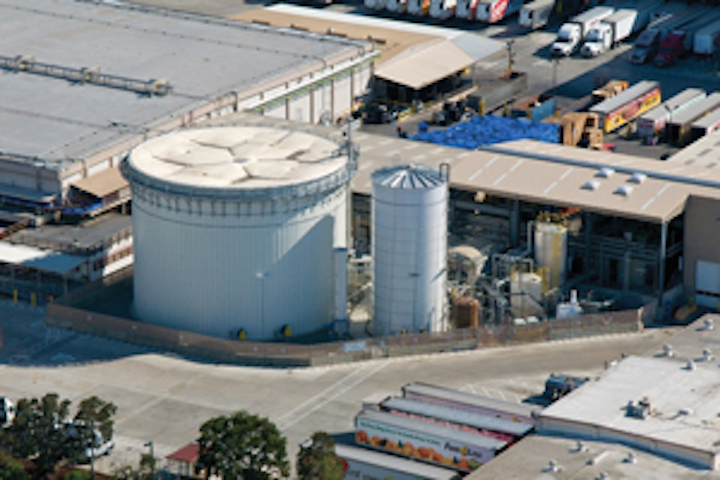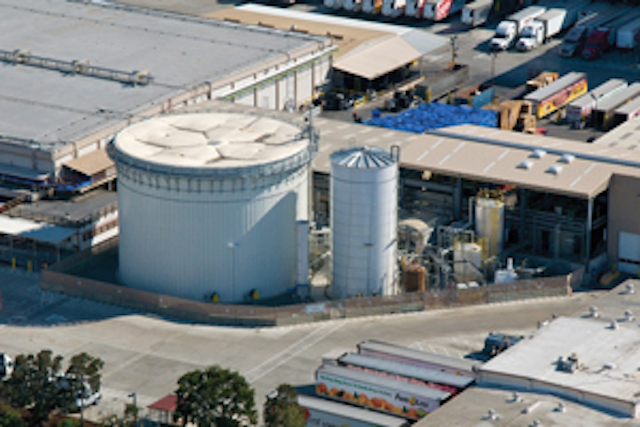 Kroger's new clean energy production system features an aerobic digester that will process over 55,000 tons of organic food waste annually, recovering renewable energy that is used to help power a 650,000 square foot distribution center.
By Jeff Gunderson, Industrial WaterWorld Correspondent
Rising interest in sustainable practices is pushing a greater number of industrial manufacturers towards innovative approaches that conserve water, use less energy and treat wastewater both more efficiently and effectively. In line with this overarching trend, more companies in key industrial sectors are recognizing the significant potential economic benefits associated with resource recovery projects, specifically anaerobic digestion treatment processes that make beneficial use of waste streams.
Anaerobic digestion converts wastewater sludge and organic-based compounds into biogas, which in turn can be utilized for generating electricity and heat or creating biofuels --renewable energy that can be employed for a number of beneficial end uses.
Resource recovery projects, while lauded for their function in generating sustainable energy, also serve an important role in relieving the rising burden associated with organic waste disposal.
Anaerobic digestion is gaining increasing interest and higher levels of application, especially in water intensive segments of the industrial market, said Paulina Szyplinska, an energy and environmental research analyst with Frost & Sullivan. "Anaerobic processes are best suited for industrial wastewater streams with high chemical oxygen demand (COD) concentrations, which optimize biogas production," she said.
The food and beverage sector is the main end user of industrial anaerobic treatment, Szyplinska said, due to the fact that the wastewater streams have significant COD loads and therefore high calorific value. "Other industrial facilities that are best positioned to implement anaerobic digestion include pulp and paper mills, chemical and petrochemical plants, as well as dairies, breweries, distilleries, and wineries," she said.
Industrial sectors, as compared to the municipal arena, have a greater focus on the total life cycle costs of treatment plants and are often more open towards innovative solutions --such as anaerobic digestion treatment --that guarantee operational savings, deliver green credentials and result in a lower carbon footprint, Szyplinska noted.
Rising energy costs are another driver supporting alternative, onsite energy projects. "Growing operational costs associated with industrial products coupled with higher oil prices are pushing manufacturers towards resource recovery, as these projects help offset the use of fossil fuels," she said.

The upcoming $35-million SaniGreen commercial bioenergy facility in St. Paul, Minn. will utilize area-sourced organic materials for generating renewable energy, diverting a significant amount of wastes that would otherwise be sent to landfills.
Greg Chung, San Francisco regional office manager of engineering consulting company GHD, said more industrial manufacturers are beginning to view their wastes as resource streams that hold a tremendous amount of energy. Similar to the way in which municipal treatment plants utilize renewable energy extracted from wastewater, industrial facilities can readily use electricity and supplemental heat produced from cogeneration.
"In many ways, industrial plants --especially food processing facilities --are ideal for this type of energy recovery because, in addition to significant electrical use, they all rely on heat in some way,"he said. "The ability to reroute and use heat onsite is a huge advantage."
But while the capacity to generate sustainable energy from waste represents a major benefit for pursuing anaerobic digestion, Chung said that resource recovery projects are increasingly being driven by disposal costs. "Industrial facilities that lack onsite treatment are spending more and more to dispose of their wastes, trucking it greater distances away,"he said. "Waste disposal can be a huge liability, so it really comes down to cost avoidance. There is a lot of focus and emphasis on managing biosolids and solid waste because landfilling is becoming more difficult due to land limitations and increased pressure to handle wastes in a more responsible way."
Clean Energy Production System
Earlier this year, grocery retailer Kroger Co. unveiled a clean energy production system in Compton, Calif., that recovers energy from food that can't be sold or donated. The project, which recently became fully operational, utilizes an anaerobic conversion system that will process over 55,000 tons of organic food waste annually into renewable energy that will be used to help power its 650,000-square-foot distribution center.
After separating and removing any inorganic material, the anaerobic system produces biogas from a range of organic feedstock including produce, meats, dairies, baked goods, floral products, and treated wastewater from an onsite creamery, said spokesperson Kendra Doyel.
Biogas produced by the anaerobic conversion system is compressed and purified before being used to run microturbines and boilers, replacing 95 percent of the natural gas previously used for those purposes.
"The electricity produced will supply 20 percent of the total electrical demand on campus, and generated heat is rerouted back and used to help power the anaerobic system,"said Doyel.
In addition to energy benefits, the project eliminates food waste that was previously sent in multiple truckloads per day to a composting system in Bakersfield and also significantly lowers the food waste volume that is landfilled, Doyel noted. "The result is a reduction in diesel truck trips by more than 500,000 miles each year," she said.
Overall, the project is expected to deliver an annual return on investment of 18.5 percent, according to Doyel.
SaniGreen Bioenergy
In St. Paul, Minn., Montreal-based rendering company Sanimax is teaming with Denmark, Wis.-based Green Energy Partners on a $35-million commercial bioenergy facility that will create renewable energy from organic materials. Named SaniGreen Bioenergy, the facility will transform area-sourced organic wastes into biogas, which in turn will be cleaned to pipeline-quality natural gas. The natural gas will be used as a transportation biofuel and also to run a 1.1 MW genset, producing electricity for onsite use in Sanimax's rendering facility. Any remaining natural gas will be sold on the open market.
The facility's anaerobic digester will be designed to process approximately 150,000 tons per year of non-agricultural separated organic material, diverting a significant amount of area wastes that would otherwise end up in landfills.
"Our goal is to commercialize the system for the region, helping to relieve the community waste disposal burden through a renewable solution," said Dan Ostrenga, director of organic solutions with Sanimax.
Although waste sources suitable for conversion are still being developed, Ostrenga said they are targeting any type of organic material that enters a wastewater stream, is land applied or that is sent to a landfill. "We are looking at food wastes from local schools, restaurants and grocery stores, as well as organic waste streams from municipalities, industrial manufacturers and food processing facilities such as vegetable producers, dairies and slaughterhouses," he said.
The SaniGreen Bioenergy facility will incorporate more of a modified, plug-flow style of digester --a system that is anticipated to allow for more flexibility in the types of feedstocks that can be used, Ostrenga said. "Any digester must go through an initial test process, but the idea with our model is to approach the engineering of the system to make it more accepting of waste and equipped to handle a variety of organics that are found in the community. We want to be able to offer a food destruction process for many different customers in the community," he said.
Another upcoming resource recovery project being developed in Monticello, Ind., will demonstrate the use of generating biogas from anaerobic digestion for creating supplemental power for a regional utility. Waste No Energy, a U.S.-based company owned by Rakr Farms, is developing an anaerobic digestion facility that will recover energy from swine manure and high-energy organic wastes sourced from breweries, cheese manufacturing facilities, biofuel production plants, groceries, and restaurants. The project is anticipated to generate 8.2 million kilowatts of electricity per year that will be purchased by Northern Indiana Public Service Company and used to power 940 homes.
About the Author: Jeff Gunderson is a correspondent for Industrial WaterWorld. He is a professional writer with over 10 years of experience, specializing in areas connected to water, environment, and building -- including wastewater, stormwater, infrastructure, natural resources, and sustainable design. Jeff holds a Master's degree in Environmental Science and Engineering from the Colorado School of Mines and a Bachelor's degree in General Science from the University of Oregon.