New Products
Compilation of new products for the industrial water market
Oct 29th, 2013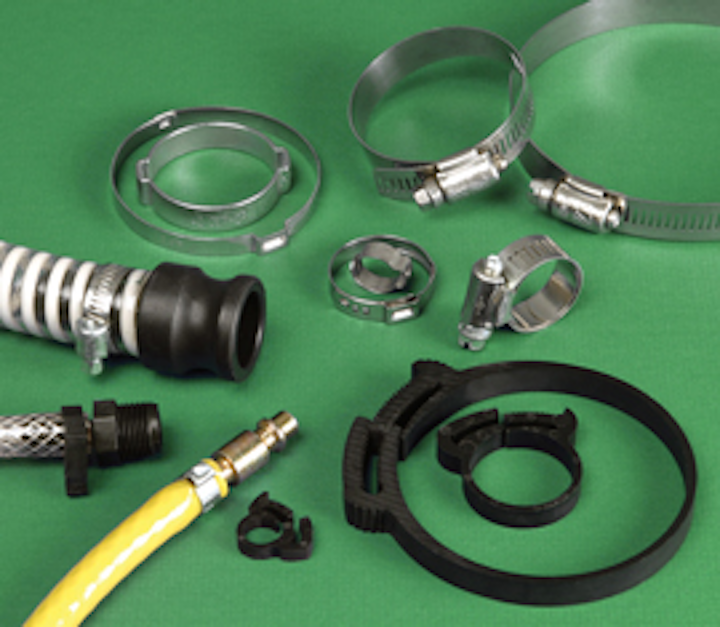 Hose clamps
Available from plastic tubing manufacturer NewAge Industries are three styles of clamps to secure fittings to tubing. The three styles -- double bond, ear type and worm gear -- are used in a wide range of industries including food and beverage, chemical, laboratory, OEM, pool and spa, and others. Clamp sizes range from 5/32" through 6" nominal diameter, depending on clamp type. Fittings available from NewAge that call for the use of clamps include plastic and brass barbed type, cam- operated couplings and two-stage safety air couplers. Plastic and rubber tubing and hose are stocked by NewAge Industries in nearly 30 variations.
New Age Industries
www.newageindustries.com
Spray nozzle
The new HydroPulse from BETE provides a controlled, intermittent liquid spray using only liquid pressure as the force for atomization in
addition to a drip-free performance. Its 303SS assembly is ideal for food-based applications as well as corrosive environments and harsh cleaning fluids. The simple and maintenance-friendly design allows for easy disassembly, inspection/cleaning and reassembly with basic hand tools and can be rebuilt without uninstalling the entire assembly. The HydroPulse is ideal for conveyor-based applications in paper, glass, food and chemical processing, lubrication, and coating. The flat fan spray pattern provides spray angles from 0° to 110° with flow rates of 0.003 to 24.7 gpm.
BETE Fog Nozzle Inc.
www.bete.com
Enclosures
The DiamondShield ® Series from Stahlin was developed for design flexibility and pleasing aesthetics. Applications include high-end electronics, harsh corrosive environments and industrial applications both indoors and outdoors. Unique internal panel management capabilities provide end users with only the features they need for their application, yet they're able to use every cubic inch of valuable internal enclosure space. The enclosure also includes over 150 configurations available in 10 sizes ranging from 6" x 6" to 20" x 16."
Stahlin Non-Metallic Enclosures
www.stahlin.com
Cation resin
Dow Water & Process Solutions, a business unit of The Dow Chemical Company, has introduced DOWEX™ MONOSPHERE™ 1400PC Cation Resin for Pressurized Water Reactor (PWR) nuclear power plants. This new high-capacity cation resin is designed to help strengthen plant reliability by minimizing anion resin kinetic degradation associated with the use of ethanolamine (ETA), which is used to minimize flow-assisted corrosion (FAC) and iron transport within the secondary water systems. DOWEX MONOSPHERE 1400PC is the first resin to specifically address the problems associated with ETA in condensate polishers.
The Dow Chemical Company
www.dowwaterandprocess.com
Compressors
Danfoss Turbocor Compressors announces the production release of the new TT350 for 380 volt 50 Hz and 60 Hz applications. Similar to the other TT series compressors, the Danfoss models are oil-free, variable-speed, magnetic-bearing centrifugal compressors. The products provide outstanding full- and part-load energy efficiency and utilize HFC-134a refrigerant. All TT Series compressors feature a small footprint, are light weight, have low vibration and low sound, utilize intelligent controls, and have soft-starting characteristics. The models are designed to provide energy-efficient HVAC compressors for rapidly-growing 380-volt markets such as China, India, Asia Pacific, and Latin America.
Danfoss Turbocor Compressors Inc.
www.turbocor.com
Corrosion resistance
Chlor-alkali applications create some of the harshest conditions to which chlorinated polyvinyl chloride (CPVC) material can be subjected, and thus materials intended for use in these settings must be especially resilient to localized corrosion and stress- corrosion cracking. Made from durable CPVC, Corzan® Industrial Systems offers superior resistance to corrosive chemicals, high temperatures and harsh application conditions. As a result, pipe and fittings made from Corzan deliver what the process industry needs most -- longer service life, lower maintenance costs and reduced downtime in the toughest environments, including wet chlorine gas, high-purity brine and brine-saturated chlorine.
Corzan Industrial Systems
www.corzanpvc.com
Logic controller
Unitronics is proud to introduce the newest members of its Vision350™ PLC+HMI family -- flat fascia Vision350™ units. The new flat fascia makes these models a perfect fit for the food and pharmaceutical industries. These configurations include digital and analog inputs and outputs, high-speed I/O, PT100/Thermocouple capabilities, and weight measurement. The I/O can be mounted locally or remotely, up to 1000 m from the controller.
Unitronics
www.unitronics.com
Abbreviated switchgear
The ABB Low Voltage Products division has introduced the Emax Link, an abbreviated switchgear that provides electrical distribution equipment manufacturers (DEMs) a solution to easily design and build their own UL 1558 switchgears. The Emax Link is designed to provide power distribution, protection and safety, providing DEMs with an advanced solution to withstand the mechanical, electrical and thermal stress found in a variety of manufacturing environments. The comprehensive ratings of the Emax Link allow DEMs to complete the switchgear lineup by simply adding the custom controls and wiring required for the specific application. The Emax Link is available with a main bus rated current up to 10,000 amps at 600V.
ABB Inc.
www.abb.com
Level management
Metropolitan's new LMS II level management system is a pre-programmed level controller with a color touch screen operator interface. The LMS II allows users to seamlessly alter pump options, transducer options and more. Each LMS II unit also comes complete with integrated help screens, making the operation of your system easy and intuitive and giving users access to basic SCADA features at a cost-effective price. It is a menu-configurable, constant-speed, pump-down level controller, allowing for the control of one to three pumps, with optional pre-programmed configurations for single/dual level transducers, a 0-20 mA flow meter input and a completely redundant float backup controller.
Metropolitan Industries Inc.
www.metropolitanind.com
Monitoring software
GE Intelligent Platforms announced the availability of its new Proficy Monitoring & Analysis software suite for industrial big data management and analytics. It allows companies to manage equipment and process data to maximize performance with advanced products that capture, store, contextualize, and analyze data and presents actionable insights for fast and effective decision making. The software suite can be used remotely to monitor one plant or all of a company's global operations.
Power cable
Kerite announces its upgraded Underwater Specialty Cable, custom built for a broad range of applications that require direct contact with water. Kerite's Ethylene propylene rubber (EPR) insulation formula enables the cables to operate underwater without the need for an impervious barrier such as a lead sheath, making installation easier and cost-efficient. In addition to the discharge-resistant EPR insulation, the cable offers an additional polyethylene jacket; stranded and filled 5 kV-35 kV copper conductors, shielded by a non-conducting Permashield® stress control layer; and a copper tape or concentric wire metallic shield.
Kerite
www.kerite.com
Handheld meter
The NCMP-603 is a clamp-on, noninvasive handheld meter that uses the latest in transit-time technology to measure a liquid flow from the outside of the pipe. The NCMP-603 promotes ease of use at a fraction of the cost of the traditional Portable Meter and is ideal for liquid applications on full pipes with clean or dirty liquids (< 2% solids or aeration). Water, wastewater, chiller, boilers, HVAC, energy management, and chemical process are examples of the multitude of applications where the NCMP-603 can be utilized.
Noncontact Meters Inc.
www.noncontactmeters.com
Video monitor
Many utilities battle the inability to see video images in bright daylight or direct sunlight, or the video monitor often loses the signal or goes into sleep mode. The new SRM-10.4B-WRL video monitor from TRU-Vu Monitors was specifically designed to address these issues. It features a screen with 1,000-nits brightness, enabling the operator to see clear video images even in direct sunlight. It is also designed to accept the weaker video signals typically found in wireless video systems.
TRU-Vu Monitors Inc.
www.tru-vumonitors.com
Flood light
Dialight announced its new DuroSite® and SafeSite® LED flood lights to provide a robust, reliable LED flood-lighting solution to reduce energy and maintenance costs, while improving safety in demanding and hazardous industrial applications, including water processes. With a compact 14" x 14" form fit, the LED flood lights deliver 10,750 lumens at 107 watts (100 lumens per watt efficiency) to replace traditional HID solutions. The new lights feature an advanced 20 kV surge protection, a tempered glass lens, and powder-coated aluminum housing with a corrosion-resistant polyester/epoxy powder-coated finish. The fixtures ensure safe operation in a wide range of volatile environments, boasting a T5 temperature rating for ambient temperatures ranging from -40°F to +149°F (-40°C to +65°C).
Dialight
www.dialight.com
Treatment reactor
AquaMost officially unveiled its new SX PECO Reactor, enabling chemical-free water treatment. Features include chemical-free kill of multiple bacteria types, treatment for as low as $0.10 per barrel, no requirement of Capex, a modular design that is scalable to meet industry requirements, low energy consumption, and a compact footprint. In the spring of 2013, systems were deployed at sites in Texas, Colorado and Utah (Eagle Ford, Barnett, Piceance, Denver-Julesberg, and Uinta basins) where the reactor outperformed chemical biocide treatment methods, killing more types of bacteria for less cost, without requiring the purchase, storage, handling, and insurance of chemicals.
AquaMost Inc.
www.aquamost.com
Screen assemblies
Molded screen insert assemblies from Minnesota Rubber and Plastics are custom-designed for a wide range of applications to filter out fluid contaminants and reduce product failure. Custom designs are possible to filter out contaminants of all kinds, from small particles in transmission and hydraulic fluids to heavy brine particles in food processing systems. A wide range of screen options are available in many materials for difficult filtration applications, allowing use with most fluids. Filter assembly orifice sizes available range from .71 mm to 1.4 mm. To facilitate the quality and precision requirements of these custom-molded screen insert assemblies, Minnesota utilizes automated vertical presses and sonic welding systems.
Minnesota Rubber and Plastics
www.mnrubber.com
Pressure transmitters
A new Class 1E, nuclear-qualified, differential-pressure transmitter, designed for use in harsh nuclear power applications, is now offered by Ultra Electronics. The DTN2070 transmitter can meet the most stringent environmental requirements of Gen III+ reactors for harsh operating environments and post-accident monitoring applications inside containment. It is suitable for replacement of obsolete or underperforming pressure transmitters at existing nuclear power stations.
Ultra Electronics, Nuclear Sensors & Process Instr.
www.ultra-nspi.com