Conergy, Sanyo tapped to design, engineer, install solar solution for Aqua Pennsylvania
CHESTER COUNTY, PA, Nov. 30, 2009 -- CONERGY and SANYO are collaborating on a 1.1 MW solar energy solution that will transform a 4.5-acre sedimentation basin into a highly-productive clean energy generation plant...
Nov 30th, 2009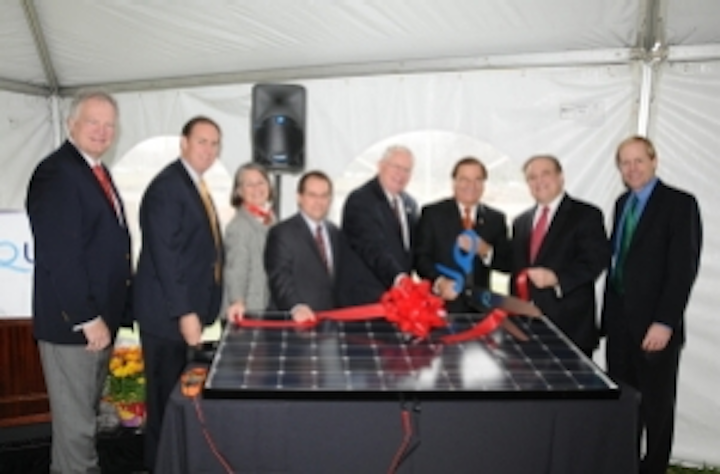 • Watershed solution will be one of the East Coast's first and largest deployments of solar energy to treat and transport water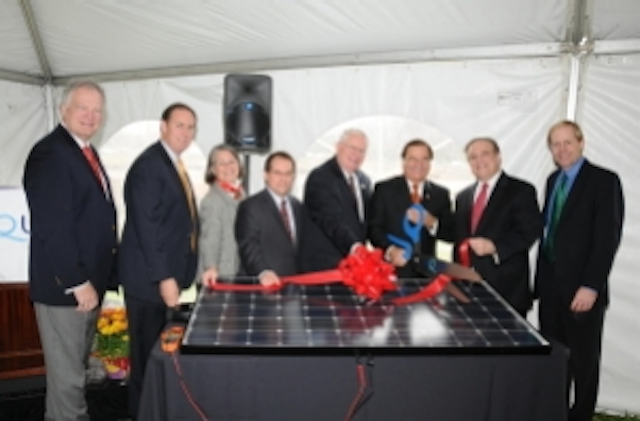 CHESTER COUNTY, PA, Nov. 30, 2009 -- CONERGY and SANYO are collaborating on a 1.1 MW solar energy solution that will transform a 4.5-acre sedimentation basin into a highly-productive clean energy generation plant to create green jobs, alleviate congestion on the PJM grid and produce clean, renewable energy that will save Aqua Pennsylvania Inc. $77,000 a year on its energy bill.
The project -- known as Ingram's Mill Farm -- is slated to produce @ 1,300,500 kWh of peak-time energy a year for the treatment and transportation of water for hundreds of thousands of homes and businesses throughout Southeastern Pennsylvania. The solar farm will also alleviate congestion on the PJM grid, resulting in savings to consumers by reducing line losses and congestion charges. PJM is a regional transmission organization (RTO) that coordinates the movement of wholesale electricity across 13 states and the District of Columbia. When completed, Ingram's Mill Farm will be one of the largest solar farms on the East Coast. Construction is slated for completion as early as the end of this year.
"With improved state and local permitting processes and Conergy's project expertise, this solution will allow us to reap the economic and environmental benefits of renewable energy in very short order," said Aqua America Chairman, President and CEO Nicholas DeBenedictis. "It's a way for us to reinforce our commitment as environmental stewards, cut operating costs, create a hedge against rising energy costs and better serve our communities and investors," DeBenedictis said.
Ingram's Mill Farm earned a much-coveted Pennsylvania Energy Development Authority (PEDA) grant in the amount of $1 million, which is funded in part with federal stimulus dollars. The Ingram's Mill project was one of 25 projects which were collectively awarded $20.7 million to produce or save 2.2 billion kilowatt hours of electricity over their lifetimes. Together, these projects will create 430 permanent green jobs, 1,068 construction jobs and help to retain 4,110 manufacturing jobs by stabilizing energy costs with on-site renewable energy systems.
ROSI, or Return on Solar Investment, can be found in many aspects of this well-crafted project. Charles Hanasaki, president of SANYO's Energy USA Solar Division, says Conergy selected SANYO's HIT Power® solar modules for the Aqua solution for their high energy conversion efficiency ratings -- important to those looking to optimize their solar investment -- and because SANYO's silicon ingots and wafers, core materials in the manufacturing of SANYO's solar cells and modules, will be produced right here in the U.S.
"SANYO PV panels are made of high efficiency hybrid cells that combine amorphous silicon layers deposited on mono crystalline wafers. This technology results in superior performance under cloudy conditions and during the hottest days of the year. By using SANYO HIT Power® technology, Aqua will be able to generate more clean, renewable electricity while using less of the available acreage at the site," Hanasaki said.
"Businesses and organizations know that by undertaking these types of projects, they are making sound investments in their future and the future of Pennsylvania," said Pennsylvania Governor Edward G. Rendell.
Aqua America Inc. Chairman and CEO Nick DeBenedictis, Conergy Projects Inc. President Kurt Zwerko, Aqua Pennsylvania President Karl Kyriss, Pennsylvania Public Utility Commissioner Rob Powelson, U.S. Congressman Joe Pitts, Pennsylvania Senator Andrew Dinniman and Pennsylvania State Representatives Barbara McIlvaine-Smith and Duane Milne were among the officials participating in the groundbreaking of this shovel-ready project earlier this month. Ingram's Mill Farm is anticipated to create 20 permanent full-time jobs and 120 temporary, full-time jobs.
Kurt Zwerko, President of Conergy Projects Inc., says Conergy is building a reputation for providing innovative solutions for utilities from coast to coast. "Our 3 MW solar energy solution for Exelon's Power Team transformed the gray dirt of 16.5 acres of landfill buffer to pay dirt. And Conergy's 1.6 MW solar energy solution at California's South San Joaquin Irrigation District is saving the agency $400,000 a year in energy costs while providing a unique cost-benefit analysis on how two distinct solar energy solutions -- crystalline panels and thin-film -- perform under a range of climatic conditions," he noted.
In addition to the project's many economic benefits, the clean energy being generated by this collaborative Conergy-Sanyo solution translates into the environmental equivalent of planting 223 acres of carbon-sequestering trees, eliminating the pollutants from driving 35 million car miles and offsetting the burning of 66,000 barrels of oil.
Noted Governor Rendell: "In the past, we became too dependent upon foreign oil. We have changed the way we think about meeting our energy needs. Our actions are making a difference. We are breaking our dependency upon foreign energy sources one gallon of oil and one kilowatt at a time," he said.
About SANYO
SANYO Electric Co., Ltd. is a global, multi-billion dollar leading company for energy and environment, providing solutions for energy, environment and lifestyle applications based on its brand vision 'Think GAIA.' SANYO Energy (U.S.A.) Corporation, a subsidiary of SANYO Electric Co., Ltd. is headquartered in Frisco, Texas, and handles sales and services for SANYO's North American photovoltaic systems and rechargeable batteries. For further information, please visit SANYO's web site at http://us.sanyo.com.
About CONERGY
Conergy designs, manufactures, installs and finances solar photovoltaic solutions for major commercial sectors, public agencies, businesses and homeowners through two distinct channels. Conergy's Projects Group focuses on custom solutions for large-scale, energy-intensive enterprises; Conergy's Distribution Group serves a national network of installers, developers and dealers in the grid-tied and off-grid residential realm, while also addressing the needs of small commercial markets. With ten years' market expertise, Conergy has successfully deployed projects totaling over 1.25 Gigawatt of renewable energy capacity around the world -- nearly a full Gigawatt in innovative solar PV solutions. With operations in 14 countries over 4 continents, Conergy is helping drive the world's burgeoning clean energy economy. Learn more at www.conergy.us.
About Aqua Pennsylvania Inc. and Aqua America Inc.
Aqua Pennsylvania is a wholly-owned subsidiary of Aqua America Inc. Aqua Pennsylvania provides water and wastewater services to more than 1.4 million people in 30 counties across the Keystone State.
Aqua America Inc. is a U.S.-based publicly-traded water and wastewater utility, serving more than 3 million residents in Pennsylvania, Ohio, North Carolina, Illinois, Texas, New Jersey, New York, Indiana, Florida, Virginia, Maine, Missouri, and South Carolina. Aqua America is listed on the New York Stock Exchange under the ticker symbol WTR. Info at www.aquaamerica.com.
###