Burns & McDonnell and Flintco collaborate on district energy upgrade for University of Texas at Austin
New Chiller Plant Makes UT Energy System One of the Most Efficient in U.S.
Jul 6th, 2017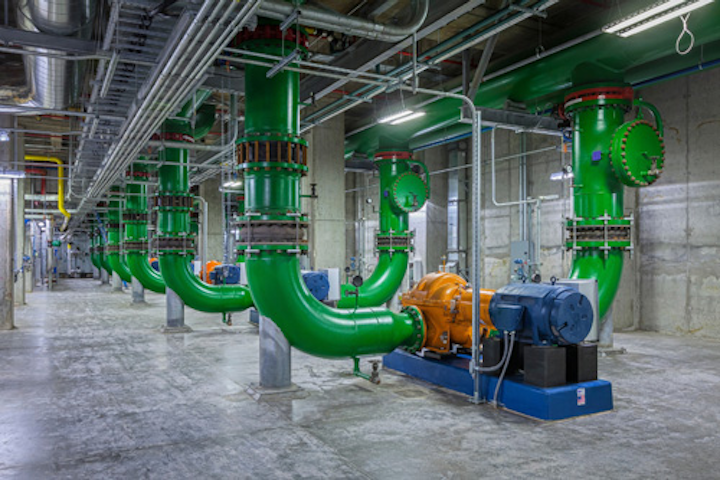 The University of Texas at Austin district energy center upgrade project was recently recognized with a Silver Award from the Texas Chapter of the American Council of Engineering Companies (ACEC). Burns & McDonnell and Flintco provided engineering. Photo: Burns & McDonnell
AUSTIN, TEXAS, JULY 6, 2017 -- The University of Texas at Austin has made major strides in rethinking energy efficiency during a period of unprecedented campus growth. With the recent $800 million addition of the Dell Medical School and the Dell Seton Medical Center, the University of Texas took the opportunity to increase efficiency of an already excellent district energy center serving the entire campus.
Completed in August 2016, a $76 million project to add a new chilling station and large new thermal storage facility has increased the university's capacity to serve a larger base of users while saving energy and enhancing its ability to serve the all-new medical district. The Chilling Station No. 7 project recently was recognized with a Silver Award from the Texas Chapter of the American Council of Engineering Companies (ACEC). Burns & McDonnell teamed with Flintco to provide engineering design and construction of the Chilling Station No. 7 project and were joint recipients of the award.
"This project is a critical component to sustaining the growth of our campus, including the world-class Dell Medical School district and the Dell Seton Medical Center teaching hospital," says Michael Manoucheri, PE, Associate Director of Plant Operations for the university's Utilities and Energy Management Department. "We couldn't have picked a better team than the Flintco/Burns & McDonnell Design-Build team for Chilling Station 7. Their innovative approach and attention to detail will make this one of the most efficient in the United States."
During the course of planning for the medical district's energy needs, the objective was to build on a district energy system that already was one of the most efficient in the nation. Planners recognized that by increasing energy efficiency through the addition of new chilled water capacity, they could avoid the costs of adding more power generating capacity to the existing campus microgrid and generating units. A new 5.5 million-gallon storage tank at the new chiller station provides 52,000 ton-hours of storage, enabling the university to save on energy costs by shutting down chilled water-producing equipment during peak hours. This gives the university the ability to shift nearly 6 megawatts of power demand to off-peak hours, providing a significant levelling effect by allowing combustion gas turbines to operate at a steady output that ensures they operate within the most efficient range for gas consumption and power output.
The project also has improved water efficiency throughout the district energy complex. Cooling facilities of the scale of those serving the University of Texas campus typically depend on large volumes of water. With drought conditions becoming more widespread throughout various regions of the country, the system was designed to avoid this potential scenario with a redesigned system that can draw on four potential sources of water, most notably including recovered water from condensate produced by building air handling units that otherwise would have been drained into area sanitary sewer system. In addition, the chillers can draw on other water collected throughout the plant's own local recovery system to support plant activities. A third water source is reclaimed gray water from the City of Austin that can be used as a source of makeup water for cooling tower operations. The fourth and final contingency source is domestic drinking water drawn from the City of Austin.
"This project has met the needs of a rapidly growing campus while meeting the desire of community leaders for an environmentally responsible solution," said Jeff Easton, project manager for Burns & McDonnell. "We're extremely proud of this award but even more happy about having a satisfied client."
About Burns & McDonnell
Burns & McDonnell is a family of companies made up of more than 5,700 engineers, architects, construction professionals, scientists, consultants and entrepreneurs with offices across the country and throughout the world. We strive to create amazing success for our clients and amazing careers for our employee-owners. Burns & McDonnell is 100 percent employee-owned and is proud to be No. 16 on Fortune's 2017 list of 100 Best Companies to Work For. For more information, visit burnsmcd.com.
About Flintco, LLC
Flintco was founded in 1908 in Tulsa, Okla. and has grown into one of the largest commercial contractors in the nation. In January 2013, Flintco, LLC was acquired by the Alberici Corporation, a diversified construction company. This strategic acquisition is part of a strategy to expand services for construction clients for both companies across a more diverse geographic marketplace. Both companies are debt-free, maintaining healthy balance sheets and have exceptional bonding capacity. For more information, visit www.flintco.comor www.twitter.com/flintco.