Intelligence for machine and process control – How separation processes profit from Industrial Internet of Things (IIoT) solutions
Jul 1st, 2019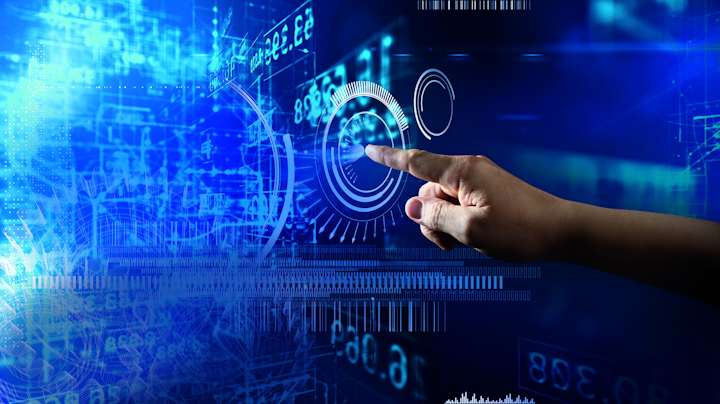 With the fourth industrial revolution not just around the corner, but already establishing itself in the industrial environment, IIoT technologies have also found their way into solid/liquid separation plants and processes of all shapes and sizes. Automation solutions using IIoT have not only been launched, but are already up and running – one example being ANDRITZ's Metris addIQ control systems. Over the past few years, solutions from the Metris addIQ portfolio have been tailored and installed for municipalities and industrial companies in all kinds of solid/liquid separation applications and are showing promising results.  
Digitalization is starting to change the industrial world
The terms digitalization, Industrial Internet of Things (IIoT), and Smart Service are omnipresent nowadays when talking about Industry 4.0, and the expectations of what can be achieved by networking machines and applying new technologies are skyrocketing. Not only higher plant efficiency and increased profitability, but also pro-active measures to prevent shutdowns and improve monitoring become reality by applying such new technologies as Smart Sensors, Big Data Analytics, and visualization using both Virtual and Augmented Reality. In the fields of operator training and on-time support in particular, technical information and guidance are provided by Virtual and Augmented Reality technologies exactly where it is needed – at the machine, during the process, or in the plant.
ANDRITZ took this approach and pioneered the IIoT solutions for solid/liquid separation equipment and systems with state-of-the-art digital control systems, all combined under the brand name "Metris addIQ" (addIQ control systems are part of Metris, the ANDRITZ brand for digital solutions). Metris technologies include latest state-of-the-art Industrial IoT solutions as well as any kind of smart service. These can be fully tailored to individual requirements and unite physical and digital worlds. Thereby, Metris technologies become the basis for the digital solution portfolio in separation by connecting plant operator specialists among each other as well as with ANDRITZ experts. This value-adding interrelation results not only in a professional preparation of the collected data improving the plant's performance, but moreover enables plant operators to practice successfully applied business intelligence.
From basic automated movement up to a point where the machine can recognize changes and imbalances within the process and help operators to optimize accordingly, Metris addIQ control systems have proven to be one of the most innovative automation solutions on the market today. Combining cutting-edge automation solutions with digitalization is able to enhance availability, minimize production costs, increase overall equipment efficiency, and reduce the risk of operating errors, resulting in the high degree of reliability that is indispensable in these rapidly changing times.
Machine to machine, to human being, or to the internet – it's all about communication
The sharing of knowledge is one of the central pillars of the human as well as the technological world. In fact, Industry 4.0 is highly communicative – not only do operators communicate with each other or with their machines, but also the individual machines within a plant communicate with one another, with their operator, and with the World Wide Web.
So communication is key in the world of IIoT – and humans are not the only ones that manage to cause errors by misunderstanding one another. Sometimes operating errors occur when the machine operator has problems in entering the correct commands into his machine or plant. ANDRITZ noticed this problem and developed an optimized HMI (Human Machine Interface) design, bundling their latest research findings from market trends with fresh insights to form a solution package. This operator design greatly improves usability, for example by incorporating such factors as eyesight or whether the user is left-handed or right-handed and thus improving communication between the machine and the user. Other features of the HMI are operating concepts for handling workforce diversity and cultural requirements, one-look analysis, mobile connectivity, structured user access levels for personnel, and a multi-language user-interface, all of which improve usability and provide smooth operation.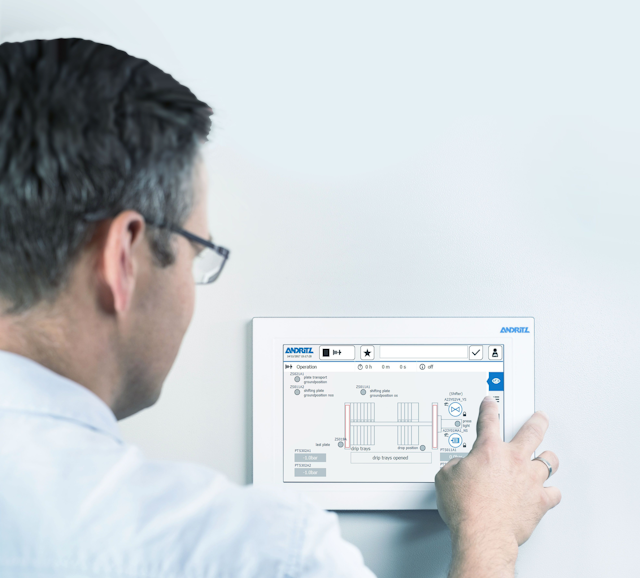 The optimized HMI (Human Machine Interface) greatly improves usability and thus improving communication between the machine and the user.
If you take the concept of communication in the world of IIoT one step further, you encounter even more opportunities – for example, your equipment may use the facilities offered by the World Wide Web to communicate with its operator irrespective of its current location. Metris addIQ Monitoring adopts this approach by displaying the most important process parameters, as pre-defined by the plant operator, of either a single machine or an entire plant, and links it to a secure data cloud when applied together with Metris addIQ Connect. Metris addIQ Monitoring not only enables these parameters to be uploaded online, making it easy for the operator to access 24/7 and from anywhere in the world (wherever there is an internet connection available), but also includes an automatic e-mail notifier for the most critical process alarms. As simply being notified about a problematic situation does not solve the problem, the Metris addIQ Monitoring and Metris addIQ Connect solutions also enable remote support in any situation when fast action is needed. Metaphorically speaking, this solution is a combination of an observation security system for the operator and an emergency online chat facility from the plant's point of view.

The Metris addIQ dashboard gives a comprehensive overview of the most critical parameters. It can be individually configured to the customer's process needs.
Metris addIQ Optimizing connects to this idea to boost the plant's performance based on the data collected and human expertise. The analyzing tool identifies opportunities to improve the equipment's performance and increase production by combining long-term data trending with analytical software, collecting and analyzing information about every control loop, control valve, motor, and variables in the process. Process parameters with a chance to improve performance are identified and their economic impact is predicted before the ANDRITZ specialists take over, working together with the operations and maintenance team to prioritize the opportunities for improvement and correct the process where needed.
Processes operating by themselves?
When talking about IIoT, the terms that come to mind are machine learning, machine-to-machine communication and big data. These terms have nothing futuristic about them if you consider that most of the IIoT solutions are about making use of existing material, machines, and data.
The driving force behind IIoT is the fact that modern machines are more accurate and consistent with capturing, processing, and communicating real-time data. ANDRITZ decided to include this promise in the name of its automation line – the Metris addIQ control systems promise to "add an IQ" to machines, giving them a "brain" to function and/or making them smarter. This is not the plot of a modern sci-fi movie, but a solution that has proven its worth and is showing great potential for quality control, sustainable practices, and overall supply chain efficiency.
As the terms connected with IIoT have been circulating for a few years now, more and more systems have completed their development, so more and more practical examples proving the benefits of this technology keep popping up. One of these is a wastewater plant in southern Europe that installed Metris addIQ RheoScan, an automated polymer measurement and dosage system.
Prior to installment of this new system, there were numerous requirements to be met, the most important of these being reduced polymer consumption at the belt thickener (to achieve at least 5% dry solids at the thickener discharge). This criteria had to be fulfilled despite challenging operations with highly dynamic incoming sludge consistency. The results after applying Metris addIQ RheoScan were annual polymer savings of 33.8% in the belt thickening stage, plus 16% polymer savings in the dewatering stage, while producing 11.7% more biogas. The fully automated system also reduced the need for operator supervision and increased performance at the same time, and it reduced polymer dosage in the digester, increased biogas production, and lowered polymer consumption in centrifuge dewatering.
Your plant as a clairvoyant – predicting the future with Smart Sensors and Big Data Analysis
As machine and plant shutdowns are the scenario every production company fears the most, a prediction of when production threatening errors could occur could be a real blessing. IIoT solutions target exactly this goal, making use of existing experience and data, connecting and analyzing this data, and then starting to predict future occurrences.
Smart Sensors are one element in this predictive solution. The use of sensor equipment in mechanical and plant engineering for measurement of variables, evaluation of signals, and communication via interfaces to higher-level systems has been a standard procedure for some time now, and ANDRITZ has developed these uses further. In addition to the conventional sensors, the Smart Sensors use micro and wireless sensors that can be used to collect even more detailed machine and plant data from pre-defined areas that are relevant in optimizing operations.
The collection of data by Metris addIQ Monitoring alone is not enough without filtering the important information, analyzing and interpreting it, especially if there is a lot of data to be processed. This is where big data analysis comes into play, using the data obtained to predict deviations based on the material collected. This provides the basis for Metris addIQ Optimizing, allowing predictive maintenance by drawing on the sensor equipment used and the data analysis. As a result, the need for service measures can be identified at an early stage and without running the risk of plant downtime as a result.
Combining different IIoT approaches to create intelligent machines
One specific project to be mentioned in connection with IIoT is the Intelligent Filter Press from ANDRITZ, a machine uniting most of the automation solutions already talked about. These intelligent filter presses operate fully automatically thanks to a Metris addIQ control system.
In many processes, the filter cake needs to reach a certain target moisture content, and this is where the intelligence of the filter press with its Metris addIQ control system comes into play. The intelligent filter plate in the press is able to measure the residual moisture content inside the cake, while also enabling online monitoring. In this way, filtration can be stopped at the ideal moment, saving valuable cycle time and thus increasing the production capacity. As a result, the plant is able to provide a more consistent residual moisture content in the filter cake, providing more uniform energy consumption in the thermal dewatering process.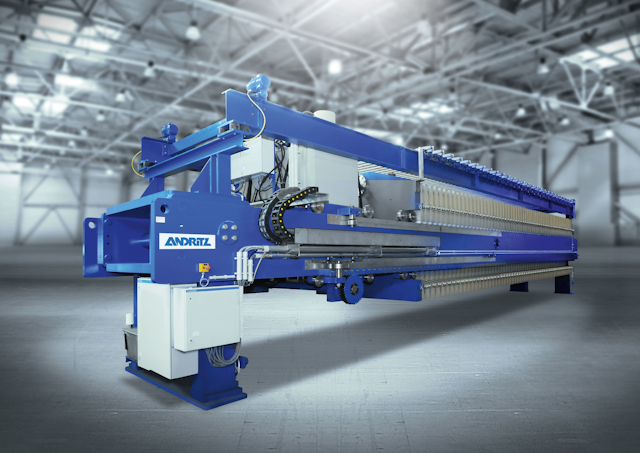 ANDRITZ overhead filter press A4 2500
Smart Sensors all around the filter press collect all the relevant operating data. A sophisticated data analytics tool turns this into information that is relevant during operation. The Metris addIQ control system monitors the degree of contamination of the filter press package, measuring and controlling the hydraulic and feed pressure as well as the feed temperature, and makes adjustments where needed. Other values measured are provided by Metris addIQ Monitoring. This keeps the plant operators informed on the status of the filter press at all times, 24/7, around the globe.
Extensive experience paired with innovation and digitalization to deliver improvements precisely where they are needed – this is the key to Industry 4.0.