Wastewater treatment 4.0
Jul 1st, 2019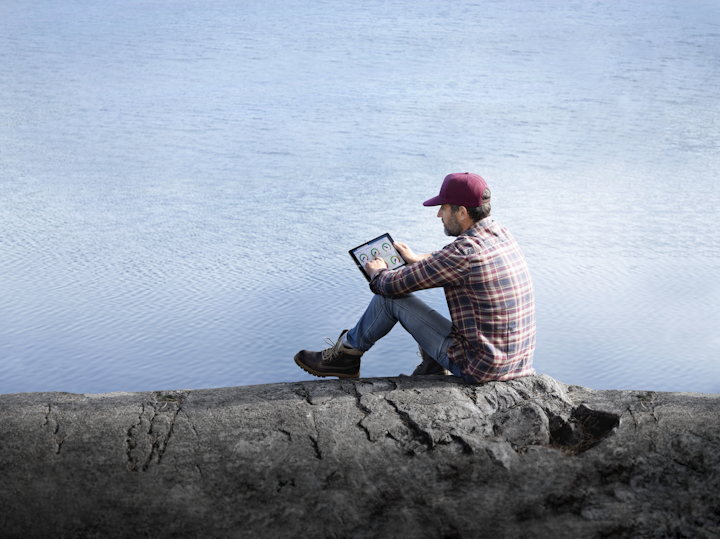 Is your wastewater plant prepared for future challenges? More than 50% of the world's population live in cities and the trend towards urbanization continues to rise. Add now the stringent regulations and its clear: what worked today may not work tomorrow.
EVERY ENVIRONMENTAL CHALLENGE IS A NEW OPPORTUNITY
As populations and energy demands rise, the need for efficient water processing, wastewater treatment, and sludge treatment continues to pose significant challenges. Environmental regulations constantly place new pressures, while conservation of energy and resources is always a top priority. At the same time, an increasing variety of waste and other byproducts are being converted into valuable new sources of materials and renewable energy, making it possible for wastewater plants to become net producers of energy.  
STATE-OF-THE-ART SYSTEMS AND EXPERTISE
Remotely monitored and unattended, automated plants nowadays are and must be considered as integrated part of wastewater treatment technologies enabling sustainable and energy-efficient wastewater treatment with significantly increased capture rates and reduced sludge volumes. As a leading supplier of wastewater and sludge treatment systems with many decades of experience and highly recognized reference and show cases of the world's largest plants, ANDRITZ has been and still is a key partner in enabling this progress sustainably. 
HOW CAN BETTER DATA KEEP YOUR WASTEWATER PLANT FLOWING?
Optimal sludge flows demand accurate data – anytime, and anywhere. Which is why our Metris addIQ control system is customized to give you precisely the information you need, when and where you need it most. For a municipal wastewater treatment plant in southern Germany, this included easy-to-access performance and trend reports, real-time sludge flow and polymer dose monitoring, longterm process data, and much more. All tailored to give a transparent overview of the customer's facility, improve process performance, and prevent unplanned shutdowns.
PROCESSES OPERATING BY THEMSELVES?
When talking about Industry 4.0 and Industrial Internet of Things (IIoT), the terms that come to mind are machine learning, machine-to-machine communication and big data. These terms have nothing futuristic about them if you consider that most of the IIoT solutions are about making use of existing material, machines, and data. The driving force behind IIoT is the fact that modern machines are more accurate and consistent with capturing, processing, and communicating real-time data. ANDRITZ decided to include this promise in the name of its automation line – the Metris addIQ control systems promise to "add an IQ" to machines, giving them a "brain" to function and/or making them smarter. A solution that has proven its worth and is showing great potential for quality control, sustainable practices, and overall supply chain efficiency. One of these is a wastewater plant in southern Europe that installed Metris addIQ RheoScan, an automated polymer measurement and dosage system. Prior to installment of this new system, there were numerous requirements to be met, the most important of these being reduced polymer consumption at the belt thickener (to achieve at least 5% dry solids at the thickener discharge). These criteria had to be fulfilled despite challenging operations with highly dynamic incoming sludge consistency. The results after applying Metris addIQ RheoScan were annual polymer savings of 33.8% in the belt thickening stage, plus 16% polymer savings in the dewatering stage, while producing 11.7% more biogas. The fully automated system also reduced the need for operator supervision and increased performance at the same time, and it reduced polymer dosage in the digester, increased biogas production, and lowered polymer consumption in centrifuge dewatering. 
READY FOR EXTREME WASTEWATER TREATMENT CAPABILITIES
A rapidly urbanizing world demands extreme wastewater treatment capabilities. For Singapore, this means being able to treat 2.4 million cubic meters of wastewater, every day. The solution? The world's largest sludge drying plant. Built with five lines of ANDRITZ drum dryers, it's now thermally self-sufficient and capable of evaporating up to 55 tons of water per hour. It's just one of countless challenges solved by ANDRITZ– the world's leading separation specialist.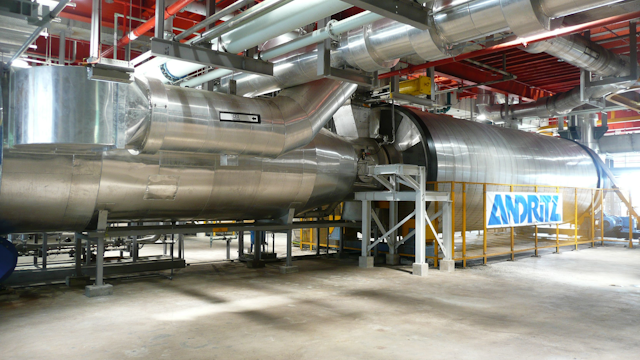 ANDRITZ drum drying system in Singapore, 1 of 5 lines
COMPLETE SERVICE AND AUTOMATION SOLUTIONS FROM A SINGLE SOURCE
Also innovative service and automation solutions are part of our portfolio to guarantee full-service support for our customers. As operations change over the years, we provide the OEM upgrades, spare and wear parts, repairs, process optimization, training programs, and much more our customers need to evolve to new challenges. And thanks to our strong network of 2,000 separation specialists in 40 countries, we are always prepared to support our customers' ambitions – anywhere in the world. When it comes to process control, our Metris addIQ control systems combine all our extensive operation, troubleshooting, and start-up experience in one tailored automation solution. With the broad portfolio of scalable automation solutions, applicable for a wide range of purposes (e.g. predictive maintenance, process monitoring, troubleshooting, long-term trending, etc.), ANDRITZ is the true full-service provider helping to reduce risks, increase the availability and through this improve the ecological footprint as well as the long-term business case for our clients.