Before Crisis Strikes: 5 Tips for Preparing for an Unplanned Outage
The first thing a potential vendor should do is send a mobile team out to your facility to get the 'lay of the land.'
Feb 24th, 2016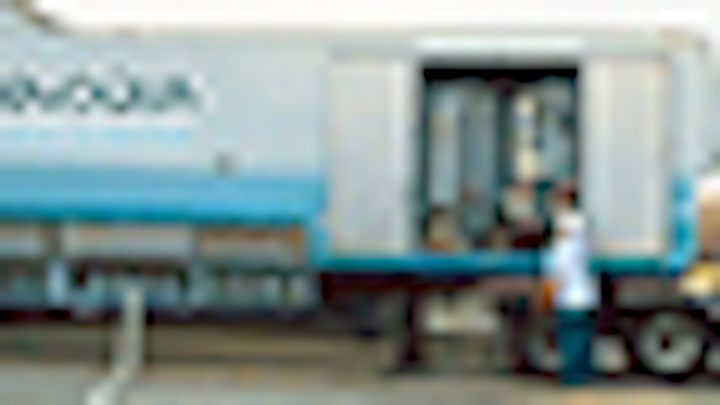 In an emergency situation, time is of the essence. And if the emergency requires the assistance of a short-term water services provider in order to keep operations running, there are some things you can do beforehand to ensure that the response is smooth and efficient. Rod McNelly, vice president and general manager of Evoqua's General Industry segment, and Doug Gillen, director of marketing for the industrial division of Evoqua Water Technologies, discuss emergency planning strategies and outline steps to follow before calling a mobile equipment supplier to ensure your plant stays on line.
WATERWORLD: To provide context, when would a business need short-term water services?
DOUG GILLEN: There are two types of events where you would contract for short-term water management: either a planned outage or an emergency outage. In a planned outage, just by its nature, you have a lot more time to figure out exactly what you are going to do. But in an emergency outage, you are running against the clock. Typically, your goal as plant manager is to keep your plant on line and producing product. So there is little time to make arrangements for mobile equipment in that emergency situation.
WW: Are there things a company can do ahead of time to prepare?
DG: Absolutely. There are things you can do both from a preparation standpoint and from a contracts standpoint to prepare your plants for an emergency. I compare it to how you might clear snow from around a fire hydrant after a big snowstorm. You may not need that hydrant, but if the fire department has to show up and help you, it sure is nice to know that you have taken as much preparation as possible. It's the same with mobile equipment.
ROD MCNELLY: To start, every facility needs to have an emergency preparedness plan. The plan's first priority is typically the safety of people -- how to take care of triage, for example. Next is water for the facility. You should look for a mobile equipment supplier that is experienced with and focused on emergency preparedness, a company with a proven track record in a specific region.
RM: It is critical for the water provider to know how to gain access to your site in the event of an emergency. The provider might even get a 'lay of the land' in terms of dispatching and timing of the response. You may have one vendor that says it can get to your facility in twelve hours and another that says they can get there in six; it's important for you to know that in your emergency situation.
DG: When you are considering a vendor, the first thing they should do is not send out a sales person or the most senior guy in the company; they should send a mobile team out to your site to do a walkthrough. It should be extremely thorough, from the gate all the way to the facility, just as though it were a real emergency: the driver checks in here; drives down this road; turns down this road; parks the equipment here; hooks up to the water supply here.
DG: The water provider should take notes and build an emergency response file so they know exactly what to do when that emergency call comes in at 2:00 am on a Sunday morning, as it often does.
RM: An early site review can identify potential risks and a site audit should be supplied by the water provider to manufacturing locations in order to help ensure safety in an emergency situation. The site audit will take a number of details into consideration, such as extreme weather conditions (greater than 90˚F or less than 32˚F). The supplier should work with someone in your plant who knows the wide array of conditions that might go wrong.
RM: It is also important to understand the limitations of the mobile equipment. At a very large plant, for example, it's not so easy to get a thousand gallons per minute back on line. The mobile equipment supplier may not be able to respond so it is important for everyone to be brutally honest with each other in that kind of discussion. To oversell and under deliver in a non-emergency is one thing, but to do it in an emergency, it is unacceptable and could be catastrophic.
WW: What are some things that can save time during an emergency?
DG: If you bring mobile equipment into a plant, you have to tie into a system. If the tie-ins aren't valved out, trenched out, identified, tagged and ready to go, then you have to cut them in -- or you have to spend time trying to figure out a way to cut them in. A lot of plants don't have the valving to tie an emergency system into the existing system; they have to weld it on. So you either find yourself at 1:00 in the morning trying to weld a pipe and trying to weld a flange on, or you identify the situation ahead of time.
RM: It can also be simple things like, when you come to the plant as a provider, what gate or entrance should you go to in order to be expedited into the plant? Once you get onsite, what work permits need to be pulled in order to do the work?
DG: The walkthrough we talked about earlier helps to identify all these little details ahead of time because in an emergency, you don't want someone waiting at the gate for a half hour trying to get into the plant, or not having the right permits once they get in.
RM: There's one more thing that encompasses everything that you do at the site: EH&S records. A vendor's safety records need to be disclosed up front. That way you know that when you have an emergency, you are working with a vendor that demonstrates a commitment to a safe working environment. The last thing you want to do in an emergency is create a second emergency.
WW: From your personal experiences, what are some of the most common mistakes that companies make when an emergency occurs?
RM: The number one thing that we see has to do with not having enough hose length to get to a water connection. Generally speaking, we take between 500 and 1,000 feet. And that should be something that you look at first because water may be existing, but if you can't get to it, then it's useless.
DG: Another fundamental detail you've got to think about is where to put the equipment. You can have a supplier come into a site and they didn't let the customer know that they need five trailers to achieve the required flow rate. No one planned ahead on where to park the trailers without blocking emergency access points or interfering with normal plant operations. Or, worse yet they do have a place to put the trailers, but it's a compacted dirt yard that in the rainy season becomes swampy and can't support the trailer weight without gravel overfill or putting down a timber bed.
RM: When it comes to leveling the trailers to get flow in the right balance, it's important to know where they are going to go.
DG: The bottom line is that you can't be too prepared. Thinking it through to the Nth degree to come up with a plan for any type of emergency is the best thing you can do for your facility.