Inspired by Nature: Water Treatment Technology Innovations
From mangrove plants to biomimetic membranes and seaweed, nature is proving fruitful inspiration to new water treatment technologies. What do these offer compared to conventional techniques?
May 1st, 2016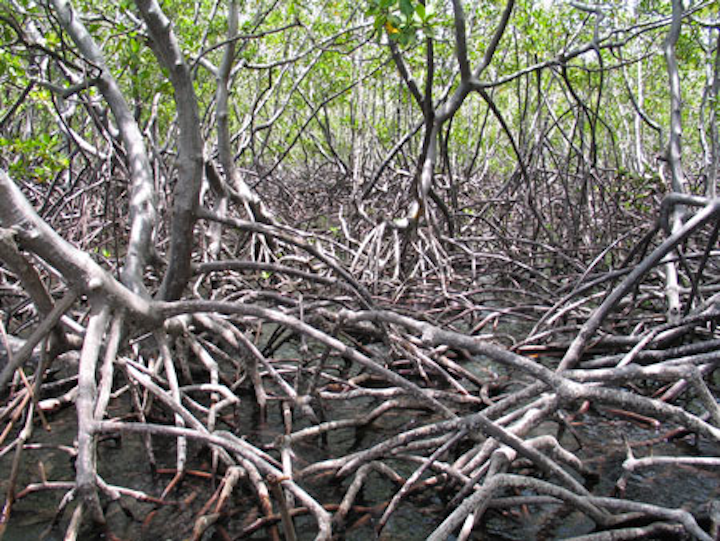 From mangrove plants to biomimetic membranes and seaweed, nature is proving fruitful inspiration to new water treatment technologies. What do these offer compared to conventional techniques?
By Andrew Williams
In recent years there has been a growing trend for the development of new water technologies that take their inspiration from nature. Although still very much in their infancy, biomimicry projects exploring the potential of such 'nature inspired' technology are now sprouting up in several regions around the world.
Aquaporin proteins
One novel nature inspired technology has been developed by Danish company Aquaporin, which is exploring the commercial potential of using aquaporin water channels to filtrate water. As Tine Jørgensen, business development officer at the company explains, aquaporin proteins, naturally found in human kidneys, plants and other living things, are highly selective channels that only allow water to pass.
The company has devoted a great deal of its R&D work into optimising the efficiency of the technology, as well as developing suitable membranes for reverse osmosis and forward osmosis applications - and Aquaporin is now setting up full scale production ready for a launch of the technology later this year.
"The transport of water will happen until an equilibrium is reached on both sides of the channel. So, if you want to dewater liquid you need to set it up again in a liquid with a higher osmotic pressure. In this case, a natural flow of water will happen from the liquid with low osmotic pressure to the one with high osmotic pressure, until they even out," says Jørgensen.
"In this process, the aquaporin proteins ensure that it is only H2O that passes, and no other molecules. If you want to reverse the process, that is, transport water from a high osmotic liquid to a low osmotic liquid, you will have to add mechanical pressure, for example from a pump. The unique feature of the aquaporin proteins are their selectivity as well as efficiency in transporting H2O''.
Biomimetic membranes
Another interesting initiative to develop aquaporin-based biomimetic membranes for use in desalination plants is currently underway in Singapore. Working alongside PUB, the country's national water agency, two local universities - the National University of Singapore and Nanyang Technological University (NTU) - have already succeeded in making such membranes.
As Harry Seah, chief technology officer of PUB, explains, the team hopes to use the aquaporins to reduce the energy needed to desalinate water to drinking water standards.
"The key to the success of the project is the incorporation of aquaporins into existing membranes and their ability to filter and desalinate the water without any degradation," he says.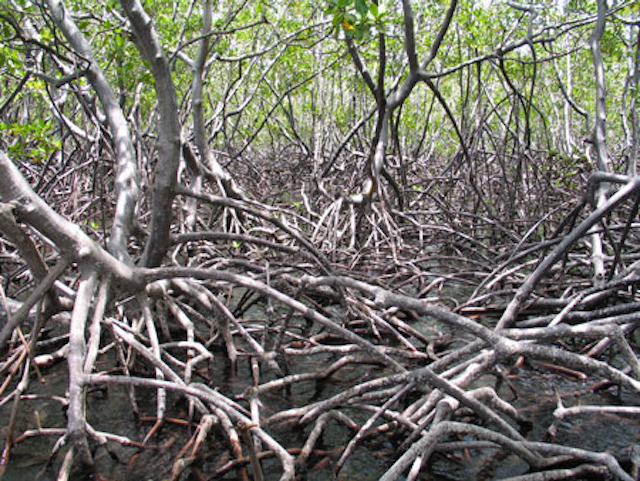 Branching out: Singapore utility PUB has funded 'back to nature' research projects including understanding mangrove plants to eventually roll out municipal scale tech
"The best available desalination technology, like RO, requires more than 3.5 kWh/m3 of energy overall to convert seawater to fresh water and we hope to reduce the energy by at least half. It also has application in our NEWater production to reduce the energy needed from 0.8 kWh/m3 to about 0.4 kWh/m3," he adds.
Seah also highlights several other ways in which the system could eventually be made even more efficient, for example through the use of 'other channels' like salt pumps in living things. In order to improve the prospects of such promising directions bearing fruit, PUB has funded a number of what he describes as 'back to nature' research projects to understand mangrove plants and marine fish and develop further ideas.
"We expect the application to start small scale in the next few years and gradually scaled up for municipal application in water works, NEWater factories and future desal plants. PUB hopes to be the first user of this technology and help companies to push the technology by providing good project reference and demonstration of the reliability and efficiency of the technology," he says.
Mangrove Plants
Elsewhere in Singapore, a team led by Professor Tong Yen Wah of the Department of Chemical and Biomolecular Engineering at the National University of Singapore is also developing aquaporin-based biomimetic membranes inspired by the natural water purification systems of the roots of the mangrove plant and the human kidney. As Yen Wah further explains, aquaporins are 'highly specific' in the sense that they allow only water molecules to be transferred, while rejecting all other molecules.
"Therefore, we try to mimic the cell by having an impermeable barrier like the cell membrane, interspersed with these water channel molecules of Aquaporins. Water, and only water, can go through the membrane very quickly through these channels, thus purifying seawater or wastewater," he says.
The technology also adds other barrier mechanisms from mangrove roots to support the membrane, making it 'stronger and more resilient' - and, to make the membrane last even longer, the team uses the cell-like structures of vesicles to embed the aquaporin proteins, protecting the proteins from degradation.
"Another aspect that we are working on is to learn from the kidney, using other transmembrane protein channels together with the aquaporins, to develop water filtration systems and not just the membranes, to purify water. This is still the newest work that we are doing and is not published yet," adds Yen Wah.
Seaweed-based Flocculent
Another interesting initiative is currently under development by Norway-based company Sorbwater Technology, which has created a seaweed-based flocculent process technology to help recover water from oil waste. The process works by mixing the company's patented Sorbfloc flocculent - an alginate created from seaweed - in water polluted with oil droplets or other particles.
According to Kenneth Olsvik, CEO at Sorbwater Technology, a key capability of Sorbfloc is its excellent cross-linking capabilities that, when activated as part of the process, "instantly and irreversibly" flocculate pollutants in water into "large, shear resistant flocs". Olsvik explains that these flocs are then "readily separated from the water, even using fairly high shear separation equipment".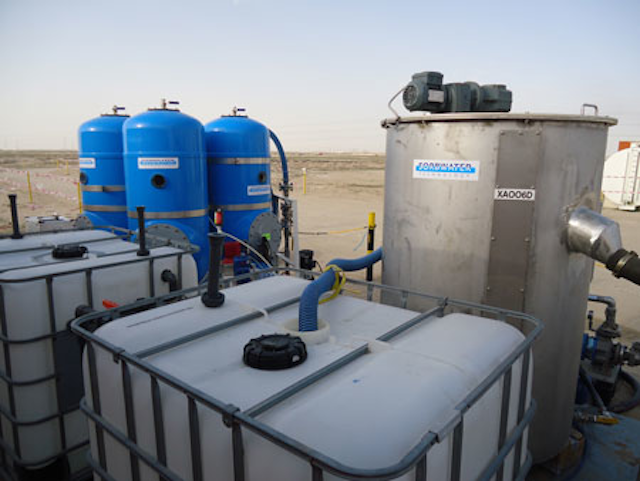 Hot tech: Sorbwater Technology has developed a seaweed-based flocculent process technology to help recover water from oil waste, recently proving the concept with a major oil company in the Middle East
"By using a combination of primary treatment - flotation - and secondary treatment in specially designed filters, Sorbwater can treat such polluted water from 5000 ppm to lower than 1 ppm oil in water," he says. "Achieving this means that the water contains such small amounts of oil that it could be desalinated and reused, for example, as process water or for irrigation."
Sorbwater has recently proved the concept with a major oil company in the Middle East alongside a thermal desalination partner as part of a 30 day field test and Olsvik is also confident that there is a 'huge potential' in the fracking business in the US. For Andrew Dustan, CTO at Sorbwater Technology, the technology is the only one that could feasibly reuse produced water in the Middle East, especially given the high volumes and salinity content.
"We don't know of other methods that could clean such polluted water to this low level where one can use desalination processes downstream of such a process," he says.
Strong Potential
Jennifer Tan, senior industry analyst at Frost & Sullivan, adds: "Two trends that are likely are wastewater resource recovery and zero liquid discharge, although nature-inspired water treatment technologies are not yet specifically developed for these goals. On a wider perspective, biomimetic solutions may be more widely used to achieve environmental sustainability such as addressing the water-energy-food nexus challenges," she says.
For Seah, the fact that the utilisation of scarce resources like energy are likely to be important in future water treatment facilities means that such technologies could well prove especially useful in municipal and small community settings - and even as point of use filters "in some countries where water is hard".
Meanwhile, Jørgensen believes that biomimicry "is the future" since the mechanisms have been developed since the dawn of time, meaning that technologies like those described above are "truly taking intelligent technologies that already work well in their natural environment".
Yen Wah agrees that a combination of the increasing need for potable water and the increasing costs of energy means there should be a growing market for nature-inspired membranes and water treatment systems.
"Some key markets would be for areas which do not have ready connections to piped water or electricity, like developing countries, disaster areas and even ships at sea. However, as droughts are increasing in frequency, even first world nations like the US would be a key market, for example in California, Singapore and Israel," he says.
---
Andrew Williams is a freelance contributor to WWi magazine.
###
Read more
Seaweed based flocculent technology to help recover water from oil
More Water & WasteWater International Current Issue Articles
More Water & WasteWater International Archives Issue Articles