From Lego to Pumps: Mads Nipper Talks Water and Energy
Formerly with the world's largest toy company - Lego - Mads Nipper made a major career change after taking up the position as CEO of the world's largest pump company, Grundfos. How did he help turnaround a company suffering from declining profits?
May 1st, 2016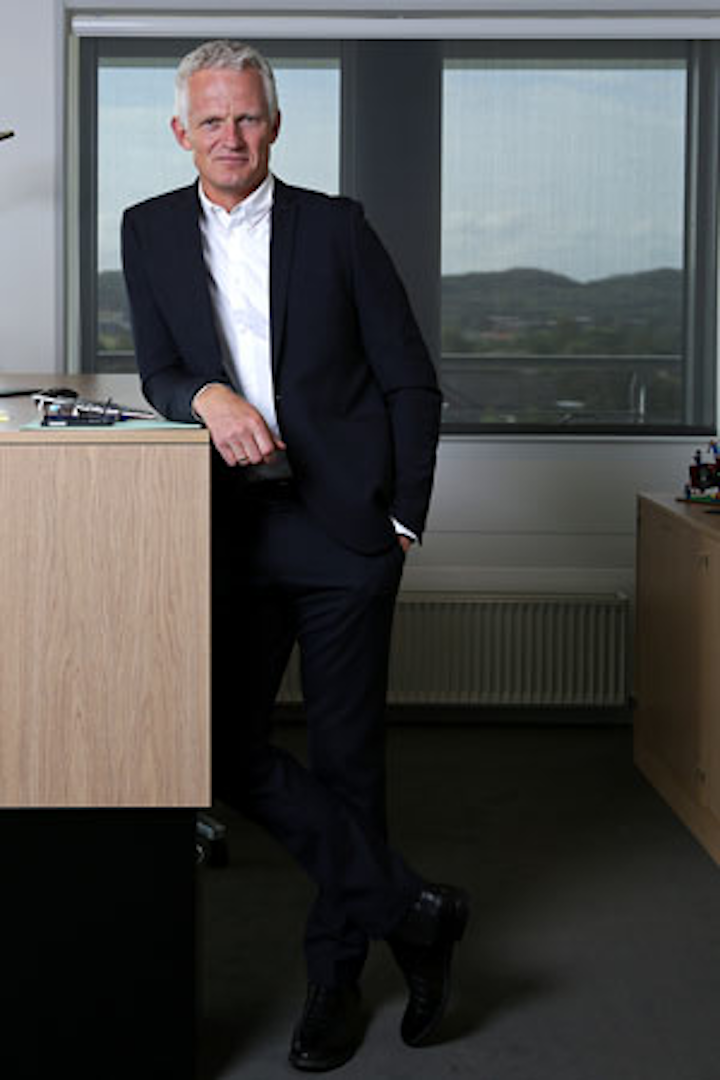 Formerly with the world's largest toy company - Lego - Mads Nipper made a major career change after taking up the position as CEO of the world's largest pump company, Grundfos. How did he help turnaround a company suffering from declining profits?
By Tom Freyberg
The appointment of Mads Nipper as the CEO of Grundfos nearly two years ago might have come as a shock to many in the industry. Taking up the mantle as leader of the world's largest pump company you would suspect he had come from a background in industrial engineering, manufacturing or consultancy. This wasn't the case.
Instead, he had been employed for 23 years at the world's largest toy company, Lego, also Danish. Grundfos said the former chief marketing officer was chosen because of his "long and proven record of working on the global marketplace".
To make matters even more interesting, his new company was in a tough position: its operating profits had been declining from DKK2,035m (US$ 309.1m) in 2011, down year on year to DKK860m (US$130.6m) in 2014.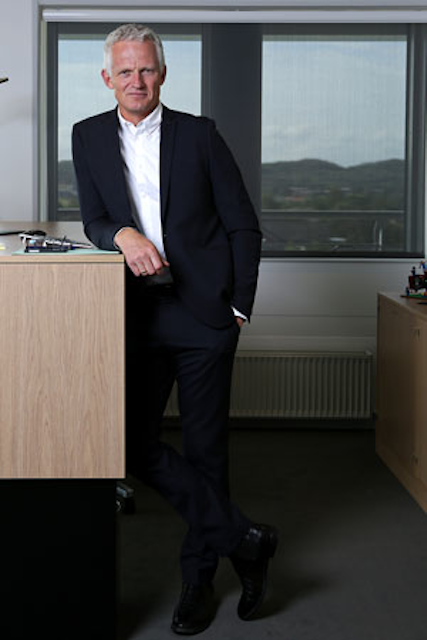 Grundfos CEO Mads Nipper
With pump sales being seen as stagnant globally, it was clear Grundfos was seeking new direction. So why the move?
"I worked for Lego for 23 years and honestly I had probably not even thought about ever changing - I would happily retire there," CEO Nipper says.
He adds that although Grundfos is the world's largest pump company, it is also tapped into two of the world's biggest challenges - water scarcity and energy - which he said are "out of control".
"My thoughts were what a fantastic privilege to spend the first half of my career bringing the world's best play experience into the hands of millions of children and then the second half of my career making a major contribution to two of the world's future problems," he adds.
Social connections
Lego claims to produce over 45 billion bricks a year, which equates to 5.2 million per hour. In contrast, Grundfos has an annual production of more than 16 million pump units. This raises the question of where do the similarities lie - from designing, producing and marketing a new toy for children, to providing pump solutions for utilities?
"If you do develop something that is to set new standards in the market, which is an irresistible offering to the customer, whether that's an industrial OEM customeror a seven year old boy or girl, well really it starts with having a huge customer insight and saying what problem does this solve of what makes it a special offering," the CEO says.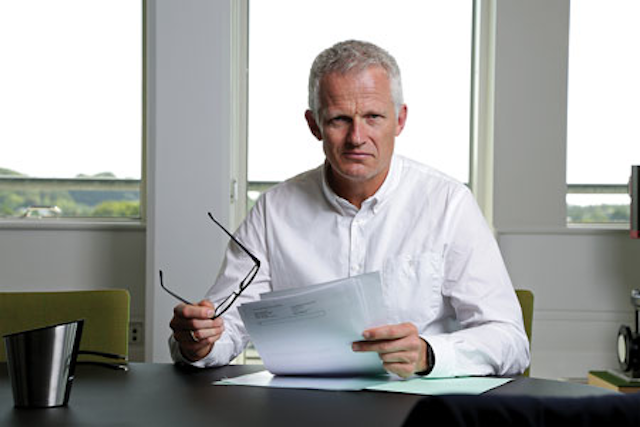 He says that what both companies offer is a "substance product" but that it's important to think just beyond the product.
"Obviously Lego is a box of Lego bricks but think beyond that and it's also storytelling: it's an interactive experience, it's a lubricant of social connections between children. Likewise the application that an industrial pump goes into is more than just a pump itself - it's to understand how we can co-create a solution that addresses the customers problem better than other colleagues in the business."
Financial turnaround
As the expression goes, money talks and many anticipated the Grundfos 2015 Annual Statement to see whether the CEO had made an impact.
Despite the three-year decline in operating profit, for 2015 the company doubled its DKK860m (US$130.6m) figure in 2014 to DKK1,900m (US$288.5m). Net turnover had also increased from DKK23,618m (US$3.6bn) to DKK24,800m (US$3.8bn). Was this turnaround, as it could be called, as a result of drastic measures taken from the former Lego employee?
"First and foremost no change in a company is one person's work," he says. "With the new executive team we brought on board, we knew one of the most important things to do is to turnaround this four-year negative development in profitability. Grundfos has actually grown above the market in four years in a row so done quite well in sales but the sales did not generate any financial return that would allow to us in invest in the best possible solutions for the future. The priority for us in 2015 was to turnaround the ability to make money from the sales we generate."
This raises the question of how was this achieved?
"What we have done is really not rocket science," he adds. "We've analysed one of the functions that we can reduce, which add little value to our customers. We asked the question of where is it we can redesign some of our products while at least protecting or improving the quality so we can take out cost?"
Nipper says they also looked at some of the projects Grundfos was engaged in around the world where they were losing money. "We are a business but of course have a greater purpose than making money."
The company set out a five year strategy from 2015 to 2020 but looking ahead to next year, the CEO isn't pushed into making any formal predictions.
"I have to say that given the uncertainties in the world, I mean just this first quarter of the year from reading the news in terms of volatility in the stock markets, low oil prices, different political crises around the world - it's borderline impossible to make specific projections about how our market will develop."
Diversifying from pumps
Back in 2013 WWi magazine covered an interesting partnership between Grundfos and Singapore firm, Hyflux.
The idea behind the pairing was to develop an ultrafiltration (UF) membrane for the treatment of surface and groundwater. It also followed a move from the Danish firm to buy US ultraviolet treatment (UV) firm Enaqua and diversify into water purification and away from its main business of pumps. Three years later and it has been radio silence on this partnership and any UF technology to be developed. What happened?
"We are the world's biggest pump manufacturer and we want to continue to do so but we also want to ensure that we make a bigger dent in the world by not only transporting water and saving the many millions of megawatts of power but we also want to ensure that we address the clean water challenge that the world has," says the CEO.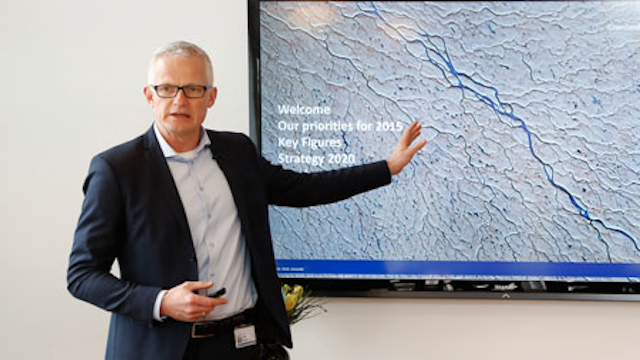 "We continue to work alongside water technology but it's not something we will invest heavily in at the moment but the partnership with Hyflux is a very interesting one."
He adds: "Membranes and UF remain high on our agenda. After tests and trials we found a mutual agreement with Hyflux and it's probably better if we go by ourselves. We've just launched a new product - AQpure - which is a very compact, UF solution that can actually bring clean water from rivers or rainwater to remote societies."
Singapore to one side, what does the CEO think about increased competition in the pump market from China and even "copycat", imitation solutions, which can sometimes be seen popping up at the various trade exhibitions around the world?
"Instead of being frustrated about somebody who makes good enough products at a lower products, which the Chinese are very good at, then what we do see and we see it as an inspiration is to become even faster and to understand our customers even better and to ensure no matter how hard our competitors fight they will always look at our products and say how annoying, these guys continue to make the best solution," he says.
Leaving a better world
It is difficult to talk about the global pump market without mentioning the Energy Related Products (ERP) directive and its knock on impact. From 2017, all electric motors from 0.75-375 kW must either meet the IE3 standard or the IE2 standard with a variable-frequency drive (VFD). Grundfos says it has been a key part of these discussions.
"Around 10% of total world electricity consumption is from electrical pumps," says the CEO. "It's simply irresponsible for us not to set very high standards when it comes to energy consumption - it's a broader purpose and contribution to society and leaving a better world than we inherited."
Nipper says the company is constantly looking to find more energy efficient pumps, whether it's changes to the hydraulics, permanent magnet motors, built in frequency drives or how to leverage digitalisation and software to optimise consumption.
"In today's world it's often hard to legally protect so although it can be annoying that somebody gets inspired from, or in the less positive word "copy" some of our solutions. As annoying as that is commercially, it's a good thing for the world - because then our impact on total world energy consumption will be more favourable. That's why we chose to get engaged. Our aim is to set the gold standard in how energy efficient pumps can be in the ERP directive."
On the topic of energy efficiency, Nipper comments on customer demands for pump life-cycle costs: it's not the upfront cost of a pump that's important but how much energy it consumes over its life. "One of the mind blowing insights I got as an industry outsider a couple of years ago, for some of our pumps, in many cases over the total pump lifetime the acquisition or the CAPEX of acquiring the pumps is often between 5-10%, and then the maintenance and service is another 5-10% but the total lifetime energy consumption is between 80-90%," he says.
"If you are discussing whether the pump in its pricing is 5-10% more expensive in the grand scheme of things and the total cost of ownership makes little sense. It has to be from a total cost of ownership perspective that those decisions ought to be made."
In an industry dominated by technical professionals, it was often thought that an engineering background is a prerequisite to be taken seriously and to succeed. Today, more companies are purposefully hiring individuals from other industries - finance or IT - to bring in fresh thinking. Clearly, the change at the top of Grundfos, which some would call risky, worked. Recent financial data demonstrates that.
On the surface the two businesses of producing billions of Lego blocks for children (or adults in a lot of cases) and millions of pumps each year seem very different. Yet Nipper has proven if you can succeed in one business, you can bring across that skillset to another.
It's likely that children will continue to play with toy bricks over the next 84 years, the age of Lego, just as the issues of water and energy will be discussed and both companies will play key roles.
---
Tom Freyberg is the chief editor of WWi magazine.
###
Read more
UF membrane to be jointly developed by Grundfos/Hyflux partnership
Pump giant Grundfos turns around plummeting profits
More Water & WasteWater International Current Issue Articles
More Water & WasteWater International Archives Issue Articles